SEC
Monday Down South: Resetting the Playoff picture in college football's post-COVID landscape
It should be obvious enough by now that any attempt to forecast the 2020 college football season – or what's left of it, anyway – is an exercise in futility. At this stage, it's impossible to guarantee that there's going to be a season, much less what it's going to look like.
Fifty-four of 130 FBS teams have officially kicked the coronavirus can to the spring, with more likely to follow, rendering the standing preseason predictions for the fall obsolete. The teams insisting on forging ahead (for now) have been forced to rearrange schedules, institute elaborate safety regimens, and replace key players who have opted out – all on the fly, and all of which is subject to change abruptly at any point. Multiple teams have temporarily shut down operations due to positive tests and/or broader campus outbreaks. Many games on the current makeshift calendar may move or never get played at all. Bowl games, with too few teams left playing to fill out the existing lineup regardless of their records, are a distant afterthought at best. Notre freaking Dame has conceded to playing a full conference schedule. The entire sport is operating on a strictly day-to-day basis. Only a fool would devote any energy to predicting how it's going to unfold, much less end.
Fortunately, that's where I come in.
Amid the uncertainty, the College Football Playoff has gone out of its way to emphasize that, until further notice, its role in anointing the top four teams in the nation has not changed, and its key dates – national semifinals on Jan. 1, 2021, followed by the championship game in Miami on Jan. 11 — have not, either. And while the new year still feels like an eternity away, the prospect of a business-as-usual Playoff in a substantially altered landscape poses some big questions if the status quo holds. How will the committee weigh condensed schedules with almost no crossover between the major conferences? Where is the bar set for teams outside the major conferences? How much should we recalibrate our expectations for what qualifies as a Playoff résumé? And which teams stand to benefit most from those revisions?
Here, then, is one man's inevitably doomed attempt to give some shape to the eventual answers. I started what I loosely gauge to be the top 25 Playoff contenders (17 of whom are still on track to play), each slotted into 1 of 5 categories from likeliest to make the cut to least likely based on revised schedules and competition. The top of the field (Ohio State's absence notwithstanding) looks just like you'd expect. Beyond the de facto conference favorites, though, the door is wide open for a surprise no one as recently as six weeks ago could have seen coming.
Usual suspects
ON TRACK: Alabama, Clemson, Oklahoma
ON ICE: Ohio State
The Tide, Tigers, Sooners and Buckeyes have filled 17 of the 24 available slots through the first 6 years of the Playoff's existence, with at least 2 of them in the field every year. (In fact, with the exception of the very first Playoff matchup between Florida State and Oregon, at least 1 of the Big Four has been on the field in every game.) Even with Ohio State out of the running, there's no reason to expect that streak to end in 2020. According to ESPN's Football Power Index, Bama, Clemson and Oklahoma have the best odds of any Power 5 teams of running the table and will be heavily favored in almost every game.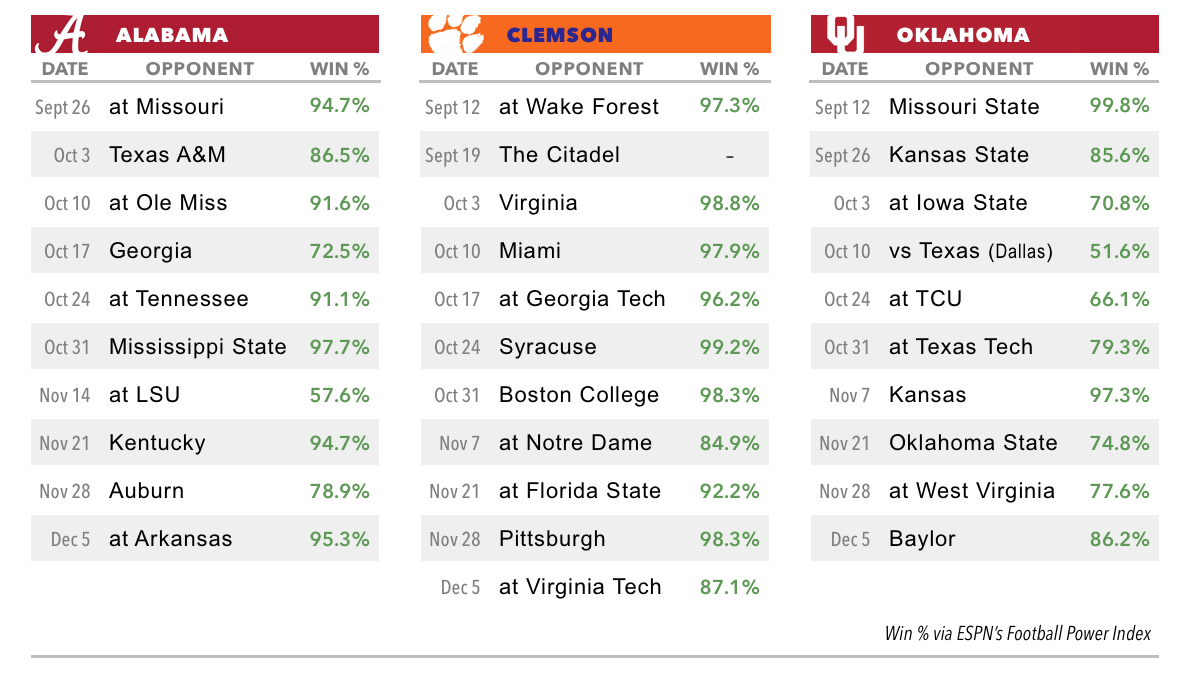 Of course, not all front-runners are created equal. Clemson remains by far the safest bet, partly because of the ongoing presence of Trevor Lawrence at the helm of arguably the most complete lineup in the country and partly because the ACC remains the path of least resistance. The Tigers have won 6 consecutive conference title dating to 2015 and 28 consecutive conference games since 2017; accordingly, FPI gives them an 88.8% chance of winning the conference, 92.7% chance of making the Playoff, and an incredible 53.7% chance of going undefeated in the regular season for the third year in a row. Even a November trip to Notre Dame looks like a no-brainer, as would the presumptive ACC Championship rematch.
Alabama might be in a roughly similar position if not for Georgia, which the Tide will have to face not just once but (most likely) twice in addition to the annual West Division triumvirate of LSU, A&M and Auburn. Although FPI rates the Nov. 14 trip to Baton Rouge as Bama's toughest regular-season test – mostly a residual effect of LSU's off-the-charts dominance in 2019, I'm guessing – the earlier date with the Bulldogs looms as the defining game for both sides. There's too much competition across the league to just come right out and call Bama-UGA a preview of the SEC Championship Game, which has served as a de facto play-in game each of the past 3 years, but it is the best bet.
Oklahoma is on much thinner ice. Even assuming redshirt freshman QB Spencer Rattler is an instant dude in a position that comes with baked-in Heisman buzz, OU is only a marginal favorite vs. Texas and despite its consistent dominance in the Big 12 has only finished undefeated in conference play once (in 2016) in the past 15 years. The Sooners are significantly less likely to run the table (4.9%, per FPI) than Bama or Clemson.
Then again, when there are only three major conferences just claiming the Big 12 crown might be enough to make the cut regardless of how they do it. That expanded margin for error stands to benefit Oklahoma as much as any other team.
1 upset away
ON TRACK: Georgia, Notre Dame, Texas
ON ICE: Oregon, Penn State
All of the teams in this group have the misfortune of playing in the shadow of the Power 5 conference favorites, where their path to the Final Four means facing the front-runners not just once but very likely twice – first in the regular season and again in the conference championship game, where they figure to be underdogs to varying degrees. Playoff-wise, though, the reset should directly benefit UGA, ND and UT more than any other teams: Even if the hierarchy holds at the top of the 3 remaining Power 5 leagues, the fourth slot is suddenly wide open for the taking by the highest-achieving runner-up.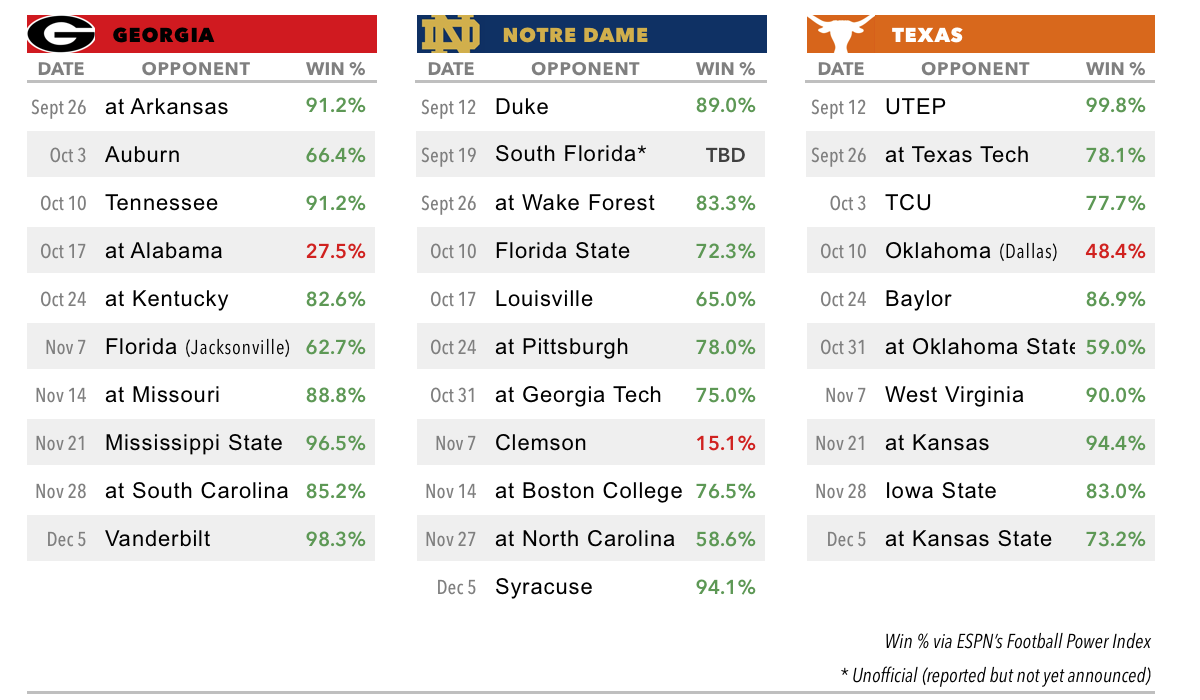 Look, we all know the deal with Texas. Trust me, I get it. I lived in Austin through the prolonged fade out of the Mack Brown era, the crash-and-burn tenure of Charlie Strong, and the erratic initial stage of the rebuild under Tom Herman. I'm well versed in every doomed permutation of "Texas is back." It has been and remains very much a believe-it-when-you-see-it situation. Under the circumstances, though, it's at least worth entertaining the idea that it is not out of the question that Texas might in fact be kind of back.
Admittedly, it's a harder sell this year than it was last year, when the Longhorns were coming off a Sugar Bowl upset of Georgia to cap a 10-win campaign in Herman's second season; this team is coming off a deflating 8-5 year that included losses to Iowa State, Baylor, and TCU. But the 2020 edition still has a lot going for it: A well-seasoned, highly productive senior QB with Heisman upside (Sam Ehlinger); an up-and-coming talent base built on 3 consecutive top-10 recruiting classes (including the No. 1 RB in the 2020 class, Bijan Robinson); and an imminently manageable schedule outside of the neutral-site date with Oklahoma – hardly an insurmountable test. (Ehlinger led the 2018 upset that handed OU its only regular-season loss.) LSU dropping from the nonconference schedule may have been disappointing from a love-of-the-game standpoint …
Asked if he cried when the LSU game got canceled, Texas QB Sam Ehlinger said flatly, "Yes."

— Brian Davis (@BDavisAAS) August 18, 2020
… but it undeniably increased the odds of Texas finishing with just 1 or 2 losses, which in the revised landscape is a plausible Playoff résumé. Injuries and consistency against the Big 12's middle class are the major obstacles.
The major obstacle for Georgia, obviously, is Alabama. The Bulldogs will face their reigning nemesis in Tuscaloosa in October and, assuming for now that the chalk holds the rest of the way, again for the SEC title; even if this is the year that 2 losses is not necessarily a deal-breaker for the Playoff committee, 2 losses to the same opponent is another question – especially if it means the possibility of yet another rematch in the Playoff itself. If UGA comes up short in the regular-season matchup with the Tide, the SEC Championship (regardless of the opponent in Atlanta) starts to look like a must-win.
Then again, while Texas and Notre Dame each lost marquee games in the realignment, Georgia has a decisive strength-of-schedule edge in this tier due to its games against Auburn (now at the front end of the schedule rather than the back) and Florida. While that raises the bar for the Bulldogs to reach 9 or 10 wins, it will also make them a lot harder to deny if they do. By contrast, the Irish and Longhorns' toughest games outside of their respective conference favorites are now trips to North Carolina and Oklahoma State, neither of which figures to move the needle much if they can't get past Clemson and Oklahoma. A chalk scenario in which Georgia, ND, and Texas all finish 9-2 most likely favors … Georgia.
Don't sleep on 'em
ON TRACK: Auburn, Florida, LSU
ON ICE: Michigan
Bama and Georgia are the clear favorites to survive the SEC grind, but the league's second tier isn't far behind: LSU (40.8%), Auburn (21.5), and Florida (16.7) all have solidly double-digit Playoff chances according to FPI, ranking 4th, 8th and 9th nationally. More so than the other contenders, though, those odds will be put to the test early and often: All three are facing multiple make-or-break dates by Halloween, including at least one killer road trip.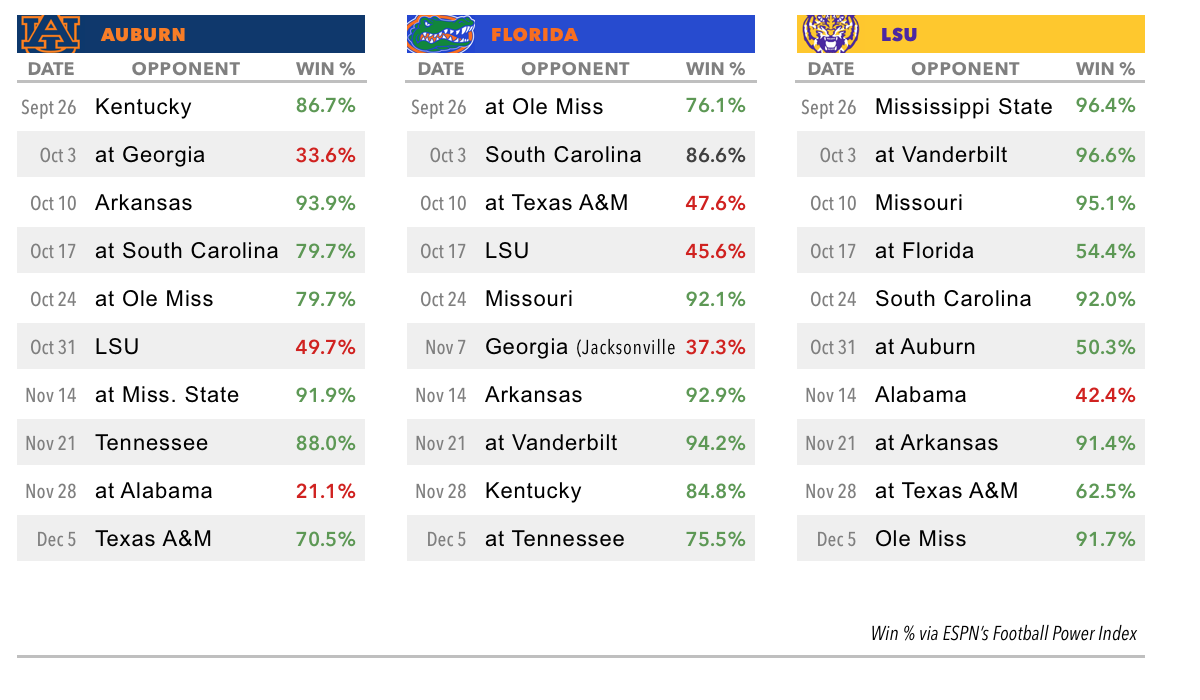 Although FPI is suspiciously high on LSU – when the baseline is one of the best teams in recent memory, even a historic exodus of talent can only move the numbers so much – it still rates trips to Gainesville, Auburn and College Station squarely in the toss-up category, a good indication of the Tigers' ceiling even before factoring in the Big One vs. Alabama. Going 4-1 against the top half of the schedule in full-on rebuilding mode would be a hell of a feat.
Florida was an offseason favorite among folks bored enough by Georgia's run at the top of the SEC East and/or impressed enough by Dan Mullen's initial progress in Gainesville to take a swing on the Gators. (Most of the preseason magazines went this route.) The data-driven projections, however, still solidly favor UGA. And on Florida's end, those back-to-back dates vs. Texas A&M and LSU will go a long way toward determining whether the Cocktail Party still carries national weight.
Dark horses
ON TRACK: Central Florida, Memphis, Cincinnati, SMU
ON ICE: Boise State
Is it really worth acknowledging the Group of 5 leagues in this conversation? For once, maybe, yes: If there's ever going to be an opening for a non-power team to crack the Playoff, this has to be as good a year as any, right? And if any conference is ever going to have the juice to crash the national conversation, it has to be the American Athletic.
Although the AAC hasn't made much headway in its "Power 6" campaign, it has delivered a quality product on the field. Four AAC teams finished in the AP Top 25 in 2019, 1 more than the Big 12 and more than the Pac-12 (2) and ACC (1) combined. The champion, Memphis, set a school record for wins (12) and final ranking (17th), its third Top-25 finish in the past 6 years. The runner-up, Cincinnati, won 11 games for the second year in a row. The preseason favorite, UCF, followed up its program-defining 25-game wining streak in 2017-18 by going 10-3 with a true freshman quarterback. Along with Navy (11-2) and SMU (10-3), the top half of the AAC offered as compelling and competitive a race as any FBS conference. Meanwhile, the bottom half featured 3 more programs (Houston, Tulsa, and USF) with multiple 10-win seasons to their credit in the past decade.
With the exception of Navy, which lost prolific QB Malcolm Perry, practically every program in the conference feels like it's either at high tide historically or on the upswing. Only one head coach, Memphis' Mike Norvell, left for a Power 5 job (Florida State); only Navy and Tulane are breaking in a new starting quarterback. Memphis (Brady White), SMU (Shane Buechele) and UCF (Dillon Gabriel) all return proven stars behind center in offenses that averaged more than 40 points per game.
All of which is to say that any team that manages to run the table in that context will have to survive a respectable gauntlet to do it and will have a respectable Playoff case at the end. The most intriguing candidate: UCF, which boasts the league's most complete roster on paper and easily the best odds of going undefeated per FPI (22.6%, 2nd-best nationally behind Clemson). Just as important, UCF also has an existing national rep that will make it more difficult to dismiss – again – as a fluke interloper than, say, Memphis or Cincinnati. The rest of the country largely knows and respects the Knights; given their recent track record, the committee may be more willing to overlook the absence of a notable Power 5 opponent on the schedule. (UCF is scheduled to play Georgia Tech, for what it's worth.) But any scenario that comes down to an undefeated AAC champ vs. a 2- or 3-loss team from one of the major conferences is a legitimate debate.
Is that a debate the AAC can finally win? Historically, in any normal year, the answer is obviously "no." In this year, which is anything but normal, anything seems possible.
Wild cards
ON TRACK: Miami, North Carolina, Oklahoma State, Texas A&M
ON ICE: Minnesota, USC, Washington, Wisconsin
Throw out the probabilities: Let's get nuts.
At first glance, all of the teams in this group are optimistic with plausible breakthrough potential. North Carolina and Oklahoma State return essentially their entire 2019 lineups, including Heisman-level talents in UNC QB Sam Howell and OSU RB Chuba Hubbard. Miami landed arguably the most sought-after players in the grad-transfer market on both offense (ex-Houston QB D'Eriq King) and defense (ex-Temple DE Quincy Roche). Texas A&M is in Year 3 under Jimbo Fisher and can count on significant experience at every position – especially quarterback, where Kellen Mond has logged 34 career starts – as well as a rising talent base.
If none of those arguments on behalf of middle-of-the-pack outfits coming off unranked finishes in 2019 leaves you convinced… well, I suppose they'd all come in a lot higher on this list if they did. We're in decidedly long shot territory here.
As the season ramps up with fully a third of the FBS on ice, though, just keep in mind: The distance from the middle of the pack to the front has never been shorter.