SEC
Monday Down South: There is no dominant, unbeatable team in 2021 -- and it's a beautiful thing
Weekly takeaways, trends and technicalities from the weekend's action.
Is Alabama still the best team in college football? In almost every way that matters at this time of year, the answer is yes.
The Crimson Tide are defending national champs, owners of the nation's longest winning streak and No. 1 in both major polls for the 11th consecutive week dating to last year, earning 123 of a possible 127 first-place votes between them. They just scored one of the most impressive wins of the early season in front of a deafening, sweltering crowd at Florida, a 31-29 classic in which the Tide never trailed and their odds of winning according to ESPN's win probability tracker never dipped below 70%. (Florida's offense touched the ball exactly twice with the margin within single digits: Its first possession and its last, and the best-case scenario on the latter was to extend the game to overtime.) They're heavy favorites in every remaining game according to the analytics and to repeat as national champs according to Vegas. Same as it ever was.
But then, at this stage of the Saban dynasty that's the kind of question that's less notable for the answer than for the fact it has to be asked at all. As of Saturday morning, Bama's kingpin status felt like a fact of life, as usual. By sunset, as the shadows began to fall and The Swamp achieved maximum decibels amid an unlikely comeback, the question started to take on a different hue.
Part of the shock was that Alabama came out of the gate looking like its usual, domineering self, scoring on its first three possessions and burying Florida beneath a 21-3 deficit in the first quarter – routine business, vintage Bama. From there, though, it was anything but. The offense stalled, ending the first half on three consecutive 3-and-outs; the defense, dominant early, struggled to get the Gators off the field, eventually yielding 4 touchdown drives that covered 75+ yards, including an 11-play, 99-yard epic in the third quarter. For the game, Florida outgained Alabama by more than 100 total yards (439 to 324) and by more than a full yard per play (6.3 to 5.2), with 26 first downs to Alabama's 19.
It was that kind of game – a true four-quarter slugfest, the kind Bama rarely plays anymore before the weather turns. The Tide struggled to establish the run or stop it. Bryce Young, efficient as he was, flashed very little of the big-play flair that defined the offense the past 3 years. The offense as a whole looked like what it is: A rebuilding unit replacing 5 first-round draft picks under a new coordinator. The defense, in the end, had just enough gas in the tank to stuff Florida's 2-point conversion attempt to tie with a little more than 3 minutes to play, at the end of the Gators' third extended TD drive in as many possessions in the second half. Anything beyond that, it would have been running on fumes.
So when we ask now, we are seriously asking: Is Alabama still the best team in college football? And if it's not, who is?
The fact is, barely 3 weeks into the season there's nothing we can say about the Crimson Tide's vulnerability that we can't say about any of the other national contenders. Georgia, the only other team to earn a first-place vote in the updated polls, didn't come close to cracking the end zone in its throwback win over Clemson; as for the Tigers, they're no closer to solving their issues on offense after a water-logged, 14-8 win over Georgia Tech that was every bit the slog the score implies. Oklahoma, looking rusty on offense itself, has struggled to put away Tulane and Nebraska by a combined 12 points. Ohio State's season is on the brink after a home loss to Oregon and uninspiring wins over Minnesota and Tulsa. The week before its season-making upset in Columbus, Oregon narrowly escaped an upset bid of its own from Fresno State.
Texas A&M barely survived a trip to Colorado – which was thoroughly humiliated Saturday in a 30-0 loss to Minnesota – and lost its starting quarterback until midseason at the earliest. Notre Dame needed overtime to put away a historically bad Florida State team and a fourth-quarter comeback to survive against Toledo. Penn State's big wins over Wisconsin and Auburn were both ugly, down-to-the-wire games that could have gone either way. As Playoff hopefuls, Iowa and Cincinnati are … well, Iowa and Cincinnati. None of the above has even a 20% chance of running the table, according to ESPN's Football Power Index, including Alabama.
It's quickly turning out to be that kind of year. And not just for the front-runners: Fresno State's late-night rally to beat UCLA on Saturday was the 19th loss by an AP-ranked team this season, the most through 3 weeks in any season since the AP poll debuted in 1936. (Read that sentence again.) The usual suspects' flaws are unusually obvious for this point on the calendar, and so are just about everyone else's.
In the absence of a truly dominant team at the top, one that manages to pass a legitimate road test even with the raw numbers aligned against it have will have do for the time being. There's still most of a season's worth of football left to be played, and more that we don't know about most of the national heavies than we do know. If Alabama's not yet passing the eye test with flying colors, it's still the most likely contender to put some distance between itself and the rest of the pack as the season unfolds; unlike Clemson and Ohio State, it's also put itself in position to go on winning ugly if that's what it takes without the albatross of an early loss hanging around its neck.
Eventually, the Tide will have to level up to get where they want to go in the postseason. In the meantime, in a season already marked by disappointment and chaos, there's a lot to be said for merely surviving to see next Saturday with all the big goals intact.
Notebook
Around the conference.
Alabama 31 • Florida 29. It's worth emphasizing just how efficient Florida's ground game was over the final 3 quarters against a defense that typically either a) stuffs the run outright, or b) has the luxury of ignoring it as opposing offenses shift into comeback mode facing big deficits.
Florida faced a big early deficit — as well as some accompanying boos from a restless crowd — but didn't shift anything and didn't need to, scoring touchdowns on 4 of its last 5 full possessions mostly on the strength of a backfield-by-committee approach to the running game. The Tide have been in their fair share of shootouts over the years, but it's still a rare feat to line up and run it at them with that kind of consistency. Altogether, the Gators finished with 258 yards rushing on 6.0 per carry (including negative yardage on sacks), becoming just the 3rd Bama opponent to run for 250+ on at least 5.0 a pop in the past 10 years. The other two: Auburn in the 2013 Kick-6 game and Ohio State in the 2014 Sugar Bowl Playoff semifinal.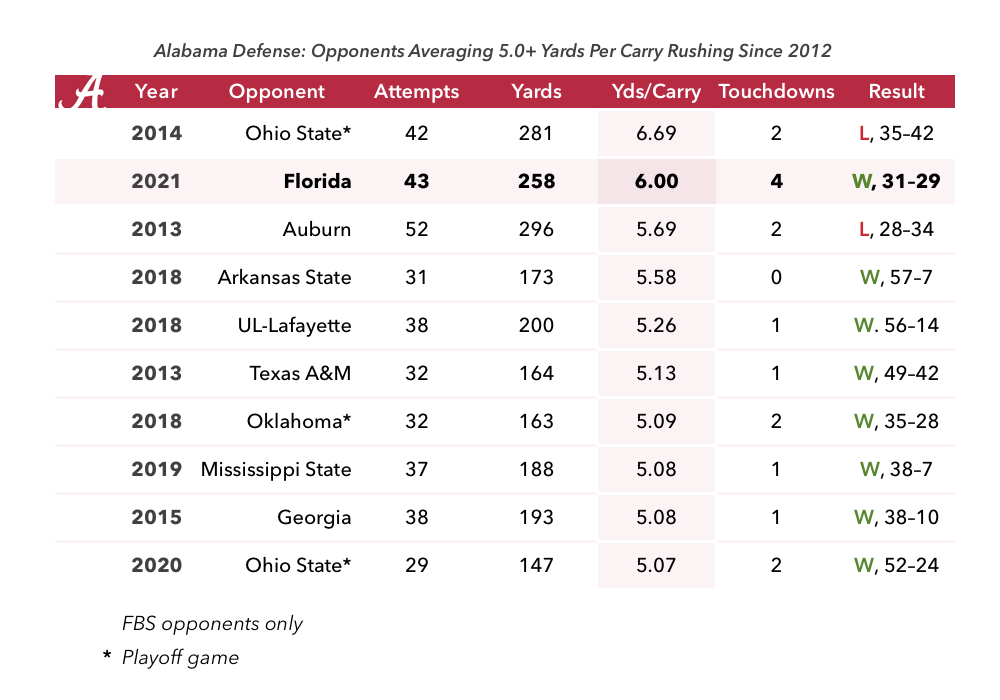 That's a credit to Dan Mullen's game plan and his willingness to stick to it when the scoreboard dictated otherwise, especially given that the Gators were among the SEC's most pass-happy offenses in 2020. With Emory Jones behind center, Mullen was back in his wheelhouse in the zone-read segments of the playbook, putting together methodical drives despite the absence of a workhorse (Jones had a team-high 19 carries; none of the running backs had more than 10) or a breakaway run that skewed the stats. Only 2 carries gained 20+ yards, with a long of 30.
It was a rough afternoon in particular for Alabama's inside linebackers, Christian Harris and Henry To'o To'o, to whom Pro Football Focus handed the two lowest grades on the entire defense — a 44.1 and a 43.0, respectively. Where To'o To'o (No. 10 below) came in for ghastly marks against the run …
MALIK DAVIS JUST KEPT GOING pic.twitter.com/ly5hLeLRPi

— CBS Sports (@CBSSports) September 18, 2021
… Harris was more of a liability in pass coverage, allowing 7 receptions on 8 targets for 80 yards, per PFF, the vast majority of that total coming after the catch. Coverage was the sore spot in Harris' game in 2020, too, when he allowed more receiving yards (539) and touchdowns (3) than any other Bama defender; based on the early returns that's going to be a recurring theme again.
As efficient as Florida's offense was in the second half, the Gators left too many points on the board in the first. On their opening possession of the game, they answered Alabama's opening touchdown with a 75-yard march to the Bama 4-yard line; following a negative play and an incomplete pass, though, Mullen opted to settle for a chip-shot field goal, a dicey decision in the moment that only got dicier as the game unfolded and the 4 points he passed up loomed larger. Later, the offense missed another opportunity to put points on the board when it turned the ball over on downs inside the Alabama 40-yard line. Most crucial of all, kicker Chris Howard shanked the extra point following Florida's first touchdown (see above), a forgettable but significant miss that ultimately forced the Gators to go for 2 at the end of the game rather settling for the tying PAT.
Contrast that with Alabama, which scored on all 5 possessions that crossed midfield, and you're most of the way to explaining how the Tide overcame the statistical divide. In a game that featured only nine non-half-ending possessions per team, every opportunity mattered.
Ole Miss 61 • Tulane 21. If you're looking for a darkhorse candidate outside the top 10 to crash the Playoff conversation, you could do a lot worse at the moment than Ole Miss. The offense has picked up where last year's record-setting attack left off, the defense has looked solidly average at worst, and where most of the teams ahead of them have met some resistance, the Rebels have outscored their first 3 opponents by a combined 96 points.
Scored from far ✅ pic.twitter.com/bc2XSu2WC9

— Ole Miss Football (@OleMissFB) September 19, 2021
This team tastes blood in the water. Against Tulane — an ostensibly respectable version of Tulane, one that took Oklahoma to the wire in the season-opener — Ole Miss matched the Sooners' point total in that game and exceeded their output for total offense and first downs in the first half. For the game, the Rebels scored on 10 of their first 12 possessions before throttling down in the fourth quarter and tied the SEC record with 41 first downs. Even the throttling-down period was ruthless: At one point Lane Kiffin opted to go for it on 4th-and-1 from his own 45-yard line with less than 3 minutes remaining in the game and a 40-point lead.
Up next on the other side of an open date: Alabama, in a) a rematch of one of the most entertaining games of the 2020 season, or of any season; and b) a potentially program-making moment for the Rebels, who didn't quite get their money's worth from back-to-back upsets over Bama in 2014-15. If Kiffin still has his old boss' number, the time to make his move may be as ripe as it's going to get.
Penn State 28 • Auburn 20. Auburn doesn't really do moral victories, and the ending of the Tigers' last full offensive possession, specifically, left a bad taste — a hard-earned opportunity in a winnable game, wasted on a maddeningly indifferent play call.
WHO MADE THIS CALL, @AuburnTigers?

Penn State stops Auburn on 4th and goal after a terrible play call by Auburn late in the game.

Penn State – 28
Auburn – 20 pic.twitter.com/ZuBrzZxITX

— Rahl Reviews (@RahlReviews) September 19, 2021
Final score notwithstanding, though, Auburn went into Saturday night as a blank slate under first-year coach Bryan Harsin and should come out of it feeling OK about its prospects of an 8- or 9-win season. The "White Out" was as advertised in spectacle and decibels. But so was Tank Bigsby, who churned out 102 yards on 23 carries in a performance worthy of his moniker. A couple of up-and-coming weapons, RB Jarquez Hunter (11 touches for 73 yards) and WR Kobe Hudson (4 catches for 66) looked the part against a real defense and set themselves up for substantial roles in SEC play. The front seven was stout against the run, holding the Lions to 94 yards on 2.8 per carry, and got steady pressure on Penn State QB Sean Clifford despite sacking him just once.
And yes, there was plenty on the other side of the ledger, too — Hudson had a costly, unforced fumble to open the second half, setting up a short-field touchdown drive for PSU; the secondary got worked for 302 yards and a couple touchdowns; Bo Nix (21/37, 185 yards, 0 TDs, 0 INTs) looked like the essentially same guy Auburn fans have been watching over the past 2 years. No one watching was ever going to come away with the impression the Tigers are SEC darkhorses, if that's what they were looking for.
But who was expecting that in the first place? At the end of the day, a wholly unproven team went on the road against a quality opponent in a deafening environment, held its own, and put itself in position to win in the end. If it continues doing that, the results will follow soon enough.
One of the niftiest plays of the day — or most frustrating, if you're an Auburn fan — came early in the fourth quarter, with Penn State clinging to a 21-20 lead with the ball near midfield. The Nittany Lions came out in a 5-wide, empty backfield set, with one hitch: The usual left tackle, No. 79 Caedan Wallace, was split wide to the right side of the formation, masquerading as a jumbo wideout, while TE Brenton Strange slid down to Wallace's place on the end of the line. The Tigers, failing to recognize the switch or the fact the LT was now an eligible receiver, left Strange to run free for the easiest 40-yard gain he'll ever have.
Brenton Strange with space. #WeAre pic.twitter.com/esn7JW8cf8

— Justin Groc (@justgroc) September 19, 2021
Penn State punched it across two plays later to extend its lead to 28-20, where it remained the rest of the night.
Chaotic energy of the week
Mississippi State trailed Memphis 21-17 midway through the fourth quarter in the Liberty Bowl. Facing 4th-and-6 at midfield, the Bulldogs opted to punt in an effort to pin Memphis deep in its own territory, which they apparently did by routinely touching the ball dead at the 7-yard line with no Tigers in sight. Then it got weird.
WTF JUST HAPPENED pic.twitter.com/LGMWxtCKZW

— Timothy Burke (@bubbaprog) September 18, 2021
Good question! The return counted, extending Memphis' lead to 28-17, for reasons no one could quite grasp. Since the officials in question were part of an SEC crew, here's the SEC with the official verdict, one of the few official statements that really must be read all the way to the end:
— SEC Officiating (@SECOfficiating) September 19, 2021
To summarize: Technically, it is legal for a player on the return team to pick up a ball and run with it even after the punting team has touched it. However, in this specific case the return should have been halted in its tracks by the back judge, who is quite clearly signaling the play dead as Memphis' Calvin Austin III scoops it off the turf, thereby leaving unwitting Mississippi State players woefully out of position to react because they think (correctly) the play is over. So we have a potentially legal play, rendered illegal in practice by a premature whistle, wrongly allowed to stand anyway.
Oh, and also the return should have been nullified by another, completely unrelated penalty involving jersey numbers. Got all that?
Memphis held on to win, 31-29, in a game in which it was outgained by 222 yards of total offense, finished 2/12 on third-down conversions, and didn't force a turnover.
Obscure stat of the week
Ole Miss QB Matt Corral tied a school record against Tulane with 7 touchdowns (3 passing, 4 rushing), in the process becoming the first SEC player to achieve that exact combination in the same game.
Superlatives
The week's best performances.
1. Ole Miss QB Matt Corral. As expected, Corral's headline stats through 3 games stack up against any quarterback in America. But the most encouraging so far, for a guy who led the SEC in interceptions in 2020: Zero turnovers.
2. Alabama OLB Will Anderson Jr. For much of last week Anderson was doubtful to play against Florida due to a leg injury. Instead, he left no doubt, remaining on the field for 64 of Alabama's 70 defensive snaps and turning in team highs for QB pressures (5) and tackles for loss (2) on a day when Bama's linebackers as a unit seriously struggled. By the final gun Anderson was so visibly exhausted he needed assistance leaving the field; for most of the preceding 4 hours he was the best player on it.
3. Florida CB Kaiir Elam. Elam had his low moments against the Tide, and costly ones at that: A missed tackle that resulted in a touchdown; a pair of pass interference penalties that extended two other eventual scoring drives. (One of which, in Elam's defense, was an embarrassingly bad call.) But that's life on an island against one of the nation's most dynamic offenses. Overall, he lived up to his billing as a future first-rounder opposite John Metchie and Jameson Williams, holding both without a catch on his watch while breaking up all 3 of the non-DPI targets in his direction. Bama's downfield passing game was a non-factor and Elam was a big reason.
4. Georgia OLB Nolan Smith. Smith was only on the field for 25 snaps against South Carolina, but he made them count, finishing with 8 tackles, 2 sacks and a forced fumble — subsequently converted into a touchdown by the offense — on a career night for the former 5-star recruit. His PFF pass-rushing grade (90.2) was a personal best, by far, as well as the best of any SEC defender on the week.
5. LSU WR Deion Smith. Smith, a true freshman, broke out in a big way in LSU's 49-21 win over Central Michigan, hauling in 5 catches for 135 yards and 2 TDs on what amounted to his introduction to the home crowd in Tiger Stadium.
My goodness, Deion Smith. pic.twitter.com/RLXJgS60C1

— Wilson Alexander (@whalexander_) September 18, 2021
That show-stopper, which capped the Tigers' first possession of the game, really did come out of nowhere — Smith sat out the season-opener at UCLA and had just 13 yards on 2 receptions in last week's win over McNeese State. Even if his role going forward is playing second banana opposite Kayshon Boutte, that's a role that badly needed filling, and Smith's obvious potential in it means one less question mark on the depth chart as the schedule turns to SEC play.
Honorable mention: LSU CB Derek Stingley Jr., who had 2 tackles for loss in the Tigers' win over CMU, didn't allow a reception for a positive gain and forced a fumble that LSU returned for a touchdown. … LSU DE BJ Ojulari, who terrorized the Chippewas with 3 sacks off the edge. … Texas A&M DE Micheal Clemons, who was credited with 4 QB pressures and 2 TFLs in the Aggies' shutout win over New Mexico. … Georgia QB JT Daniels, whose otherwise flawless outing vs. South Carolina was marked down due to an interception. … Alabama QB Bryce Young, who finished 22/35 for 233 yards, 3 TDs and no turnovers at Florida in a mad-house environment in just his 3rd career start. … Arkansas QB KJ Jefferson, who threw for 366 yards and 3 TDs on just 23 attempts in the Razorback'' 38-17 win over Rice. … Jefferson's top receiver, Treylon Burks, who had 127 yards and 1 TD on 3 receptions. … Kentucky WR Wan'Dale Robinson, who led the Wildcats with 111 yards on 8 catches in a 28-23 escape vs. Chattanooga and drew a key pass interference penalty that help set up a go-ahead touchdown in the fourth quarter. … Texas A&M RB Isaiah Spiller, who churned out 117 yards and 1 TD on 7.8 per carry vs. New Mexico, 80% of that total coming after contact. … Ole Miss RB Jerrion Ealy, who ran for 103 yards and forced 11 missed tackles on just 15 carries vs. Tulane. … And Florida's backfield committee of Malik Davis, Nay'Quan Wright and QB Emory Jones, who combined for 234 yards on 6.5 per carry in a workmanlike effort vs. Alabama.
– – –
The scoring system for players honored in Superlatives awards 8 points for the week's top player, 6 for second, 5 for third, 4 for fourth, 3 for fifth, and 1 for honorable mention, because how honorable is it really if it doesn't come with any points? The standings are updated weekly with the top 10 players for the season to date.
Moment of Zen of the week
Early in the second quarter in Auburn-Penn State, confusion among the chain crew and officials on the field forced the Nittany Lions to punt … on 3rd down.
After an error by the officiating crew, Penn State ended up punting on the ball on 3rd down vs. Auburn.pic.twitter.com/DH36giy6jH

— The Sporting News (@sportingnews) September 19, 2021
Here's what that looks like in the official play-by-play, if you're wondering: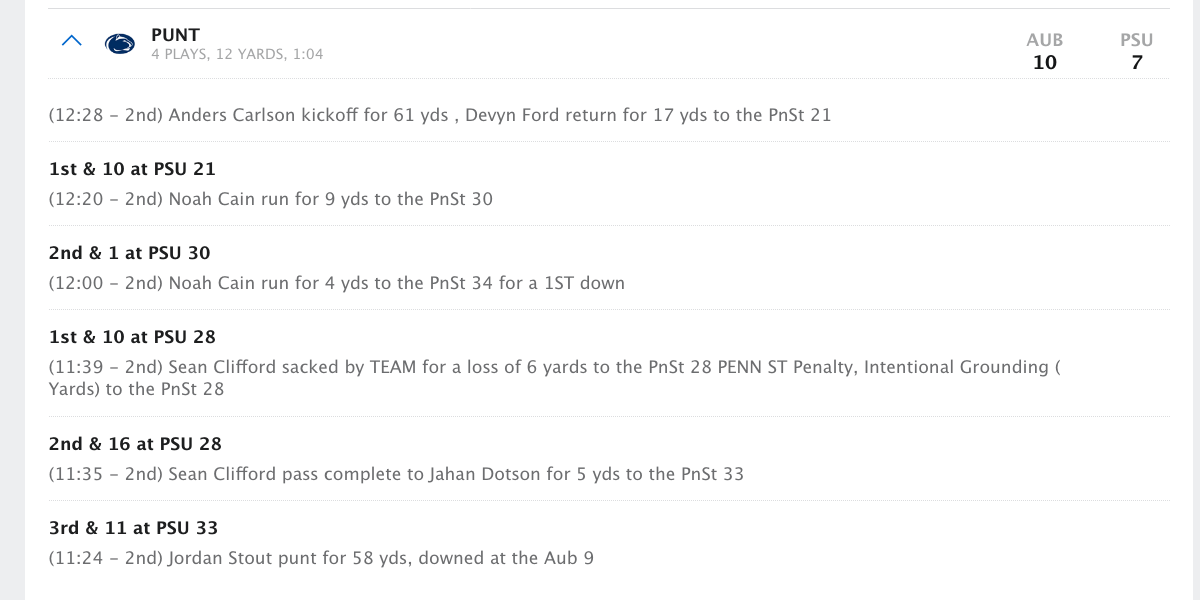 Fortunately the gaffe had no impact on the outcome: Auburn punted it right back in short order.