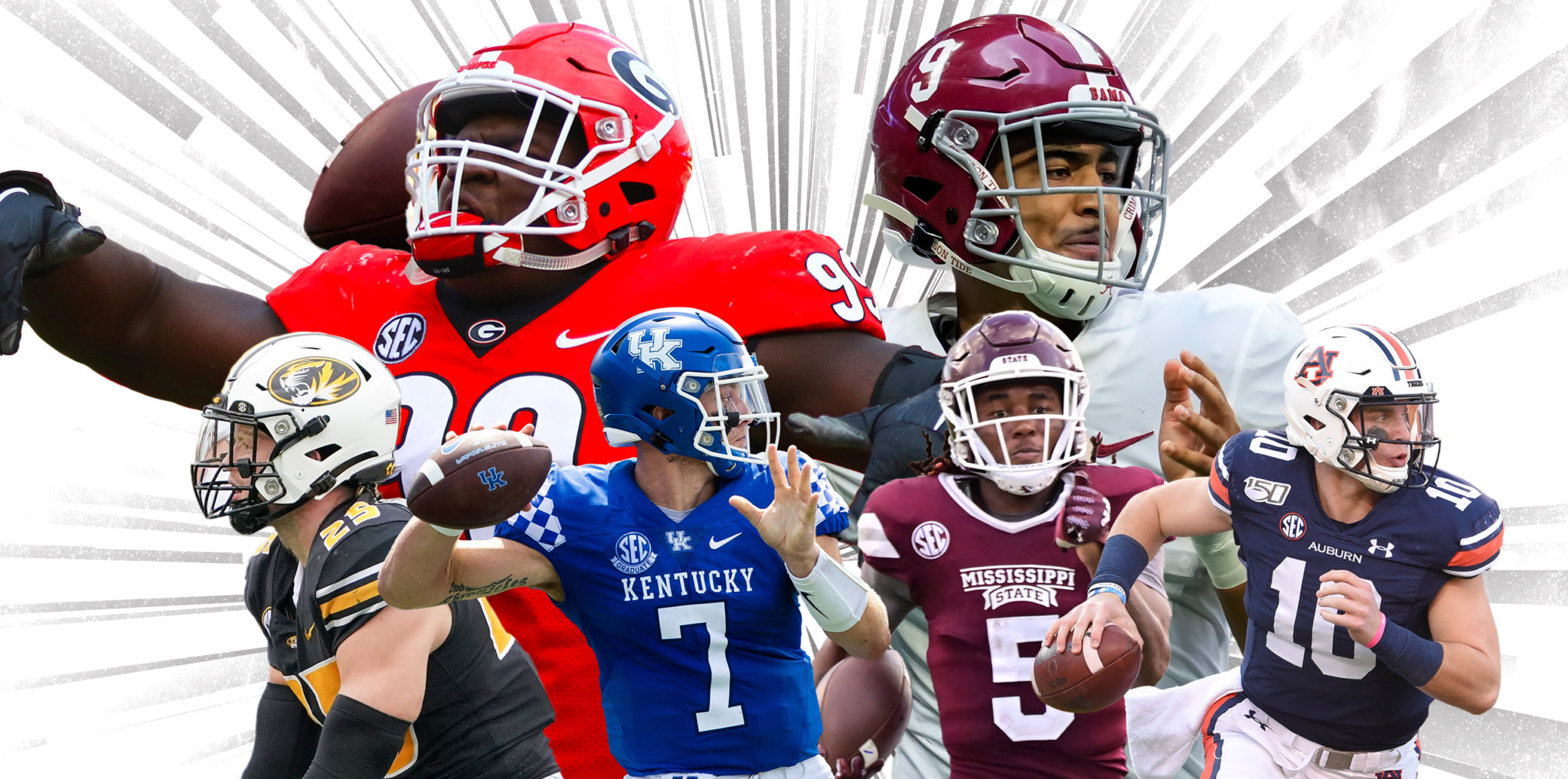 SEC
Monday Down South: On the other side of an offensive revolution, is Georgia's defense good enough to carry the Dawgs all the way?
Weekly takeaways, trends and technicalities from the weekend's SEC action.
If the past few years in college football have proven anything about the state of the sport, it's the stone-cold fact that, in the 2020s, offense wins championships.
Ask no less of an authority than Nick Saban himself. When Saban, once the standard-bearer for the old school, conceded last year following a series of shootout wins that "good defense doesn't beat good offense anymore," he was just surrendering to reality. The past three national champs (Clemson in 2018, LSU in '19, Alabama in '20) all averaged upwards of 40 points and 500 yards per game behind first-round quarterbacks and explosive, big play-oriented passing. So did the teams they beat in the championship game; so did most of the teams they beat in the semifinal round to get there. In the championship game itself, they put up 44, 42 and 52, respectively, reducing the nation's second-best team to just another data point reflecting the season average. Those kinds of scores altered the DNA of what a champion looks like. When it really counted, the spread revolution won, repeatedly, in a rout.
Kirby Smart knows this, too. All too well, in fact: As their rivals at the top of the food chain have evolved, his Georgia teams have been repeatedly exposed by elite spread-era offenses, suffering through a series of big-game embarrassments that have loomed larger than any of their wins — vs. LSU in 2019, vs. Florida last November, on multiple occasions vs. Alabama, including last year's 41-24 loss in Tuscaloosa.
And on paper, anyway, Smart has made all the right moves to bring Georgia into the correct century. He has recruited 5-star quarterbacks and receivers; he has aggressively pursued blue-chip transfers at both positions; he handed over the offense to a coordinator with a track record of producing prolific passing attacks in college and the NFL. To the extent that preseason consensus was bullish on the Bulldogs' national relevance, it was almost entirely because of the prospect of a loaded, up-to-date offense blessed with the downfield juice that's been glaringly absent the past few years courtesy of JT Daniels and a fleet of young, gifted wideouts.
The defense? Sure, Georgia plays defense. Under Smart, Georgia will always play defense. The defense has been there, it's consistently ranked among the nation's best, and when it matters the most it hasn't been nearly enough. Good defense doesn't beat good offense anymore. What else is new?
DJ UIAGALELEI INTERCEPTED!

PICK-SIX GEORGIA! pic.twitter.com/Ivng4pYaPl

— CBS Sports (@CBSSports) September 5, 2021
Well. After the full-on, start-to-finish beatdown the defense administered in Saturday's 10-3 win over Clemson — a sweltering slugfest of a game featuring zero offensive touchdowns and a grand total of 436 yards by both offenses combined — maybe it's time to consider that what's old can be new again.
Statistically, it was one of those games that can only be put into context by turning to the archives. Prior to Saturday, Clemson hadn't been shut out of the end zone since a 24-6 loss to Alabama in the 2017 Playoff semifinal (starting quarterback: Kelly Bryant) or held to as few as 3 points since September 2007. The Tigers' output in terms of total offense (180 yards) was their worst since 2004; their final total on the ground (2 yards rushing) the worst since 2008; their average gain (3.0 yards per play) the worst since 2006. DJ Uiagalelei's pass efficiency rating (86.4) ranked among the bottom 5 performances by a Clemson quarterback in the past decade. Georgia racked up 7 sacks, forced 5 three-and-outs, and limited the Tigers to no gain or a loss on nearly half of their total snaps.
All SEVEN of UGA's sacks vs. Clemson last night. The Dawgs' front 7 is legit! pic.twitter.com/jiAIRt8m0X

— SEC Football Vids (@SECFootballVids) September 5, 2021
In spirit, it was more like an act of defiance, a mission statement for Kirby Smart's brand of football. For all the resources the Bulldogs have devoted to the offense, and all the talent they've acquired as a result, their native language remains defense. They're right at home in a borderline unwatchable slog as they've ever been. They physically dominated the line of scrimmage, consistently confounded Clemson's pass-blocking schemes, and had answers for everything the Tigers threw against the wall. They betrayed no weak links. More importantly, by physically dictating slog logic to a perennial contender accustomed to doing the dictating on much higher-scoring terms, they made the most compelling case in years that an elite defense can still carry the day at the highest level.
Is that sustainable over a full season, Playoff run and all? Early September, of course, is the peak of overreaction season — check back in a couple of months. If any team is capable of pressing the issue, though, Georgia's the one. The Bulldogs have one serious test remaining between now and the SEC Championship Game (vs. Florida on Oct. 30) and figure to be heavily favored against everyone else; with Clemson in the win column, the schedule shapes up as a straight shot to the white whale, Alabama, looming at the end. Between the sheer talent on hand (8 former 5-star recruits played significant snaps), the track record under Smart, and the general disposition on display, certainly the performance in Charlotte can't be dismissed as a fluke, Uiagalelei's youth notwithstanding. Georgia has been too good on defense for too long, and has arguably never looked better.
Whether that's good enough in the long run to hold up in the face of every prevailing trend in the sport suddenly looks like one of the season's defining questions. But for one night, at least, the pendulum swung decisively, defiantly back the other way.
Notebook
Around the conference…
Georgia 10, Clemson 3. OK, presumably Georgia is going to need some offense to break out of its also-ran purgatory, and it was no clearer on Saturday night just where that's going to come from than it was on Saturday morning.
Frankly, if not for the defense, this would have gone down as a miserable performance: 256 total yards, 3 points, no semblance of a downfield passing game whatsoever. Taking the defense's effort into account, it was merely dull. JT Daniels' vaunted arm remained under wraps; he didn't attempt a pass that traveled 20+ yards downfield, and 13 of his 22 completions were behind the line of scrimmage, per Pro Football Focus. The receiving corps, overflowing with talent on paper, was so decimated by injuries the Bulldogs were forced to rely on walk-ons Jaylen Johnson and Ladd McConkey as part of the regular rotation. The only players who finished with more than 2 receptions were RB James Cook and freshman TE Brock Bowers, who together averaged exactly 5.0 yards per catch with a long gain of 13.
The ground game was slightly more respectable, but only as a result of a late clock-killing drive on which UGA ran 10 straight times for 41 yards to close out the win. Prior to that? One decent gain via Zamir White and a whole bunch of 12-car pileups.
This run by Zamir White ? pic.twitter.com/9BlXaq4dUM

— SEC Football Vids (@SECFootballVids) September 5, 2021
For now, most of those issues can be chalked up to some combination of Clemson's undeniably elite defense, the injuries at receiver — none of which are necessarily season-ending, depending on George Pickens' progress in recovering from a torn ACL — and the lack of interest in taking any chances when Georgia's own defense had its part of the game on lockdown. This was a demolition-derby type of game straight out of 1981, or 2011; given the opportunity and a greater sense of urgency, this group still has way too much explosive potential to hit the panic button following a huge win. But, well, what else is new? Given the recent history of stout defenses being undermined by resolutely lo-fi offenses at Georgia, it would be nice to see some of that potential coming to fruition before it's absolutely necessary.
Alabama 44, Miami 13. That fleeting, 5-minute window at the start of every season when there's still a tiny sliver of a chance this will be the year Bama takes a step back is always fun, isn't it?
JAMESON WILLIAMS 94-YARD HOUSE CALL ??

(via @espn) pic.twitter.com/F4nYfjxl2e

— 247Sports (@247Sports) September 4, 2021
Writing about Alabama's offense at this point is strictly a cut-and-paste exercise. Mass exodus from last year, draft picks galore to be replaced, new quarterback, new coordinator after the last guy got snapped up for a head-coaching gig, the whole spiel. Even for Alabama that's an awful lot of talent to just — what's that? The new guys just scored with hilarious ease? Ah, carry on then.
We've done this enough times by now to understand with more or less 100% certainty that Bryce Young, the most hyped recruit of the Saban era, is going to be who was supposed to be, and so he is: His first career start yielded a predictably dominant stat line (27/38, 344 yards, 4 TDs, 0 INTs, 1 sack) and points on 8 of the 10 possessions he was in the game, including each of the first 5. The Crimson Tide led 27-0 before Miami's offense took its first snap in plus territory.
There are few nits to pick, as there always are. Young was just 1/6 on attempts of 20+ yards (the one completion being the above-posted 94-yard bomb to Ohio State transfer Jameson Williams for touchdown No. 4). On a related note, he spent much of the afternoon under pressure, with Miami generating 25 QB hurries and 8 hits in addition to its lone sack, per PFF; many of those were the result of Young not getting rid of the ball as quickly as the Tide were accustomed to last year with the machine-like consistency of Mac Jones. (PFF assigned Young the blame for 3 pressures on Saturday, compared to the 12 it put on Jones for all of 2020.) He didn't significantly contribute to the running game, by design or as a scrambler.
Still, for a first-time starter facing a ranked opponent, those kinds of issues barely rate except as excuses for coaches to keep him humble. Vegas saw all it needed to see to move Young to the top of its updated Heisman Trophy odds, where he's most likely going to stay for the rest of this season and the next. It comes with the territory, and that landscape obviously is not changing anytime soon.
UCLA 38, LSU 27. 2020 set up as the hangover year, a season essentially free from expectations following a wave of departures from LSU's 2019 championship run, and played out that way. So what does it say about the 2021 edition that it came out on Saturday night looking like a team coming off a bender?
Max Johnson went for it. ?

(?: @CFBONFOX)
pic.twitter.com/6IDzRw9MYi

— theScore (@theScore) September 5, 2021
Nothing good, obviously. The Tigers were one-dimensional on offense, lethargic on defense, and — the supreme insult vs. a chronically underachieving outfit from the Pac-12 — soundly whipped on both lines of scrimmage. They managed just 49 yards rushing on 2.0 per carry while allowing 213 yards to UCLA's top two backs, Zach Charbonnet and Brittain Brown. They gave up 4 receptions of 30+ yards to an offense that had just 7 30-yard receptions in all of 2020. They collectively missed 18 tackles, per PFF — 3 of them, notably, charged to All-America CB Derek Stingley Jr., who was posterized on a long touchdown in the second half and generally did little to reinforce his reputation as a single-digit draft pick in waiting. The one aspect that kinda worked, the passing game on offense, was more streaky than good, connecting on a handful of big plays amid overall inconsistency.
In other words, they looked an awful lot like they did last year, the worst in Baton Rouge since the turn of the century. It's not exactly novel to compare Ed Orgeron and his bipolar résumé as a head coach with the most infamous one-year wonder of the past few decades, Gene Chizik, whose tenure at Auburn lasted just 2 years after the Tigers' unlikely national championship run in 2010. But a loss like this one pushes Orgeron too far down the Chizik path to pretend otherwise. The lineup has almost completely turned over since 2019, along with most of the coaching staff and the unique chemistry between them. His attempt to rekindle that in the offseason by hiring younger coordinators is off to a depressing start against an outfit that hasn't posted a winning record since 2015, which LSU was widely expected to beat. It's not just one game, and it's not about to get any easier.
If it's going to get any better, it's going to be primarily on the arm of sophomore QB Max Johnson and WR Kayshon Boutte. Their connection at the end of the last season as true freshmen was the most promising thing to come out of the 2020 campaign, and it carried over into the new year with Johnson and Boutte hooking up for 148 yards and 3 touchdowns on 16.4 yards per catch. No other Tiger found the end zone or accounted for a play longer than 20 yards.
Kayshon Boutte statlines since taking over as LSU primary wide receiver:

8 rec, 111 yds, 0 TD vs Alabama
5 rec, 108 yds, 1 TD vs Florida
14 rec, 308 yds, 3 TD vs Ole Miss
9 rec, 148 yds, 3 TD vs UCLA

He's an alpha WR1 with major YAC ability. Rare talent.pic.twitter.com/dKlJLjqbZz

— Luca Sartirana (@SartiranaLuca) September 5, 2021
Johnson to Boutte works. Almost nothing else does right now, regardless of the baseline talent. Orgeron has coached his way off the hot seat before, but at the moment the fact he's found his way back in Year 6 with what should be one of the nation's most stacked rosters speaks for itself.
Mississippi State 35, La. Tech 34. Mississippi State scored the game's first 2 touchdowns against Louisiana Tech, then hit snooze: From the end of the first quarter to the beginning of the fourth, Tech ripped off 34 consecutive points in a little under 32 minutes, staking out a 20-point cushion with a little under a quarter to play. A chip-shot field goal by Tech's Jacob Barnes at the 13:11 mark of the fourth quarter effectively put the game on ice and sent the home crowd in Starkville to the exits.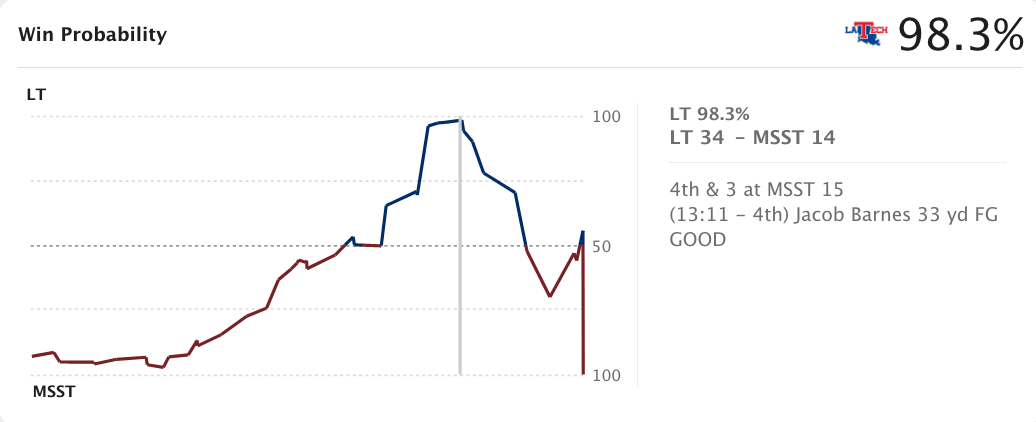 Not so fast, cowbell style. On the ensuing kickoff, Mississippi State's Lideatrick Griffin broke free for a 70-yard return to the Tech 21-yard line, and the energy instantly shifted. MSU's offense capitalized on the return with a short-field touchdown drive that cut Tech's lead to 34-21. Following a quick 3-and-out by the defense, the Bulldogs embarked on their longest drive of the day, by far, moving 77 yards in 7 plays to reduce the deficit to 34-28. Another quick 3-and-out, another touchdown drive, and suddenly the Bulldogs led by 1, 35-34, with 3:37 to play.
Tech had one last gasp in it, eking out just enough on its final possession to set a game-winning attempt by Barnes from 46 yards out. But by that point, the wind was clearly at Mississippi State's back:
WALK-OFF FIELD GOAL BLOCK

MISSISSIPPI STATE

— PFF College (@PFF_College) September 4, 2021
The rally from 20 points down goes in the books as the largest comeback in school history, thanks largely to Griffin's return on the front end and Jaden Crumedy's big paw on the clincher. It also spared Mike Leach and the entire fan base from the bad vibes and automatic hot-seat speculation that comes with losing to a Conference-USA also-ran on the heels of a losing record in 2020. This season was supposed to be a step forward in Year 2, not more of the same (or arguably worse). For one more week, at least, it still can be.
E. Tennessee State 23, Vanderbilt 3. Three of the league's new head coaches – Tennessee's Josh Heupel, South Carolina's Shane Beamer and Auburn's Brian Harsin — debuted to big, blowout wins at the expense of hopelessly overmatched opponents by a combined score of 144-16. No alarms, no surprises, no excuses for enraged calls into the postgame radio show ready to run the new guy out of town before he's closed on his house.
Then there's Vanderbilt's Clark Lea, whose return to his alma mater was … less encouraging.
Lets check in on Vanderbilt

— PFF College (@PFF_College) September 5, 2021
Look, there's no way to spin a 20-point loss at the hands of an FCS outfit you were favored to beat by 21 except by saying: Who cares? The Commodores didn't win a game in 2020; by all appearances, they may very well be doomed to the same fate in 2021. (Although an Oct. 2 visit from fellow bottom-dweller UConn will be another golden opportunity to get on the board in what should be a truly dreadful matchup.) The climb from the hole left by the last administration was always going to be a long, slow one, and it still is. No one keeping tabs on Vandy football realistically expected this team to earn a conference win this season before Saturday, and they still don't.
Still, something about kicking off a new era with a wipeout defeat in one of the exceedingly few winnable games on the schedule has a way of driving home just how far the Dores have to go to feign competitiveness. Vanderbilt has always been the team that time forgot in the SEC. But the gap has rarely (if ever) been as wide as it is now, at a moment when it's impossible to imagine any other team in the conference biting it that hard. Lea should have all the time he needs, and from the looks of it, he's going to need it all.
Superlatives
The best of the week ….
1. Alabama QB Bryce Young. Almost every other aspiring Heisman contender struggled to some extent or another in Week 1, leaving Young to steal the show with his electric introduction against Miami. He's going to be taking up residence in this slot on regular basis over the course of the season — often alongside one or both of his top targets, John Metchie and Jameson Williams, who accounted for the majority of Young's output against the 'Canes with a combined 202 yards and 2 TDs on 10 catches.
2. Georgia DTs Jordan Davis and Jalen Carter. Davis (listed at 6-6/340) and Carter (6-3/310) are massive figures along Georgia's front line and had a massive impact in UGA's smothering run defense against Clemson. Frequently alternating for each other — Davis on running downs, Carter to rush the passer — the big men were nearly unblockable Saturday, combining for 3 TFLs, 3 QB pressures, and the two best PFF grades among UGA's front seven. As long as they're in the fold, the Bulldogs have the sheer mass to shut down any opposing ground game they'll see.
3. Alabama Edge Will Anderson Jr. Anderson, a full-time starter in 2020 as a true freshman, picked up right where he left off last year against Miami, finishing with a team-high 9 tackles, 5 QB pressures and a sack in a dominant performance for the Alabama front seven as a whole. After coming up empty in the sack column through the first 7 games of his career, he's recorded 8 sacks in the past 7.
4. Missouri LB Blaze Alldredge. A 2-time All-Conference-USA pick at Rice, Alldredge was brought in over the offseason to fill the void left by departed tackle machine Nick Bolton. So far, so good: Alldredge was everywhere in his first game as a Tiger, racking up 10 tackles, 6 tackles for loss and 3.5 sacks in a 34-24 win over Central Michigan. Six TFLs is the most by an individual SEC player in any game since the turn of the century.
5. Texas A&M S Leon O'Neal. O'Neal, a mainstay in the Aggies' secondary the past three seasons, had his best game in their 41-10 win over Kent State, coming away with 2 interceptions off decorated KSU quarterback Dustin Crum without allowing a completed pass, per PFF. His second pick, coming with A&M clinging to a 13-7 lead in the third quarter, broke the game wide open.
Pick 6️⃣ !!@WakeEmUp9 #GigEm pic.twitter.com/y7KxmM8IYb

— Texas A&M Football (@AggieFootball) September 5, 2021
A&M went on to score touchdowns on 3 of its next 4 possessions to slam the door on a would-be upset, and potentially on Crum's prospects of playing his way into next year's draft.
Honorable Mention: LSU WR Kayshon Boutte, whose 148 yards and 3 TDs receiving were one of the few bright spots in the Tigers' loss at UCLA. … Texas A&M RBs Devon Achane, Isaiah Spiller and Ainias Smith, who combined for 377 scrimmage yards and 4 TDs against Kent State on 8.4 yards per touch. … South Carolina RB ZaQuandre White, who accounted for 168 scrimmage yards and 2 TDs in the Gameocks' 46-0 romp over Eastern Illinois. … Missouri RB Tyler Badie, who went off for 243 scrimmage yards (203 rushing, 40 receiving) and 2 TDs in the Tigers' win over Central Michigan. … Missouri CB Akayleb Evans, who allowed just 3 receptions on 11 targets against the Chippewas while recording 3 PBUs and an INT in his Mizzou debut. … Auburn QB Bo Nix, who finished 20/22 passing for 275 yards and 3 TDs in a glorified scrimmage against Akron. … Florida DE Zachary Carter, who registered 3 sacks and a forced fumble in the Gators' 35-14 win over Florida Atlantic. … Georgia LB Nakobe Dean, who was the Bulldogs' most productive pass rusher against Clemson with 4 QB pressures, including a pair of sacks. … Kentucky LB DeAndre Square, who was credited with 3.5 of the Wildcats' 14 TFLs in a 45-10 win over UL-Monroe. … Kentucky WRs Josh Ali and Wan'Dale Robinson, who accounted for the majority of the Wildcats' receiving production in QB Will Levis' debut with a combined 261 yards and 3 TDs on 10 catches. … And Kentucky LT Darian Kinnard, who lived up to his All-American reputation against ULM by allowing zero sacks or pressures and turning in the highest PFF grade of any SEC o-lineman (85.4) for the week.
– – –
The scoring system for players honored in Superlatives awards 8 points for the week's top player, 6 for second, 5 for third, 4 for fourth, 3 for fifth, and 1 for honorable mention, because how honorable is it really if it doesn't come with any points? The standings are updated weekly to reflect the top 10 players for the season to date.

Moment of Zen of the Week
The last time Vanderbilt was embarrassed in its home opener under a first-year head coach, the coach was Derek Mason and the opponent was Temple, a 37-7 winner in Mason's debut in 2014. A lot has changed in the intervening 8 years, but one thing has not: Linebacker Jared Folks' presence on the victorious roster.
What a line (and stat!) from @joerexrode off Vanderbilt's opener https://t.co/kuoNBxtupy pic.twitter.com/zNyofGAnfM

— Matt Fortuna (@Matt_Fortuna) September 5, 2021
Folks, who began his career at Temple in the first season of the College Football Playoff, is believed to be the first player in NCAA history to be granted an 8th year of eligibility due to a combination of injuries and the free year afforded to all players in 2020 due to COVID-19. In the delayed 2020 season, played earlier this year, the 25-year-old Folks shared Defensive Player of the Year honors in the Southern Conference. Alas, he was an injury casualty in Saturday's return trip to Nashville, forced to watch his understudy, Stephen Scott, return a fumble for a touchdown in his place.