SEC
Monday Down South: Nick Saban didn't have to evolve. Alabama is better than ever because he did
Weekly takeaways, trends and technicalities from the weekend's action.
The Crimson Tide are who we thought they were (only more so)
Alabama 55, LSU 17. Look, you are not about to catch me in the cursed year 2020 suggesting Nick Saban is somehow underrated as a football coach. I think it's safe to say at this point that the guy with 6 national championships, the best winning percentage in Alabama history, and, as of Saturday, his own headline in The Onion has been appropriately rated many times over, to the extent that it's hard to believe there be anything left to write or read about the man or his brand of football that hasn't been conventional wisdom for a decade. And yet: It might be possible that he's only beginning to get the credit he deserves for just how fundamentally that brand has evolved to keep him at the top of the sport.
I know. Marveling over Bama's offense is nothing new. (Heck, I'm only one week removed from anointing DeVonta Smith as the best receiver in school history in this very space, which has devoted many thousands of words to chronicling the Tide's ever-increasing explosiveness over the past 5 years.) Still, something about watching them hang 55 points and 650 yards of total offense on LSU, of all teams — even a greatly diminished version of LSU whose defense ranks among the worst in the nation — has a way of making you stop and take stock of how much has changed, and how quickly.
Consider that prior to last year's epic, 46-41 loss in Tuscaloosa, Alabama hadn't cracked 40 points against LSU in more than 70 years, topping out offensively in that span in a 38-17 win in 2013. On Saturday night it had 45 points … at halftime.
DEVONTA SMITH IS RIDICULOUS pic.twitter.com/NhCkPJAccB

— CBS Sports (@CBSSports) December 6, 2020
Ridiculous? Yes. Surprising? Not even slightly. Not anymore.
Before the season, though, it would have been. Then, the general expectation was that the post-Tua version of the offense would (at least temporarily) descend from orbit after losing four first-round draft picks from the 2019 attack, an exodus that included not only the most prolific passer in school history but also a pair of sub-4.5 wideouts who combined for 50 touchdowns in 3 years.
Instead, it has somehow continued its ascent into the next frontier: Through 9 games, the Tide have already smashed LSU's 2019 record for points in SEC play (443, surpassing LSU's 419 points last year in the same number of games), and are on pace to become the first SEC team to average 8.0 yards per play over a full season, largely without breaking a sweat. Mac Jones leads the nation among Power 5 QBs in yards per attempt, pass efficiency, and Total QBR, eclipsing Tagovailoa (for now) in all of the above. Smith leads the nation in receiving yards and touchdowns, having accounted for an absurd 749 yards and 11 TDs in the last 4 games alone. Najee Harris leads the nation in total touchdowns. Between them, Smith and Harris are averaging more combined scrimmage yards per game (289) than any pair of FBS teammates in the same season since at least the turn of the century.
This is an offense that's scored in 35 of the 36 quarters it's played this season. This is a unit that lost the most explosive player in college football to a season-ending injury in October, and arguably got more explosive. In the same way that the defense used to replace successive waves of NFL talent as a matter of course, this is just what Alabama football is now.
Is that what Saban wants it to be, in his ideal version of reality? Probably not! Deep in his defensively oriented heart, you know he'd be perfectly happy to return to the days when Bama could register a blowout win over LSU without necessarily needing to score a touchdown at all. And he certainly could have tried: At his age, with his track record, job security, and hard-earned ego, he could have easily battened down the hatches and insisted on enshrining the 2012 team in perpetuity as the ideal for all other Saban teams to aspire to. It would have been easy and understandable.
With Alabama's talent level, it probably would have worked well enough to sustain that level, at least up to a point. He could have looked at Mac Jones, a gangly, 3-star recruit, and happily thought — like a whole lot of people did prior to this season — that he'd found the next Greg McElroy.
But his instincts told him the truth: Good defense doesn't beat good offense anymore, and every move he's made since pulling Jalen Hurts for Tagovailoa at halftime of the 2017 national title game has been aggressively (if grudgingly) toward becoming the kind of high-octane team Bama fans used to define themselves against. He didn't write off Steve Sarkisian as a play-caller based on Sarkisian's sordid exit from USC. He didn't concede the assumption that Tua's production was the outlier in a venerable tradition of game managers. He didn't use Jaylen Waddle's absence as an excuse to rein in the downfield passing game. He trusted the process as it's now understood.
The result: An attack averaging just shy of 50 points per game vs. a conference-only schedule, led by a quarterback whose main obstacle to winning the Heisman may be the lingering doubt that he's even the most outstanding player in his own huddle. The SEC Championship showdown with Florida on Dec. 19 will be the final word on that, and more importantly on where Bama's headliners stand re: Florida's own prolific QB, Kyle Trask. In the longer run, that matchup is just one more unmistakable reminder that the old logic has changed. In 2020, offense wins championships. And right now the best offense in college football unmistakably belongs to Alabama.
– – –
On the other side, a 38-point humiliation in prime time marked the low point of LSU's lost year, which in the context of what is almost certain to be the Tigers' first losing season since 1999 makes Saturday night arguably the lowest point in Baton Rouge in 20 years. The margin vs. Alabama was the largest home loss ever endured by a defending national champion in the AP poll era; it was also LSU's worst defeat at the hands of the Crimson Tide since 1925, coming barely a month after the Tigers suffered their worst defeat ever vs. Auburn in a 48-11 laugher on the Plains. Add to that earlier embarrassments against Mississippi State and Missouri — not to mention upcoming dates with highly explosive offenses from Florida and Ole Miss to close out the season — and you have what must be the most severe hangover campaign following a national championship in the sport's history.
It's all relative, of course. But based on Sports Reference's Simple Rating System, one of the few useful metrics available for comparing teams across different eras, the 2020 Tigers are still on pace to become the first team in the AP poll era to post a negative rating (where 0.0 represents average) the year after claiming a national title, and are currently sitting on the largest year-over-year decline per SRS of any defending champ on record: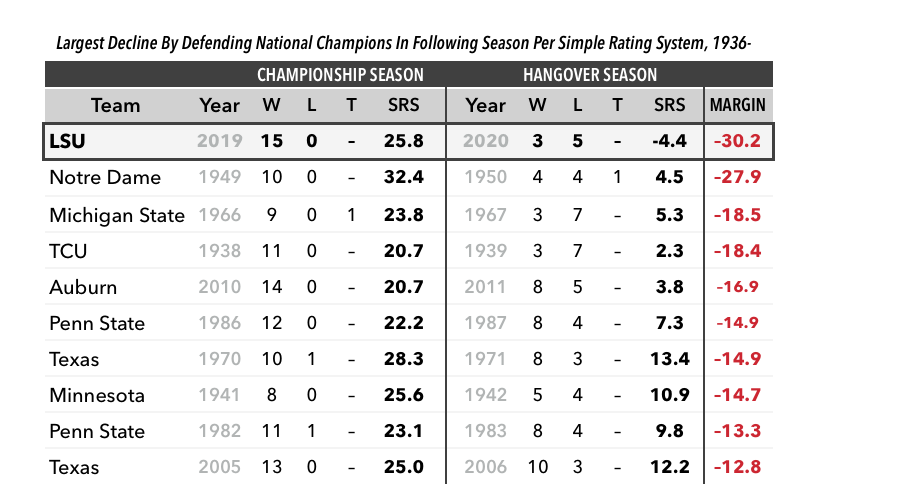 We all knew LSU was destined to take a nosedive this year relative to the heights of last year's title run, but between injuries and players opting out it was impossible to foresee in September just how steep the decline would be or how completely different the lineup would look by year's end. Of the 22 starters on Saturday night, only 4 (OL Austin Deculus, DL Glen Logan, DB JaCoby Stevens, and CB Derek Stingley Jr.) were holdovers from the starting lineup in last year's win over Bama; on offense, only sophomore RB Tyrion Davis-Price touched the ball in both games.
The silver lining, to the extent there was one, was the extreme youth, especially among the skill players on offense, where 5-star freshmen Kayshon Boutte and Arik Gilbert accounted for a little more than half of the Tigers' total receiving output from a pair of true freshman quarterbacks, TJ Finley and Max Johnson, who rotated throughout the game. But the youth movement didn't extend across the depth chart as a whole — the starting 11 on defense included 6 seniors — and it hardly absolves an historic flop. The talent gap is not that wide. For a team already resigned to playing for next year, there's alarmingly little to build on.
Texas A&M got the break of the year – and made it count
Texas A&M 31, Auburn 20. Last year, Auburn LB Zakoby McClain was the central figure in one of the most dramatic swing plays of the season — a fluky, tip-drill interception in the Tigers' Iron Bowl win over Alabama that he gathered in on his own goal line and returned 100 yards the other way for a go-ahead pick-6. That play alone represented a 14-point swing on the scoreboard, a crucial turn in an eventual 48-45 decision that effectively eliminated Bama from the playoff.
On Saturday, McClain was involved in another high-impact, tip-drill touchdown with potential Playoff implications — only this time on the wrong side of the bounce:
Sometimes it's better to be lucky than good.

Kellen's pass could have been picked off, but instead it finds Wydermyer's hands in the end zone to give the #Aggies a 21-20 lead over Auburn. #GigEm pic.twitter.com/07wzPJDsWd

— Mike Lucas (@KAGS_Lucas) December 5, 2020
With almost a full quarter left to play at that point, it's impossible to say exactly how the rest of the game may have unfolded differently if McClain had held on to the pick, thereby preserving Auburn's 6-point lead. But here's what actually did happen on the subsequent possessions:
• Auburn: 3-and-out, punt
• Texas A&M: 7 plays, 77 yards, touchdown to extend lead to 28-20
• Auburn: 3-and-out, punt
• Texas A&M: 12 plays, 55 yards, field goal to extend lead to 31-20
• Auburn: Turnover on downs
If the Aggies do wind up falling into a Playoff berth — assuming they win their last 2 vs. Ole Miss and Tennessee, losses by Florida and Clemson will probably be enough to clear the path — the near-miss may go down as the defining moment along the way, less for the deflection itself than for the offense's response with the win suddenly within reach. In the 4th quarter alone, A&M rolled up 168 yards (69 rushing/99 passing), gained 9 first downs, went 3-of-4 on 3rd-down conversions and connected on its only downfield completion of the game, a 38-yard beauty from Kellen Mond to Ainias Smith that set up the pull-away touchdown on the following play.
The #Aggies improve to 7-1 on the season after a 31-20 win over Auburn.

This sequence from @ainias_smith put A&M ahead and the defense never let Auburn back into it.

Next up: Ole Miss (hopefully) #GigEm pic.twitter.com/E5UqLH3QEX

— Mike Lucas (@KAGS_Lucas) December 5, 2020
As dominant as A&M's offensive line was for most of the afternoon, it's possible that the alternate-timeline Aggies would have rebounded from a deflating turnover by rolling on to a pair of late, game-clinching scores in roughly the same fashion that they actually did; it's equally likely that, given the ball back with an intact lead early in the 4th, Auburn would have taken a different, more successful track to preserve it. As it stands in this timeline, A&M still has a plausible path and just enough offense opposite the SEC's No. 1 defense to hold up its end of the bargain.
South Carolina bet its future on Shane Beamer. Who?
Kentucky 41, South Carolina 18. South Carolina wrapped up a dismal, 2-8 campaign with its 6th consecutive loss Saturday night, but the proceedings were mostly perfunctory and the final score was an afterthought. Instead Gamecocks fans had already moved on to more pressing business: Collectively Googling Shane Beamer.
It's official!

Welcome home, @CoachSBeamer! pic.twitter.com/L0B7caQ2oh

— Gamecock Football (@GamecockFB) December 6, 2020
Who is Shane Beamer? Beyond his last name, good question. For an incoming SEC head coach, his traditional résumé is relatively thin – at 43, he's never been a head coach at any level, or even a coordinator. On another level, though, it's clear he's been groomed for this opportunity for his entire life. Besides his dad, Virginia Tech legend Frank Beamer, Shane has worked his way up as an assistant for (among others) Steve Spurrier at South Carolina, Kirby Smart at Georgia, and most recently Lincoln Riley at Oklahoma, where he's spent the last 3 years as assistant head coach and tight ends coach.
His first stint at Carolina, from 2007-10, coincided with the ramp up to the hey day of the Spurrier years; on Sunday the school released a video of Beamer reminiscing about his daughter hunting for Easter eggs in Williams-Brice Stadium. He was also a part of teams that won conference championships and earned Playoff bids in 3 consecutive seasons from 2017-19 at UGA and OU. He's been around a lot of success.
Getting the ball rolling again from a dead stop in Columbia is a different kind of challenge. The Gamecocks do appear to have a long-term quarterback in touted true freshman Luke Doty, who started the last 2 games, as well as a true bell cow in sophomore RB Kevin Harris, who joined Najee Harris on Saturday as the only SEC backs over 1,000 yards rushing this season with a 21-carry, 210-yard effort vs. Kentucky. Otherwise, Beamer is starting over more or less from scratch with a roster that remained behind the curve throughout Will Muschamp's tenure and is arguably no better off now than the group Muschamp inherited from Spurrier in 2015.
The next few years are crucial ones for South Carolina to reassert itself as a factor in the SEC East. The forward momentum of the Lattimore/Clowney years is a distant memory, and the further it recedes the more that era looks like an outlier in a program that tops out in the Outback Bowl: In 28 years in the conference, Carolina has finished in the AP Top 25 just 6 times, 4 of them in that window from 2010-13. Under Muschamp it appeared in the poll for a grand total of 1 week, following a 1-0 start in 2018. Just getting back to that point feels like a steep climb, and that's just the first step in getting where the Gamecocks ultimately want to go.
Superlatives
The best of the week.
1. Alabama QB Mac Jones, RB Najee Harris and WR DeVonta Smith. It's time to start seriously considering Jones (20-for-28 for 385 yards, 4 TDs vs. LSU), Harris (145 yards, 3 TDs on 6.9 per carry) and Smith (8 catches for 231 yards, 3 TDs) among the best QB/RB/WR combinations in SEC history.
Jones has thrown for multiple touchdowns in 8 of 9 games this season while posting a nearly identical grade to Joe Burrow's last year according to Pro Football Focus; Harris has accounted for 100+ scrimmage yards in 8 of 9 games with multiple TDs in 6 of them; Smith has 140+ receiving yards in 6 of the last 7.
NAJEE HARRIS IS A BAD MAN

— PFF College (@PFF_College) December 6, 2020
It's not out of the question at this point that all 3 will ultimately finish in the top 10 in Heisman voting. If they do, it would mark the first time 3 teammates cracked the top 10 in the same year since Ohio State in 1973.
2. Florida QB Kyle Trask. Trask was his usual touchdown-slinging self in Florida's 31-19 win at Tennessee, finishing 35-of-49 for 433 yards with 4 TDs on another Heisman-reinforcing afternoon in Knoxville. Unusually for a guy who likes to spread the wealth, the majority of that output went to his top receivers, Kyle Pitts and Kadarius Toney, who combined to haul in 15 receptions for 236 yards and a touchdown.
3. Texas A&M's Offensive Line. The starting 5 of Dan Moore, Kenyon Green, Ryan McCollum, Jared Hocker, Carson Green whipped Auburn's front seven to the tune of 313 yards and 2 TDs rushing on 6.9 per carry, a season high for the Aggies and the most Auburn has allowed on the ground since a 2011. RBs Isaiah Spiller and Devon Achane and QB Kellen Mond accounted for 279 of those yards, good for easily their best day as a group.
4. Arkansas WR Treylon Burks. Burks continued his emergence as a force for the Razorbacks in a losing effort at Missouri, hauling in 10 receptions for 206 yards and a touchdown from 68 yards out, his longest reception of the season, from surprise starting QB KJ Jefferson.
An SEC player that people should be talking more about: Arkansas wide receiver Treylon Burks.

Viewed around the conference as a potential future first-round NFL draft pick. Had 10 catches for 206 yards and a TD vs. Missouri yesterday.
pic.twitter.com/yCZu3SXBux

— Matt Zenitz (@mzenitz) December 6, 2020
Jefferson held up surprisingly well on short notice, filling in for the injured Feleipe Franks by accounting for 306 total yards and 4 TDs. Altogether, both offenses in this game combined for 1,239 yards, 98 points and 5 lead changes, 3 of them coming in the final 5 minutes to produce one of the wildest finishes of the season.
5. South Carolina RB Kevin Harris. Harris went off for 210 yards rushing on 21 carries in the Gamecocks' season-ending loss at Kentucky, 170 of them coming after contact. For the season he's gained more yards after contact (518) than any other SEC back.
Honorable Mention: Kentucky RBs Christopher Rodriguez Jr. and A.J. Rose, who combined for 240 yards and 4 TDs on 8.6 per carry in the Wildcats' win over South Carolina. … Auburn RBs Tank Bigsby and Shaun Shivers, who combined for 144 yards on just 9 carries apiece vs. Texas A&M. … Missouri RB Larry Rountree III, who went off for 183 yards and 3 TDs on 6.9 per carry in the Tigers' last-second win over Arkansas. … Arkansas RB Trelon Smith, who set carries for carries (26), yards (172) and touchdowns (3) at Mizzou. … Missouri QB Connor Bazelak, who finished 32-of-49 for 380 yards and passed the Tigers into position for the game-winning field goal. … Alabama LB Will Anderson Jr., who led the Tide with 8 tackles and 2 sacks in their romp against LSU. … Kentucky LB Jamar Watson, who racked up 8 tackles with 3 TFLs and a pair of forced fumbles late in the Wildcats' win over South Carolina. … Florida LB Ventrell Miller, who finished with a team-high 12 tackles plus a sack and a pass defended at Tennessee. … Tennessee LB Henry To'o To'o, who turned in his usual stellar effort with 8 tackles and 3 TFLs for a defense that held the Gators to a grand total of 19 yards rushing. … And Auburn LB Zakoby McClain, whose career-high 17 tackles, 2 TFLs and forced fumble against Texas A&M were cruelly overshadowed by the one play he didn't make.
– – –
The scoring system for players honored in Superlatives awards 8 points for the week's top player, 6 for 2nd, 5 for 3rd, 4 for 4th, 3 for 5th, and 1 for honorable mention because how honorable is it really if it doesn't come with any points? Standings are updated weekly with the top 10 players for the season to date.