SEC
Monday Down South: LSU has already exceeded expectations. Is it fair to raise them?
LSU's 22-21 win over Auburn was a vintage LSU triumph — hard-hitting, low-scoring, slightly surreal at the end — which, for a team that was saddled with the lowest expectations in Baton Rouge in 20 years, was a triumph in itself. Three weeks into the season, the Tigers are every bit as young as advertised, every bit as erratic on offense, and no more likely to survive a brutal schedule unscathed. Statistically speaking, they're kind of a mess. But whatever else they might be, let there be no doubt that they are a full-fledged, standard-issue LSU football team, with all that entails.
Relative to the preseason hype (or lack thereof), that's definitely a good thing. The consensus was more skepticism than hype; most projections had LSU dropping at least five games this year, and as many as seven. Instead, with Saturday's come-from-behind win on The Plains two of those would-be Ls are already in the win column. No other team has a more impressive pair of scalps in the early going than Miami and Auburn, and no team has surged more dramatically in the AP poll, where LSU has leapt from No. 25 — its worst starting position since 2000 – to No. 6 in just three weeks. Last year the Tigers failed to crack the AP top 10 at any point, breaking a 16-year run; against the odds, the 2018 edition has wasted no time in renewing it.
For now, anyway, it also has quieted the thrum that had followed coach Ed Orgeron more or less from the moment he was promoted to the full-time job. Coach O was an easy target for the hot seat last year after enduring a pair of humiliating September losses to Mississippi State and Troy. In the meantime, though, LSU is 9-2 (the losses respectable ones, at the hands of Alabama and Notre Dame), and in their two big wins to kick off this year the resemblance between the up-and-coming Tigers and their unlikely head coach has been obvious: They might not be much to look at, but at the end of the day, being fundamentally sound, defensive minded and opportunistic just might get you where you're going. At 3-0, they're exactly where they want to be.
But "rough around the edges" takes on very different connotations when the final score breaks the other way, and record notwithstanding this team clearly shares most of its DNA with the often-underachieving, always frustrating outfits that have driven LSU fans crazy for most of the past decade. If ever there were a coach who lived to beat division rivals 22-21 on a last-second field goal, it's Les Miles, and it was exactly that mindset that ultimately got him fired.
The offense, as always, has leaned heavily on the defense and kicking game to create short-field scoring opportunities — or, preferably, just to take it to the house themselves — and struggled to convert red-zone chances into touchdowns. The Tigers rank last in SEC by big margins in total offense, scoring offense, and yards per play, and by narrower ones in rushing offense, pass efficiency, and third-down conversions. Joe Burrow, the Ohio State transfer who rode to the rescue of LSU's uneasy quarterback situation this summer, has avoided mistakes and made every play he had to make down the stretch Saturday to beat Auburn; he's also completing just 46.2 percent of his passes, which ranks last among Power 5 conference starters. He's made only the plays he has had to make.
There's the rub: To the extent that the good vibes in Baton Rouge are a result of lowered expectations, how fair is it now to raise those expectations in response?
On one hand, LSU has upset two top-10 opponents, both away from home, and taken up residence in the top 10 itself, which in almost any other context would come with visions of an impending Playoff run. As always, the Tigers are among the deepest lineups in the country in terms of raw talent and have the makings of an elite defense. (It looks like they have a kicker, too, a big improvement from last year that has already paid big dividends.) But there are still impending dates with Alabama, Georgia, a maxed-out version of Mississippi State, and Texas A&M, all of which remain projected losses according to ESPN's Football Power Index.
That's not destiny, but if the rest of the season plays out that way — that is, as expected — the Tigers will still finish much closer to where they started in the final pecking order than to where they sit. That's in keeping with the ongoing bend-don't-break philosophy on offense. LSU has yet to mount a sustained Playoff push and hasn't finished within two games of the SEC West lead since it last won the division in 2011. If that's where the 2018 edition is setting its sights, it still has an awful lot left to prove.
NOTEBOOK
Around the conference.
LSU 22, Auburn 21: LSU quarterback Joe Burrow is 2-0 as a big-game starter despite coming in well below the Mendoza line statistically in both games, a combination that lends itself to a lot of grit-based analysis. The Tigers needed a QB with Pose In the Clutch and they found their man, possibly. The kid is Just a Winner, until he's not, etc.
Personally, I don't see a lot of difference so far between Burrow and his predecessor, Danny Etling, another pedestrian pro-style type who transferred to LSU from a Big Ten school, and whose biggest strength was the same as Burrow's: Taking care of the ball at all costs. In 2017, Etling threw just 2 interceptions in 275 attempts, one of the key reasons the Tigers led the nation in fewest giveaways. Through three games on Burrow's watch, the LSU is the only FBS team that has yet to commit a turnover of any stripe. With LSU's defense, that trend alone can offset a lot of failed third-down conversions. (And there have been a lot.)
To the extent that Burrow seemed to rise above the plays-within-the-offense stereotype against Auburn, it was almost entirely on LSU's last two drives of the day, and more specifically on three game-changing passes on those drives. The first one was the biggest: A 71-yard, catch-and-run touchdown strike to Derrick Dillon that snapped the Tigers out of an extended funk and cut Auburn's seemingly safe lead to eight points, 21-13, with a little more than eight minutes to play.
OH MY!
pic.twitter.com/GOt2ftHIqb

— LSU Football (@LSUfootball) September 15, 2018
Danny Etling might have made that throw at some point; if he did, barely anyone remembers it, whereas in Burrow's case they might never forget. Just to make sure, he followed that up on LSU's subsequent (ultimately game-winning) drive with a death-defying, 3rd-and-7 strike that looked briefly like it was going to become a game-clinching pick-six for Auburn's Javaris Davis; instead, it narrowly sailed over his fingertips and into the hands of 6-6 receiver Dee Anderson for a critical first down.
9/15/18 —LSU's Joe Burrow pass complete to Dee Anderson for 8-yard gain vs. Auburn. pic.twitter.com/Wfhds0cqAn

— College Football Clips (@CFB_Clips) September 16, 2018
A few plays later the Tigers faced 4th-and-7 with the game effectively on the line; this time, Burrow fired decisively and accurately into a tight window over the middle of the field, moving the chains again and put LSU on the cusp of the winning field goal.
9/15/18 —LSU's Joe Burrow 9-yard pass complete to Stephen Sullivan on 4th-and-7 vs. Auburn. pic.twitter.com/Ut7T4g06I6

— College Football Clips (@CFB_Clips) September 16, 2018
Presumably you can remember how it ended from there. But the ending wasn't emblematic of the whole: Prior to the long TD pass to Dillon, LSU's previous seven possessions yielded five 3-and-outs, a turnover on downs, and a field goal, during which there were likely more people falling asleep in front of their TVs than there were envisioning Burrow leading a comeback with minimal support from the running game. Even if he looked like he was born for the clutch, it took the defense stuffing Auburn's offense into a sack for the majority of the second half to give him the chance.
Alabama 62, Ole Miss 7: First, Alabama's been administering ritual September beatdowns to unranked opponents for a lot of years now, more than enough to remind us that a 55-point massacre in Week 3 is not necessarily a mark of invincibility. Since 2008 almost all of Nick Saban's teams have won early dates in similarly ghastly fashion; all but two, in 2009 and 2015, went on to lose at least one game over the second half of the season. Last year's margin of victory over Ole Miss was even worse than this one, and that version of the Tide wound up limping into the postseason after a rocky November. From there, it arguably had to become a different version altogether to prevail in the Playoff. Even at their best the Tide have never been, you know, unbeatable.
But yeah, caveats aside, this version is a juggernaut. In at least one very obvious way it's a different kind of juggernaut: With Tua Tagovailoa behind center, Bama is the first team in SEC history to put up 50 points in three consecutive games, a milestone that somehow is still only scratching the surface of his impact. The Tide are as efficient as ever — Tagovailoa's pass efficiency rating is off the charts — while also giving glimpses of an attack that is more balanced and significantly more explosive. And the most terrifying part of that sentence is that, at this point, we really have been limited to just glimpses. They're scoring so fast, with such ease, by halftime the entire operation has downshifted into cruise control.
Consider that Tagovailoa has only been on the field for 20 offensive possessions through three games, almost all of them in the first half. Here are the results of those drives: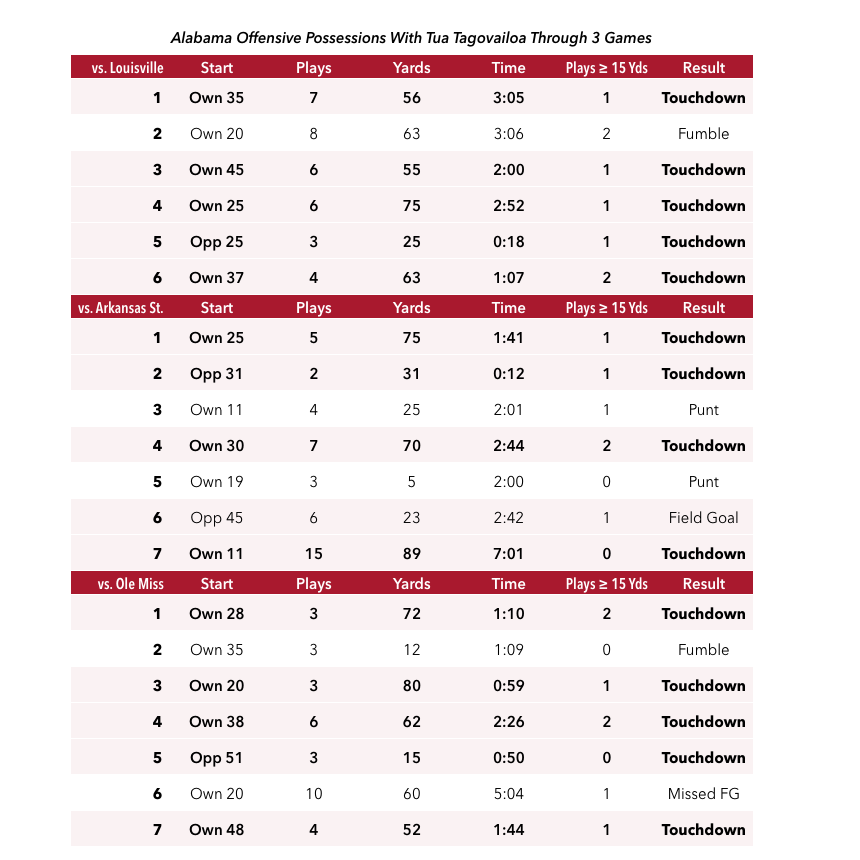 People have wondered for years what a generic Saban-era contender would look like with a Heisman-caliber quarterback at the controls, and this is it: 14 touchdowns on 20 possessions, most of them clocking in under three minutes with the benefit of at least one explosive play. Two-thirds of those big plays (14 of 21) have come directly via Tua's left arm, including 5 of his 8 TD passes.
Extrapolate those numbers out over four quarters and that's a 70-point pace in all three games, without breaking much of a sweat. As it is, Bama is in the very un-Saban-like position of boasting both the No. 1 scoring offense in the country and the top offense according to FPI … while also (by the way) retaining its more familiar perch there as the nation's No. 1 defense.
It is true, of course, that Louisville, Arkansas State, and Ole Miss are hardly the stiffest challengers Bama's going to face this year on either side of the ball, especially on offense. It's a long year. But the Tide have done to those defenses what an elite offense should do to them, and Tagovailoa has yet to betray any of the limitations that eventually plagued Jalen Hurts against top-shelf opponents. The surrounding cast, while lacking an obvious star on the level of an Amari Cooper or Derrick Henry, is collectively beginning to look like the most dangerous set of skill players in the Saban era.
Potentially, this group is clearly capable of becoming the kind of blazing attack Alabama used to define itself against, opposite a vintage Bama D that — surprise — has seamlessly integrated nine new starters. If they continue to make good on that potential, well, we don't have to guess at how that scenario turns out.
Missouri 40, Purdue 37: Mizzou fans know by now what they're getting from Drew Lock in this kind of game — he's reached the point where 375 yards and 3 TDs passing against a middling Big Ten defense is pretty much par for the course — and in this case they needed every bit of it. The game-winning, 68-yard drive in the final minutes was one of the highlights of Lock's career to date, most of which was covered on a pair of 20- and 25-yard strikes that put the Tigers in range for a chip-shot field goal as time expired. That's a 180-degree turn from last year's debacle against Purdue at the same point on the calendar, and a testament to how far he and the rest of the offense have come in that span that it wasn't the least bit surprising.
The defense, on the other hand: Woof. Although Missouri succeeded in making Purdue one-dimensional, Boilermakers QB David Blough was perfectly comfortable within that dimension, setting a Big Ten record with 588 yards of total offense. (In a conference that's been around for 122 years, that's saying something. That the mark now belongs to a fifth-year player who wasn't even the full-time starter prior to Saturday says something, too.) Blough connected on 8 passes that gained at least 25 yards, to four different receivers; three of them hit the century mark. That's definitely not par for the course, and represents a major step back for a secondary that was off to a good start in its first two games.
It's a major concern going forward, as well — not just with Georgia and Alabama on deck, but in much more winnable games against the likes of South Carolina, Memphis, and Vanderbilt, too, all of which have solid veteran quarterbacks capable of igniting under the right conditions. The status of junior corner DeMarkus Acy, who left early Saturday with a concussion, is very relevant.
North Texas 44, Arkansas 17: This game was every bit as lopsided as the final score indicates, and coming in the wake of Arkansas' Week 2 flop at Colorado State it felt even worse than that. It was so bad I'm almost hesitant to even bring up the fake fair catch North Texas used to victimize the Razorbacks for a cheap touchdown in the first half, because — while emblematic of just how inept Arkansas has looked the past two weeks — it obscures the extent to which UNT legitimately dominated across the board. The Mean Green led 34-10 at the half and picked off Arkansas QBs six times. There was nothing cheap or deceptive about it.
In fact, aside from a long, meaningless touchdown run on the last play of the game, Arkansas' offense was virtually a dead letter. That play (a 68-yard run by backup RB Maleek Williams) accounted for more than half of the Razorbacks' 126-yard output on the ground, and the running game was the least of their problems: The starting quarterback, Cole Kelley, finished 16-for-35 passing with 4 interceptions and was literally booed off the field. His backup, true freshman Connor Noland, went 4-for-7 with another INT in the first action of his career; another freshman, John Stephen Jones, appeared in the fourth quarter just long enough to go 0-for-3 with a pick-six.
There was no sign at all of junior Ty Storey, who replaced Kelley as the starter last week at Colorado State, ostensibly because coach Chad Morris was determined to stick with one guy for a change and didn't want to throw Storey to the wolves once the game was obviously out of hand. (Better to throw the freshmen, instead?)
Whether Storey remains in the mix going forward is an open question. Predictably, there's a portion of the fan base that watched Storey light up an FCS defense in the season opener and still believes he can be the answer behind center, or at least a better answer than what they saw against UNT; the 5-for-13, 2-interception performance that got him benched at CSU strongly suggests otherwise, and his absence on Saturday suggests Morris believes otherwise, too.
But the quarterbacks are only the most obvious issue for an outfit that has looked generally listless and out of sync now in what were supposed to be two of the most winnable games on the schedule. It only gets steeper with the start of SEC play, and according to FPI the question isn't so much whether Arkansas will be able to eke out a conference win in Morris' first season as whether it will even come close: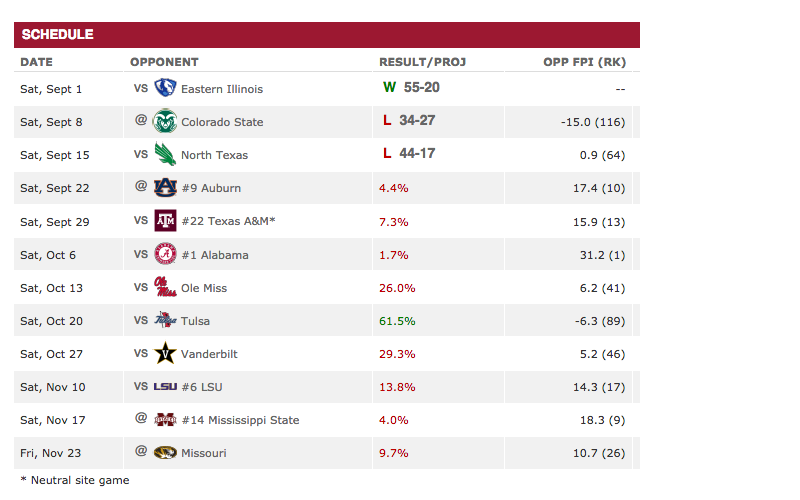 That outlook is about as bleak as it can be, even for a team in full-on rebuilding mode, and right now it's hard to dispute. Barring a dramatic about-face over the next six weeks or so, the best-case scenario for this bunch is probably remaining competitive in half of those games and settling on some kind of identity that can carry over into 2019. Exactly what that might be, though, is anybody's guess.
SUPERLATIVES
The best of Week 3 …
9/15/18 — Auburn's Deshaun Davis stops LSU's Joe Burrow for no gain. pic.twitter.com/CjDmAd4edP

— College Football Clips (@CFB_Clips) September 16, 2018
1. Auburn LB Deshaun Davis. Davis, a senior, was omnipresent in a losing effort, racking up a team-high 13 tackles against LSU — 4 for a loss — plus a sack, a deflected pass, and two QB hurries from his middle 'backer position. As a team, LSU's per-carry average on the ground (2.9 yards) was its worst against any non-Bama opponent since 2015.
2. LSU DB Grant Delpit. The Tigers' jack-of-all-trades sophomore opened the game with an interception, setting up a short field for LSU's first touchdown; he finished it with a team-high 10 tackles (including a goal-line TFL) and an additional PBU along the way. It's early still in Delpit's tenure in Baton Rouge, but the Jamal Adams comparisons are looking pretty apt.
3. Alabama QB Tua Tagovailoa. The only thing keeping Tua from topping this section every week is his coach's determination to give Jalen Hurts as many relevant snaps as possible. His next ordinary performance will be his first.
Receiver had a step, but great PBU by Trevon Diggs! #RollTide pic.twitter.com/1kyoLDnxk7

— New Account (@ftbeard_17) September 15, 2018
4. Alabama CB Trevon Diggs. In the non-Tua division, Diggs didn't do much in the box score but did play a leading role in put the clamps on Ole Miss' blue-chip wideouts, breaking up a pair of early bombs intended for future pros DaMarkus Lodge and D.K. Metcalf, respectively. After giving up a long TD pass on the first play of the game, the Tide held the Rebels' receivers to a grand total of six catches for 58 yards the rest of the way.
5. Vanderbilt TE Jared Pinkney. Pinkney, a fourth-year junior, had a career day in the Commodores' loss at Notre Dame: Five catches, 111 yards, his first touchdown of the season, and a national nod from Pro Football Focus as Week 3's best tight end. After a couple of low-profile campaigns as an underclassman, he can also expect top billing in Vandy's passing game going forward. At 6-4, 255 pounds, Pinkney (a high school wide receiver) has fully grown into his frame without sacrificing much in the way of downfield juice — all five of his receptions Saturday gained at least 16 yards — and looks ready for the next level.
Honorable Mention: LSU kicker Cole Tracy, who hit 3-of-4 field-goal attempts at Auburn — improving to 8-for-9 on the year — including the game-winner from 42 yards out. … LSU LB Devin White, whose 8 tackles included a 4th-and-1 stop in the first half. … Georgia DB Deandre Baker, who notched his second interception in as many weeks against Middle Tennessee State. … Mississippi State QB Nick Fitzgerald, who accounted for 350 total yards and 6 touchdowns on MSU's first 7 offensive possessions in a blowout win over UL-Lafayette. … Missouri RB Larry Rountree, who finished with career highs for both carries (23) and yards (162) in the win at Purdue. … Florida DE Jabari Zuniga, who was credited with 3 sacks and a QB hurry in the Gators' romp over Colorado State. … Alabama LB Christian Miller, who had a hand in 3 of the Tide's 4 sacks at Ole Miss. … And Alabama WR Jerry Jeudy, who hauled in touchdowns from both Tagovailoa and Jalen Hurts and generally left the Rebels' secondary grasping at straws.
Catch of the Year of the Week: Darius Slayton
Hauling in a back-shoulder throw with all-everything corner Greedy Williams in your hip pocket is hard enough. Managing to come down with one while he's attempting to rearrange your vertebrae shouldn't be physically possible. And yet …
Darius Slayton's face mask was grabbed while the ball was in the air…and he still made the catch. pic.twitter.com/4pubM6AdkE

— CBS Sports (@CBSSports) September 15, 2018
How do you keep your eye on the ball when a fraction of a second before the ball arrives your eyes are being forcibly turned almost 90 degrees in the wrong direction?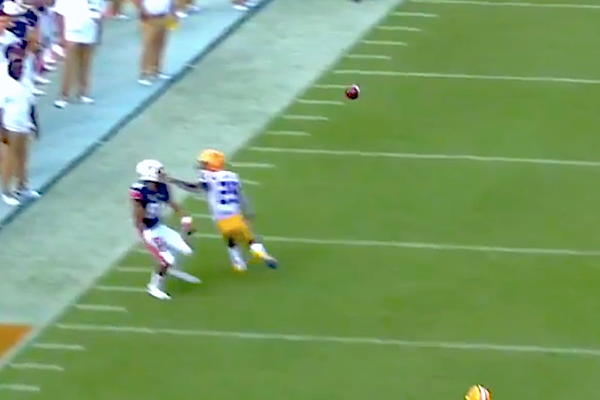 Just literal blind luck, I suppose. Or else, like, some kind of biological sonar that tracks the ball via echolocation, which would only be slightly less shocking.