SEC
Monday Down South: 2016 SEC awards show edition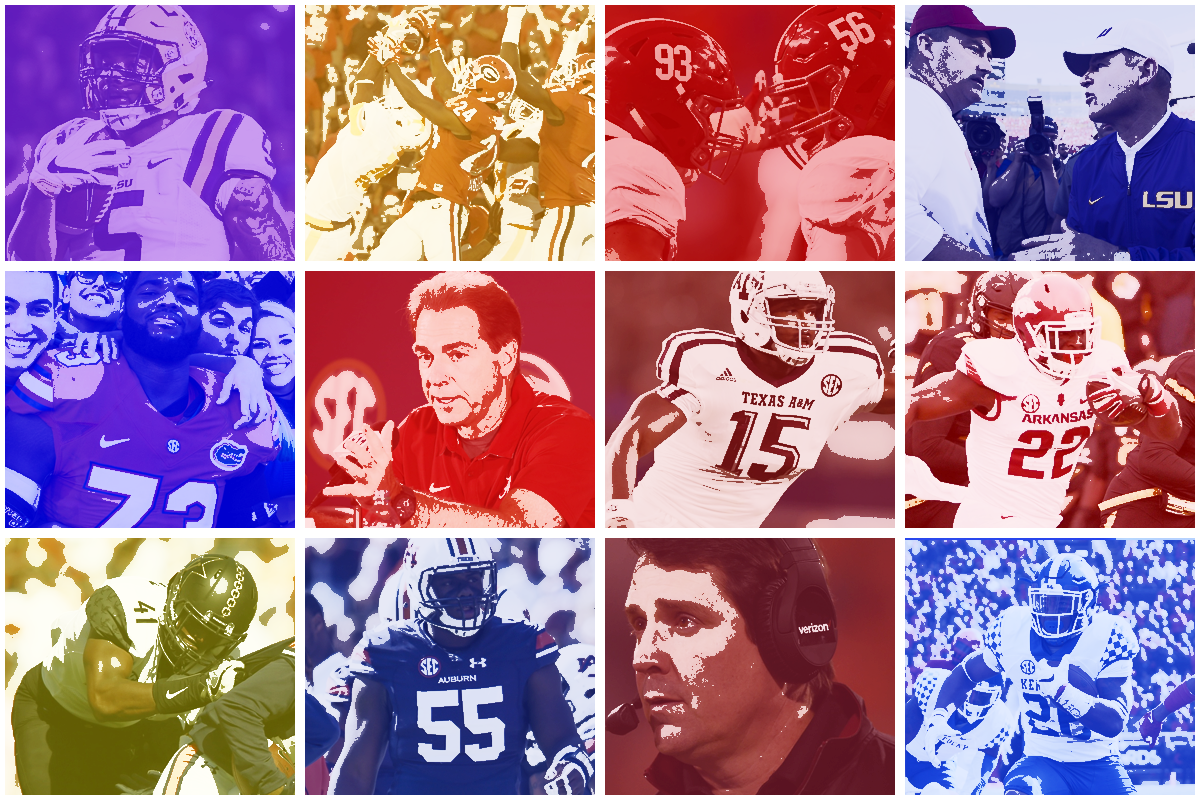 Monday Down South
2016 SEC awards show edition
By Matt Hinton
December 5, 2016
The regular season is over, the bowl order is set, and the teams stuck in the eight-car pileup of mediocrity behind Alabama finally have a couple weeks to lick their wounds before defending the SEC's good name in the postseason. (Bama, an early 14-point favorite over Washington in the Peach Bowl, has a different kind of licking in mind.) So before we look ahead, this edition of the weekly review will look back at the best plays, players, and moments of 2016, another season nearly in the books.
Most Pleasant Surprise: South Carolina
Most of the surprises in the SEC this year were decidedly un-pleasant: In the end, the only team that significantly outperformed its preseason expectations as far as the media was concerned was Auburn, and even the Tigers aren't going to be holding any parades to commemorate a turbulent, 8-4 campaign that ended with smackdowns at the hands of Georgia and Alabama. Of the handful of teams that actually feel good about how the regular season unfolded, though, none came quite as far since August as Carolina, which was picked to finish dead last in the East for the second year in a row. Instead, the Gamecocks doubled last year's win total, upset Tennessee, and found their quarterback of the future in a kid who by all rights should still be in high school.
They also qualified for a bowl game in Will Muschamp's first season as head coach, at least a year ahead of schedule by most estimates when Muschamp arrived in the wake of a 3-9 debacle last winter. (Remember, this was an outfit so demoralized by the end of last season it dropped a November game against The Citadel.) In a generally demoralized division, anywhere near that kind of progress in Year 2 could put the 2017 Gamecocks in the mix to win the thing.
Breakout Player of the Year: LSU RB Derrius Guice
Guice was no secret to LSU fans after a quietly promising debut in 2015 in Leonard Fournette's shadow. As a sophomore, Guice was both more productive than the Tigers' Herculean headliner, accounting for a team-high 1,249 yards and 14 touchdowns — that despite logging a grand total of seven carries in losses to Wisconsin, Mississippi State, and Alabama — and more explosive, finishing as the SEC leader in yards per carry and runs covering at least 20 yards.
By year's end he'd arguably surpassed Fournette as the feature back, eclipsing 250 yards on the ground in November road wins over Arkansas and Texas A&M (his 285-yard romp over A&M on Thanksgiving night broke the single-game school record, set by Fournette a few weeks earlier against Ole Miss) and ensuring plenty of attention entering what will likely be his last season in Baton Rouge next year. The full star treatment awaits.
Rookie of the Year: Alabama OL Jonah Williams
Yes, Jalen Hurts is the most accomplished true freshman quarterback on record and the face of the SEC's gold-standard program for the foreseeable future. But most of the superlatives that have come Hurts' way also apply to Williams, a five-star recruit who emerged as a fixture at right tackle in spring practice and wasted no time earning the attention of coaches and scouts alike. Next spring, he'll likely flip to left side to replace Cam Robinson, at which point Bama fans will have the luxury of taking yet another first-round tackle for granted for at least the next two seasons.
12th Man of the Year: Alabama OLB Tim Williams
Williams, a senior, might be the most feared pass rusher in college football, a fast-twitch edge terror who continued his ascent on draft boards this year by racking up 8.5 sacks, 15.5 tackles for loss, a dozen QB hurries, and two forced fumbles — almost all of it coming, technically, as a backup: The Crimson Tide boast such embarrassment of riches at linebacker that they can afford to save Williams for the specific situations that give him the best chance of harassing quarterbacks.
As a result, he's only been listed in the starting lineup of two of the 47 games in which he's appeared in his career, even while remaining omnipresent on the stat sheet and in the nightmares of opposing offensive tackles.
Tim Williams takes the WKU QB to Suplex City. The RB saw Williams and was like "uhh, HARD PASS." https://t.co/9ObeY3p20d #RollTide

— Stephen Nelson (@Stephen__Nelson) September 10, 2016
Comeback Player of the Year: Auburn DE Carl Lawson
Three years into his career, Lawson had yet to shed the "potential" label, and there was serious doubt entering year four how much potential was even left in the aftermath of the torn ACL and cracked hip, respectively, that cost him almost all of 2014 and '15. But this time Lawson remained relatively healthy, playing in 11 of Auburn's 12 regular season games, and finally lived up to his blue-chip recruiting hype with more sacks (9.5), TFLs (13), and QB hurries (24) in that span than he'd earned in his first three years combined. With that, he's likely off to the next level, right on schedule, as a projected first-round pick.
Best Adaptation: Alabama's Offense
Bama opened the season as an overwhelming favorite to repeat as national champion, which is generally not the time that teams tend to revamp the entire offense around a true freshman quarterback. But the Tide's evolution into a full-fledged spread option attack has gone smoothly, to say the least: With Hurts at the controls they remain on track to set a new school record for scoring offense, having put up at least 30 points in every game except the 10-0 slugfest at LSU.
Of course, the defense and special teams can take some credit for that pace, having directly accounted for an FBS-best 14 non-offensive touchdowns themselves. But Hurts' mere presence in a system that departs significantly from what Alabama was doing just last year is a leap few coaches  in Nick Saban and Lane Kiffin's position would be willing to make in the first place, much less make work to the extent that they have.
Play of the Year: Tennessee's Hail Mary
In the end, it had no relevance on the rest of the season: Tennessee didn't win the SEC East or land in a major bowl as a result, and a lot more separated Georgia from contention than flubbing a random pass deflection. In the moment, though, Josh Dobbs' game-winning, 43-yard heave to Jauan Jennings on Oct. 1 meant everything.
Not only does it go down as the all-time ham-tastic finish in a bitter, longstanding rivalry, but in the wake of Tennessee's come-from-behind wins over Appalachian State, Virginia Tech, and Florida in their first four games, a dramatic, one-in-a-hundred prayer that moved the Vols to 5-0 (in a game in which they'd trailed 17-0 in the first half) felt like the kind of play that really did mark them as a team of destiny.
Obviously, the larger narrative didn't hold up. But it's safe to assume no one who watched Jennings come down with the bomb live will forget it anytime soon.
Honorable Mention: Zach Cunningham's leap vs. Auburn … Tyrie Cleveland goes 98 yards at LSU… Jonathan Allen goes coast to coast at Ole Miss … Leonard Fournette crushes Ole Miss's soul.
Game of the Year: Texas A&M 45, Tennessee 38 (2 OT)
Again, it's easy to forget in retrospect how huge the Volunteers' subsequent trip to College Station felt at the time, when both teams were 5-0, ranked in the top 10, and seen as plausible threats to Bama at the top of the conference. The marathon that ensued had pretty much everything you could ask for in a midseason game with those kinds of stakes: 1,276 yards of total offense, 10 turnovers, big plays galore, and — of course, given that it involved Tennessee — three touchdowns in the final three-and-a-half minutes of regulation, the last two of them by the Vols to send another appearent defeat into overtime.
It also had things that you'd never even think to ask for, like UT cornerback Malik Foreman coming from nowhere to turn an apparent game-clinching touchdown for A&M's Trayveon Williams into a miraculous, game-sustaining touchback for Tennessee:
YOU'VE GOT TO BE KIDDING!!!!
TENNESSEE TAKES OVER ON THE TOUCHBACK. https://t.co/WvQX4T347x

— SEConCBS (@SEConCBS) October 8, 2016
From there the Vols' offense drove the length of the field to force OT, and if they'd gone on to win Foreman's hustle would have surpassed the Hail Mary to Jennings as the play of the year. As it stands, it was the most dramatic moment in a Tennessee season that, up to that point, had seemed to consist of almost nothing but.
Upset of the Year: Wisconsin 16, LSU 14
There were more shocking results — LSU came in as a 10.5-point favorite, substantial but not nearly as prohibitive as, say, the 28-point spread for South Alabama's upset over Mississippi State — but none nearly as consequential: Although it took three more weeks for LSU to officially give Les Miles the boot, the opening-day flop in Lambeau was the real breaking point, the moment right out of the gate when it became impossible to imagine the Tigers making the serious, sustained playoff run that Miles had implicitly promised in exchange for keeping his job in 2015.
Wisconsin turned out to be better than anyone anticipated on Sept. 3 (as did Auburn, the team that brought Miles' tenure to an abrupt end), but the opponent mattered less than the thud of LSU's expectations hitting the floor. That was the sound of the beginning of the end.
Player of the Year, Alternate Timeline: LSU RB Leonard Fournette
Like his team's, Fournette's season was a disappointment on every level, hampered early by a one-dimensional offense that allowed good defenses to stack the box against him, and later by an ankle injury that dogged him throughout October and November. Bama's front seven swallowed him up for the second year in a row. He missed four games, was visibly slowed in others, and finished more than 1,100 yards behind his 2015 output on the ground despite matching last year's yards-per-carry average.
Still, Fournette has always been the kind of player whose appeal is more visceral than statistical, and when he was on — as he most obviously was in his stunning, 284-yard effort against Ole Miss — the freakish combination of speed, power, vision, and violence (my god, the violence) that made him the most compelling athlete in the game as a sophomore were as apparent as ever.
You can't make the case on paper. But on some fundamental, gut level, Fournette remained the most refined athletic marvel in a sport full of them — a freak among freaks, as his draft stock attests. If we don't get to see him one more time on this level in LSU's Citrus Bowl date against Louisville it will be a sincere letdown.
Player of the Year, Actual Timeline: Alabama DL Jonathan Allen
I have no idea who's going to win the Heisman, which is as wide-open a race this season as it's been in recent memory. But I do know that none of the presumed contenders would be given a snowball's chance of thriving in the face of Alabama's defensive front, easily the most dominant collective force in the nation this year.
And no member of that front has made the kind of impact Allen has made as a senior — not only statistically, where Allen has been credited with 56 tackles, 13 TFLs, and a team-high 15 QB hurries in addition to a pair of fumble returns for touchdowns, but also in all of the down-to-down details that make him the most coveted prospect in next year's draft.
Jonathan Allen looking like Superman for @AlabamaFTBL on this sack.
https://t.co/pQSLZhVbRR

— SEConCBS (@SEConCBS) October 22, 2016
This is what it looks like when a five-star recruit passes on a second-round grade to return for his senior year: Unfair.
Coach of the Year: Nick Saban, Alabama
Who'd you think I was gonna choose in this spot, Ed Orgeron? It's almost impossible for coaches like Saban to get recognized in Coach of the Year terms because the distinction is effectively reserved for coaches whose teams exceed expectations, and when your expectations are to win each and every game by grim margins that's impossible.
But the 2016 Crimson Tide might be Saban's best team yet — at this point in the season, without knowing how the playoff will turn out, I think it's a no-brainer — which in year 10 of Saban's decade of dominance is a testament not only to the incredible well of talent he's assembled, but also to the culture he's built and his ability to keep a bunch of 20-year-olds' eyes on the ball, week after week after week, year after year after year.
Bama lost the Heisman Trophy winner and six other draft picks from last year's championship run, promoted a true freshman QB directly into the starting lineup, and got better. If any coach can do that with the resources at his disposal, well, why haven't they?
And now, the Monday Down South All-SEC Team
Here's my personal All-SEC lineup for 2016, based strictly on my own observations and opinions over the course of the season. (That is, it doesn't reflect the observations or opinions of anyone else at Saturday Down South, and is not to be confused as an official SDS All-SEC Team.) If an obviously deserving player from your favorite team didn't make the cut, it can only be because I harbor a deep, irrational bias against him personally — especially if he happens to play defensive end — and not because some of these decisions were tough calls between more credible candidates than I had space for.
And anyway, by my lights this team represents the best of the best in the SEC this year. Could it beat Bama?
OFFENSE
Quarterback: Jalen Hurts • Fr., Alabama
Running Back: Derrius Guice • Soph., LSU
Running Back: Rawleigh Williams III • Soph., Arkansas
All-Purpose Back: Alvin Kamara • Jr., Tennessee
Wide Receiver: Josh Reynolds • Sr., Texas A&M
Wide Receiver: Fred Ross • Sr., Mississippi State
Tight End/H-Back: Evan Engram • Sr., Ole Miss
Offensive Line (OT): Cam Robinson • Jr., Alabama
Offensive Line (OT): Dan Skipper • Sr., Arkansas
Offensive Line (G): Braden Smith • Jr., Auburn
Offensive Line (G): Martez Ivey • So., Florida
Offensive Line (C): Ethan Pocic • Sr., LSU
DEFENSE
Defensive Line: Jonathan Allen • Sr., Alabama
Defensive Line: Derek Barnett • Jr., Tennessee
Defensive Line:  Montravius Adams • Sr., Auburn
Edge (DE/OLB): Myles Garrett • Jr., Texas A&M
Edge (DE/OLB): Arden Key • So., LSU
Linebacker: Reuben Foster • Sr., Alabama
Linebacker: Zach Cunningham • Jr., Vanderbilt
Linebacker: Kendell Beckwith • Sr., LSU
Cornerback: Tre'Davious White • Sr., LSU
Cornerback: Jalen "Teez" Tabor • Jr., Florida
Safety: Jamal Adams • Jr., LSU
Safety: Armani Watts • Jr., Texas A&M
SPECIALISTS
Kicker: Daniel Carlson • Jr., Auburn
Punter: J.K. Scott • Jr., Alabama
Kick Returner: Evan Berry • Jr., Tennessee
Punt Returner: Christian Kirk • So., Texas A&M