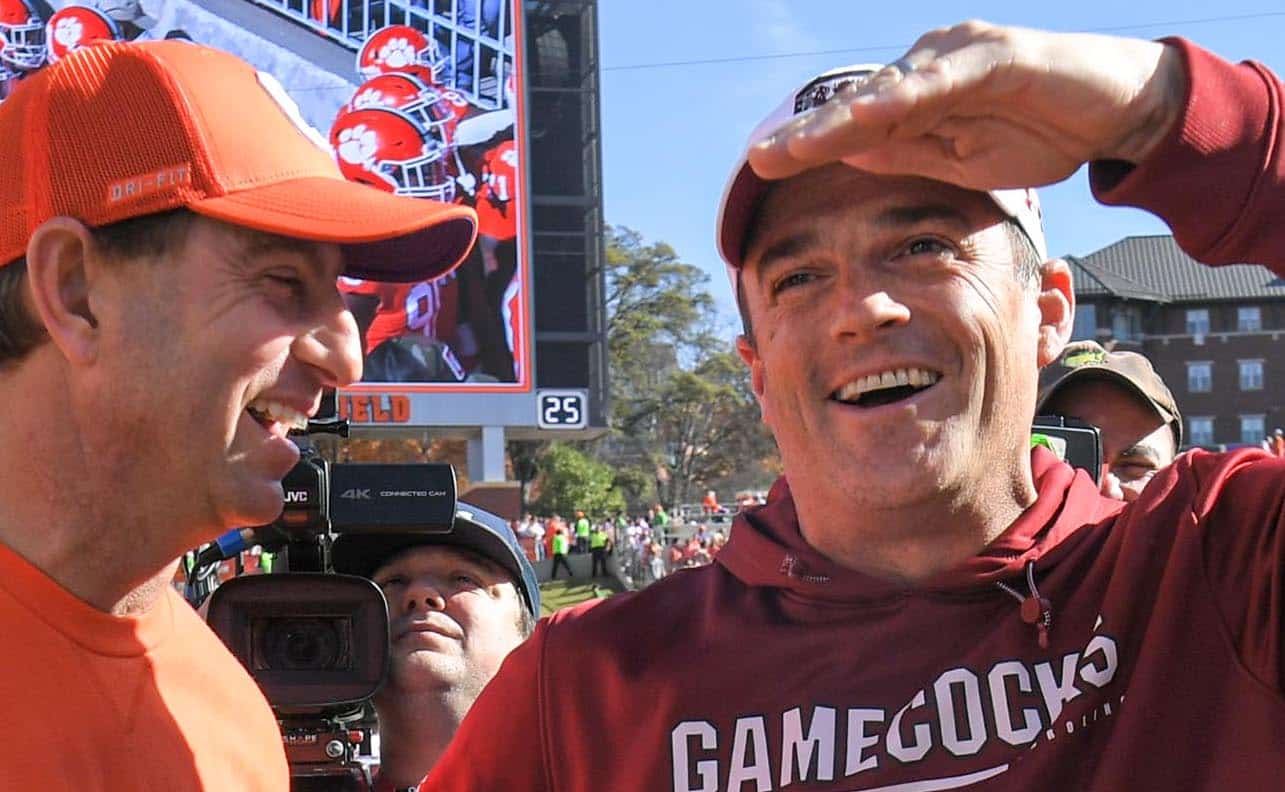 SEC
My 10 biggest SEC upsets involving SEC teams for 2023
Upsets make the college football world go round.
Without them, this sport is 13 drama-less weekends. We need them to keep us full of intrigue heading into each and every college football Saturday.
If you don't predict upsets in the preseason, you're essentially saying that you hate fun. You can hate an upset pick, but you can't hate on upsets as a whole.
Today, we'll dip into my 2023 Crystal Ball series and pull out the 10 biggest upsets involving an SEC team that I have for the 2023 season:
10. Arkansas wins at Ole Miss
A desperate Arkansas team shows up in Oxford. It's as simple as that. During the 3 years of Sam Pittman-Lane Kiffin matchups, these have somewhat quietly been wildly entertaining games with big plays galore. Ole Miss looks like a team that's gassed after the LSU victory (more on that in a minute), and that's a bad recipe for trying to stop Rocket Sanders and KJ Jefferson. Kiffin knows that all too well. Sanders had 261 scrimmage yards against his defense last year. Then again, Quinshon Judkins and Zach Evans both eclipsed the 200-yard mark for Ole Miss. I mean, this one had nearly 800 rushing yards. That doesn't quite happen this time, but just like last year's frigid day of zero tackling in Fayetteville, Arkansas' ground game does the heavy lifting in a win.
9. Mississippi State wins at Texas A&M
Will Rogers carved up A&M each of the past 2 seasons, albeit in a different offense. But this time, Mississippi State keeps the Aggies off the field with the much improved ground attack. In addition to Woody Marks, Simeon Price gets a significant workload. Instead of a favorable home matchup at Kyle Field, the day brings Aggies DC DJ Durkin's future into question.
8. Texas A&M wins at LSU
Do you think A&M is going to relish the opportunity to play spoiler again? I do. Instead of LSU locking up anothe SECr West title, it fails to avenge its 2022 loss to the Aggies and it blows a golden opportunity. Why? Balance. LSU is unable to pin its ears back and get home. Unlike last year when it was mostly about the A&M ground game, QB Conner Weigman shows his growth by stepping into some NFL throws and burning LSU on the back end. The full transformation of A&M's offense is complete and a stunned Death Valley crowd is left wondering what to make of a roller-coaster season.
7. LSU wins at Alabama
How's this for drama? In the early moments, Jayden Daniels suffers a leg injury. That brings on Garrett Nussmeier, who leads LSU to a thrilling victory in Tuscaloosa, where Alabama hasn't lost since a certain Joe Burrow did his thing in 2019. Instead of this being a revenge game, we're reminded that the Alabama offense isn't quite as explosive as it has been. LSU's loaded front 7 gets home and it's a day to forget for Ty Simpson, who can't keep pace with Nussmeier's home-run plays. LSU takes control of the West.
6. Ole Miss wins vs. LSU
Huh? How is preseason darling LSU going to stub its toe in Oxford? Isn't LSU the better team? Yes. But here's the issue for the favorite Tigers: In the first 5 weeks, they play 4 Power 5 teams with winning records last year. I wonder if this is where that catches up to LSU in its attempt to slow down Judkins. Unlike last year, Jaxson Dart avoids costly mistakes in the red zone and allows Ole Miss to play with a touchdown lead for most of the day. A back-and-forth day ends with LSU failing to get the defensive stands it needs in a 35-28 Ole Miss upset.
5. Florida wins vs. Tennessee
It's been 20 years since Tennessee won in Gainesville. Twenty. Yes, this should be the most lopsided the rivalry has been in Tennessee's favor during that stretch. No, that doesn't guarantee that the Vols finally get it done in The Swamp. My thinking? This is the game in which Billy Napier's hire of DC Austin Armstrong looks like a godsend. Instead of the Vols pushing Florida around in their own building, a pair of Joe Milton overthrows turn into interceptions that set up Gators touchdown drives. The Vols' lack of defensive discipline proves costly and Etienne runs for 150. Tennessee's losing streak in The Swamp officially passes the 2-decade mark.
4. Florida wins vs. Florida State
How's this for a way to earn bowl eligibility — FSU rolls into The Swamp with 1 loss and Playoff hopes on the line … only to lay an absolute egg in Gainesville. The Seminoles have no answer for the Florida ground attack, which kept the Gators alive in Tallahassee last year despite a 36-minute stretch without a completed pass. Florida State gets accused of looking ahead to the ACC Championship rematch against Clemson while Napier celebrates what's easily his biggest victory to date.
3. South Carolina wins at Tennessee
You thought last year was a fluke? Nope. With so many of those pieces back from last year's stunner in Columbia, South Carolina does the unthinkable again. This time, Spencer Rattler doesn't play perfect. He throws 2 interceptions, but he also delivers touchdown passes to Juice Wells and tight end transfer Trey Knox. A revenge game for Tennessee follows a frustrating script. Milton's fast start fades and Tennessee is forced to turn into a 1-dimensional offense. The Gamecocks pounce on a pair of fumbles, the second of which sets up a game-winning field goal in the final minute. The Vols lose at home for the first time since November 2021.
2. Vanderbilt wins at Ole Miss
Remember last year when Vandy had a 10-point lead with a minute left in the first half? That wasn't a fluke. Granted, neither was Ole Miss scoring 35 points to erase that deficit and avoid the letdown. But this year, Vandy doesn't splinter with defensive lapse after defensive lapse. Instead, Vandy QB AJ Swann plays the best game of his young career. Ole Miss' secondary can't find answers. After a fast start, Dart reverts to some old habits with 2 red-zone interceptions. Vandy ends the 4-year losing streak to Ole Miss and Clark Lea earns his first SEC win of 2023.
1. South Carolina wins vs. Clemson
Yep. Again. Rattler saves his best for last. Again. On Senior Day, Rattler's best moment yet comes against an unbeaten Clemson squad. South Carolina OC Dowell Loggains gives Rattler the opportunity to air it out early and often. Just as he did last year, Wells gets behind the Clemson secondary and has a field day. Instead of relying on All-ACC running back Will Shipley to dig Clemson out of an early hole, OC Garrett Riley puts the ball in the hands of QB Cade Klubnik. Clayton White's defense befuddles the first-year starting quarterback and South Carolina takes advantage of a pair of 2nd-half turnovers. For the 2nd consecutive year, Shane Beamer knocks off Dabo Swinney and puts Clemson's Playoff hopes in jeopardy.