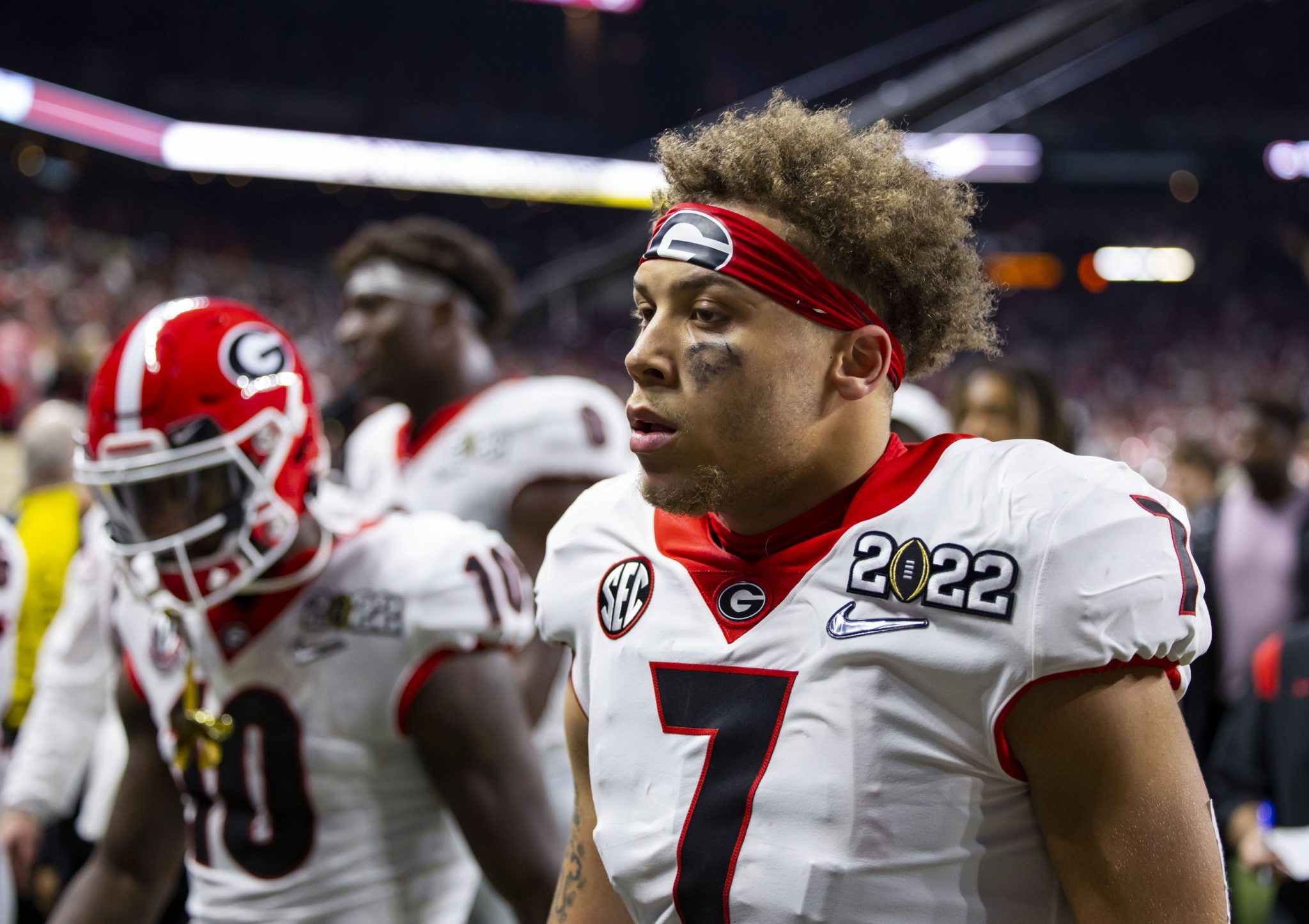 SEC
My 5 biggest gripes with the preseason All-SEC teams
Not everybody can vote perfectly.
Woah. Back up. Not getting political here. We're just talking about the preseason All-SEC squads.
They're out, and don't you know it, they didn't just use my ballot to decide what the teams should look like. Hundreds of media members voted, many of whom voted incorrectly.
Shots fired? Eh, maybe. Last I checked, we're allowed to disagree with one another. That's healthy. Even though preseason all-conference teams are essentially an afterthought by the time September rolls around, it still sets the bar for expectations.
For what it's worth, I vote based on who I think the best players are based largely on what we saw them do the previous season(s). I'm not really one to project, just like how I think it's silly that some fill out the AP Poll like they're trying to predict where they'll finish based on their strength of schedule. Good luck doing that.
I base my selections on how good a player is as of this moment. Keep that in mind with these All-SEC gripes.
Too much love: Jermaine Burton, Alabama WR (first-team)
Who deserved his spot: Cedric Tillman, Tennessee WR (second-team)
This was so egregious I thought that it was a typo.
If you've read anything I've written about Tillman this offseason, you know how high I am on the Tennessee wideout. I wrote last week that Tillman has a legitimate path to be the best receiver in America after he finished the season with an 8-game stretch of 930 receiving yards and 10 touchdowns. That's more than Burton has in his entire career, which was a total of 24 games. Tennessee had 1 game against Alabama in 2021 while Georgia had 2. Tillman had 152 yards, Burton had 64.
I mean, Tillman had more than double Burton's 2021 production in every category despite the fact that the latter played in 15 games.
Starting to get the point? Nah? OK, let me drive it home even further.
If we're doing this based on projections, yes, it's true that Burton is going from Stetson Bennett IV to Bryce Young, which was why he crossed enemy lines after a rather uninvolved role with the former as UGA's starter in 2021. That's like going from a Toyota Camry to a Maserati MC20. Burton's production should go up even though there could be a feeling-out process with a new quarterback. But last I checked, Tillman returns alongside Hendon Hooker, AKA the preseason second-team All-SEC selection that he tore it up with last year.
There's no argument whatsoever to make that Burton is the better player than Tillman. This is easily the biggest whiff on the preseason squads.
Too much love: Will Levis, Kentucky QB (third-team)
Who deserved his spot: KJ Jefferson, Arkansas QB (No selection)
Look. I like Levis. A lot. Before all the way-too-early mock draft stuff came out, I wrote that Levis has a path to becoming one of the top 10 quarterbacks in America by season's end. I thought I'd have to bang the drum for his upside as someone who is immensely valuable as a runner and is blessed with the right offense to maximize his skill set. But while Levis has the arm strength, he still needs to show great improvement as a downfield passer to live up to all the potential.
Then there's Jefferson. As in, the guy who earned the SEC's highest PFF grade on downfield throws last year. He had 1/3 of Levis' turnovers while finishing in the top 10 nationally in quarterback rating for an Arkansas team who had its best season in a decade with 4 rivalry trophy wins. Jefferson had more rushing yards than Levis and finished as the leading rusher for the most prolific Power 5 ground game in 2021.
If you want to do the projection thing and fault Jefferson for needing to show that he can thrive in a post-Treylon Burks world, I could ask the same question about Levis in a post-Wan'Dale Robinson world. It was Robinson who had more than double the production of Kentucky's next-closest receiver, which was Josh Ali … who is also gone. While I'm a big Tayvion Robinson believer, let's not pretend like Levis doesn't have questions of his own. Jefferson is also the one who returns the same offensive coordinator.
Again, this isn't an anti-Levis take. I think he could become a top-10 quarterback nationally who gets drafted in Round 1. But Jefferson is a top-10 quarterback right now, and he deserved that type of recognition.
Too much love: Henry To'o To'o, Alabama LB (first-team)
Who deserved his spot: Dallas Turner, Alabama LB (second-team)
It just blows me away that To'o To'o continues to get all the love simply because he racks up tackles. Focus on just him in a game and you'll see what I mean. He's not a modern linebacker by any means considering how much he struggles in coverage. PFF graded him No. 45 in coverage among 50 qualified SEC linebackers last year. In his best area — as a run-stopper who can move well laterally — To'o To'o ranked a pedestrian No. 25 out of 50 SEC linebackers in PFF grade. Among qualified SEC linebackers overall, To'o To'o also graded out No. 45 out of 50.
I know, I know. You don't like PFF grades. OK, that's fine. How about this scenario. Tell me who you'd want on your team more — Turner or To'o To'o? You're taking Turner 100 times out of 100.
(I get that they play different positions and are asked to do different things. This is about how they impact the game.)
Both To'o To'o and Turner played one year at Alabama. One had those aforementioned results and stayed in school instead of pursuing the NFL. The other was such a force as a true freshman that he forced a former 5-star recruit to bolt because he got injured and lost his starting job. Turner is that dude, and he showed in the latter half of 2021 that he's already a legitimate game-changer. He racked up double-digit tackles for loss even though he played just 370 snaps (To'o To'o played 923).
Yeah, it helps that he gets to play opposite of Will Anderson. He'll benefit from that, and To'o To'o is asked to do a lot. But don't get it twisted. Turner is the better, more impactful Alabama linebacker.
Too much love: Kelee Ringo, Georgia CB (first-team)
Who deserved his spot: Cam Smith, South Carolina CB (second-team)
Wait, Georgia's national championship hero isn't worthy of first-team All-SEC love? He is, but defensive back in the SEC is absolutely loaded, and Smith had a better 2021 season.
Want a fun fact? South Carolina had the SEC's No. 1 passing defense. That was after losing Jaycee Horn and Israel Mukuamu to the NFL. Why? Smith. He was PFF's highest-graded corner in single coverage last year, and it wasn't even particularly close. Not impressed? Smith is PFF's highest-graded returning defender in FBS. He's a lockdown corner in every way. According to PFF, only 15 of the 32 times he was targeted were caught, and they went for just 184 yards and a 36.5 passer rating.
I don't really have anything particularly negative to say about Ringo. His downfield speed gives him a greater margin for error than most corners and his size could make him the first corner off the board in the 2023 NFL Draft. Ringo is a phenomenal player. He allowed just a 40.7% completion percentage in coverage last year, and he allowed just 2 catches on deep targets in 2021 (via PFF). But I'd argue having an all-world defensive line who rushed quarterbacks at a high level and playing alongside Derion Kendrick gave Ringo a bit more help than Smith, who was forced to step into the top corner role as a first-time starter.
I put this slight in here not to pick apart Ringo, but simply because Smith shouldn't be left off anybody's first-team All-SEC ballot.
Too much love: Eli Ricks, Alabama CB (first-team)
Who deserved his spot: Antonio Johnson, Texas A&M DB (second-team)
Was Ricks arguably a top-3 corner in America in 2020? Absolutely. Sometimes I find myself searching for reminders of Ricks' brilliance as a true freshman who overcame Bo Pelini's dated scheme and had a great individual season (even though he somehow played for the worst pass defense in FBS):
ELI RICKS intercepts Kyle Trask for the pick-6😳

— PFF College (@PFF_College) December 13, 2020
I love Ricks and think he has a chance to return to his 2020 form after he played just half the 2021 season. But even Nick Saban talked about how Ricks needed to show he could follow Alabama's process and that he needs to harness that talent. Saban called him "a work in progress."
You know who isn't a work in progress and showed in 2021 that he was one of the best defensive players in the country? Johnson. Yeah, he's not someone who plays the same position as Ricks as a slot corner/safety (he'll play more safety this year). But the guy does everything. He allowed just 3.7 yards per target — he was targeted 62 times and allowed just 228 yards per PFF — and he racked up 79 tackles, 8.5 tackles for loss, 5 pass breakups, 1 sack, 1 interception and 1 forced fumble for the nation's No. 3 defense.
Mike Elko could stick Johnson anywhere. He'd even send him on a few blitzes per game, where he showed a next-level ability to get to the passer. Johnson will have a slightly different role in DJ Durkin's defense, but he should still be poised for a monster pre-draft season. That type of versatility is rare, and Johnson has a good chance to finish as a consensus All-American.
Stick him on a field tomorrow and he's a better overall player than Ricks.