SEC
New recruiting rules were supposed to hurt SEC teams, but that hasn't been the case
Perhaps I was naive.
I was under the impression that 2 new recruiting rules were going to hurt the SEC as a whole. The first of which was the Early Signing Period, which we saw go into effect for the 2018 recruiting classes already.
My assumption was that in the long-term, it would hurt the SEC teams who would try to swoop in at the 11th hour and flip players who were either committed to smaller schools or schools outside of the Southeast. It's not really fair to judge the 2018 classes based on that because the rule wasn't in place for the entire recruiting cycle.
The more recent rule change that was supposed to make a significant impact was the spring official visits. From the start of April until the last Wednesday in June, recruits were allowed to take official visits. Like with the early signing period, I assumed that it would benefit colder weather programs the most because it allowed them to get kids on campus for official visits when it wasn't 40 degrees and sleeting.
I was naive. And wrong. At least so far.
It's early, but if there was supposed to be a negative impact on SEC teams with these new rules, we certainly haven't seen it yet. In fact, the SEC is on a historic pace just a few months into the cycle.
As of me writing this column (Sunday afternoon), the SEC has the top 3 classes for 2019, according to the 247sports rankings. That's not all.
The SEC owns 5 of the top 8 spots in the recruiting class rankings…and 6 of the top 11…and 8 of the top 15. Yowza.
For the last week of June, these numbers are staggering (based on verbal commitments as of 2 p.m. ET on Sunday via 247sports):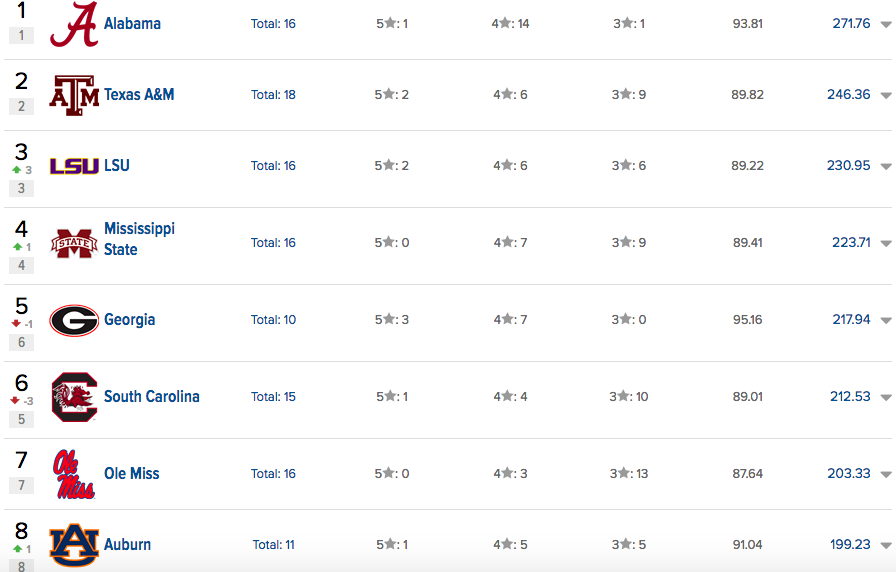 And just to take it a step further, Tennessee is ranked No. 20, which means 9 of the top 20 classes are from the SEC.
Yeah, it's June. That's actually what makes this that much more impressive. Among the SEC's top 8 classes, 6 of them have at least 15 commitments or more. That's with 2 months of summer left, and essentially 7 months left in the recruiting cycle.
The entire SEC already has 63 4-star commitments and 11 5-star commitments. Compare that to last year, when the SEC got 116 4-star signees and 10 5-star signees for the entire cycle. That's with 176 recruits rated 4-stars or better currently uncommitted for 2019. In other words, only half of the elite recruits are verbally committed to a school.
Is that a product of recruits committing earlier than ever? Perhaps. But it seems like the SEC is the only conference that's really benefitting from that so far. Look at the amount of teams per conference ranked in the top 20 of the 247sports class rankings:
SEC — 9
B1G — 4
ACC — 3
Big 12 — 2
Pac-12 — 1
Independent — 1
The B1G's highest-rated class is still only Ohio State at No. 13. That means the SEC has 6 classes — nearly half the conference — ranked ahead of the B1G's top-rated class. Oh, and Georgia has more 5-star recruits committed than the entire Big 12 and Pac-12 COMBINED.
Again, I know. It's early. Really early. A lot of people would point out that Northwestern was ahead of Alabama for a decent chunk of last offseason.
But the amount of verbally-committed recruits suggests these numbers won't change drastically for these programs unless there's a scandal or coaching change that takes place. These classes are roughly 60 percent full already.
I mean, Jimbo Fisher might have the entire state of Texas signed by the time he coaches his first game in College Station. He's already got 13 (!) verbal pledges from recruits who hail from the Lone Star state.
That's an interesting trend with those top-ranked classes in the SEC. Of the 9 SEC squads ranked in the top 20, 4 of them are with coaches in their first full recruiting cycles at their respective programs (7 out of 20 overall). That's not that surprising. In general, new coaches have that out-to-prove-themselves mindset that often translates to early recruiting success.
Perhaps there's no better example of that than what Joe Moorhead is doing on the recruiting trail. The first-year Mississippi State coach has the nation's No. 7 class, with verbal commitments from 7 4-star recruits — Dan Mullen never signed more than 7 recruits rated 4-stars or better — who are all from south of the Mason-Dixon Line.
If there was ever a coach who was supposed to be hurt by the new recruiting rules, it was Moorhead. Think about it. He had no ties to his new region and he went to a program without a rich history yet he still replaced the school's most successful coach ever. That combination shouldn't be thriving with this expedited recruiting cycle. But it is.
Maybe this is as simple as Moorhead and these other SEC coaches just knowing how to recruit. Seven of the 9 SEC teams ranked in the top 20 have coaches entering their third season or less (Nick Saban and Gus Malzahn are the only ones with more experience).
Could this just become the new norm with this next generation of SEC coaches? That's not that far-fetched, though we would need a few more years of evidence to support that. Shoot, we're still not even through a full recruiting cycle with these new rules.
But so far, it's working out far better than I expected for the SEC.