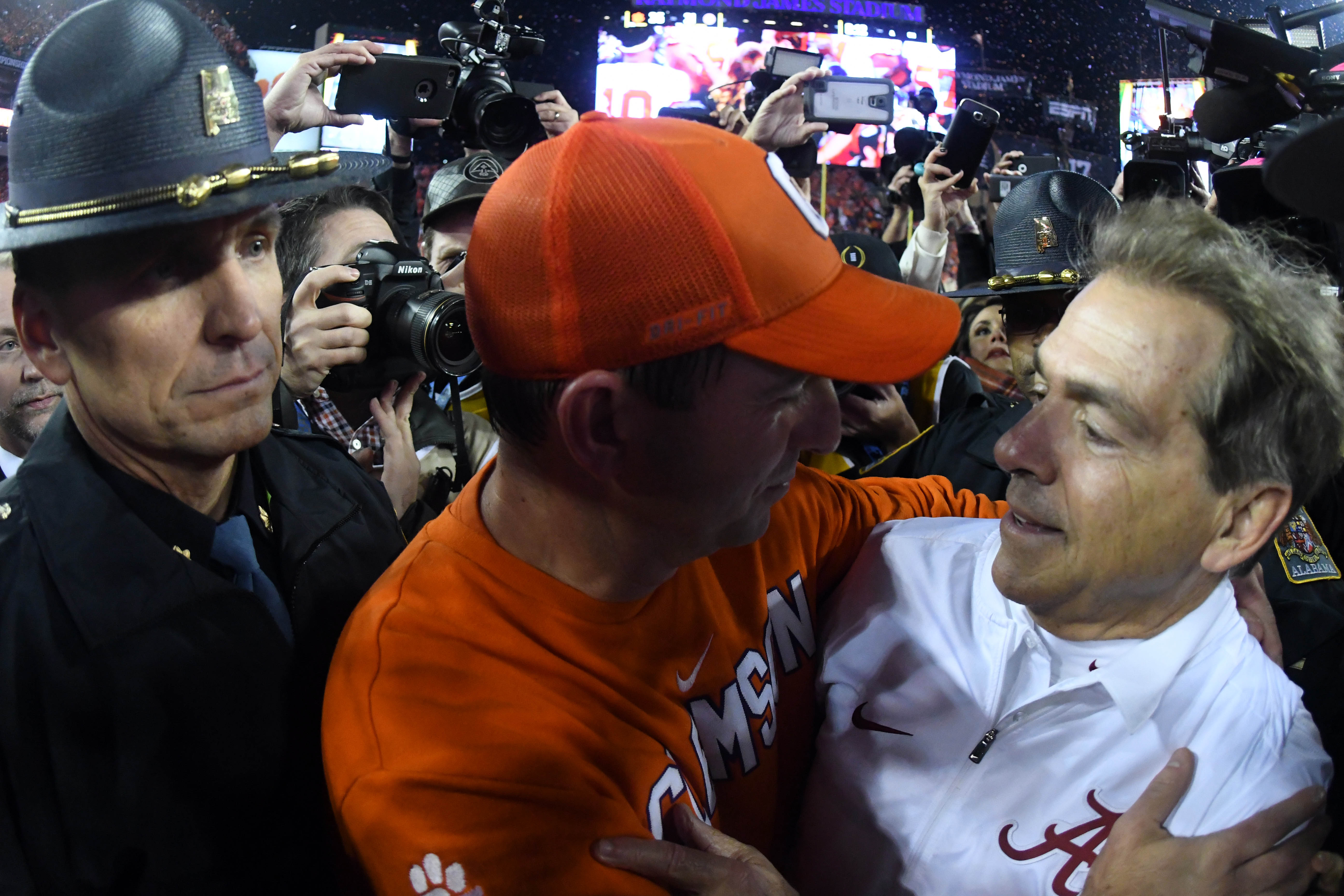 SEC
Cable TV is dead. That's why the next round of college football realignment could look more like the NFL
The NBA playoffs ended. We remain months away from college football beginning. It's the optimal time to take stock and discuss some college football realignment. The last round resolved little of the underlying tension, bloated conferences and sacrificed rivalries at the altar of cable television footprint. Another round during the next decade could be even more drastic with a changed television landscape.
Cable is not dying. It's dead. The cable box might as well be the landline phone. Technology has made it redundant. Cable subscribers are leaving in a steady trickle. The only finger still plugging the dike is Internet infrastructure. Many rely on a cable provider for home Internet service. Getting out of a long-term bundle is more effort than its worth. When Fiber Internet or something else expands capacity, the trickle of cord-cutters will become a flood.
That spells trouble for college football. College football depends on cable. Conference networks draw cable subscriber carriage fees. ESPN and FOX pay for conference rights with revenue from cable subscriber carriage fees. That huge pot of postseason money? It comes from cable subscriber carriage fees.
Power 5 conferences will enjoy the windfall now – the SEC handed each program $40.4 million in 2016 and Big Ten TV revenue distributions are expected to top $50 million in 2018 – but those days will end. The same rights deals showering athletic directors in cash to use are a millstone for networks, especially ESPN, who will struggle to afford them.
What comes next? The focus will shift from no longer relevant cable footprint to attracting an audience. The money pot will be smaller.
ESPN won't be drawing from a bottomless Scrooge McDuck vault. It will have less money to spend. Silicon Valley execs might ride in on gleaming white Teslas to replace ESPN and FOX (or partner with them). Google or Amazon getting into the college football business could make sense. That does not mean they will preserve the present format intact.
As Stewart Mandel pointed out, the future, in an audience-driven sport, will be about quality, not quantity. Streaming providers will want it. Schools will need it, to get fans in the stadium. Those fickle students with their smartphones showing up late, leaving early, or not showing for games? They are the audience 10-20 years from now.
In short, scheduling will change. Non-conference scheduling will get tougher to be more appealing. Alabama won't be playing three of its seven home games against Fresno State, Colorado State and Mercer. Teams will reevaluate the strength of their conferences as well.
Gaming out realignment
Potential fault lines have been plastered over. But they are visible. Texas and Oklahoma did not want to expand the Big 12 and fought against adding even more underwhelming programs to the payroll. The football powers in the ACC aren't happy earning less money than their Big Ten and SEC counterparts. The trending projection has been the Power 5 merging into four 16-team super-conferences.
We might see four conferences. But 16 teams, without the imperative to provide cable footprint, makes little sense. The measure will not be how many markets your conference is in but how good the games are. Consolidation seems more probable than expansion.
Dominoes will fall. The Big Ten signed a six-year contract to come back in the market in 2023 before other conference deals expire. It seemed savvy. If the cable model changes, it might be a mistake. That makes no difference to commissioner Jim Delany, who will have hightailed it with his 10 figures in bonuses. Whatever entity is streaming college football games signs the Big Ten to a reduced, shorter term deal.
The next domino is the College Football Playoff running through 2025. Again, less money and a shorter deal. College football attempts the nuclear option, moving the Playoff to eight teams to stem some of the losses (or hide the fact that no one was interested in bowl exhibitions). It's not the anticipated windfall.
The SEC has insulation. ESPN re-inked the SEC through 2034. Panic sets in for the Pac-12, Big 12 and the ACC. Athletic departments are facing budget cuts. Coaching tennis becomes a five-figure profession. Facilities age. Players might have to eat meals with the common students. Major programs face trimming coaching and support staffs and cutting down on private plane usage. Coaches might not get a contract extension for mediocrity after each season. From a major college athletics perspective, it's pandemonium.
At a minimum, the Power 5 conferences will break away from the rest of FBS. Games against Group of 5 and FCS opponents cost too much money and are worthless for TV. Power 5 programs will be playing 12 games against each other.
A rift might develop within the Power 5 conferences, between revenue producers and mouths to feed. Existing tensions flare out with the financial pressure. Why do Clemson and Florida State want to support Wake Forest and Syracuse? Ditto for Ohio State, Michigan and Penn State with Rutgers, and Texas with every team in the Big 12 that is not Oklahoma. Ties formed for cable footprint might not endure.
Major schools are open to new possibilities. One that would make a lot of sense is a smaller college football league among the sport's powers.
A league would maximize revenue, producing the most audience-friendly games. The money would be smaller, but far fewer teams woudl share it. The haves could still be haves. Combining forces would give the conferences better leverage. Instead of undercutting each other, they can create content scarcity the way the NFL does.
A four-conference, 32-team league, for argument's sake, could look like this. It could be 40. It could be fewer.
Big North: PSU, OSU, Michigan, MSU, Wisconsin, Iowa, Minnesota, ND
South East: UF, UGA, Tennessee, SC, FSU, Clemson, Miami, UNC
South West: Alabama, Auburn, LSU, Arkansas, TAMU, Kentucky, Ole Miss, Mississippi State
West: Texas, Oklahoma, Nebraska, Missouri, USC, UCLA, Oregon, Washington
Teams would play a 12-game schedule to ensure six home games for each team. Each school plays its seven division opponents, an assigned opponent from each of the three conferences, and two additional games to accommodate rivalries (USC/ND, Texas/Texas A&M) or games organized for television. The top two teams meet in a division final and progress to a final four (a de facto eight-team playoff).
This scenario sounds extreme. It would be a radical departure for college football. But the sport is not just dependent on cable. The very idea of college football as a national sport where people in the Northeast care what is going on in the SEC is a product of cable promotion.
We saw the pettiness and self-interest come out during the last round of realignment when teams were fighting for more money. What happens when they are fighting over less? The major knock on the league scenario is it would require collective foresight from a sport that often has little of it.