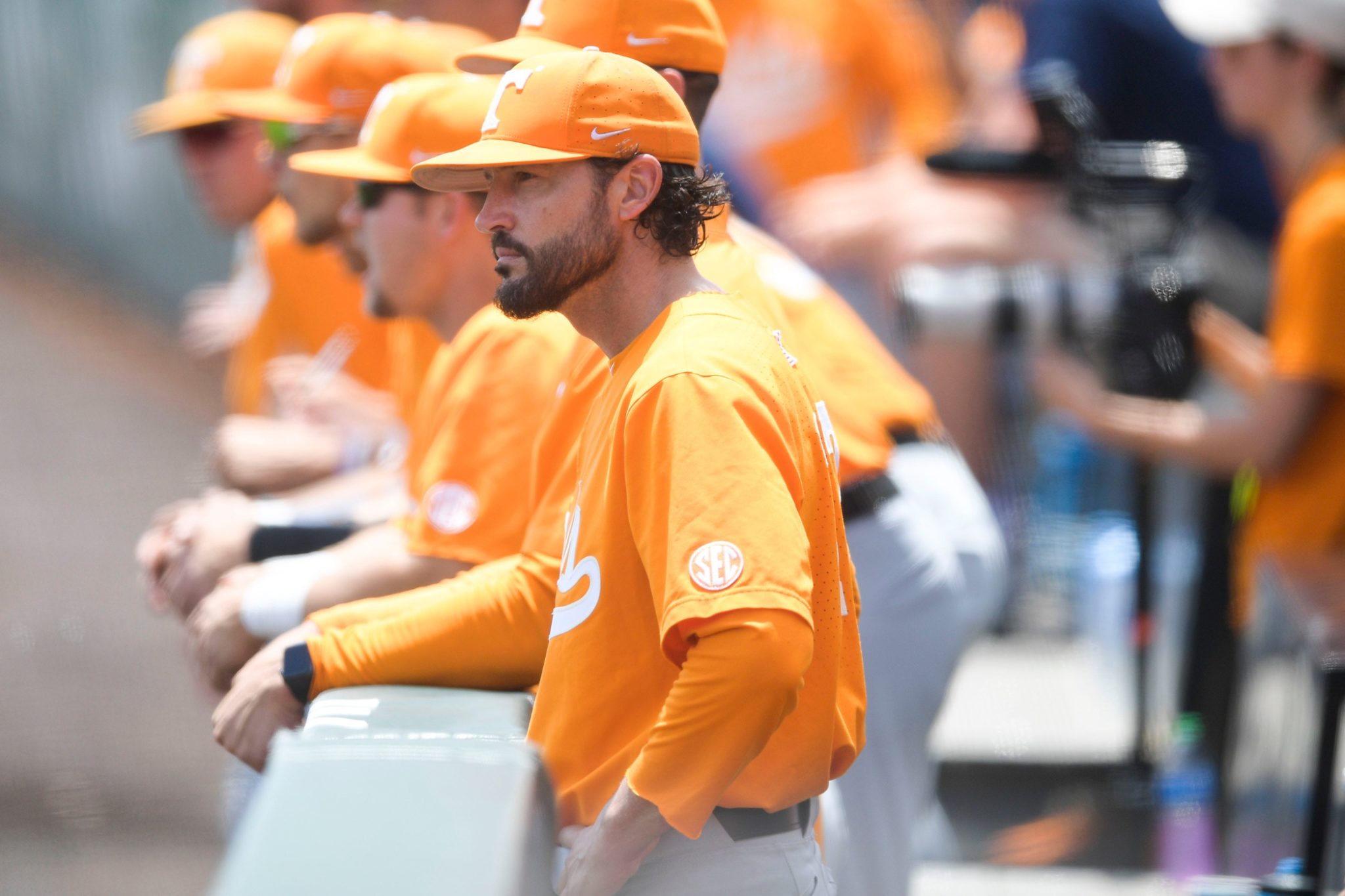 SEC
Now that Ole Miss got over the hump, these 4 SEC men's teams are the most likely to win their first title
If Ole Miss and Mississippi State are any indication, the SEC is going to be ending national championship droughts left and right in the 2020s.
We saw both baseball programs claim their first national titles in program history. Georgia football wasn't exactly sitting on a goose egg, but the Dawgs winning it all for the first time since 1980 only added to the notion that assuming "team X will never win a national title" is an outdated school of thought. Well, at least in the SEC.
That begs the question — who will be next?
We're just focusing on the 3 big revenue men's sports today (baseball, basketball and football). Also, to make this list, a program must not have a national championship that's recognized by the NCAA. In football, for example, Kentucky, Mississippi State, Mizzou, South Carolina and Vanderbilt are the only programs that don't have NCAA-recognized national titles, so they're the only ones who would be eligible for the "who's next" discussion.
Spoiler alert: None of those programs made this list. Why? Those programs have a combined 3 winning SEC seasons since 2015 (2 from Kentucky and 1 from South Carolina).
Much more likely to end that drought are the slew of on-the-rise SEC baseball programs, of which there are many. You could argue that there were 5 SEC programs (Arkansas, Auburn, Ole Miss, Tennessee and Texas A&M) that had a legitimate shot at winning their first national title this year alone. One did. Again.
So which SEC team will be next to win its first national title in program history? These 4 squads:
4. Auburn basketball
A properly called double-dribble in the 2019 Final Four and who knows? Maybe Auburn wouldn't have been on this list at all. That didn't happen, and neither did a once-promising crack at the 2022 NCAA Tournament men's national championship. Auburn collapsed even though it had 2 first-round picks in Jabari Smith and Walker Kessler. An Auburn skeptic would say that the Tigers will never get 2 looks that good.
Having said that, Bruce Pearl just signed a new contract, facility upgrades are on the way and Auburn got through its sanctions period. The Tigers are in position to win at a high level in the SEC for the foreseeable future. We saw this year's team reach No. 1 for the first time. As long as Pearl's recruiting doesn't fall off, there's a path for the Tigers to cut down the nets.
As for whether Pearl's style with free-shooting guards will be the thing that prevents that from happening, well, stay tuned.
3. Texas A&M baseball
Two words — Jim Schlossnagle.
He's A&M's all-time leader in College World Series victories … with 2 … both of which came this year. He did that in Year 1 after he inherited a program that finished last in the SEC West. Remarkable. If you watched the Aggies' run, you saw why Schlossnagle and his all-star staff were so valuable.
They took pitches. A lot. They also got timely hitting late in games to often bail out some inconsistent starting pitching. That approach yielded the program's first trip to the CWS semifinals.
The Aggies didn't really have the arms yet and were 2 wins from playing for a national title. Nate Yeskie should be able to work wonders with the A&M pitching staff. As we saw with Ole Miss, even with the home-run boom in college baseball, you still need multiple starters pitching at an All-American level in Omaha to be the last team standing.
Keep in mind that A&M had 15 new faces on its 2022 roster. It was a total overhaul. The combination of recruiting, the transfer portal and NIL certainly worked in the Aggies' favor. That's not changing anytime soon. Also keep in mind that the upgrades to Blue Bell Park could impact A&M much like what we saw play out with MSU and its facilities boom. Schlossnagle was athletic director Ross Bjork's first major hire, and you know he wants to do everything possible to make sure the extremely successful former TCU coach gets everything he needs to bring a title to College Station.
Don't be surprised if that's sooner rather than later.
2. Tennessee baseball
Look. Whether you like them or not — I'm assuming you probably don't — what cannot be denied is that Tony Vitello has that thing rolling in Knoxville. They became so hated because of the "Daddy" hats, bat flips and cheetah coat celebrations, but also because they were darn good and nobody could beat them until Notre Dame came along. The Vols had the nation's No. 1 offense and No. 1 earned run average, and that was a year removed from making it to Omaha.
What'll be interesting to see moving forward is just how much Vitello's 2022 identity exists with his future teams. When you only have 7 losses heading into a Super Regional, you can justify being as brash as the Vols were. Vitello worked for 2 of the best 21st-century coaches in Dave Van Horn (more on him in a minute) and the aforementioned Schlossnagle. Clearly, he understands how to build a program, even if his style is different from theirs.
If there's a ringing endorsement of Vitello, it's that the SEC has been a force the past 2 years and he went a combined 45-15 against the conference. An early-40s coach feels like a good bet to get the job done.
1. Arkansas baseball
I don't think Arkansas baseball is cursed. Is it always going to be especially painful to look back on the misplayed popup that would've won it all in 2018? Sure. Will the pain of losing a 2-0 barnburner in the semifinals to eventual national champ Ole Miss always make 2022 a painful memory, as well? Probably.
But as we just saw with Mike Bianco, sometimes the team that keeps knocking on the door finally gets its shot. At some point, 9 trips to Omaha will come in handy for Van Horn (7 at Arkansas and 2 at Nebraska). It has to. His team plays at too high of a level not to get it done once. Unless Van Horn makes a stunning announcement that he's stepping down, you can't say that the window has somehow closed for a team that went to 3 of the past 4 College World Series (and was the No. 1 overall seed the year it didn't make it to Omaha).
And in a weird way, maybe a team like Arkansas gets the benefit of the doubt if it has a rare down year in SEC play the way that Ole Miss did. If the SEC continues to be a gauntlet, maybe that has a way of getting Arkansas into the NCAA Tournament and making a surprise run in what was an otherwise "down" year. Nobody would've said in late-April that this was going to be the Ole Miss team who got over the hump. Perhaps Arkansas just needs to have those expectations stripped, too.
Or, you know, it can just bust through the championship door with a 50-win juggernaut squad.
Either way, it's happening. Someday.
And a note on Texas A&M football …
If the Aggies were eligible to make this list — they aren't because of that 1939 national title that was recognized by the NCAA — I'd probably put them at No. 4. The historic 2022 recruiting class is part of that, but it's also how well Jimbo Fisher recruited before that to give A&M a championship window in 2023-24. He's 1 of 5 active head coaches with a ring and he got over the Nick Saban hump last year. That has to count for something.
Having said that, I put 2023-24 as the title window because once Oklahoma and Texas join the conference, that path to a title will only get tougher. I also wonder what Fisher's recruiting hit would be if he couldn't at least get an SEC title by Year 7 in College Station.
Oh, and yes, I think it's fair to say a baseball title is more imminent than a football title considering that A&M just reached the CWS semifinals in Year 1 of the Schlossnagle era while Fisher has yet to reach football's Final Four in 5 years.
But would it be a surprise if A&M won it all in multiple big-revenue sports in the 2020s? Not at all.