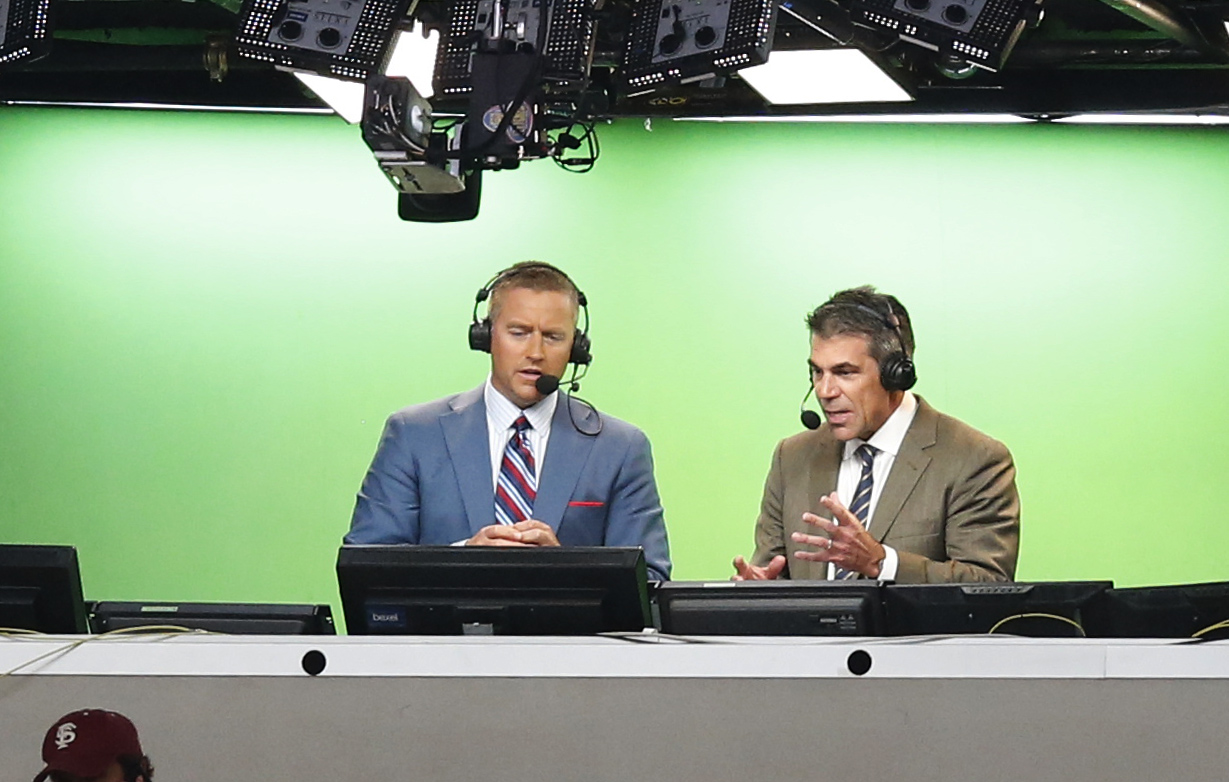 SEC
On the mic: Grading the TV broadcasters in the CFP National Championship Game
When it comes to the all-SEC CFP finale, ESPN clearly decided that it just meant more. They dialed up more options than a Lane Kiffin QB against an all-out blitz for broadcast viewers. Most people pick a channel and stick with it. But with so many options, somebody should give impressions of the many versions of the game that single-channel viewers missed.
Sadly, my TV package does not afford me ESPN Deportes, so no thoughts are offered on the Spanish language broadcast. But I flipped back and forth between the other broadcasts throughout the CFP. Feel free to relive the game, as it all went down.
9:55 left 1st quarter, Bama 3, UGA 0: I opened with the Film Room broadcast on ESPN2. First, this is great PR for Texas A&M. They're showing off top-of-the-line facilities and featuring their coaches in a setting where they seem not only entertaining but downright relatable. Grab a plate of nachos and a cold drink and coach Jimbo will tell you about some Cover 2.
There's some unintentional comedy, like when UGA's scoop and score comes off the board and the A&M coaches concur that it wasn't a fumble … only for the confirmation announcement to be followed by a camera shot of a large and angry female UGA fan. An assistant audibly guffaws and Jimbo admits, "She didn't think it was the right call." Profanity is absent, of course, but there's personality and plenty of coach-speak.
8:19 1st quarter (3-0 Bama): Meanwhile, on the flagship station, Chris Fowler and Kirk Herbstreit are typically astute, tracking the opening struggles of Stetson Bennett and the Georgia offense. It's funny how much Fowler has replaced Keith Jackson or Verne Lundquist as the voice of college football. And Herbie, awkward opt-out rant aside, is still the best color guy in the business. Although for color …
5:46 1st quarter (3-0 Bama): I go to the Alabama radio feed and am reminded that nobody knows a team like the guys who broadcast their games all season. Eli Gold, John Parker Wilson and Rashad Johnson are in fine form. Gold immediately informs us that with their early field goal, this is Alabama's 283rd game in a row without being shut out. It's the kind of detail no national guy will casually drop. Most hardcore fans would gladly take the home radio crew merged with the TV feed — particularly over ESPN's Z team gang who get the 12 p.m. SEC game against a MAC team.
4:12 1st quarter (3-0 Bama): Jimbo in the film room is getting more conversational, calling on UGA to find Brock Bowers. This is definitely the spot for deep dives, in terms of formations, personnel groupings and coach speak.
3:26 1st (3-0): On to the UGA crew. Scott Howard, Eric Zeier and DJ Shockley are keeping Bulldog nation dialed in. These guys are solid pros. Howard is one of the best in the SEC … but I always struggle with his obsessive "We." Maybe it's an old-school attitude on my part, but the only way I want to hear a broadcaster say "we" is if he's playing QB or calling plays.
12:35 2nd (3-3): Back to ESPN. Georgia's offense awakens and Fowler's excitement over a long pass to George Pickens suggests that he'd definitely prefer not to have a 9-6 game like Alabama/LSU back in the pre-CFP era.
11:13 2nd (6-3): On ESPN2, Alabama answers with a field goal. Jimbo is slow to spot the injury to Jameson Williams, but the other A&M staff is immediately aghast watching the play. The best things about the Film Room are the combination of locker-room feel and genuine regard for the people involved from the A&M coaches. Incidentally, an interview with the d-line coach is followed by a moment when it seems to be suggested that DJ Durkin might be introduced at halftime. Does Jimbo just win at everything?
7:07 2nd (9-3): The UGA crew gets excited when Georgia comes through with a big sack to avoid a 2-possession deficit. There are interesting moments. Zeier criticizes a holding call on a kick return, but Howard quietly admits that the call was right … which is good because at the exact same moment, the hold is clearly shown on ESPN's camera footage. Ouch.
3:09 2nd (9-6): Back on ESPN, Georgia's second solid drive is interrupted by a quick discussion of Bama LB Will Anderson's new puppies. This is the best and worst thing about the flagship broadcast. Nobody listening to Eli Gold or Scott Howard could give two flips about puppies during the CFP title game. On the other hand, my kids find this much more interesting than, say, Jimbo picking apart UGA's protection schemes. UGA re-enters the field goal derby to eerily match the 9-6 score I already mentioned.
1:33 2nd (9-6): Alabama's crew is chuckling over the wrath of non-SEC conferences at seeing a field goal shootout. Being balanced makes me admit that Rashad Johnson drops in a "we" as well and JPW follows with an "our." Still not a fan of that, and doesn't feel like something Gold would do. He does drop a reference to the "Golden Flake A-Day game," which on the other hand, just makes me laugh.
Half, still 9-6 Bama: The A&M coaches seem somewhat in disagreement on end of half clock management. I'd pay something extra to have sports-bar like trivia buzzers handed out so we could see the staff indicate in real-time when they would or wouldn't call timeouts, without having to deal with potentially undermining Jimbo. "They're happy it's over and he is too," Fisher says of Kirby and UGA going into the locker room.
Halftime: Rather than endure 25 minutes of talking heads, I turn to the halftime marching band coverage. Alabama is up first and my wife, who I defer to because I know nothing about marching bands, is ho-hum on the Tide. She says their lines are sharp and the music sounds good, but like me, she is confused about exactly what shapes they are trying to form. When Georgia's band comes out and spells "Georgia" in script, she is genuinely impressed. "That's hard because it's curves and not lines," she admits, and I'm not sure Herbstreit has been more on-point.
With that diversion completed, in the second half, I'm going to jump around less to try to make sure I give each broadcast a full opportunity to make its final argument for supremacy. We'll open the second half with the UGA radio crew.
Mid-3rd quarter, still 9-6: The Georgia crew are starting to sound pretty frustrated. There's a wonderful element here of getting cranky with officiating or the offensive situation, but still hoping that the Bulldogs end this 4-decade plus a little streak without a national title. The local color of the hometown ads alone would be worth the price of admission, but with momentum possibly swinging Alabama's way, it's time to give Mr. Gold one last check-in.
End 3rd quarter, 13-9, Georgia: The Bama live feed takes a downward turn once I turn over. Georgia marches right down the field, and we do finally have a touchdown. Gold is the best play-by-play voice I've heard tonight, which certainly isn't intended to be a slight against Fowler. But there's only so many moments of "we" and looking for penalty flags that even the most ardent fan of team broadcasts can endure. Better finish with the national guys and see if my jinx somehow carries over to Texas A&M.
Mid-4th quarter, 19-18, Georgia: Wow, that was a lot of football. Jimbo and his guys seem to have gotten more comfortable second-guessing Saban and Smart as the game has progressed. It occurs to me that the best find here would be to have a second head coach to counterpoint Fisher. His assistants certainly aren't going to do it with the camera rolling. But I can see it now. "I don't know why he calls a time out here." Enter Lane Kiffin. "Well, I do, Jimbo. Because he wants to put up more points on them, like I did when we beat you." (Long silence)
There's a lot of shop talk, but also some pretty astute viewership. Fisher knew that the critical UGA fumble early in the quarter was definitely a fumble and he wouldn't be talked out of it. And it is fun to see Fisher and his assistants be like fans, shaking their head on an incomplete pass near the goal line and saying things like, "You've got to run the ball down here sometime." But enough of the amateur hour, let's finish with the pros.
Final, 33-18, Georgia: Fowler and Herbie to take it home was a fun choice, although I do regret missing Scott Howard going crazy with Zeier and Shockley on the UGA simulcast. Fowler's preparation and understated knowledge of the game run deep, and Herbstreit is a master of the telestrator perhaps only equaled by Mike Fratello back in the NBA's heyday. UGA's pick-6 dagger was well-called, with Fowler pointing out the parallel with the SEC title game, when Georgia was knocked out with a pick-6.
Final grades
The main broadcast was rock-solid. Fowler and Herbstreit do occasionally reach to be like the NFL in scripting narratives for mass consumption, but in terms of calling the games and analyzing the games, both guys are excellent. I could live without Will Anderson's puppies or quite so many shots of Stetson Bennett crying, but it's the gold standard in middle of the road broadcasting, and for good reason. A-
The film room broadcast was suitably different. I would like either buzzers for coaches to weigh in on strategy without contradicting their boss or to have more SEC head coaches challenging each other's thoughts and theories. It would also be nice to have a cleaner picture to see instead of split-screen. Still, it's very non-traditional and definitely an interesting way to watch the game. I'd like to see more confrontation, but a solid idea and reasonably well-executed. B+
UGA's network had a game they'll always remember. They're well-spoken, they call a good game, but I really wouldn't mind if they were a little less obvious in the homer tendencies. Every call against Georgia isn't a bad call, Eric. There's not a drinking game for every time you guys drop a "we" or an "our." They're a great crew and even if they didn't win the championship themselves, I'm sure they feel good about being part of the day. A
Bama's network is a personal favorite, just because Eli Gold really is that good. Once I typed Eli God by mistake except that it almost didn't feel like a mistake. From what I heard, Gold was in typically fine form, and Wilson and Johnson are perfectly solid. End of the day, they also get an A.
Hardcore fans would prefer the radio cast. Non-fans and families would probably prefer the main broadcast, and people who weren't particularly invested but just wanted more entertainment would prefer Jimbo and the film room. Maybe it really did mean more in the end.