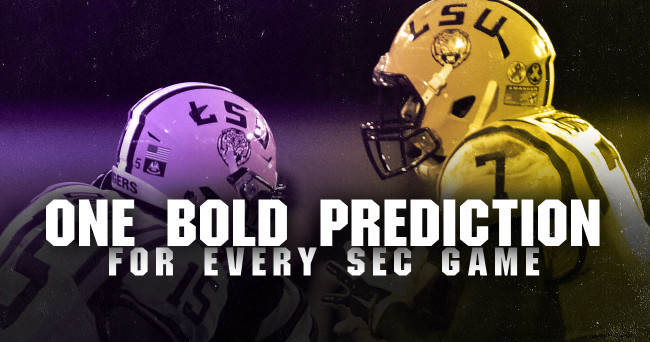 SEC
One bold prediction for every SEC game in Week 13
Here's one bold prediction for every SEC game on Saturday (and one today):
RELATED: Week 13 SEC game predictions
Mizzou at Arkansas (Friday) — Can the Razorbacks shake away the sting from last week's loss to Mississippi State and end with regular season with a bang? Brandon Allen will face one of the toughest defenses he has all season, but finds a way to manage four more touchdown passes during a rout.
Alabama at Auburn — Considering how much the Tigers have struggled defending the run this season, Derrick Henry should be licking his chops in prep for the Iron Bowl. Another 200-yard, multi-touchdown game is feasible for the Heisman favorite.
Georgia at Georgia Tech — The Yellow Jackets are tied for 11th in the ACC in turnover margin this season at minus-4, one of the reason this fall's been a disappointment for Paul Johnson's team. On the other hand, Georgia is even with 18 giveaways and 18 takeaways. We'll say the Bulldogs finish plus-4 on Saturday in Atlanta.
Louisville at Kentucky — Anticipating the star of the show Saturday? The Wildcats need their best offensive weapon to have his best game, but first, Mark Stoops will have to increase Boom Williams' overall touches. Kentucky salvages a trip to bowl season with a solid 100-plus yard performance out of Williams.
Vanderbilt at Tennessee — The SEC's hottest team over the last four weeks, the Vols' defense has turned it up a notch down the stretch. This matchup won't be pretty from an offensive perspective, but that's alright with Derek Mason. Five or more field goals will be made in this one, but Tennessee holds on.
Florida State at Florida — In what promises to be one of college football's best games this weekend between evenly matched teams, the Gators will score a defensive touchdown late to prove the final tally. Vernon Hargreaves with a pick-six perhaps?
Texas A&M at LSU — It should be an emotional night in Baton Rouge for what many expect will be the final game for Les Miles. Reports surfaced Thursday that his firing is imminent. Miles will leave his stamp on this game with a trick play in the fourth quarter that not only turns momentum in the Tigers' direction, but ultimately is the play that wins this evenly-matched battle.
Ole Miss at Mississippi St. — 1,000 yards of offense and more than 100 points? Get your popcorn ready for a wild ride in Starkville. Chad Kelly vs. Dak Prescott makes for one of the more memorable shootouts in Egg Bowl history, but the senior prevails in his going away party.
Clemson at South Carolina — So the question isn't if the Tigers will win on Saturday, but by how much? Will Dabo Swinney put his foot on the accelerator in the second half or can the Gamecocks muster enough intestinal fortitude to keep it respectable? Deshaun Watson manages 300 yards of total offense and four touchdowns as Clemson finishes off a 12-0 regular season.