SEC
'Plunging into a college football season didn't sit well with me.' The SEC's first opt-out shares his reservations for football in 2020
On Monday night, Oren Milstein did the opposite of what a stereotypical Generation Z college athlete would do. The Vanderbilt kicker fired off a tweet that was bound to get national attention … and then he immediately deleted the Twitter app off his phone.
By the time Milstein was in a socially-distanced class on Tuesday, the flood of texts came in from his friends. Word of his announcement had spread on social media — the SEC had its first official opt-out for the 2020 college football season.
Milstein's original Twitter statement addressed the concerns of playing college football with mounting COVID-19 cases and deaths. He cited the ethics of playing a sport that has inevitable hurdles, regardless of the protocols put in place at Vandy and in the SEC.
"The idea that we still don't really know the long-term effects does not sit well with me plunging into a college football season right now," Milstein told SDS.
Three months ago, Milstein's mindset was a bit different. In the first week of May, the former first-team All-Ivy League kicker announced he was transferring as a graduate student to Vanderbilt, where he'd get a Master's degree from the school of management (he had virtual graduation from Columbia University a couple of weeks later). Even though it was roughly 6 weeks removed from the shutdown of college sports, he, like many in his position, had planned on playing a college football season, albeit under atypical circumstances.
As one would expect from someone with a psychology degree from an Ivy League school, Milstein soon reconsidered his decision to play football during a pandemic.
That process began in June. He first spoke with Vanderbilt doctors, as well as Vanderbilt athletic director Candice Storey Lee. In addition to talking it through with his family back home in Boca Raton, Fla., Milstein also spoke with friends who either had the virus or had parents who tested positive. What troubled him was that friends who said that they still didn't feel like their lungs had recovered months after their positive tests. A fellow Columbia athlete losing a parent to COVID-19 weighed on his decision, as well.
It was actually Saturday, July 18 when Milstein officially decided to opt out (he went public 2 weeks later). That was a day after the SEC made the announcement that it would honor scholarships for players who chose not to participate in a 2020 season because of COVID-19. A lot had happened in just a couple of months, including the Ivy League's early-July decision to cancel fall sports.
"I thought it would be controlled by now. I thought I'd feel a lot more comfortable playing a season by now," Milstein said. "But that just has not been the case. We haven't really proven that we can control this virus, especially as Nashville has become a hotspot, as Florida has seemingly become the epicenter, all in SEC country."
As Milstein outlined in his statement, it's not Vanderbilt's protocols or SEC protocols that have been lacking. Those, he said, have improved with more player feedback. Milstein said that Vanderbilt coach Derek Mason understood his decision and that there was open communication with him.
"But at the end of the day," Milstein said, "there are only so many protocols we can really follow in facilitating a college football season. We're talking about putting a hundred guys on the field at the same time and having them in full-on collisions, from a different city, from a different school, and telling them all to go back to their campuses and classrooms afterwards.
"That just really doesn't sit well with me."
If what we saw from the hundreds of players from the Pac-12 and the Big Ten who publicly advocated for increased health provisions put in place in separate Players' Tribune statements, it won't sit well with SEC players, either. A Washington Post story over the weekend revealed that SEC player representatives voiced their concerns to league officials over what will happen when students return to campus. Florida receivers Jacob Copeland and Kadarius Toney both took to social media to express their reservations about playing football in 2020: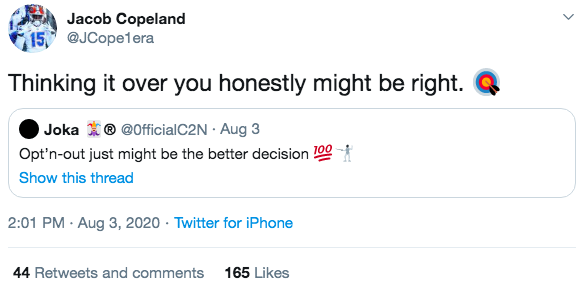 A week earlier, Illinois running back Ra'Von Bonner became the first Power 5 player to opt out for COVID-19 concerns. Two days after that, Virginia Tech star Caleb Farley became the first high-profile player to opt out when he told NBC Sports' Peter King that he didn't feel right about players not getting tested upon returning to campus, and that "players were 100-deep in our indoor facility. No masks."
In the 2 days that followed Milstein's announcement, preseason All-Americans Micah Parsons (Penn State) and Rashod Bateman (Minnesota) both opted out. Granted, both of them and Farley are in position to leave school early and train to become high NFL Draft picks. That's not reality for Milstein. He didn't opt out in an effort to leave school early for the NFL. His reasons were strictly safety-based.
"This has all been about trying to protect my health, my teammates' health and public health, in addition to everyone involved in the college football season right now," Milstein said.
While the SEC announced that it would honor scholarships for players who opted out, players like Milstein still don't know if they'll be granted an additional year of eligibility. That complicates things. He admittedly doesn't know what his next step is other than continuing to take classes and earn his Master's degree in May 2021.
"I don't even know if my college career is over yet," Milstein said. "But I felt like I had to do this regardless of what happens later."
Milstein has a unique perspective on the virus compared to his teammates or other SEC players. He's from a state (Florida) that ranks No. 2 in total positive cases, and he came to Nashville from a state (New York) that has twice as many confirmed COVID-19 deaths as any other state. He was also supposed to play football in the state (Tennessee) that ranks No. 13 in total positive cases.
For Milstein, there was never a specific moment when he realized he didn't want to play football during a pandemic. It was weeks and months of gathering information to make his own decision. And while he knew that there would inevitably be some who questioned why a person in their early 20s in good physical health would opt out of playing SEC football, he said it was mostly words of support that he received upon making his announcement.
He doesn't know what the future of college football is in 2020, or whether he'll have any Vandy teammates who follow in his footsteps. For now, he's just trying to do his part. Hopefully, he said, others will, as well.
"There are tons of people of all different backgrounds, all different ages who are being affected by this virus, so please don't take it lightly. Please social distance. Please wear a mask," Milstein said. "And please do what we can to minimize the health crisis that we have at hand because it is very real."