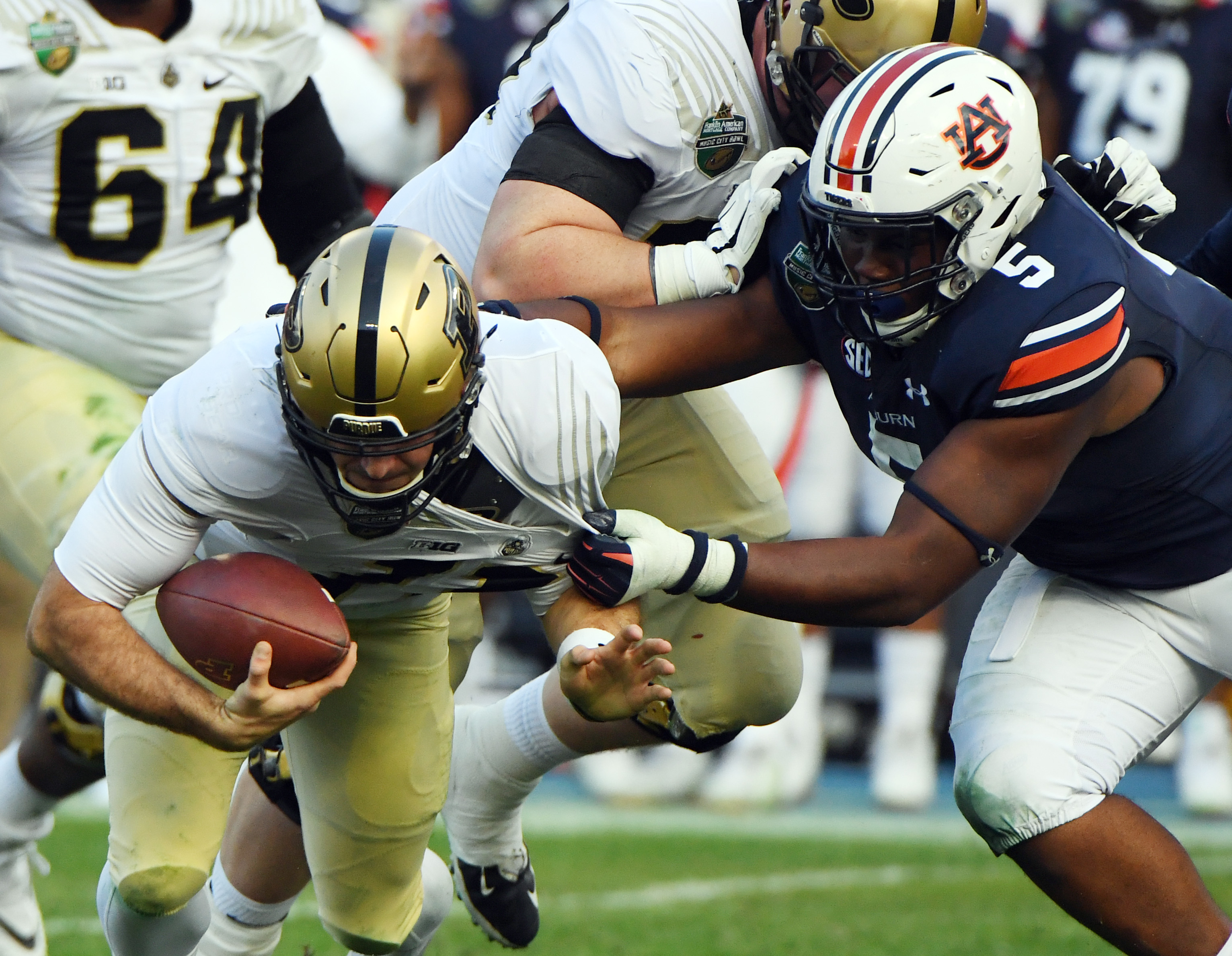 SEC
Power ranking SEC defensive lines for 2019
It's hard to dispute the fact that the SEC is the best football conference in today's game, and the primary reason for this is because of the amount of talent that is annually produced along the defensive line.
As the old saying goes, "offense wins games but defense wins championships," and no unit on defense is more important than the line. The first line of defense, if you will. They stop the run and affect the passing attack by pressuring the QB. Frankly, it's their impact that usually makes LBs and DBs look good.
And no one produces defensive line talent like the SEC. This year should be no different.
So, who has the best defensive line? Who, relatively speaking, has the weakest? Let's take a look:
14. Vanderbilt
The 'Dores have struggled along the defensive line the past few years and that trend unfortunately looks like it will continue this fall. DE Dare Odeyingbo is the key returning starter after a sophomore season in which he had 28 tackles, 3.5 TFLs, 2 sacks and a pick. He's a big body (6-6/265) with NFL talent. NT Drew Birchmeier (31 tackles, 3 TFLs, 2 FF) is another returning starter who they'll count on inside.
The other starting spot is still somewhat in the air between Rutger Reitmaier (an Oregon transfer), true freshman Daevion Davis and Marist transfer Eddie Zinn-Turner. Simply put, they're going to need some guys to step up to help a run defense that was 13th in the SEC in yards per attempt (5.0).
13. Missouri
The Tigers have a very proud tradition of producing quality defensive linemen with Ziggy Hood, Aldon Smith, Sheldon Richardson, Kony Ealy, Markus Golden, Shane Ray and Charles Harris (all of whom were picked in the first 2 rounds of the NFL Draft). There might not be a sure-fire early round draft pick in this year's unit, but they do have some upside.
Chris Turner (24 tackles, 3.5 TFLs and 2 sacks) and Trajan Jeffcoat (who flashes twitch and burst) are the presumed starters at DE, and the hope is one of them becomes the latest star pass rusher. Jordan Elliott and Kobie Whiteside will man the middle with Akial Byers rotating in. Elliott has a lot of upside and really came on strong at the end of last season.
12. Tennessee
The Vols are replacing all 3 starters up front from a unit that helped a run defense improve by 96 yards per game (155.2 in 2018 after 251.3 in 2017). With 2 career starts returning up front, it's safe to say there's not a whole lot of experience to fall back on.
NT Emmit Gooden (33 tackles, 7.5 TFLs, 1 sack) is by far the most productive returning player and should be an impact player inside for the Vols. Sophomore DE John Mincey flashed in limited time last year, but he's still a relatively unknown commodity. They really need either Savion Williams (No. 1 JUCO DT prospect for 2019) or Aubrey Solomon (a former 5-star prospect who originally signed with Michigan) to emerge as an impact player this year.
11. Arkansas
Fortunately for the Razorbacks, they at least have some experience returning up front, as all 4 expected starters are seniors with game reps. Dorian Gerald (21 tackles, 2.5 TFLs) and Gabe Richardson (13 tackles, 1.5 TFLs) are slated to start at DE, but they need them to provide the pass rushing prowess they lacked off the edge last year.
Inside there is a bit more confidence with McTelvin Agim (45 tackles, 10 TFLs and 4.5 sacks) and T.J. Smith (26 tackles, 3.5 TFLs, 1.5 sacks). Agim is a legitimate NFL prospect who can penetrate the line of scrimmage and Smith is strong against the run.
10. Ole Miss
I think the Rebels will really benefit from the move to the 3-4 defense under new coordinator Mike MacIntyre. Luckily, they already have a defensive line that appears well suited for the new front with guys like Benito Jones, Josiah Coatney and Tariqious Tisdale.
Coatney will start at DE after finishing 3rd on the team in tackles last year with 63. Jones will play the nose, and he should prove to be a disruptive presence for centers to block 1-on-1, assuming he can stay healthy. Tisdale will compete with Ryder Anderson for the other starting spot, and each are long and athletic guys with the ability to develop into disruptive pass rushers. Developing reliable depth will be crucial this fall.
9. Kentucky
Obviously, a big reason Kentucky was such a force on defense last year was because of their back 7. Three were just picked in the first 3 rounds of the 2019 NFL Draft, including Josh Allen at No. 7 overall. But don't forget that the defensive line was solid too, and they return 3 guys with starting experience.
Quinton Bohanna is a run-stuffing juggernaut inside at 6-4, 361. DE Calvin Taylor (6-9, 310) really came on strong down the stretch last year. He finished 4th on the team in TFLs with 6 — including 5 in the final 5 games. Senior T.J. Carter, who has started 16 games over the past 2 years, is expected to win the other starting DE job.
8. Mississippi State
You could make the case that Mississippi State had the best defensive line in college football last year. That line featured 2 1st-round draft picks (NT Jeffery Simmons and DE Montez Sweat) and was a big reason the Bulldogs finished No. 2 nationally in scoring defense, allowing just 13.2 points per game.
Unfortunately, all 4 starters must now be replaced. Fortunately, however, the Bulldogs have done a great job of recruiting defensive linemen, so there shouldn't be a total collapse. DE Chauncey Rivers steps into a starting role after racking up 7.5 TFLs and 3 sacks in reserve last year. Seniors Lee Autry and Kendell Jones will get the first opportunity to start inside with freshmen Fabien Lovett pushing for time. Also, don't be surprised if 1 of the 3 4-star defensive linemen they signed this year winds up making an impact.
7. Texas A&M
The Aggies featured one of the most productive defensive line's in the country last fall, and were a big reason they were No. 2 nationally in rushing defense, allowing just 95.2 yards per game. However, they were decimated by graduation, and have to replace DE Landis Durham and DTs Kingsley Keke and Daylon Mack, who combined for 31.5 TFLs and 20 sacks.
Don't fret yet, Aggies faithful. DT Justin Madubuike (10.5 TFLs, 5.5 sacks) returns as one of the best interior linemen in the country. Sophomore tackle Bobby Brown is a bull at 6-4, 330, with huge upside. Michael Clemons is back at DE after missing all of 2018 and Tyree Johnson, a natural edge rusher, will do everything he can do hold off true freshman DeMarvin Leal, a 5-star prospect ranked No. 16 nationally in the 2019 recruiting class.
6. Georgia
The Bulldogs are expected to have one of the best defenses in the country this fall, but the one unit that still has some questions is the line. Don't get me wrong, there's talent to work with, but it's unproven or inconsistent.
DE/DT Tyler Clark (31 tackles, 4 TFLs, 1 sack) is the leader up front and was up and down last year while battling injuries. NT Jordan Davis has flashed impressive quickness for a man of his size (6-6, 320) and could be a difference maker as the spear point in the Dawgs' 3-4 front. DEs Julian Rochester and Malik Herring will face stiff competition in camp from a bevy of highly touted freshmen arriving on campus, especially 5-star Travon Walker, considered the No. 22 prospect in the 2019 recruiting class.
5. South Carolina
I might be higher than most on the South Carolina defensive line as I think they have a nice combination of talent, depth and experience. Granted, I'm also assuming that that those who have been injured (D.J. Wonnum, Aaron Sterling and Javon Kinlaw) are back fully healthy, and that some of the younger guys like Zacch Pickens and Rick Sandidge mature early.
Kinlaw is one of the best DTs in the country, and at 6-6, 305, is a force inside who can penetrate the pocket. Wonnum had 13 TFLs and 6 sacks as a sophomore DE but was plagued by injuries last year. Sandidge (No. 141 player in 2018 recruiting class) and Pickens (No. 8 player in 2018) have a lot of talent and the ability to make an impact at DT on a veteran line. J.J. Enagbare is another guy to keep an eye on at DE.
4. Florida
Similarly, to the next 3 teams on this list, you can count on Florida every year to pump out elite defensive linemen. This year they'll be forced to replace 3rd-round draft pick Jachai Polite (19.5 TFLs, 11 sacks) as their primary edge rusher, but return starters Jabari Zuniga at DE, Kyree Campbell at NT and Adam Shuler at DT.
Zuniga is the star of the group, and is the SEC's active sacks leader after having racked up 15.5 the past 3 years. I can see him becoming a 1st-round pick next spring. It'll be intriguing to see if Louisville transfer Jonathan Greenard can replace Polite's pass rushing prowess off the edge. He sat out last year but had 7 sacks for the Cardinals in 2017.
3. LSU
Wait, LSU has another deep and talented defensive line? Shocking, I know. About as predictable as death and taxes. All 3 starters from last year's squad return, though they've switched things up a bit.
Rashard Lawrence, who should be an early-round draft pick next spring, returns at DE after racking up 10 TFLs and 4 sacks last year. Breiden Fehoko, who was the starting NT last year, has moved outside to DE where he'll compete with Glen Logan, who started 10 games last year. Enormous sophomore Tyler Shelvin (6-3, 362) is expected to be the new NT after a terrific spring. He's a classic 2-gap plugger who excels against the run.
2. Alabama
One thing Alabama can always depend on each year is an elite defensive line. It's a big reason the Tide always find themselves competing for national titles, if we're being honest, and this year should be no different.
Senior DE Raekwon Davis is the big name returning. He's an athletic freak with a rare combination of size and strength. Losing NT Quinnen Williams (picked No. 3 overall in the 2019 NFL Draft) is a big blow, but true freshman D.J. Dale enjoyed a breakout spring and has the staff raving about his potential. DE LaBryan Ray, a former 5-star prospect out of high school, has been patiently waiting his time the past 2 years and is poised for a breakthrough season.
1. Auburn
I think this is the best defensive line in the country. And that's even considering they're replacing a 4-year starter at NT in Dontavius Russell, who was a force against the run. They have an elite starting lineup that can rush the passer and stop the run, and there's quality depth too, thanks to consistent recruiting.
DT Derrick Brown, who would have been a 1st-round draft pick this spring, elected to come back for his senior year and is arguably the best defensive lineman in the country. DE Marlon Davidson will be a 4th-year starter who has the versatility to play inside or outside depending on front. Nick Coe, who racked up 13.5 TFLs and 7 sacks last year, is a hybrid DE/OLB who could be even better this year. There are many questions about Auburn's team this year, but the defensive line isn't one of them.
This is a group of difference-makers.