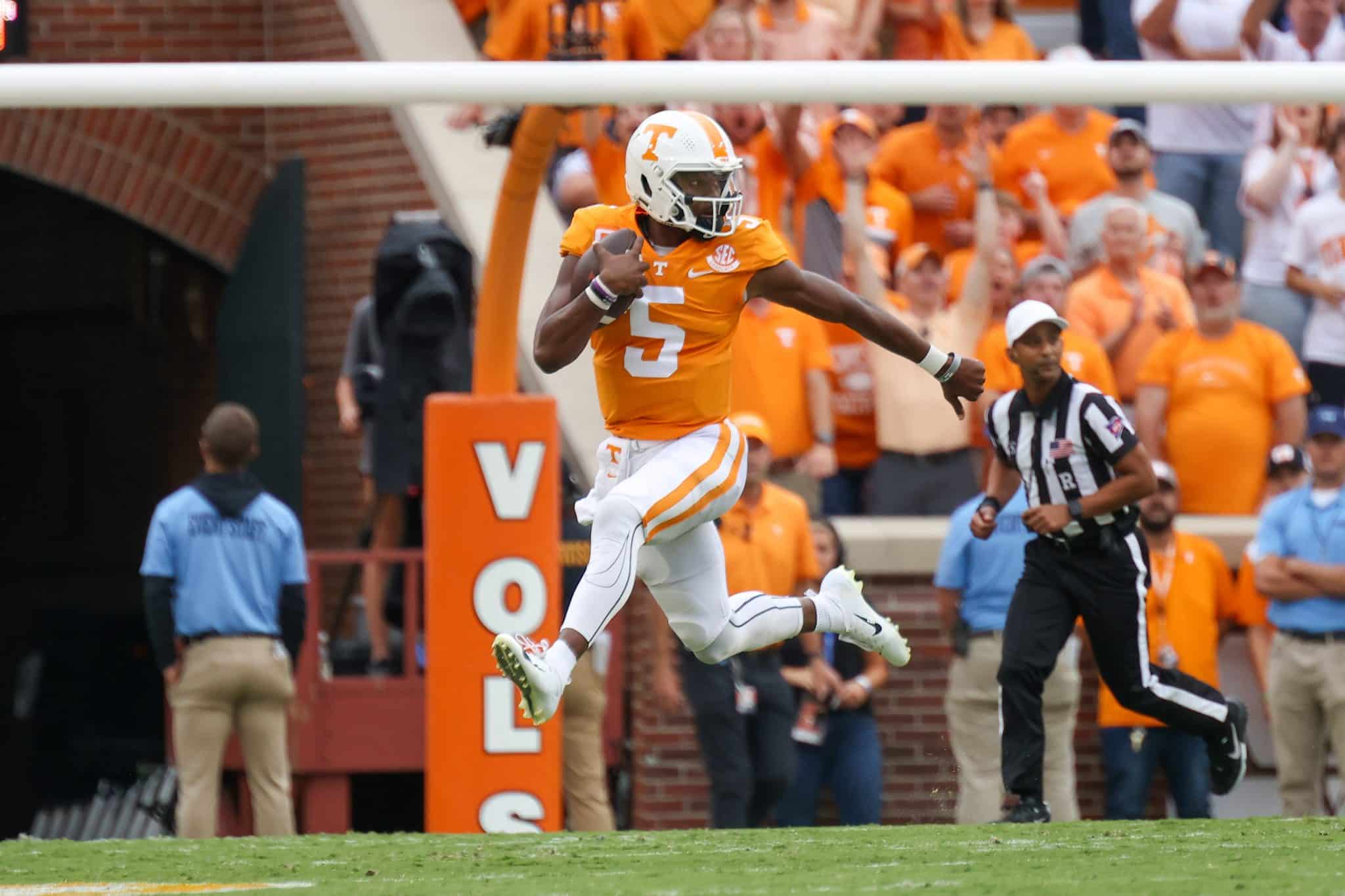 SEC
Power ranking the top 10 SEC players through Week 12
Rivalry Week is here.
It's also Thanksgiving, the best holiday ever invented, 24 hours devoted to gratitude, great food, family, friends and football.
Happy Thanksgiving to you and yours from The List.
Week 12 was one of the zaniest college football weekends of the season.
Multiple top-10 teams were given season-shaking scares, and No. 5 Tennessee was sand-stormed straight out of the College Football Playoff conversation at South Carolina, which partied like it was 2011 afterward. Elsewhere in the SEC, Lane Kiffin's Ole Miss team squandered its New Year's 6 dreams, getting blasted in Fayetteville by Arkansas amid Kiffin-to-Auburn rumors. Texas A&M weathered a dogfight with UMass. Florida did not weather a dogfight at Vanderbilt, falling to Clark Lea's improved Commodores 31-24, leading to the most timid, orderly field storming of all time, hardly worth the $250,000 fine.
Possibly the slowest rushing of the field ever pic.twitter.com/La0nbgQxST

— Nick de la Torre (@delatorre) November 19, 2022
Naturally, after a weekend of chaos, there's a whole lot of movement on "The List" too. Drama to the end? That's SEC football.
Last week's list is here. Honorable mentions first, limited to 2 per school because well, you try ranking the top 10 players in the best conference in the sport. It isn't fun. You have to draw lines in the sand somewhere.
Honorable Mention: Darrian Dalcourt, C (Alabama); Kool-Aid McKinstry, DB (Alabama); Ricky Stromberg, C (Arkansas); Drew Sanders, LB (Arkansas); Tank Bigsby, RB (Auburn); Owen Pappoe, LB (Auburn); Ventrell Miller, LB (Florida); Austin Barber, OT (Florida); Stetson Bennett IV, QB (Georgia); Brock Bowers, TE (Georgia); Barion Brown, WR (Kentucky); Jordan Wright, LB/Edge (Kentucky); BJ Ojulari, Edge (LSU); Jayden Daniels, QB (LSU); Will Rogers III, QB (Mississippi State); Nathaniel Watson, LB (Mississippi State); Ty'Ron Hopper, LB (Missouri); Luther Burden III, WR (Missouri); Nick Broeker, OL (Ole Miss); Zach Evans, RB (Ole Miss); Cam Smith, CB (South Carolina); MarShawn Lloyd, RB (South Carolina); Devon Achane, RB (Texas A&M); Antonio Johnson, S (Texas A&M); Jalin Hyatt, WR (Tennessee); Cooper Mays, C (Tennessee); Anfernee Orji, LB (Vanderbilt); Ray Davis, RB (Vanderbilt).
10. Will Anderson Jr., Edge (Alabama)
The Crimson Tide All-American led Alabama to a get-well shutout of Austin Peay this weekend. Anderson registered 4 tackles and drew double teams on an astounding 90% of his snaps, per Stats Solutions, a testament to his off-the-charts value from a scheme standpoint. Named a finalist for the Lombardi Award this week, the Alabama star has a team-high 6 games this year with a grade over 80% from Pro Football Focus (PFF), 31 quarterback pressures and 8 sacks, which ranks 2nd in the SEC and 9th in the nation. Anderson is sure to be a Consensus All-American for the second consecutive season, and while the numbers aren't Heisman-finalist worthy like they were a season ago, this is the best defender on one of the nation's best football teams.
9. Rocket Sanders, RB (Arkansas)
The star RB out of football factory Rockledge, Florida, continues to shine this year, racing for 232 yards and 3 touchdowns in Arkansas' convincing 42-27 victory over No. 14 Ole Miss.
Arkansas RB Raheim Sanders had his best game of the season this week vs Ole Miss with 24 carries for 232 yards and 3 scores. Also caught 5 balls for 29 yards. He's simply a beast. In case you missed his performance. Enjoy! pic.twitter.com/DK4lkD45JX

— Brandon Lejeune (@DevyDeepDive) November 21, 2022
Sanders ranks in the top 5 in the SEC in yards after contact, explosive runs, rushing touchdowns, and yards per carry and he trails Ole Miss freshman sensation Quinshon Judkins (below) by just 6 yards for the SEC rushing title, which will be decided this weekend in rivalry games. A tremendous year for the sophomore who still has at least one more season to shine in Fayetteville.
8. O'Cyrus Torrence, OL (Florida)
The Gators' best player managed an odd accomplishment on Saturday in Florida's stunning 31-24 loss at Vanderbilt. Torrence's season run blocking grade from PFF, already the highest in the country among offensive linemen, went up, from 92.5 to 92.9%. What that suggests is two-fold. First, the Gators didn't run the ball enough Saturday, instead letting Anthony Richardson play the role of "pocket passer," which is … a strategy to be sure. Second, Torrence is a monster, and even when his team struggles, the big man eats. He continues to grade out as the nation's best offensive lineman this season at any position, and while he drops 4 spots, he's the lone hog mollie up front in the top 10 yet again.
7. Jalen Carter, DL (Georgia)
No single player's health has changed the look of a football team as much as Jalen Carter's has changed Georgia this season. The Dawgs were a salty, but not sensational, defense before Carter returned from an injury suffered in the Oregon game to play against the hated Gators in Jacksonville. Carter owned the first half of that game, including a handful of one on one matches against Florida's massively talented offensive guards, O'Cyrus Torrence and Ethan White, and he's been a wrecking crew ever since. Georgia has shot up from 11th nationally in total defense and 13th in success rate defense before the Florida game to 5th nationally in total defense and 4th in success rate defense since the Cocktail Party, and Carter, who has 17 pressures, 2 sacks and 2 fumble recoveries in that 4 game span, is grading out as the top interior defensive lineman in the Power 5, per PFF.
6. Emmanuel Forbes, CB (Mississippi State)
How many corners have 6 pick-6s in their career? The answer is: Only Forbes, who set the FBS record Saturday night when he took this East Tennessee State pass to the house in State's 56-7 Egg Bowl tuneup win.
Emmanuel Forbes Jr with his 6th INT of the year & his 6th career pick6??️

He should be an All-American and win the Jim Thorpe award imo ? pic.twitter.com/mwI4SSF7li

— RanDynasty (@ran_dynasty) November 19, 2022
Forbes is doing ridiculous, All-American things this year, but my favorite is the senior's numbers in single coverage. He's been targeted 19 times in single coverage, allowed 1 catch, and intercepted 5 passes. It is essentially offensive coordinator malpractice to throw at him. The SEC interceptions leader this year with 6 picks, he'll finish a storied career in Starkvegas with the Egg Bowl on Thanksgiving, unless he decides to play State's bowl game.
5. Bryce Young, QB (Alabama)
Young was his usual self in Alabama's 34-0 win over Austin Peay, throwing accurate darts and touchdown passes until giving way to Jalen Milroe and Ty Simpson for much of the second half. On the season, the 2021 Heisman Trophy winner has thrown for 2,664 yards, 24 touchdowns and tossed only 4 interceptions. He's done that behind a ragged offensive line that has surrendered the 5th-most pressures in the SEC. Alabama is 9-2 and well-positioned for a New Year's 6 bowl bid; they might be a 6- or 7-win team this season without Young.
4. Quinshon Judkins, RB (Ole Miss)
The SEC's leading rusher with 1,385 yards, the Ole Miss freshman may claim outright All-American honors, along with the SEC rushing title, if he closes strong in the Egg Bowl on Thanksgiving. Saturday, in Ole Miss' upset loss at Arkansas, Judkins powered his way for 214 yards on just 24 carries, including a 69-yard run, his longest of the season from scrimmage. Judkins' 16 rushing touchdowns leads the SEC and ranks 6th nationally, and he ranks 3rd in the SEC in explosive run plays (10 yards or more), behind only Rocket Sanders and LSU quarterback Jayden Daniels.
3. Harold Perkins, LB (LSU)
The LSU freshman continues his march up The List, moving to No. 3 after LSU's 41-10 rout of UAB Saturday night. Perkins had 5 tackles, including 2 more for loss, along with 2 passes defended. Perkins ranks 2nd in the SEC with 8 sacks, remarkable considering his snap count is 100 snaps lower than the co-leaders, Drew Sanders of Arkansas and Will Anderson of Alabama.
"Get your popcorn ready for the future of @LSUfootball's defense." @RJ_Writes says Harold Perkins is on another level ? pic.twitter.com/bIaCzEWMQK

— SEC Network (@SECNetwork) November 15, 2022
The fact Perkins will be on campus 2 more seasons. … well as Richard Johnson says above, "Get your popcorn ready."
2. Christopher Smith, S (Georgia)
The nation's best safety keeps on humming and leading the nation's best football team. Smith grades out as the best safety in the country in 2022, by a wide margin.
Highest-graded Power Five safeties
? Christopher Smith, Georgia – 90.2
? Dan Jackson, Georgia – 88.6
? Millard Bradford, TCU – 88.1
? Malaki Starks, Georgia – 87.9

The Bulldogs have three of the top-four ? pic.twitter.com/czYI5rTSWV

— PFF College (@PFF_College) September 22, 2022
He was sensational in Georgia's 16-6 rock fight win at Kentucky, collecting 7 tackles, allowing only 1 completion on 4 attempts in single coverage, and guiding Georgia to its 3rd consecutive game holding an opponent under 20 points. Smith's Georgia team leads the country in scoring defense, allowing just 11.1 points per game in 2022.
1. Hendon Hooker, QB (Tennessee)
Hendon Hooker was lost for the remainder of the season late in Saturday night's loss at South Carolina, suffering a torn ACL. While Hooker fell just short of leading Tennessee to a College Football Playoff appearance, his numbers this season are otherworldly. Hooker threw for 3,135 yards and 27 touchdowns, with only 2 interceptions. He added 430 yards rushing with 5 touchdowns, and guided the Vols to wins over 2 teams currently in the top 10, defeating Alabama and LSU.
Hooker deserves to be a Heisman finalist, and if Josh Heupel can sustain the momentum at Tennessee in Year 3, Hooker will be remembered as the figure most singularly responsible for turning things around after nearly 2 decades of mediocrity in Knoxville. A tremendous career that deserves acclaim, and an earned spot at the top of the list. Get well soon, Hendon.