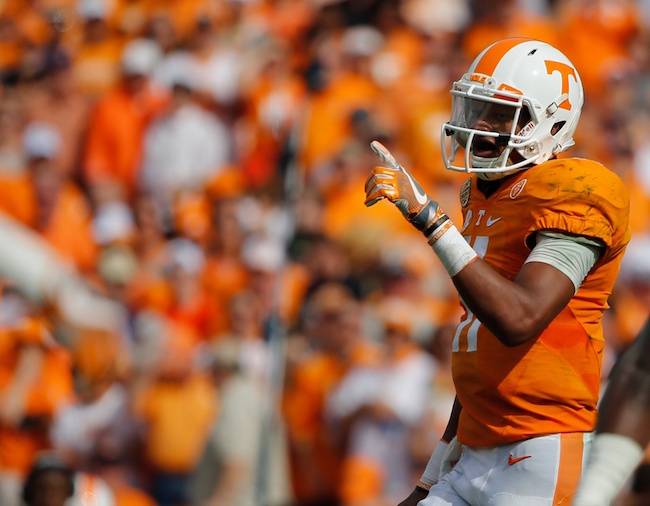 SEC
Ranking the 14 SEC East units
Who will win the SEC East and how will they get it done?
Strength on offense or defense often can keep a team in every game, but more often, it's the team with the most balance that ends up in Atlanta.
Ranking all seven offenses and defenses together points to to one SEC East team as the likely favorite.
1. Tennessee offense
While most of the division has some form of quarterback uncertainty, UT has known its starting signal-caller for 2016 long before the 2015 season ended. Joshua Dobbs has a strong supporting cast led by running backs Jalen Hurd (pictured) and Alvin Kamara. If Tennessee has the season most are expecting, there's a strong chance Dobbs or Hurd goes to New York City as a Heisman finalist. No other SEC East offense features the same combination of talent and experience.
2. Missouri defense
The Tigers lost a top tackler in linebacker Kentrell Brothers, but the rest of the returning front seven spells trouble for offenses in the division. With Charles Harris (pictured), Walter Brady and Terry Beckner Jr. up front, Mizzou is truly looking like "D Line U" heading into 2016. Missouri's offense could help the defense this year by actually letting their teammates get some rest before giving the ball back.
3. Florida defense
SEC offensive coordinators might be hoping there's no way the Gators can recover from losing six defensive starters to the NFL. It's a lot of talent gone, no way around it, but Cece Jefferson, Quincy Wilson and Duke Dawson are ready to step into bigger roles. Returning starters Caleb Brantley, Jarrad Davis and Jalen Tabor will likely earn first-team All-SEC honors. As a bonus, a healthy Alex Anzalone might prove to be more productive than Antonio Morrison.
T4. Georgia offense
This might seem like a slight to a unit that also has a potential Heisman finalist in Nick Chubb, assuming he's healthy. Or it might seem too high given the Bulldogs' quarterback problems, which haven't entirely been solved. Jacob Eason certainly looks like he has all the tools after an impressive spring game, but growing pains for true freshmen facing SEC defenses are pretty much guaranteed. There's also the loss of go-to WR Malcolm Mitchell. A healthy Chubb makes everybody around him better.
T4. Tennessee defense
The reason why the Volunteers are so many people's' favorite to win the SEC East is that UT should have the best combination of offense and defense in 2016. DE Derek Barnett, LB Jalen Reeves-Maybin and CB Cameron Sutton are each among the best at their positions. New defensive coordinator Bob Shoop's aggressive approach seems like the perfect match for a unit anxious to prove itself by punishing the competition.
6. Georgia defense
The switch from Jeremy Pruitt to Kirby Smart and Mel Tucker should be a smooth transition for FS Dominick Sanders and the rest of the defense. It's tough to replace three starting linebackers, but Natrez Patrick and Davin Bellamy look ready for bigger roles. Talent has never been an issue in Athens. The hope for UGA is that Smart will figure out how to get the most out of Lorenzo Carter, whose measurables shout NFL potential.
7. Kentucky offense
The Wildcats running backs, led by Stanley "Boom" Williams, might be one of the conference's more underrated position groups. QB Drew Barker does not have a ton of college experience, but at least Kentucky knows its starting quarterback – something that cannot be said for some of its division rivals. Scoring points should not be an issue for the Wildcats in 2016, but scoring enough will be.
8. Florida offense
Three key contributors on offense who helped the Gators to a 6-0 start last year have departed, and a fourth, WR Antonio Callaway, is indefinitely suspended. The good news for Florida is that the offensive depth-chart is shifting to players recruited by coach Jim McElwain with his system in mind. UF's offense is unlikely to light up the scoreboard very often, but with capable options at quarterback, running back and wide receiver, McElwain should be able to find a combination that works.
9. Vanderbilt defense
A Derek Mason-coached group that returns seven starters could be tough to score on for opposing offenses. The Commodores have been particularly vulnerable to wide-open attacks that use speed, but strong fundamentals and execution tend to keep most SEC East offenses in check. Similar to Missouri's situation, if the offense can take some of the weight off the defense's shoulders, the stats could look better in 2016.
10. Missouri offense
MU was one of the worst offenses in college football last season, but things should get better. Drew Lock made mistakes freshmen are known to make. The big question is, did he has learn from those mistakes? Alabama wide receiver transfer Chris Black should help add to the passing attack while Oklahoma running back transfer Alex Ross will help the ground game.
11. South Carolina offense
The loss of a top playmaker, a change in system and a possible new quarterback is a triple whammy for this offense. Dual-threat QB Brandon McIlwain brought some excitement to the spring game, but offensive coordinator Kurt Roper knows all too well that there will be ups and downs if he goes with the true freshman.
12. South Carolina defense
Losing LB Skai Moore for the season is a huge blow to a unit that struggled in 2015. Some Gamecocks fans might be hoping for new coach Will Muschamp to step in and turn things around in Week 1, but Auburn's defensive stats will show that even Coach Boom can't work miracles. By the end of the season, however, South Carolina's defense should be showing the kind of improvement that will have it ranked higher next season.
13. Vanderbilt offense
Vanderbilt has struggled to score points in the Mason era. Mason thinks that quarterback competitions around the division could help level the playing field while the Commodores have their signal-caller in Kyle Shurmur. VU also has a quality SEC back in Ralph Webb, but he can't do it all on his own.
14. Kentucky defense
Outside of rising star Chris Westry, this unit struggled mightily in 2015, and unfortunately it gets younger in 2016. It's understandable Mark Stoops opted to keep D.J. Eliot as defensive coordinator, as a continuity might be the only thing this group has going for it.