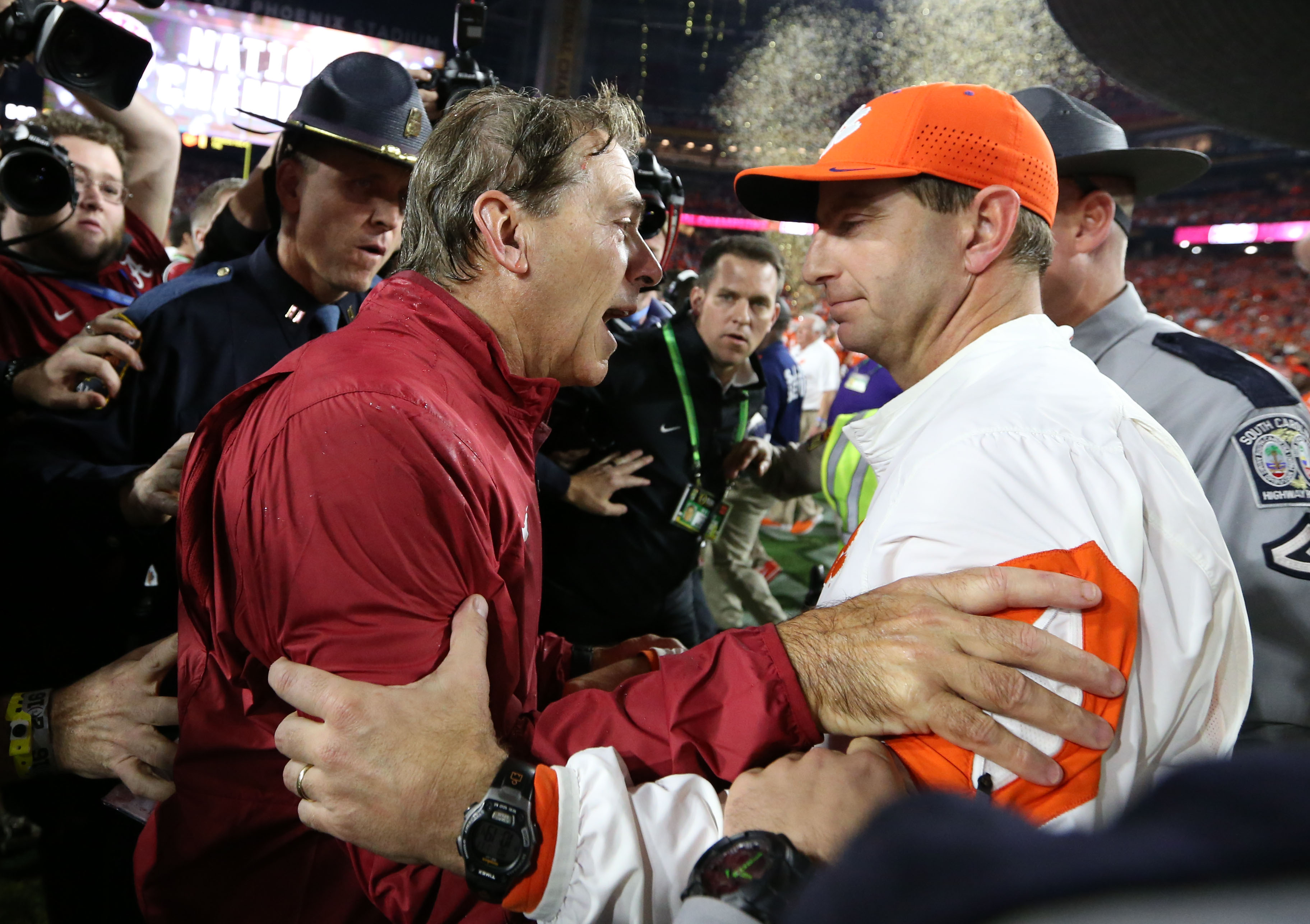 SEC
Ranking SEC bowls from easiest (LSU) to toughest (Mississippi State)
Ah, postseason play is upon us and the SEC has some major games coming up which will impact recruiting and the college football landscape.
Two SEC teams have made the College Football Playoff Semifinal for the first time in the system's four-year history. We predict Alabama will move on while Georgia will head back to Athens with a loss. Other picks: LSU will end the season on a high note, while Auburn fans wonder if Gus Malzahn's new contract was worth it after losing to UCF.
With nine SEC teams in action this postseason, here are projections for margins of victory, ranked from losses/narrow wins to the biggest blowout.
9. LSU
Bowl: Citrus Bowl
Opponent: Notre Dame
Bovada line: -3
Prediction: LSU wins by 13
Why: Calling LSU's game against the Fighting Irish easy is a poor choice of words, but the Tigers match up well. Brandon Wimbush and Josh Adams have formed a dynamic rushing attack for Notre Dame, but LSU should be able to slow the two. The Tigers are top 25 in rushing defense this season, only giving up 126.42 yards per contest.
The Fighting Irish ended their season on a low note, getting blown out two of their last three games. On the other hand, the Tigers won six of their last seven games. The momentum will help LSU will move to 2-0 in bowl games under Ed Orgeron.
8. South Carolina
Bowl: Outback Bowl
Opponent: Michigan
Bovada line: +7.5
Prediction: South Carolina wins by 10
Why: In conference play Michigan scored 23.4 points per game, which ranks outside the top 90 FBS schools. Luckily for South Carolina, Ole Miss transfer Shea Patterson won't be eligible for Michigan in the bowl game. The Wolverines will struggle to put the ball in the end zone.
The Gamecocks already surpassed last season's win total by two games. Will Muschamp has flown under the radar this season with another improved team. Winning the Outback Bowl keeps the train moving in the right direction.
7. Alabama
Bowl: College Football Playoff Semifinal
Opponent: Clemson
Bovada line: -2 1/2
Prediction: Alabama wins by 6
Why: No one plays more motivated coming off a loss than Alabama. The Crimson Tide haven't played since losing to Auburn in the Iron Bowl, giving the players a long time to think things over. The long period also helps them get healthy, which has been a major concern in 2017.
It will be a tight contest, but Kelly Bryant is no Deshaun Watson. Saban will undoubtedly show this highlight to his team over and over again as motivation.
6. Texas A&M
Bowl: Belk Bowl
Opponent: Wake Forest
Bovada line: +3
Prediction: Texas A&M wins by 3
Why: Though Jimbo Fisher is not coaching the bowl game, Texas A&M should find a way to pull out a victory. Most of the season, Wake Forest hasn't gotten it done against higher competition. Though the Aggies aren't exactly on fire at this point, Christian Kirk and company still want to show out in this game. Wake Forest was outside the top 100 FBS schools in passing defense this season — an area Kirk and others should be able to exploit.
5. Auburn
Bowl: Peach Bowl
Opponent: UCF
Bovada line: -10
Prediction: Auburn loses by 3
Why: Auburn was on the mountaintop after beating rivals Georgia and Alabama. Then, the Tigers were blown out by the Bulldogs in the SEC Championship game and sit at 10-3. Though Scott Frost accepted the job at Nebraska, he will be coaching UCF in the Peach Bowl.
His players respect his decision to join Nebraska, his alma matter, and they will fight tooth in nail in his last game. The Knights are the only FBS unbeaten this season mainly thanks to an offense that leads the country in scoring at 49.4 points a game. Auburn had its hope set on a College Football Playoff appearance and will get a rude awakening when UCF comes out more motivated with a plethora of talent.
4. Missouri
Bowl: Texas Bowl
Opponent: Texas
Bovada line: -3
Prediction: Missouri loses by 7
Why: Texas has been tearing it up on the recruiting trail and Tom Herman's team will carry that momentum onto the field. The Longhorns have only allowed 21.7 points per contest this season, and they need to be stout against Drew Lock and the Tigers passing attack. Having a home crowd advantage will also help Texas close the season on a high note.
3. Kentucky
Bowl: Music City Bowl
Opponent: Northwestern
Bovada line: +7
Prediction: Kentucky loses by 10
Why: Kentucky looked like it was going to break through a barrier this season, but came up short. The Wildcats have struggled on offense for the majority of the season — the main reason for their short-lived success. That doesn't bode well heading into the Music City Bowl, considering Northwestern only gives up 19.8 points per game.
Pat Fitzgerald's unit has won seven straight games. Kentucky is reeling while Northwestern is charging forward. Expect the Big 10 to earn a win over the SEC here.
2. Georgia
Bowl: College Football Playoff Semifinal
Opponent: Oklahoma
Bovada line: -1 1/2
Prediction: Georgia loses by 14
Why: This game comes down to one player — Baker Mayfield. He is cocky, and the 2017 Heisman Trophy winner breaks opponents' hearts when he steps on the gridiron. Jarrett Stidham is a great quarterback Georgia has faced, but Mayfield's game is on another level.
He's the reason Oklahoma is No. 4 in the FBS in scoring. Mayfield has faced top defenses like Ohio State, Texas, and TCU (twice). His skill and experience will be the difference in helping the Sooners grind out a victory.
1. Mississippi State
Bowl: TaxSlayer Bowl
Opponent: Louisville
Bovada line: +7
Prediction: Mississippi State loses by 24
Why: Nick Fitzgerald isn't expected to play against Louisville. Neither Dan Mullen or Joe Moorhead is coaching the bowl game. Lamar Jackson will want to show out in a game that could be his final one at Louisville.
This is a no-brainer. Louisville BIG.
Week 13 in review: Last time in this spot, we predicted Mississippi State to handle Ole Miss. Instead, the Bulldogs lost Nick Fitzgerald to injury and the game. That wasn't the only rivalry we botched. Alabama looked like a shell of itself and caved to Auburn on the road. We also gave Kentucky the benefit of the doubt. Instead, the Wildcats were crushed by Louisville 44-17. … Overall, we picked a lot of games wrong in Week 13.
Here's too hoping bowl season brings us tidings of good picks.