SEC
Ranking the SEC's 2015 helmet designs
I'm going to lay this disclaimer out there before you read any further:
As the in-house uniform fiend here at SDS, I respect tradition and applaud the Alabamas, Georgias and LSUs of the world for not altering iconic looks, but this is a helmet ranking based on what is most appealing to the casual fan — in 2015.
Chrome, matte, reflective, two-tone … it's all fair game used as a primary recruiting tool to attract 17-year-old kids. With that being said, I appreciate creativity when it comes to new-age helmet designs and this ranking will differ from most.
By all means, provide your own rankings in the comments.
Editor's note: Alternate helmets were not off-limits. I've included photos of my personal favorite helmet for each team. Several SEC programs have more than one gameday option.

Ranking 2015 SEC helmets
14. SOUTH CAROLINA GAMECOCKS

The Gamecocks need a change, soon. Since Steve Spurrier took over in 2005, South Carolina's worn this white shell with the Block C logo, two garnet and a black stripe. You've seen the countless concepts, from the highly-skilled to poorly executed. Most are even more appealing than the program's current option.
13. TEXAS A&M AGGIES

Texas A&M's 1939 throwback 'stressed leather' helmet was one of college football's most creative one-offs last season, but the Aggies' matte maroon lid (shown here) worn primarily at home is the go-to.
12. TENNESSEE VOLUNTEERS

Five shades of grey. Tennessee's new alternate helmet that matches Nike's 2015 uniform overhaul is an original look that pays homage to the Great Smoky Mountains. The checkerboard stripe's an added touch.
11. ARKANSAS RAZORBACKS

For the record, cardinal chrome logos on white helmets look good. The Hogs added this alternate lid (with the cardinal chrome instead of white and cardinal logo) to go with their all-white uniforms in 2014.
10. ALABAMA CRIMSON TIDE

One of the game's most classic looks, Alabama won't alter tradition with its gameday helmet. There's nothing wrong with the crimson, white and grey (with white numerals), I'm just not a fan of boring. And I'd imagine the Crimson Tide's players would be ecstatic to wear something a little different at some point.
9. GEORGIA BULLDOGS

Commit to the G. The oval G's been around Athens since 1964 when Vince Dooley adopted the design from the Green Bay Packers' look created three years prior. The Bulldogs tweaked the logo just enough to call it their own.
8. FLORIDA GATORS

Simple and clean with a reconizable wordmark, Florida's orange lids go into attack mode with the white facemask. Any other color would ruin the look. The program's Gator 3D bumper is among the SEC's best. The white Pro Combat helmet worn twice during Tim Tebow's career is one I truly miss.
7. MIZZOU TIGERS

The most basic of Mizzou's handful of gameday options, the Tigers' preferred home helmet is matte black with the mascot oval and the subtle sheen tiger-stripes. Mizzou's secondary logo black helmet is another great lid, featuring a chrome facemask and a metallic oversized Tiger.
6. OLE MISS REBELS

The Rebels wore spectacular powder blue alternate helmets last fall in honor of Chucky Mullins, a former player who was paralyzed during a game against Vanderbilt in 1989. Thanks to equipment manager Ken Crain, Ole Miss paid attention to the finest details, color-matching the same blue from 1994 helmets by sending the outdated lids to Riddell and Schutt. According to various reports, we're going to see them again this season at some point.
5. MISSISSIPPI STATE BULLDOGS

Safe to say Mississippi State owns the best annual rivalry helmet in college football? I've been a fan of several one-off Egg Bowl helmet options the Bulldogs have worn during the Dan Mullen era, including but not limited to the reflective gold lids in 2013 and the matte maroon style in 2012. Last year's choice was a home run, shiny maroon with gold accents and a chrome gold facemask.
4. AUBURN TIGERS
Can you tell I'm a fan of chrome? As long as it's not too much (see Oregon, Rose Bowl), intense shine can really bring out the best in a program's look. Auburn's soon-to-be-revealed chrome-accented decals and facemask this season should spice up one of the SEC's most iconic looks. Well done, Tigers.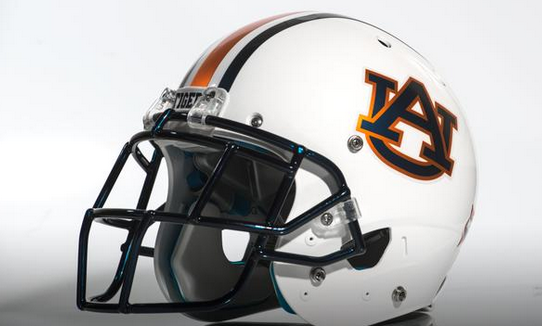 3. LSU TIGERS
LSU transitioned to a simpler, more 'timeless' helmet logo prior to the 2014 season, keeping its traditional appearance without altering the look of the helmet. LSU's gold and purple helmet with minimal additions over the years screams elite.
2. KENTUCKY WILDCATS
UniSwag's winner of the best helmet last season, Kentucky's chrome alternate is one of several gameday options the Wildcats have at their disposal now that they've incorporated black and grey into their uniform options. These debuted against South Carolina (in a win no less) to rave reviews. Paired with black jerseys, the blue and chrome really pops.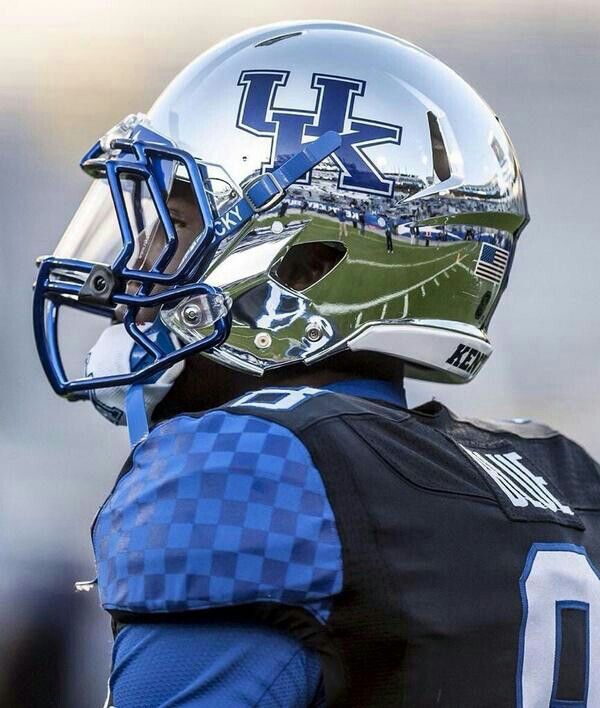 1. VANDERBILT COMMODORES
Vandy's new 'Deep Water' alternate uniform combination set off by its murky Hydro Graphics lid complete with a gold chrome anchor is simply spectacular. The chrome facemask is a nice touch and the anchor links — in lieu of a stripe — spanning front to back is both original and appealing.