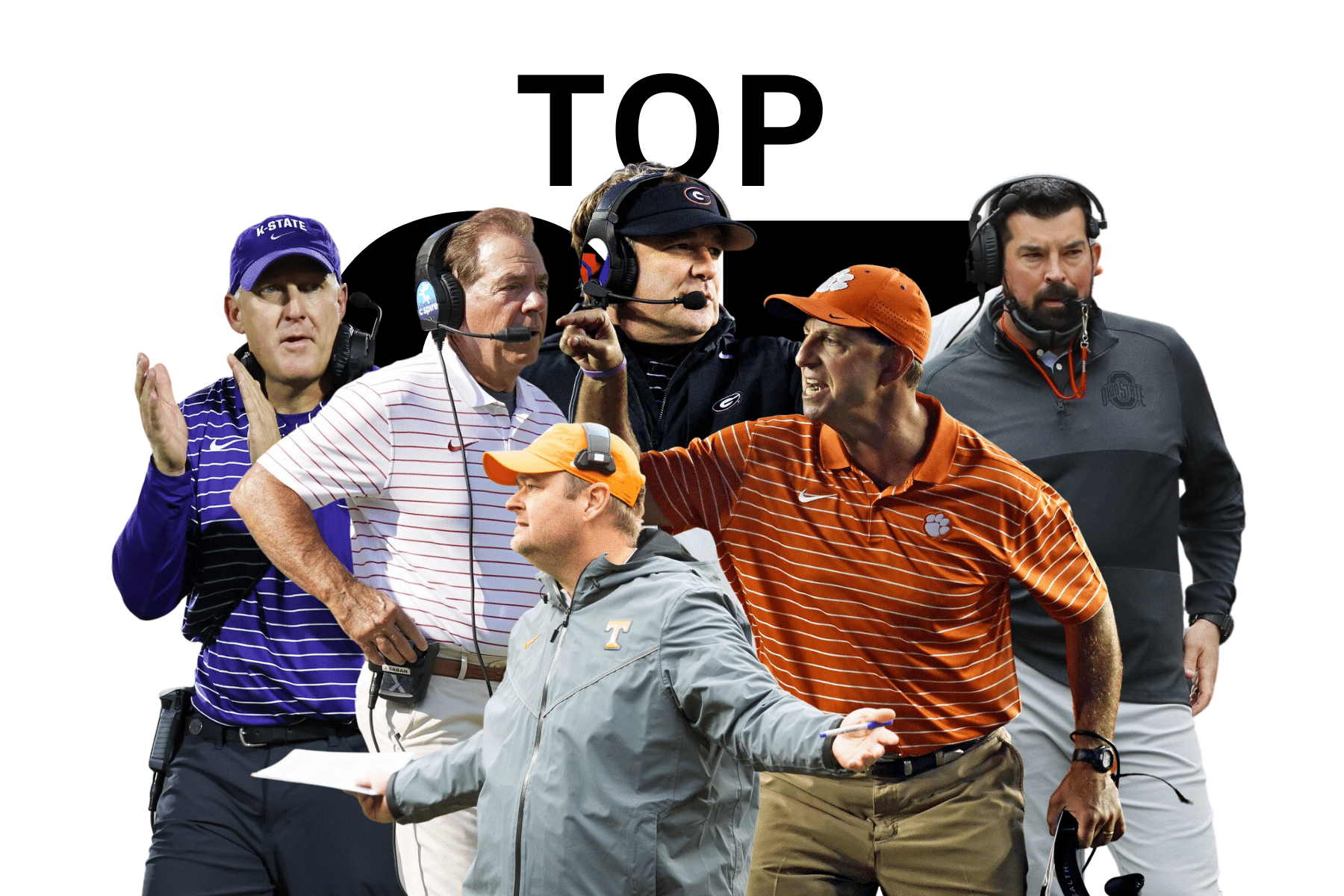 SEC
Ranking the Top 25 head coaches in college football in 2023
Editor's note: Saturday Down South continues its annual Top 25 preview week with a ranking and analysis of the best head coaches in the game.
* * * * * * *
Maybe the best way to look at this is through time. The past and the present.
Nick Saban is the greatest coach in college football history. Kirby Smart is the best coach in college football — right now.
Ranking the top 25 coaches in college football isn't as binary. It's a combination of the past, the present, and future potential.
With an impossible decision to avoid at the top. …
25. Jeff Monken, Army
Record: 64-49.
The skinny: How exactly do you measure service academies? Maybe the best way is Monken's job movement. He has had multiple opportunities to leave West Point, but has chosen to stay and continue the difficult climb every season.
Monken's team have 3 of Army's 9 Commander-in-Chief's Trophies, and since late 2016 when Monken's vision began taking hold, the Black Knights are 53-26 — including overtime losses to Oklahoma and Michigan — and 4-1 in bowl games.
24. Willie Fritz, Tulane
Record: 61-52
The skinny: Spent nearly 2 decades at the FCS level before getting a shot at Georgia Southern, where he won 17 games in 2 seasons and left for the buildout at Tulane.
The Green Wave have played in bowl games in 3 of the past 4 seasons, including last year's remarkable Cotton Bowl win over USC. He kept the group together for 2023, fighting off portal vultures and keeping star QB Michael Pratt. A rare season could be next.
23. Kalen DeBoer, Washington
Record: 23-8.
The skinny: Legendary NAIA coach (3 national titles) spent time as OC at Eastern Michigan, Indiana and Fresno State before getting his first opportunity as interim head coach at Fresno State during the COVID season.
He was named permanent coach in 2021, and went 9-3 — and everyone saw what many in the coaching community knew for years about the rising star with the rare offensive mind. It took all of 1 season to turn around Washington and QB Michael Penix Jr. — from 4 to 11 wins for the Huskies, and 4 to 31 TDs for Penix.
22. Dave Aranda, Baylor
Record: 20-16.
The skinny: How in the world does a coach with 3 years' experience make the list? Because he's rare and in high demand — and won a Power 5 conference championship in his 2nd season.
Aranda could've been a head coach long ago, but he waited for the job that fit. Baylor fits on and off the field. That's why he didn't leave for a bigger job — when he had multiple opportunities — after both the Big 12 championship season in 2021, and last year.
In an era of coaches looking for the next big gig, Aranda will stay awhile at Baylor.
21. Sonny Dykes, TCU
Record: 84-65.
The skinny: Don't think this is all about last year's magical Playoff run for TCU. Dykes has been 1 of the game's offensive innovators for years; he was simply stuck in difficult jobs (Louisiana Tech, Cal, SMU) before arriving at TCU in 2022.
A devout disciple of Mike Leach and the Air Raid, Dykes finally got a job at a football school that will do what it takes to win. Not a school that occasionally dips a toe into the deep end.
The masterful 2022 season can't be ignored because of the way it ended. It should more be seen for what it was: a game from winning it all.
20. Lance Leipold, Kansas
Record: 45-50.
The skinny: The greatest NCAA lower division coach of our time (6 Division III titles in 7 seasons at Wisconsin-Whitewater) finally got his shot in the big time in 2015 — and was rewarded with 2 of the worst programs in FBS (Buffalo, Kansas).
He slowly built Buffalo before leaving for Kansas, and who knows what could've happened in Year 2 at KU if QB Jalon Daniels stayed healthy after a 5-0 start. Given time, Leipold will win the Big 12 at KU.
19. Dave Clawson, Wake Forest
Record: 91-85.
The skinny: It has been a long slog for 1 of the most respected men in the coaching fraternity. Left a head coaching job at Richmond for the OC job at Tennessee in 2008, and his high-level, cerebral coaching style didn't fit with then-Vols coach Phil Fulmer — who was fired before the end of that season.
Clawson's style, however, has flourished at Bowling Green and especially Wake Forest. His slow mesh offense has been among the most prolific in college football. Prior to his arrival, Wake's record for consecutive bowl games was 3. The Deacs have played in bowl games the past 7 seasons.
18. Mario Cristobal, Miami
Record: 67-67.
The skinny: He's finally at his dream job, after taking the long road through FIU, Alabama (offensive line coach) and Oregon. His work with the Ducks underscored what was overlooked at FIU: He builds tough teams from the inside out.
He won 2 Pac-12 titles at Oregon and 31 games in 3 full seasons before leaving for Miami. It won't take long to turn around Miami, especially with the recruiting footprint in South Florida.
17. Mark Stoops, Kentucky
Record: 66-59.
The skinny: Has stood out among the high-earning, high-pressure club of coaching in the SEC. He's at a basketball school, that's not even a question.
But what Stoops has accomplished despite his place in the pecking order — and how he has convinced the administration it can and will be done — has been as improbable as impressive.
A microcosm of Stoops' run at UK is the Florida series. When he arrived, Florida hadn't lost to the Wildcats since the 1970s. UK has won 3 of the past 5, and but for a blown official's call (2014) and a blown coverage (2015), could have 5 wins against Florida.
16. Lane Kiffin, Ole Miss
Record: 85-47.
The skinny: He's happy and healthy, and at peace at Ole Miss. Now it's starting to play out on the field.
We've seen his ability to develop quarterbacks and offenses, and his unique play-calling skills. That's never been in doubt. But could build and sustain a program in the toughest league in college football?
He has embraced and worked the transfer portal better than any other coach, and has twice turned over his roster. Ole Miss was a handful of plays in 2021 from back-to-back 10-win seasons — a remarkable feat in the brutal SEC West Division.
15. Mike Gundy, Oklahoma State
Record: 156-75.
The skinny: Doesn't get nearly enough credit for what he has built in Stillwater. The problem: Oklahoma's dominance in the Big 12 (and of Oklahoma State).
In 18 years at OSU, Gundy has 7 double-digit win seasons, including 3 straight from 2015-17. Before Gundy's arrival in 2005, Oklahoma State had 3 since it began playing in 1914.
Gundy has accomplished it without elite recruiting classes, organically developing 2- and 3-star recruits (and some blue-chips) into the most consistent program in the Big 12 outside of bitter rival OU.
14. Matt Rhule, Nebraska
Record: 47-43.
The skinny: After nearly 2 decades of misses on coaching hires, timing finally found Nebraska. Rhule wanted to coach again after a failed NFL gig, and Nebraska was the perfect fit for the program renovator.
He did it at Temple (2 10-win seasons in 4 years) and Baylor (New Year's 6 bowl in Year 3). Why not make it work at a place with everything he could possibly need?
Rhule took over 2 programs in complete turmoil, and in 7 total seasons, produced 3 double-digit win seasons. He'll win double-digit games at Nebraska, too.
13. Josh Heupel, Tennessee
Record: 46-16.
The skinny: At this point, how can anyone argue with what Heupel has produced? His teams win big, and his offenses are among the best in the nation.
His quarterbacks have career seasons, and his teams play games of significance in November. In this era of offense rules the show, Heupel is the prototypical coach.
In his 5 seasons as a head coach at UCF and Tennessee, Heupel's quarterbacks have thrown 165 TDs. That's how you fill stadiums — and win games.
12. Luke Fickell, Wisconsin
Record: 64-25.
The skinny: To be fair, Cincinnati had big seasons with Brian Kelly and Butch Jones prior to Fickell's arrival. But what Fickell accomplished was historic: He got the Bearcats to the Playoff, and broke through the glass ceiling for Group of 5 schools in the BCS/Playoff era.
In 6 seasons with the Bearcats, Fickell won 57 games and had 3 double-digit win seasons, including 13 in the Playoff season of 2021. He has a similar job at Wisconsin, a program that has had big seasons — but hasn't reached the elite of the sport.
11. Chris Klieman, Kansas State
Record: 30-20.
The skinny: As impressive as last year's Big 12 championship season was, it was more of what we've come to expect from an elite football coach.
A longtime FCS assistant, Klieman got his first head coaching job at North Dakota State in 2014. He won the FCS national title his 1st season — and in 4 of his 5 seasons as coach before moving to K-State.
An old school, we're-tougher-than-you coach whose style fits perfectly in Manhattan. He'll win multiple Big 12 titles, and will have K-State in multiple Playoffs.
10. James Franklin, Penn State
Record: 91-49.
The skinny: It's hard to argue with 4 11-win seasons in the past 7 years. Franklin picked up where Bill O'Brien left off at Penn State and has produced big seasons and NFL players.
Now it's time for a rare season. The Lions are loaded and have a difference-maker at quarterback (Drew Allar) for the first time since the Trace McSorley years.
Franklin has a roster that can bring Penn State all the way back from those dark, final days of Joe Paterno. The only question: Is it this season, or next?
9. Mack Brown, North Carolina
Record: 274-144
The skinny: Want a real idea of the coaching chops of William Mack Brown? Since Brown left after the 2013 season, Texas has had 3 coaches combine for 1 double-digit win season and 4 losing seasons.
In 16 seasons at Texas, Brown's teams had 9 straight double-digit win seasons, won a national title in 2005 and played for another in 2009. In his 2nd stint at UNC, the 2022 team was 9-1 in November and in the Playoff hunt — before losing 4 straight to finish the season.
Recruiting is humming, he has a rare quarterback (Drake Maye) and UNC is set for a big season in 2023.
8. Kyle Whittingham, Utah
Record: 154-74.
The skinny: An unparalleled run at a program that originally wasn't a Power 5 school, before eventually joining the club and sticking to what worked. Utah has won 31 games in the past 3 complete seasons and back-to-back Pac-12 championships.
The Utes don't recruit as well as USC or Oregon. Don't have the history and tradition of Washington or UCLA. But they hit their stride in the conference just as it's breaking up.
They'll move to the Big 12 in 2024 and immediately be the team to beat.
7. Lincoln Riley, USC
Record: 68-13.
The skinny: It's an easy sell with the league championships at Oklahoma, or the Heisman Trophy winners and finalists. Or the quarterback development and the elite play-calling.
But if you really want a microcosm of Riley's coaching, look at the 2022 USC season. Riley walked into a program that had won 4 games the previous season, and the roster was decimated.
So he evaluated and signed players from the transfer portal, added a few impact freshmen, and when December rolled around, had USC in the Pac-12 Championship Game with a chance to advance to the Playoff. Only a hamstring injury to QB Caleb Williams — who, not surprisingly, won the Heisman — prevented the Trojans from a transformation of 4 wins to the Playoff in Year 1 under Riley.
6. Ryan Day, Ohio State
Record: 45-6.
The skinny: Forget about 3 Playoff appearances — and nearly beating Georgia last season in the semifinals — the only thing defining Day now is the Michigan game. And it's incredibly shortsighted.
His recruiting has the Ohio State roster among the top 3 in the nation, his quarterbacks are averaging nearly 40 TD passes a season and the Buckeyes have done everything short of winning a national title.
Don't panic now, Buckeyes fans. You have the right coach, and he'll get back on the right side of The Game. Or win a national title. Whichever comes first.
5. Brian Kelly, LSU
Record: 155-65
The skinny: The winningest coach in the history of Notre Dame. Let that sink in. It's not just the wins, or the BCS National Championship Game appearance and the 2 Playoff appearances.
It's dealing with the job that is the Notre Dame coach (on and off the field), and not getting frustrated and walking away (like many have) before it's time. So he eventually leaves and goes from 1 pressure cooker to another, only this time into a significantly more difficult situation on the field.
The LSU roster was depleted, and Kelly adjusted and built, and developed a quarterback — and the next thing you know, he has a signature win over Alabama in Year 1 and is playing in the SEC Championship Game.
He'll win it all at LSU. It's only a matter of when.
4. Jim Harbaugh, Michigan
Record: 103-46
The skinny: Last month, I would have said Harbaugh is in for the long haul at Michigan. He really enjoys coaching and teaching at the college level, and has it rolling at his alma mater.
But after the NCAA suspension, things might change at the end of this season. Harbaugh doesn't like to be pinned down, and now the NCAA has branded him a cheater.
He has figured out the Ohio State problem and won back-to back Big Ten championships. The only thing left is winning it all — after 2 semifinal exits in the previous 2 Playoffs.
3. Dabo Swinney, Clemson
Record: 161-39.
The skinny: This isn't about coaching slippage. This is about quarterback slippage. Clemson went from rare play at the position with Deshaun Watson and Trevor Lawrence to uneven play from DJ Uiagalelei.
If former 5-star recruit Cade Klubnik brings elite play to the position, Clemson will be back in the Playoff for the first time since 2020.
Clemson won 21 games through the transition of the past 2 seasons, extending Swinney's streak of winning at least 10 games every season for the past 12 years.
2. Nick Saban, Alabama
Record: 280-69.
The skinny: He the greatest to ever coach the game. He's a master roster builder, motivator and game day coach.
He somehow convinces every single Alabama team that what has happened in the past doesn't define this team — doesn't dictate what they can and will accomplish. His ability to reach young men, who are distracted by so much going on in their worlds, and win at an elite level year after year is the most remarkable achievement of all.
He's 71 years old, and could coach for another 10 years. And no doubt win multiple national titles.
1. Kirby Smart, Georgia
Record: 81-15.
The skinny: Let's hit the numbers over the past 34 games:
Georgia: 33-1, 2 national titles, 1 SEC title.
Alabama: 30-4, 1 national title, 2 SEC titles.
Alabama is a smidge better in recruiting over the past 4 years, and just a bit better developing players for the NFL over the same time. Alabama has also had the better quarterback the past 2 seasons.
But Georgia has the better coach.
Smart has taken what he learned under Saban as his top assistant and built the Georgia program in its image. Its early image, that is.
Saban's early championship teams in the 2010s used the best defense in the game, a strong running game and a game manager at quarterback. Georgia is developing better defensive players all over the field.
Georgia is running the ball like Alabama once did, and Georgia is getting just enough from its quarterback to win games that matter.
Since losing to Florida in 2020, Georgia has won 33 of 34 games while playing in the toughest conference in college football — including 17 in a row.
In the 6 seasons since an 8-5 record to begin his Georgia career, Smart's teams are 65-10. They've lost 5 SEC games in the past 6 seasons.
More impressive, in the era of the passing game and points in bunches, Georgia's defense since 2020 has given up 10.2 (2021) and 14.3 (2022) points per game.