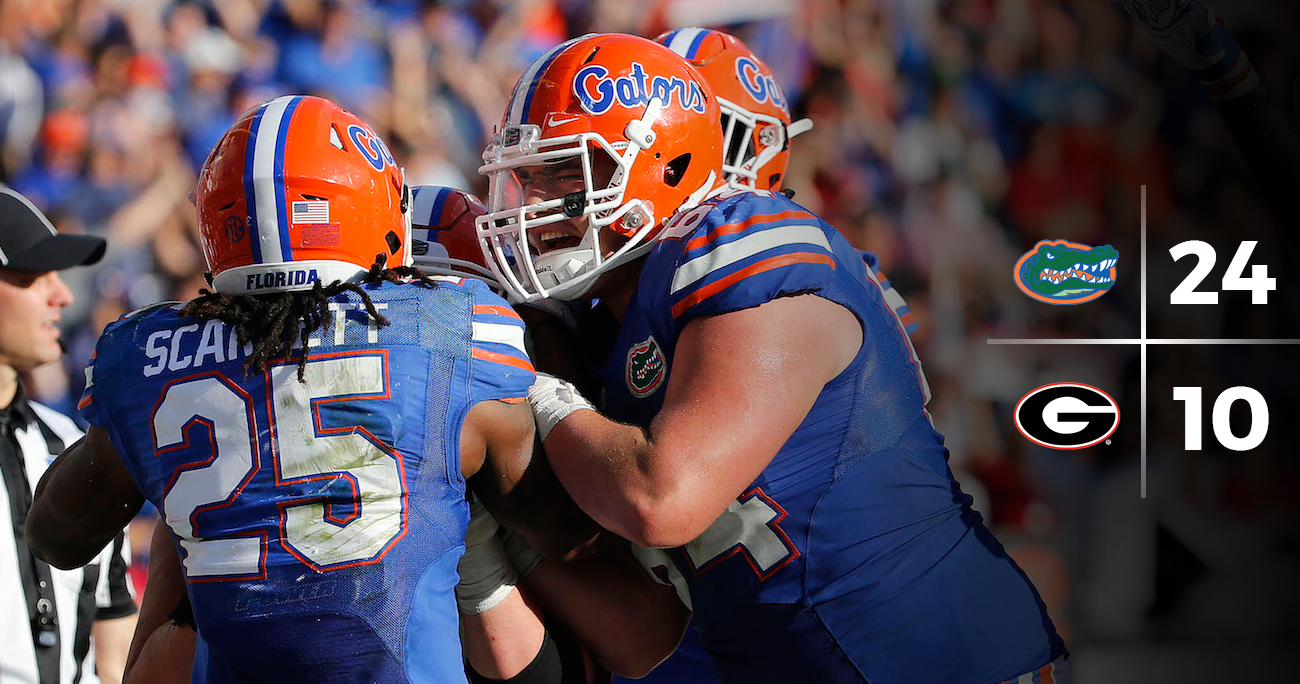 SEC
Rapid Reaction: Florida tops Georgia in sloppy Cocktail Party
JACKSONVILLE, Fla. – Like many of the fans in the stands, this year's Cocktail Party was sloppy.
The first half featured more penalties and drops than highlight plays, as Florida and Georgia combined for a meager 235 yards of offense.
The fireworks didn't really show up in the second half either, unless you're a fan of quarterback hurries. The Gators were relentless in pressuring Georgia QB Jacob Eason, and the freshman was scrambling all afternoon.
The Gators pulled away to a 24-10 win, extending their streak over the Bulldogs to three games.
What it means
Florida stays on top in the SEC East and enters November needing three more conference wins to get back to Atlanta. Georgia's frustrations under first-year coach Kirby Smart continue as the Bulldogs fell to 4-4, 2-4 in the SEC.
What I liked
Florida: C'yontai Lewis has the label of Florida's blocking tight end but did all the work to get the Gators on the board in the first quarter. He made an impressive catch by the sidelines for a first down by the 25-yard line and then on third down, his shed tackle made the difference in fourth down and a touchdown.
Later, the Gators had the right play-call on 3rd-and-3 from Georgia's 4-yard line: a jet sweep to Antonio Callaway for a walk-in touchdown to make it 21-10.
As for Florida's run defense, what wasn't to like? They held the Bulldogs to 21 yards.
Georgia: Florida frequently brought pressure, and Jacob Eason was ready for it. The two biggest plays on Georgia's first touchdown drive came when Eason was flushed from the pocket.
Even as the offense struggled, the Bulldogs' defense didn't give up, playing hard all four quarters.
What I didn't like
Florida: Luke Del Rio made an ill-advised throw late over the middle that turned into an easy pick for UGA's Dominick Sanders. That set up a Georgia field goal. On the next possession, 1st-and-10 on the Georgia 25 turned into a punting situation after Del Rio was sacked for a 15-yard loss. His suspect decision-making reared its ugly head again when he failed to throw to a wide open DeAndre Goolsby on 3rd-and-1.
It wasn't long ago that Callaway as a punt returner was considered one of Florida's best chances to score. Saturday he had another miscue in the return game, a fumble that could have cost the Gators excellent field position.
UF's secondary struggled in coverage when Eason was on the run and scrambling. The freshman found open targets twice on UGA's first scoring drive.
Trying to be aggressive cost the Gators at the end of the second quarter, as a passing play on second down resulted in intentional grounding, which led to 3rd-and-25 and an eventual punt when the Gators could have easily run out the clock without the grounding.
In the first possession of the third quarter, Callaway beat his man and was in the end zone, but Del Rio underthrew the pass. Georgia was called for pass interference, but the drive resulted in a missed Eddy Pineiro field goal.
Georgia: The Bulldogs struggled in the field position battle, frequently getting pinned deep in their own territory and then kicking back to Florida, setting the Gators up near midfield. One part of that was UGA's failure to get the running game going, as the Bulldogs had 19 net rushing yards on 13 carries.
Late in the second quarter, Riley Ridley got open deep and dropped a pass that would have flipped the field. It was an underthrown ball, too. If Eason had hit Ridley in stride, it was a likely touchdown.
UGA coaches had no answer for pressure from the Florida front seven.
Entering fourth quarter, #Gators have 15 quarterback hurries.

— Andrew Olson (@ByAndrewOlson) October 29, 2016
Who's the man
Jabari Zuniga, from Marietta, Ga., led a ferocious Gators defensive line, making life difficult for Eason.
Key play
Considering Callway is a known speedster, it's surprising that it's taken him this long to record a rushing touchdown. The jet sweep on 3rd-and-3 at the Georgia 4 finally got him a touchdown on the ground. It was also a historic score for the sophomore playmaker.
Antonio Callaway first #Gators player ever to score TD five different ways: Kickoff return, punt return, reception, pass and rush

— Andrew Olson (@ByAndrewOlson) October 29, 2016
What's next
Georgia looks to get back on track against Kentucky, which is coming off a win against Missouri. Florida goes to Arkansas and looks to hold on to the top spot in the SEC East.