SEC
Sad fans are sad: Week 14 - 2015
We bring you the best of sad fan shots from the weekend of college football. Be sure to tweet the best ones as they happen on Saturdays to @SDS. This week, we bring you a special Championship Saturday edition.
No. 18 FLORIDA vs. No. 2 ALABAMA
Woah woah woah. So let me get this straight. You made the trip to Atlanta and took the time to spell this out in the school colors and hold this up even though your school reached the SEC Championship Game with a first-year coach? That's sad. Very sad.
Florida fans right now #SEC #SECChampionship #RollTide pic.twitter.com/R5a3ExklEG

Play Underdog For Heat-Celtics Game 6! Who ya got?

...

— Justin Lockett (@LifeAndTimesJL) December 6, 2015
Woah woah woah. That's what this guy is saying. He's probably reacting to the fans in the first picture, and he wants answers.
Whoa! Florida fan has some eyebrows. Even his eyebrows can do the gator chop pic.twitter.com/eGTT8EnTcs

— Dave Olson (@daveolson24) December 5, 2015
I had to show this one because it may be the only time in my lifetime that anyone involved with the Ohio State program declares themselves a Florida fan for any period of time. Brutus wasn't a sad fan here … not yet, anyways. Florida went on to lose to Alabama 29-15.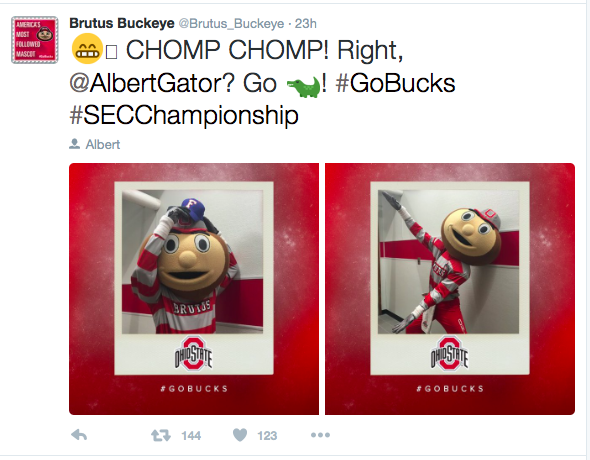 No. 5 MICHIGAN STATE vs. No. 4 IOWA
There was plenty of drama in the Spartans' 16-13 win over the Hawkeyes in the Big Ten Championship Game. Here's a shot of a few MSU fans that were crushed after Iowa's 85-yard TD to go up 13-9 near the start of the fourth quarter.
Dejected MSU fan is dejected pic.twitter.com/8pDsFz5tcr

— Matt C (@05HAWKI) December 6, 2015
Of course, Michigan State was in the middle of putting together an incredible drive to try to take the lead. That means it's time to stroke the beard.
Nervous Iowa fan. Sorry, dude. Andrew's already proved there's no luck in the beard. https://t.co/7840VKb33R

— BigHeadSports (@BigHeadSports) December 6, 2015
The Spartans finished off the amazing 22-play, 82-yard TD drive that spanned 9:04 to go ahead for good with just 27 seconds left. Of course, that led to the most common sad fan reaction: the Surrender Cobra.
Turned into an Iowa fan pic.twitter.com/OpVxYLT5Nd

— Ellie Bednarz (@BednarzEllie) December 6, 2015
No. 8 NORTH CAROLINA vs. No. 1 CLEMSON
In the ACC Championship Game, it was a lonely world for the few Tar Heels fans in this shot, which came after Artavis Scott's 35-yard TD catch to give Clemson a 19-point lead over North Carolina in the third quarter. A late Tar Heels rally fell short in a 45-37 loss to the Tigers.
The Tar Heels fan's face says it all. UNC – 16 Clemson – 35 4:58 – 3rd #UNCvsCLEM pic.twitter.com/pfgxHTg0sJ

— Evan West (@EvanWestWCBD) December 6, 2015
No. 24 USC vs. No. 7 STANFORD
Sad Trojans fans were especially hard to track down this week in their 41-22 loss to Stanford in the Pac-12 Championship Game. However, as I've said before, you can't hide from the sadness because it'll find you. Once it does, it'll let me know so I can show everyone else.
#fighton for #saaadness #USCvsStan #trojans #stanford #espn #collegefootball #pac12 #Pac12Championship #espncfb pic.twitter.com/XwXPUx9YmJ

— saaadurday (@saaadurday) December 6, 2015