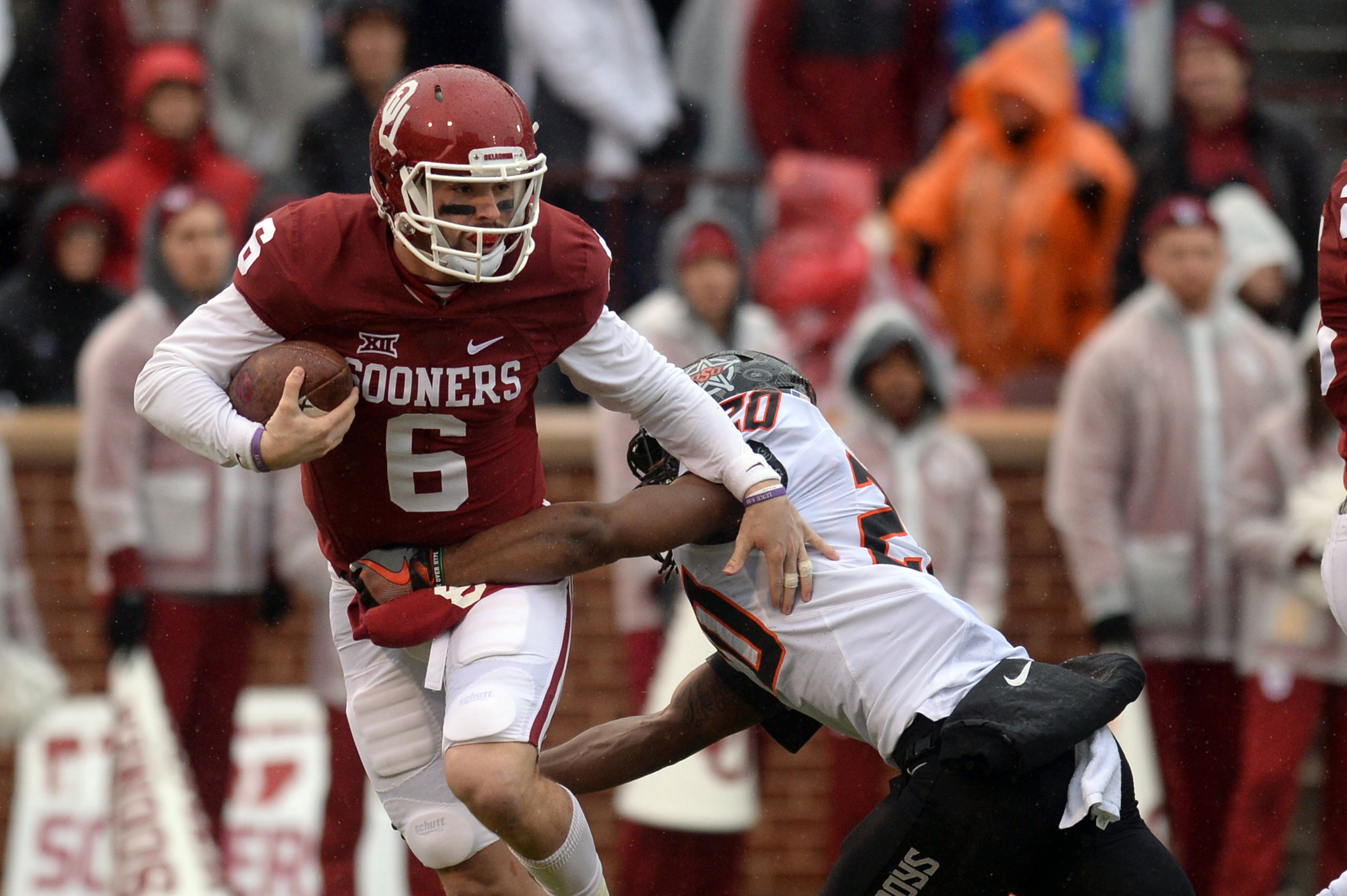 SEC
Saturday may be 2017's best day of college football, without much SEC involvement
Saturday may be 2017's best single day of college football. It will without question be the busiest. There are seven matchups between Top 25 teams. There will be more than 14 hours straight of Top 25 football from when Penn State vs. Michigan State kicks off at noon ET to when USC-Arizona finishes after Daylight Savings Time ends.
There will be a flurry of excitement and potential deck shuffling among the top teams. Oklahoma, ranked in the top five, is an underdog heading into Bedlam (at Oklahoma State). Miami, a top 10 team, is an underdog at home facing Virginia Tech. Games where one of the teams is in the Top 25, such as TCU vs. Texas, could get interesting too.
Saturday's Top 25 matchups
[table "" not found /]

Playing a minor role in all this fanfare is the SEC. Only one of those seven Top 25 games is an SEC game. That matchup is a big name one. LSU vs. Alabama has been touted as the "game of the century" multiple times this century. But it's not a game with much intrigue. The Crimson Tide are 20-point favorites at home. That line feels more like a solid team playing UConn than two Top 20 programs.
Looking at the rest of the SEC top 25 teams, Georgia is a (-23.5) favorite vs. South Carolina. There's not much upset probability there. Mississippi State is a (-28) favorite against almost-Tennessee-toppling UMass. The closest line is Auburn heading to division rival Texas A&M. The Tigers are favored (-14) in fortress Kyle Field, where Kevin Sumlin is 12-21 ATS since 2013.
There's a significant gulf between the top two teams in the SEC and the second tier (see: Georgia 31-3 over Mississippi State). There's a further gulf between that second level and the rest of the conference. It's not positive anyone can challenge Alabama. That does not leave much to discuss. If an SEC narrative is a focal point this season, it's probably a coach getting fired. Poor Jim McElwain didn't last long enough in Gainesville to be annoyed by topical shark meme Halloween costumes.
The SEC is not irrelevant. Far from it. The top two teams in the initial (and super important) preliminary College Football Playoff rankings were Alabama and Georgia. The committee, helpfully, ranked the Bulldogs No. 1 to promote debate. But, those two teams being so strong detracts from what's happening in the rest of the conference.
If you don't trust Auburn to pull off an outright upset (count me among those that do not), that means Alabama and Georgia head to Atlanta undefeated. It would be the epic showdown between Saban West and upstart Saban East. But, there's a reasonable chance even the result of that game does not matter beyond the trophy.
Looking at the Big 12, Pac 12, ACC and Big Ten, it seems like there's a strong possibility we get multiple two-loss conference champions. It would be much stronger if N.C. State knocks off Clemson this weekend. Win-loss record trumped head-to-head and a conference championship when Ohio State went to the playoff instead of Penn State last year.
A 12-1 Georgia that lost to Alabama in the title game would have the advantage over a two-loss Power 5 conference champion and a potential 11-1 Notre Dame that lost to the Bulldogs at home. Undefeated Alabama facing undefeated Georgia means a high chance of two SEC teams in the playoff.
The SEC may end up being the nation's most important conference in 2017. A few plays by teenagers in January bowl games will determine that sweeping narrative. But right now, the conference is producing little in the way of intrigue, competition, or interest (beyond whatever weird quotation Butch Jones dispenses at the postgame press conference).
Entering one of the season's most important weekends, the SEC feels like an afterthought. It's weird.