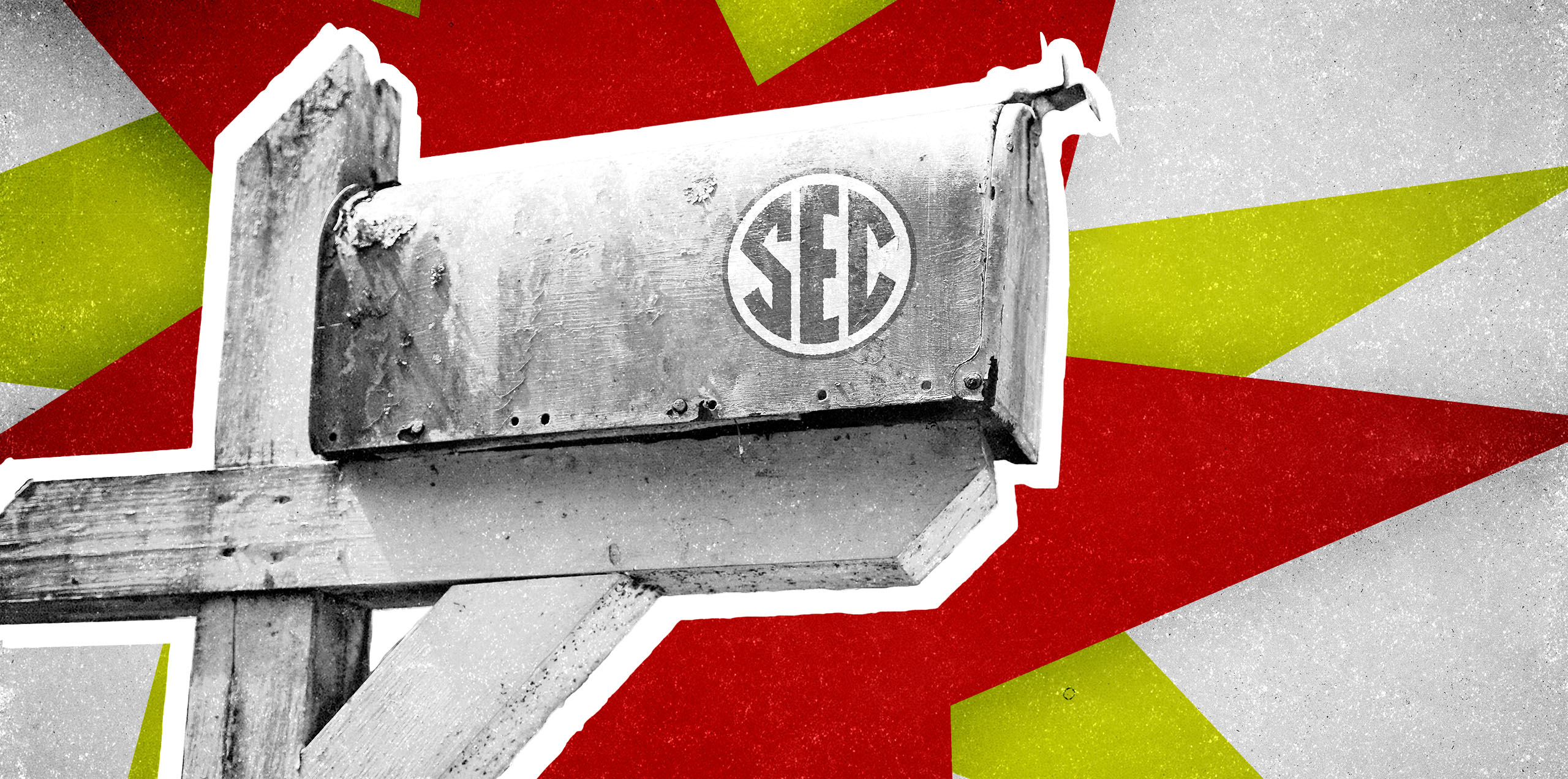 SEC
SDS Mailbag: Best non-SEC broadcasters, first-round SEC player in best situation, Vegas bachelorette parties and more
I'm heading to Phoenix this weekend. The plan? Check another MLB stadium off my list when I see the Diamondbacks and Rockies play.
It's going to be 101 degrees and up when I'm there, and the place I'm staying doesn't have a pool. Thoughts and prayers would be appreciated at this time.
Also, if y'all have any good restaurant or bar recommendations for Phoenix, let me know in the comments!
Now, let's dive into your questions for this week's Mailbag!
Jay:
Which SEC player who went in Round 1 of the 2022 NFL Draft will have the best rookie season?
I'll give you 2 guys, both defensive players, who went in back-to-back picks. The Green Bay Packers selected Georgia LB Quay Walker at No. 22 and the Buffalo Bills followed it up with Florida CB Kaiir Elam at No. 23.
Elam, especially, joins a team where he can immediately impact winning. The Bills are a Super Bowl contender in 2022 and need a second corner to play opposite Tre'Davious White. If Elam can be that guy, the Bills are the team to beat once again in the AFC East.
Walker joins a talented Green Bay defense that needs more depth in the linebacker corps. He could also start right away, alongside De'Vondre Campbell. Green Bay needs guys who can stay on the field for 3 downs and rack up tackles. Walker could do that, and has the sort of sideline-to-sideline skills Packers fans will love.
A third guy to keep an eye on is Treylon Burks. He's basically replacing AJ Brown for the Tennessee Titans, so he should get plenty of targets from QB Ryan Tannehill early and often this season.
Thomas:
Which non-SEC broadcaster would you steal for the SEC if you could?
First, let me say here that I really enjoy the broadcast teams the SEC currently has. ESPN and the SEC Network have done a great job putting together great teams to cover the league every Saturday. I even like Brad Nessler and Gary Danielson on CBS.
That said, I would love to have Gus Johnson on the call for an SEC game every Saturday. I also like his FOX broadcast partner, Joel Klatt.
Those guys are smart, entertaining and rise to the occasion, even though they are stuck calling boring Big Ten, Big 12 and Pac-12 games (I kid, kind of). I think they'd be great on the call for weekly SEC games.
I also like ESPN's team of Dave Pasch, Dusty Dvoracek and Tom Luginbill. I wouldn't mind hearing them do more SEC work.
Robert:
How many bachelorette parties do you think were ruined in Las Vegas this past weekend due to the NFL Draft (a la Nashville in 2019)?
I'm actually going to go against the grain here a little bit and say not that many. Yes, it was hilarious that so many bachelorette parties were ruined in Nashville that year, but that's because the league set up its stage on Broadway. That's the main part people visit to drink and have fun in Nashville.
Vegas, meanwhile, has the entire strip. Yes, I'm sure some partiers were upset they couldn't take pictures by the Bellagio fountain at night, but otherwise, there was still plenty to do.
Las Vegas is a party city. There is no shortage of places for revelers to go. So, if a bachelorette party was ruined by the draft, that says more about those folks than it does about Vegas.
Vegas should be in the mix to hold more large events, in my opinion. That city knows how to get the job done!
@Dobbe8:
If you had to root for a non-Mizzou SEC team, who would you choose?
That's a question that's just trying to get me in trouble, both with my Mizzou supporters and every other fan base in the SEC that I don't choose.
Oh well, let's give it a shot and see how it goes! Georgia is the first school that comes to mind – a great football team, a color scheme (red and black) I enjoy and a beautiful campus. I could get behind that.
I also like Ole Miss. Again, great color scheme (especially with the powder blues), a coach I like in Lane Kiffin and a fun, historic college town. Plus, the tailgates are pretty great there, I hear.
I'm not looking to leave the Mizzou fandom, but Georgia and Ole Miss might be my first 2 calls if I ever entered the SEC fan transfer portal.
Have a question for next week's Mailbag? Tweet at us using #SDSMailbag or email me at ASpencer@SaturdayDownSouth.com.