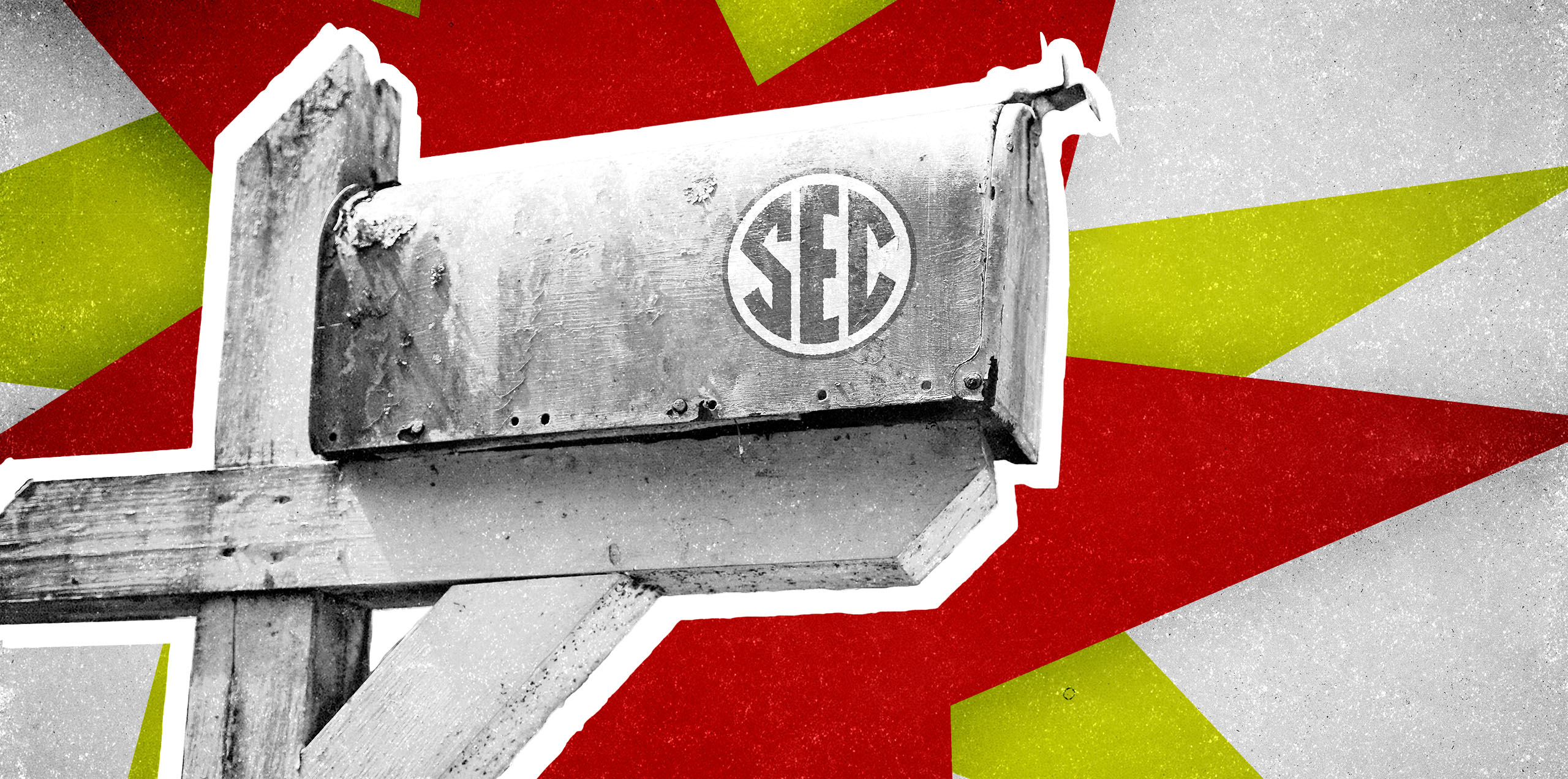 SEC
SDS Mailbag: Best SEC receiver, Cheez-Its vs. Pop-Tarts and NBA Draft decisions
Well, we have our decision. The SEC announced on Thursday evening that it would stick with 8 conference games for the 2024 season when Texas and Oklahoma join the league.
I think that's a mistake. Hopefully it's just a 1-year solution and the move to 9 conference games happens for the 2024 season.
It makes the most sense to keep things as equal as possible when it comes to scheduling. This fall, I can guarantee you there will be 1 team (probably Mizzou, let's be real) that has to play Alabama and Georgia and another team that avoids both the Tide and the Bulldogs. How will that be fair?
Anyway, before I go off too much on the SEC for getting the schedule absolutely wrong, I'll wait and see what happens on June 14 when the full schedule is released.
For now, let's dive into your questions for this week's Mailbag:
Jack:
Who will be the best wide receiver in the SEC this year?
I'm going to hedge my bets and make 2 picks here. First off, let's discuss Malik Nabers at LSU. Nabers burst onto the scene in 2022, finishing third in the SEC with 72.6 receiving yards per game.
He had an SEC-best 72 catches and finished second in the league with 1,017 total yards. He'll have the same quarterback throwing to him in 2023 in Jayden Daniels, so I expect that chemistry to improve even more.
I'd be surprised if Nabers didn't finish with 1,000 yards again if he stays healthy. He has a real chance to work his way into the first round of the 2024 NFL Draft.
Another guy to keep an eye on? Former Mizzou WR Dominic Lovett, now at Georgia. With defenses paying so much attention to Brock Bowers, Lovett should have some room to make plays.
This could be the best receiving corps Kirby Smart has ever had at Georgia, and Lovett might be the best of the bunch. Carson Beck (or whoever wins the Georgia starting quarterback job) will have plenty of weapons at his disposal.
Manny:
The Cheez-It Bowl is now officially the Pop-Tarts Bowl. If you had to pick only 1 of those snacks to have the rest of your life, never eating the other again, which would you choose? Also, what's the best Pop-Tarts flavor?
That's a tough call, but to answer the first part of the question, I'm going with Cheez-Its. Sorry Pop-Tarts, but there are a few days a week where I don't eat breakfast, so I'd prefer a snack that I can have later in the day.
Cheez-Its definitely fit that bill, and there are several flavors to choose from there, too. I prefer the classic flavor, but I won't turn down any box of Cheez-Its you hand to me.
As for Pop-Tarts, the classics are classics for a reason. My all-time favorite flavor is blueberry, but you can't go wrong with cherry or raspberry, either.
As a kid, I also really enjoyed the wildberry flavor. Blueberry is my official pick for the Pop-Tarts GOAT flavor, though. Now I really want a Pop-Tart.
Steve:
Out of all the guys in the SEC, which player's decision to stay in the 2023 NBA Draft surprised you the most?
I'm sad that Kobe Brown isn't coming back to Mizzou, but I'm not surprised by the decision. Dennis Gates unlocked Brown in his first year as the Tigers' head coach and he was absolutely awesome this past season.
It's a big blow to Mizzou for the 2023-24 season, but I wish Brown all the best at the NBA level!
The decision that surprised me the most was Oscar Tshiebwe. The Kentucky big man is staying in the draft, but I don't see him being higher than a late second-round pick. That's probably the ceiling for Purdue big man Zach Edey, too, which is why Edey opted to return to school.
I thought Tshiebwe would go the same way, as he's a popular guy in Lexington who could probably have made some good money through NIL deals. If he ends up in the G-League next season, I don't know that he'll make as much money or get as much exposure on TV.
I'll also miss watching him at Kentucky. He was one of the best rebounders in recent college hoops history and will be remembered in Lexington for years to come.
@Dobbe8:
Which is the better 3-day weekend: Memorial Day or Labor Day?
So we have a debate between the unofficial start of summer and the unofficial end of summer, it seems.
Though I truly love college football, Labor Day is more of a weekend of, well, labor for me. I am usually in front of my TV and computer all weekend, watching games and handling news here at Saturday Down South.
So my pick is going to be Memorial Day. I actually get to get outside, grill, spend time with friends, etc. Plus, I always enjoy having the entire summer ahead of me, rather than in the rearview mirror.
It's a tough call, truly, but having worked every Labor Day Weekend for the past 7 years, I'm going with Memorial Day as the superior 3-day weekend for me. We'll see if I still feel that way come August, when I'm desperate for college football to be back in my life, though.
Have a question for next week's Mailbag? Tweet at us using #SDSMailbag or email me at Adam.Spencer@XLMedia.com.