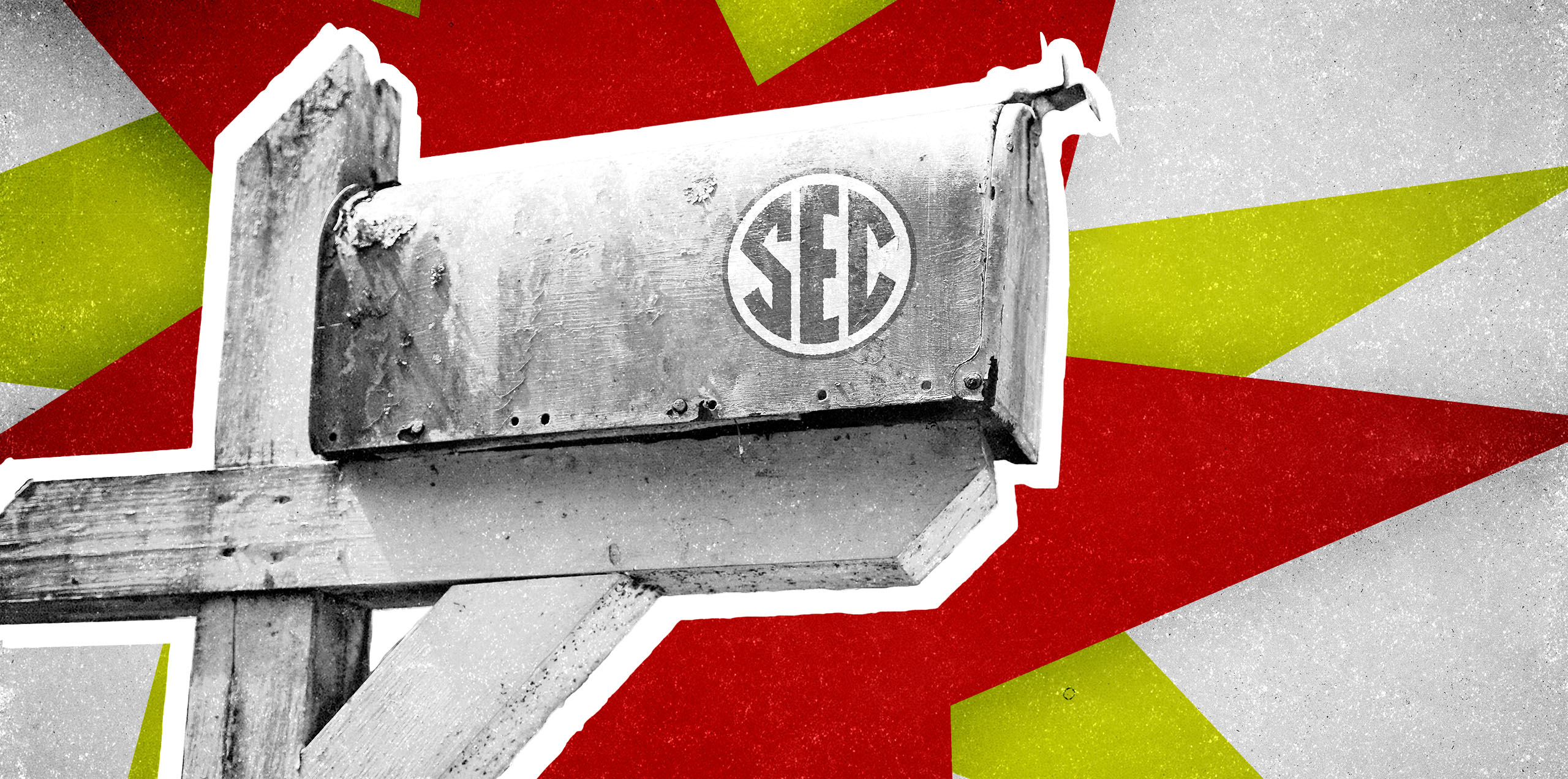 SEC
SDS Mailbag: SEC 10-win teams, pros/cons of bowl games before season and SEC receivers in NFL
It's August 5. This time next month, we'll have seen our first full Saturday of college football action. We'll know who won the Georgia-Oregon showdown in Atlanta. We'll know who came out victorious in the Utah-Florida matchup. We'll have a winner in the major Notre Dame-Ohio State game.
But, for now, everyone is undefeated as they head to fall camp. Most teams have already reported by now, and many have begun practices ahead of the 2022 season.
It's a time filled with optimism and hope, and that's a beautiful thing.
This is always one of my favorite times of the year covering college sports. Let's hope the SEC starts out with a bang in Week 1 (and Week 0 for Vanderbilt) and the optimism keeps rolling!
For now, though, let's dive into your questions for this week's Mailbag:
@SChinni12:
Last year, Alabama, Georgia, Kentucky and Ole Miss all won 10 games. Alabama, Georgia and Ole Miss all accomplished double-digit wins in the regular season. How many SEC teams do you think will win 10 games this year?
Well, let's start with the obvious. It would be a massive shock if Alabama and Georgia each didn't get to 10 wins this fall. Frankly, they'll be projected to have 10 wins by the end of Week 11.
I, too, think the Crimson Tide and Bulldogs will reach 10 wins in their sleep. From there, though, things get a bit murkier.
The teams I think have a chance to reach double-digit wins in 2022 beyond Alabama and Georgia are Arkansas, Texas A&M, Tennessee, Ole Miss and Kentucky. If I had to rank those teams on how likely I think each are to reach 10 wins by the end of the year (including bowl games), I'd go like this:
Tennessee
Texas A&M
Ole Miss
Arkansas
Kentucky
I've got to be real with Kentucky fans – I'm worried about the Chris Rodriguez situation. Mark Stoops hasn't addressed anything about a potential suspension yet, and the longer that gets delayed, the more uncomfortable I get predicting anything regarding Kentucky.
For Texas A&M and Ole Miss, a quarterback needs to step up and put his stamp on the offense soon for me to have confidence. The longer the Haynes King/Max Johnson and Jaxson Dart/Luke Altmyer battles go on, the less I believe any of those guys can be breakout stars this fall.
I subscribe to the "if you have 2 quarterbacks, you have 0 quarterbacks" mantra. Unless your quarterbacks are Chris Leak and Tim Tebow or Jalen Hurts and Tua Tagovailoa, 2-quarterback systems don't have a great track record of success.
With Tennessee, I love that offense. I think Hendon Hooker could be a Heisman contender by the time all is said and done. I have questions about the defense, but the offense could be good enough to make those concerns disappear.
Marcus:
ESPN had an article this week with a suggestion that bowl games be moved to the start of the season rather than the end of the season. What do you think of that idea?
Honestly, it's one of my least-favorite ideas when it comes to the future of college football. I understand why people want to rework the bowl system – player opt-outs and the emergence of the College Football Playoff have made many games lackluster at best.
But, it would take away all meaning if they were moved to Week 1 or before the season even starts. First, many of the players who helped earned those bowl spots might be on to the NFL or have graduated. Second, how is it then any different than a neutral-site Week 1 game?
Would the Florida State-LSU game on Sunday in Week 1 in New Orleans be any more meaningful if we called it the Sugar Bowl? I really don't think so.
Is the bowl system as great as it was a generation ago? No, but making it even worse by moving it to the front of the season is not how we should attempt to fix it. Incentivize players with money (players on the winning team get $10,000 or something) and maybe more guys will stick around before heading off to the draft.
Sam:
Which former SEC receiver will have the most receiving yards in the NFL this year?
There are so many guys to choose from, as the SEC has been a WR factory the past few years. Just off the top of my head, here are some of the best former SEC WRs in the NFL – Justin Jefferson, Ja'Marr Chase, Jaylen Waddle, AJ Brown, Julio Jones, Amari Cooper, Deebo Samuel, Mike Evans, DK Metcalf, Elijah Moore, DeVonta Smith and Jerry Jeudy.
Any one of those guys can go off. Samuel also provides some rushing stats to add to his value.
But, if I had to pick just one, give me Jefferson. That dude has been in the NFL for 2 years and already has 196 catches for 3,016 yards and 17 touchdowns. No, the touchdown numbers aren't insane, but they're really good. And the receptions and yards? Those are indeed insane.
And he hasn't played for a team that's made the playoffs yet. The Minnesota Vikings have been mediocre, but Jefferson has excelled anyway. Imagine what he could do with Joe Burrow or Patrick Mahomes or Tom Brady or Aaron Rodgers or Josh Allen throwing him the ball.
I'd take him over any of those other former SEC WRs in the NFL, but there are certainly plenty of great options to choose from!
@Dobbe8:
What's the best day to hold a party on Labor Day weekend? Saturday with all the college football? Sunday? Or Monday, the actual day off of work?
I'm going to go with Sunday on this one. I don't want to have too many responsibilities on the first full Saturday of college football. I want to be able to sit down with a few close friends and a few cold beers and relax. I want to watch College GameDay starting at 9 a.m. Eastern time and watch TV all the way through Pac-12 After Dark.
That's one of the few days of the year I'd prefer not to be manning a grill.
Meanwhile, Monday is nice and all, as having it off of work is a benefit. But you do have to work on Tuesday, meaning you can't fully cut loose on Monday night.
So, the answer here is Sunday. It's the last Sunday before the NFL season starts. And, there's a primetime college football matchup between Florida State and LSU. So, you can plan your party around that. It's the perfect start to fall!
Have a question for next week's Mailbag? Tweet at us using #SDSMailbag or email me at ASpencer@SaturdayDownSouth.com.