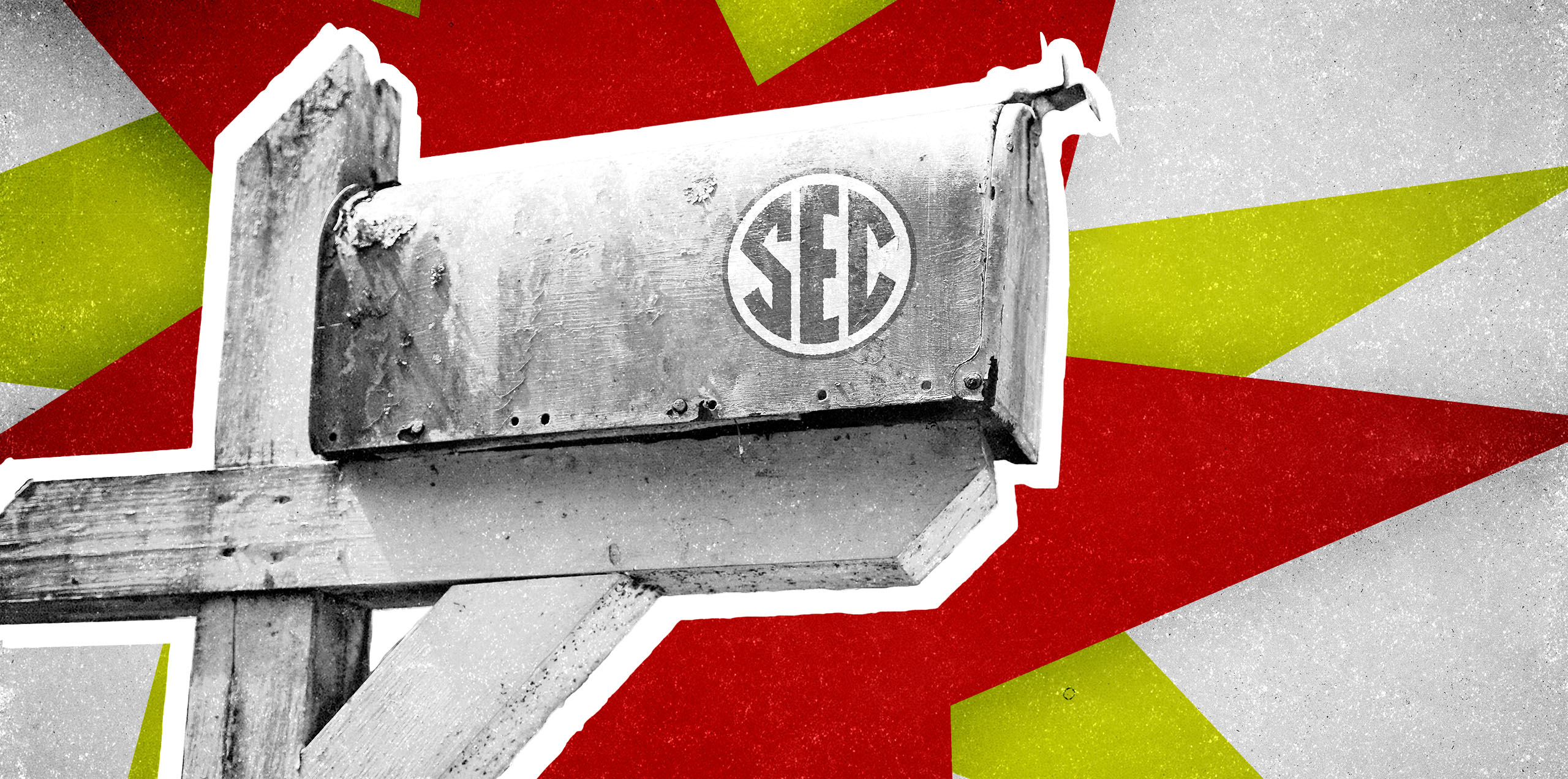 SEC
SDS Mailbag: Updated Heisman Trophy pick, undefeated teams on upset alert and early SEC/Big 12 Challenge predictions
Most teams in the college football ranks will play their sixth games of the season this weekend. Where does the time go?
We're already at the halfway mark of the 2022 campaign, and that's crazy. We've already got legitimate Heisman contenders, teams that are exceeding expectations, teams that are falling woefully short and more.
Before we know it, College Football Playoff rankings will be out. Before we know it, we'll be carving turkeys with our families and getting ready for rivalry week. Before we know it, we'll be anxiously awaiting our teams' bowl destinations.
Fortunately, we're not out of the regular season yet. This weekend's slate is absolutely loaded. Let's enjoy it while we can!
Now, for something everyone always enjoys, let's dive into this week's questions for the SDS Mailbag:
Robert:
There are currently 14 undefeated Power 5 teams entering Week 6. How many of them lose on Saturday?
First, let's provide folks with a list of all the undefeated teams in the Power 5 ranks at the moment. Those teams are Clemson, Syracuse, Kansas, Oklahoma State, TCU, Michigan, Ohio State, Penn State, USC, UCLA, Alabama, Ole Miss, Georgia and Tennessee.
First things first, let's get my Kansas hate out of the way. The Jayhawks are 5-0, but host 4-0 TCU on Saturday. They'll host College GameDay for the first time ever. I think they fall to the Horned Frogs. In fact, I'm on the record as saying the Jayhawks will finish the year 5-7 and miss a bowl game.
Next up, let's talk UCLA. The Bruins host 4-1 Utah on Saturday afternoon. I have the Utes squeaking out a narrow win in that one.
The teams I'm not worried about at all? Well, I can guarantee Penn State and Syracuse won't lose. They are off this weekend, after all.
Watch out for Tennessee (at LSU) and USC (vs. Washington State). Both of those are very tricky games. Upset alerts, for sure.
Shane:
What do you think of Kirk Herbstreit on Amazon's NFL broadcast team?
I know Herbstreit has taken some flack for being "boring" or whatever, but I don't see it at all. Herbstreit brings more knowledge of the players' college careers than anyone else, and I like that.
Is he the best? No. But he's also 4 games into his NFL broadcasting career (not counting one-offs in recent years). Give him some time, people!
Al Michaels is a legend. Herbstreit is still learning his way around an NFL booth.
I don't like how much Amazon shows replays of obviously concussed players, but other than that (and some occasional glitches in the stream), I like the current iteration of Thursday Night Football.
Herbie is one of the best in the business.
Joe:
The SEC/Big 12 Challenge matchups are out. Who do you think will win this year?
First, let's do some bragging. The SEC has won 2 years in a row and hasn't lost the annual competition in 3 years (having earned a 5-5 tie in 2019-20).
This year, I expect the SEC to make it 3 years in a row with an outright victory over the Big 12. Here are my picks for each game:
Auburn over West Virginia
Alabama over Oklahoma
Texas Tech over LSU
Mizzou over Iowa State
TCU over Mississippi State
Arkansas over Baylor
Tennessee over Texas
Florida over Kansas State
Kentucky over Kansas
Oklahoma State over Ole Miss
That's a commanding 7-3 victory for the SEC. I really, truly believe this is going to be a great year for SEC men's basketball. Arkansas and Kentucky are going to be national title contenders. Mizzou and Florida are up-and-coming teams. Tennessee will be a fringe Final Four contender. Alabama should be solid.
The SEC has never won a challenge 7-3 in the 9 years the event has been held. It's time to change that.
@Dobbe8:
It's always tough to predict the Heisman winner at this point in the season. Many of the early favorites fall off and unexpected candidates emerge. Who is your choice for this year's Heisman if you had to pick right now?
I'll go with USC's Caleb Williams right now. The Trojans' schedule sets up with some big games down the stretch.
I still think the Trojans are the class of the Pac-12 and despite a couple of games where Williams has struggled recently, it's about how you finish when it comes to the Heisman.
For example, right now, I have Tennessee QB Hendon Hooker atop my Heisman rankings. But, he still has games against Alabama and Georgia left on his schedule. I expect him to fall off a bit in those games. But, if he doesn't? Clear Heisman frontrunner.
Will Rogers is another name to keep an eye on. Through 5 games, Rogers has 19 touchdown passes and 3 interceptions. If he can turn it on even more the next few weeks, and if Mississippi State can win some big games, he should get some more Heisman consideration.
I can't wait to see who else emerges from nowhere and skyrockets up rankings, as that seems to happen every other year or so.
Have a question for next week's Mailbag? Tweet at us using #SDSMailbag or email me at Adam.Spencer@XLMedia.com.