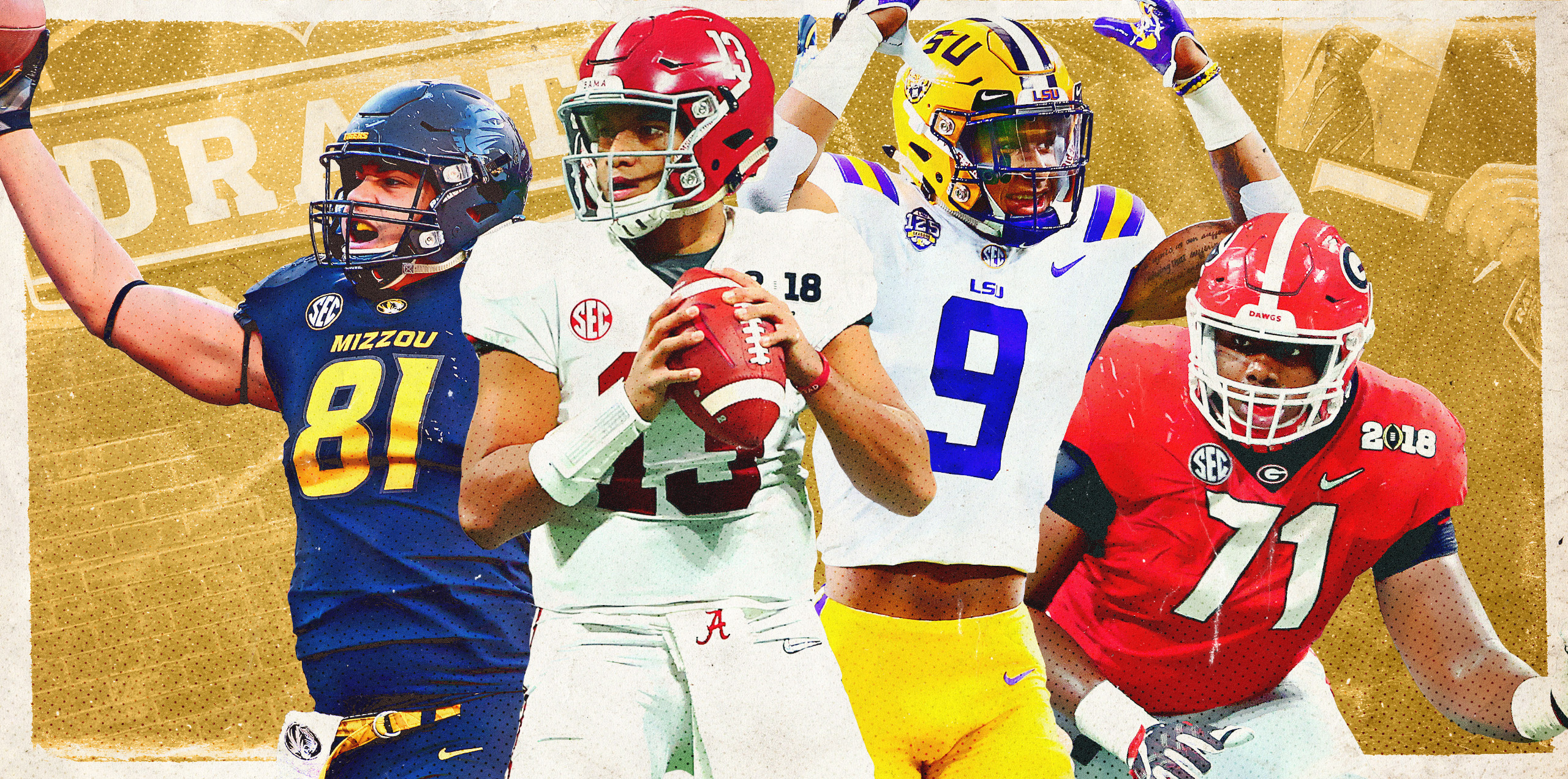 SEC
The SDS Top 25: Ranking the SEC's best prospects for 2020 NFL Draft
Editor's note: SDS Top 25 Week continues with a look at the best draft prospects in the SEC. Later Friday: Top 25 freshmen in the SEC.
The SEC is the king of the NFL Draft. Even if you hate the SEC, you can't deny they're the best at pumping out pro prospects.
There's ample proof. At the conclusion of the 2019 NFL Draft, the SEC produced more draft picks than any other conference for the 13th consecutive year. Three years might be a fluke, but 13 most definitely is not.
Looking ahead to the 2020 draft, the SEC once again features a bevy of top prospects. Knowing stocks will rise and fall once games begin, here's a preseason look at the SEC's Top 25 draft prospects.
25. Anfernee Jennings, Edge, Alabama
The 6-3, 260-pounder is strong at the point of attack and can rush from a 2 and 3-point stance, giving him positional flexibility. He does a nice job playing the run and setting the edge as a pass rusher, but his repertoire of rush moves is still coming along.
24. Darrell Taylor, Edge, Tennessee
Long and lean (6-4/250) with twitch and explosiveness, Taylor does a nice job getting off the ball and getting upfield to attack the QB. Has the fluidity and short area quickness to continue developing his cover skills to play OLB in the NFL, but he needs to continue working on hands.
23. Darryl Williams, OL, Mississippi State
I'm eager to see how he handles his new position as he's sliding over from LG to C this year, but his skills project nicely to the pivot. At 6-2, 310, he has a thick frame with strong hands to drive when latched on and quick enough feet to chip/trap/pull and combo block.
22. Kalija Lipscomb, WR, Vandy
Lipscomb is somewhat underrated despite leading the SEC with receptions last year (87) and finishing 3rd in yards (916). He's a sharp route runner who does a nice job getting in and out of his breaks, showing consistent hands in traffic and on contested balls.
21. Javon Kinlaw, DT, South Carolina
His natural burst and snap-count anticipation give him a frightening first step, which, combined with his enormous size (6-6, 300), make him more than a handful inside. He has an effective bull rush with strong hands to stack and shed.
20. Cam Dantzler, CB, Mississippi State
Tall and rangy corner (6-2/185) with long arms perfect for disrupting passing lanes and knocking down passes, Dantzler has the ability to play press or off-man coverage at a high level. He has feet and hips you look for in transition with good recovery speed and the ability to click and close in zone.
19. Xavier McKinney, S, Alabama
McKinney has made huge strides developing his cover skills over the past 2 years and is no longer just the thumping enforcer against the run. Assuming he continues his developmental arc this year, don't be surprised if he works his way up to first-round consideration.
18. Prince Tega Wanogho, OT, Auburn
Considering the 6-7, 305-pounder only started playing football as a senior in high school, it's understandable he's still a bit raw from a technical standpoint. With the natural tool set he possesses – length, lateral quickness, powerful upper body – and the fact that he's only scraping the surface of his ceiling, you can be sure he'll be closely watched this season by NFL scouts.
17. Jake Fromm, QB, Georgia
The 6-2, 220-pound junior is a strong leader who excels in the short to intermediate passing game with his anticipation and accuracy. The real question is whether he has the velocity to drive the ball through tight windows and be a threat to take shots downfield in the NFL.
16. Jabari Zuniga, Edge, Florida
The SEC's active career sacks leader, Zuniga has been steady and consistent the past 3 years in Gainesville, never failing to surpass 8 TFLs and 4 sacks in a season. He's always been a dangerous pass rusher with his burst and flexibility, but has really improved his run defense to be a more complete player.
15. Dylan Moses, LB, Alabama
Some NFL coaches might want him to gain a little bit of weight and strength if he's going to play inside at the next level, but there's no doubt about his natural ability, because linebackers with his athleticism don't come around often. Moses is very well suited to play in space and make plays sideline-to-sideline against modern passing attacks.
14. Albert Okwuegbunam, TE, Mizzou
He's a good athlete with size (6-5, 255) who uses his frame well to box out smaller defenders in 1-on-1 matchups. Soft, reliable hands and underrated straight-line speed will make him a favorite target for whoever is throwing him the ball, be that in college or in the NFL.
13. D'Andre Swift, RB, Georgia
He has a powerful build on a compact frame at 5-9, 215 and does a nice job capitalizing on natural leverage, making him tough to bring down. Nice combination of vision to find the seam and the burst and speed to take it the distance.
12. Henry Ruggs, WR, Alabama
He struggled with his release in Playoff games and doesn't offer much as a blocker, but this kid can flat out fly. He has the deep speed to take the top off a defense and is also a threat to pick up chunk yardage after the catch with impressive burst and the ability to make guys miss.
11. Jedrick Wills, OT, Alabama
He has the build of a guard at 6-5, 325, but has continuously proven he has the shuffle and footwork to hold up in pass protection on the edge at RT. He's a powerful drive blocker who shows natural balance and the quickness to reach and seal.
10. Nick Coe, DE, Auburn
He's more of a power rusher instead of your typical quick twitch speed guy off the edge, and he's very good against the run. He has rushed frequently from a stand-up position, but will be a full time hand-in-the-dirt guy in the NFL, either as a strong side DE in a 4-3 or a 5-tech in a 3-4. 3-tech DT ultimately might be where he has the highest upside.
9. Trevon Diggs, CB, Alabama
Had he not broken his foot in the Week 6 win over Arkansas, he would have given Deandre Baker a serious run to be the first corner off the board of the 2019 draft. At 6-2, 208 pounds, Diggs projects nicely as a press corner at the next level, with the ability to disrupt receivers off the line and play off blocks to stop the outside run.
8. Justin Madubuike, DT, Texas A&M
The former DE has added good weight since arriving on campus, but hasn't lost any of the quickness, twitch or burst that made him such a sought-after prep prospect. He's a natural 3-tech in the NFL with his ability to penetrate and wreak havoc in the backfield.
7. Raekwon Davis, DT, Alabama
At 6-7, 315 pounds and blessed with a rare combination of strength and athleticism, Davis is as physically talented as any defensive lineman in the 2020 draft class. Bouncing back from a somewhat disappointing 2018 season and showing he can lead a young Alabama defensive line as the lone senior up front will make him a very early draft pick next spring.
6. C.J. Henderson, CB, Florida
The Gators have done as well as anyone in recent years at pumping out elite DB prospects, and Henderson is the latest (and one of the more complete, if we're being honest). He shows terrific natural instincts with the ability to anticipate set tendencies and patterns of opposing receivers. He is a big-time playmaker who can play the pass and the run.
5. Derrick Brown, DT, Auburn
Much to the chagrin of QBs across the league, Brown passed up first-round bucks last spring for another year of terrorizing the interior of pockets throughout the SEC. The 6-5, 325-pound senior has tremendous power in his base to anchor as a 2-gap plugger, but the quickness and burst to split doubles and win one-on-one's.
4. Jerry Jeudy, WR, Alabama
The 6-1, 192-pound junior is one of the more touted receivers in recent years and the most dangerous weapon among the lethal Alabama receiving corps. Jeudy has impressive burst and elite lateral quickness, with the ability to change direction on a dime. His hands and route running have steadily progressed over the past 2 years as well, making him a very well-rounded prospect.
3. Tua Tagovailoa, QB, Alabama
As a sophomore, he put together one of the greatest seasons for a QB in SEC history, completing 69% of his passes for 3,966 yards (43/6), averaging a whopping 11.2 Y/A. He has excellent touch, timing and poise in the pocket, with the velocity to drive the ball to all three levels, but he needs to work on getting the ball out quicker and speeding up his delivery. With another season like 2018, he'll contend to be the first pick next spring.
2. Andrew Thomas, OT, Georgia
He's the definition of a "dancing bear" with his size (6-5/320), strength and nimbleness. He shows the raw power to generate a push as a drive blocker and the lateral mobility to play zone just as effectively. Perhaps most important, he's an exceptional pass blocker with long arms and light feet. At this point, he should be considered the No. 1 OT prospect for the 2020 draft.
1. Grant Delpit, S, LSU
Delpit might just be my favorite prospect for the 2020 NFL Draft considering his skill set, potential and proven production. He's the ultimate defensive chess piece considering he can make plays against the run (74 tackles, 9.5 TFLs), the pass (5 INTs) and pressuring the QB (5 sacks). He's essentially a mix between 2 other former Tiger DBs – Jamal Adams and Tyrann Mathieu, each of whom have become All-Pros in the NFL