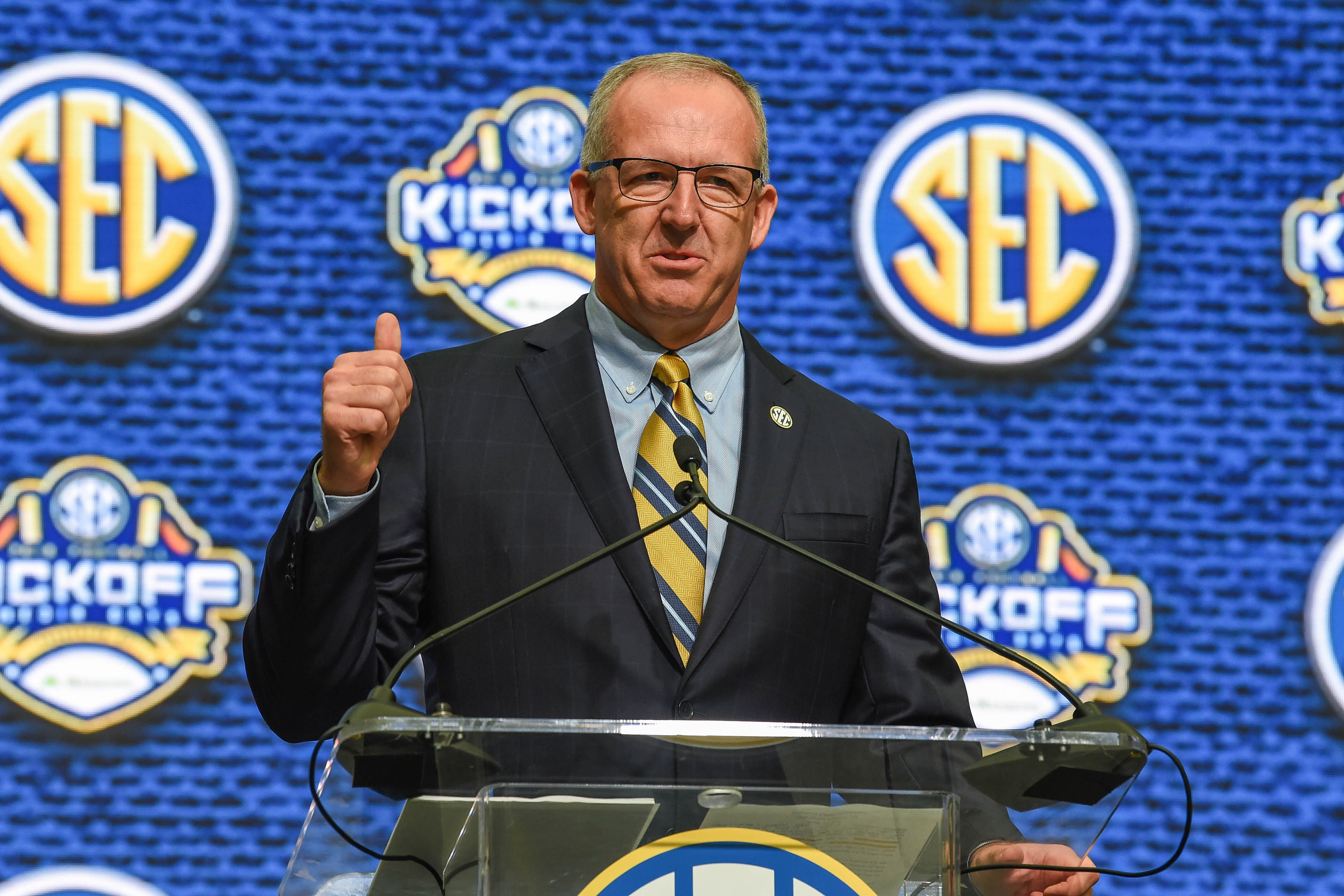 SEC
The SEC's decision to allow voluntary workouts on campus is a key step, but there's still a long way to go
On Friday, we got 1 step closer to college football in 2020. That's a fantastic thing.
The SEC announced Friday that following a vote from university presidents, it'll allow voluntary in-person activities on campus beginning on June 8. The conference will lift its suspension of all team activities, which ran through May 31. It'll be up to each university to decide when they'll begin their on-campus training programs.
It's easy to read that and think that the decision means that we're going to be back to business as usual soon. In a perfect world, yes, that would be the case. However, in this world — the one in which there's still a pandemic going on that's claimed over 95,000 lives in the U.S. — there are still major challenges left to navigate when and what college athletics are going to look like in 2020.
According to a release from the SEC, "under plans developed by each university and consistent with state and local health directives, certain activities will be permitted based on the ability to participate in controlled and safe environments, while also maintaining recommended social distancing measures."
To be clear, this won't include coaches. Like all June workouts, only strength and conditioning coaches will be permitted. That's not anything new.
What is new are the restrictions that'll be put in place. There are plenty:
Enhanced education of all team members on health and wellness best practices, including but not limited to preventing the spread of COVID-19
A 3-stage screening process that involves screening before student-athletes arrive on campus, within 72 hours of entering athletics facilities and on a daily basis upon resumption of athletics activities
Testing of symptomatic team members (including all student-athletes, coaches, team support and other appropriate individuals)
Immediate isolation of team members who are under investigation or diagnosed with COVID-19 followed by contact tracing, following CDC and local public health guidelines
A transition period that allows student-athletes to gradually adapt to full training and sport activity following a period of inactivity
That's all well and good, but there are a few things there that the league will have to deal with.
For example, what's holding the universities back from testing asymptomatic team members? Money? That's possible. Mizzou athletic director Jim Sterk was told that each test costs $65. Still, coming from the conference that has 4-win teams like South Carolina putting up $50 million facilities, that's a surprising cost-cutting measure to take. Hopefully these are just minimum requirements and programs will show initiative to test all players, not just the symptomatic ones. As we know from athletes like Kevin Durant, one can be asymptomatic and still test positive.
Speaking of that, what happens to the rest of the team if a player does test positive? We know that the player would be isolation that follows the current CDC guidelines (per the release), but how would impact a team's ability to practice or play? SEC commissioner Greg Sankey went on "Get Up" on Friday and admitted that he's still working on a solution for that through communication with professional leagues.
What kind of transparency would be enforced in a sport that has to pull teeth just to get coaches to release a 2-deep depth chart? We don't know.
And from a liability standpoint, it makes sense why these are being called "voluntary" in-person activities. One would assume that rids the conference of liability in the event that a player or several players test positive for the virus and suffer severe side effects.
But what about when workouts are no longer voluntary? Late July is approaching rapidly. Soon, after what's essentially a trial run of voluntary workouts, the decision-makers will have to decide how to operate in a non-voluntary sense, and also what isolation would look like with students back on campus.
Here's the good news. SEC coaches and administrators are absolutely taking this seriously. Several released statements following Friday's news. Will Muschamp said that he'd be ready to return his team to action as soon as possible while adhering to guidelines not to allow meetings of more than 12 people in the team's facility at the same time. Nick Saban, meanwhile, came out with a fully-masked PSA on Thursday:
A special message from Coach Saban, Big AL and Jeff Allen!#InThisTogether #RollTide pic.twitter.com/wLk8Du9R0V

— Alabama Football (@AlabamaFTBL) May 21, 2020
Coaches in masks will just be part of the new normal in the sport during these voluntary workouts and beyond. Sports Illustrated's Ross Dellenger outlined even more of those changes that could be coming at college football programs across the country:
"Coaches and staff members in masks and gloves. Temperature tests at the front door. Hand sanitizing stations around every corner. Weight room squat racks 20 feet apart. Stairwells with one-way movement, a set for going up and another for going down. Elevators with a maximum occupancy of two. Nutrition stations offering only packaged snacks."
Dellenger reported that we could even see outdoor weight rooms, as well. That could depend on the size of each school's weight room.
How sustainable is that? And will that prompt the NCAA to relax its restrictions on in-person practices during the season if workout stations are operating to maximize safety over efficiency? Who knows.
What we do know is that there's been at least some flexibility by the parties involved. The goal is obviously still to have a season. If you're reading this column or consuming any college football content, you're probably of that opinion. Hearing immediate reactions from the majority of the SEC that they'll indeed be back on campus for voluntary workouts confirmed that notion (in case there was any doubt).
As of right now, all required in-person activities remain suspended through July 31. That's roughly 9 weeks from Friday's announcement. A decision on what the 2020 season will look like figures to come much earlier than that date.
Gus Malzahn correctly called Friday's vote "an important first step." Those last 2 words carry some major significance. "First" is accurate after what's felt like 2 months of nothing but bad news. "Step" makes sense because announcing voluntary workouts is not the end-all, be-all to make this thing work in 2020. Several steps await in the coming weeks and months.
Here's hoping all of those steps are forward.