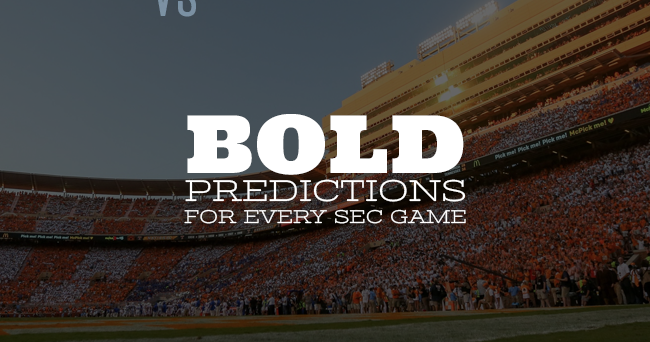 SEC
A bold prediction for every Week 12 SEC game
The season flies by, and for every bold prediction, there's a risk of looking pretty silly. No, A&M didn't outlast Auburn. And while LSU did beat Arkansas, it definitely didn't do it with much pizazz. That said, Mizzou did give UT a good half, and Carolina's offense did lay an egg against Florida.
So here's another run — a bold prediction for every Week 12 SEC game. Let's dive in.
Milroe has 3 scores
Yes, Alabama will blast Austin Peay. What's bold about that? So how about a big day for backup QB Jalen Milroe? Milroe's season high rushing is 91 yards. Let's say he bests that, gets 100 yards on the ground, runs for 2 scores and passes for another.
State's special teams outscores East Tennessee State
Last week, the prediction was that State would get crushed … and it hung around for a while against Georgia. A big key in that was a punt return touchdown by Zavion Thomas. Georgia put up 45 points on the Bulldogs, but East Tennessee State isn't Georgia. In fact, we'll call for State to pitch a shutout, and to pick up a special teams score — to outscore ETSU solely by its special teams.
A&M scores 40
This shouldn't be shocking. UMass is awful. But Texas A&M's season high in scoring is 31 points in the opener against Sam Houston State. Even with a million things wrong, the Aggies can put up 40 on UMass. Conner Weigman passed for 338 yards and 4 touchdowns against Ole Miss, so pencil him in for a 300-yard day as the Aggies — relatively — light up the scoreboard in an easy win.
Gators rush for 300 again
Last week, Florida seemed to finally figure out that its best offense might be letting playmakers go wild out of the backfield. Given that Vanderbilt is coming off its 1st SEC win in a long while, there might be a temptation to overrate the Commodores. An offense that cashes in on red-zone trips should be fine, though. Look for Montrell Johnson Jr. and Anthony Richardson each to rush for 100 yards as Florida wins by 3 scores.
Kentucky doesn't threaten, but covers
Kentucky has been playing some absolutely awful football, but this feels like Georgia is due for another Missouri-level snoozefest. The Wildcats' offense will struggle, but it can pound Chris Rodriguez Jr. and lean on a valiant if outflanked defense. Meanwhile, Georgia seems likely to have a couple of sloppy turnovers and grind out a 28-10 kind of win.
Western Kentucky upsets Auburn
Fine, call me a homer. It's not so much that I'm a big believer in Western Kentucky football (although I am an alum), it's that a) before last week, Auburn was struggling to stop anybody; and b) Western Kentucky can really throw the football. Only once this season have the Hilltoppers passed for fewer than 271 yards, and QB Austin Reed has 3,548 yards and 31 touchdowns. The guess here is that Western sticks the Tigers early and then holds on for a 35-31 win.
UT by 40
Tennessee is busy making a statement. If you missed that, look at the still-throwing-the-ball deep stuff in the 4th quarter against Missouri. And Missouri looks like a juggernaut compared to a South Carolina team that's just looking to play out the string and get its bowl bid. Maybe Spencer Rattler is the antidote for the UT penchant for domination. But it feels like a Carolina team that lost by 32 to Florida could very well end up losing by 40-plus to the Vols. Hendon Hooker and even Joe Milton will hit some big-play bombs, and the Vols will go for 600 yards in a blowout win.
Judkins is POTW after Ole Miss rolls
Maybe doing the same thing twice is true insanity. But an Arkansas team that feels like a bigger underdog than the listed point spread (+2.5) feels likely to lay an egg. The Razorbacks have been pretty mediocre against the run, and now that Alabama isn't across the line of scrimmage, the Rebels should be good to run away from the Hogs. Quinshon Judkins has 25-plus carries in each of the past 4 games and has 139, 111, 205 and 135 rushing yards in those games. Pencil him in for 150 and 3 scores and SEC Player of the Week honors after the Rebels win by 3 scores.
3 times the fun for Burden
Missouri has often seemed a little tentative with what to do with standout freshman receiver Luther Burden. This week, against New Mexico State, the Tigers will make their "stay out of the portal" presentation by getting Burden 3 scores in 3 different ways. Yes, he'll catch a pass for a score, but he'll also return a kick for another score and rush for a 3rd. Burden has scored in all 3 ways this season, but he'll score in all 3 ways this Saturday as Mizzou rolls to an easy win.
LSU sloppy, but pulls away in 2nd half
UAB is a 5-5 team that is somehow just a 15-point underdog at LSU. But the Tigers seem to win only close games, and for a half, this one will fit that profile. LSU — with the division title locked up — might well be a little flat in this one, and UAB's physical running game will cause some early problems. We'll take UAB to lead at the half before LSU gets things rolling and ultimately does cover with a 38-21 victory. It just won't look good early.