SEC
SEC Madness Championship: Bear Bryant vs. Herschel Walker
Welcome to the Final Four of SEC Madness! You, the SEC football fan, get to decide the top SEC star of all-time. View the entire bracket below. Scroll down to read about each matchup and cast your vote on the Final Four matchups. You can view the previous rounds here:
The Full Bracket
(Click the image below to expand the bracket)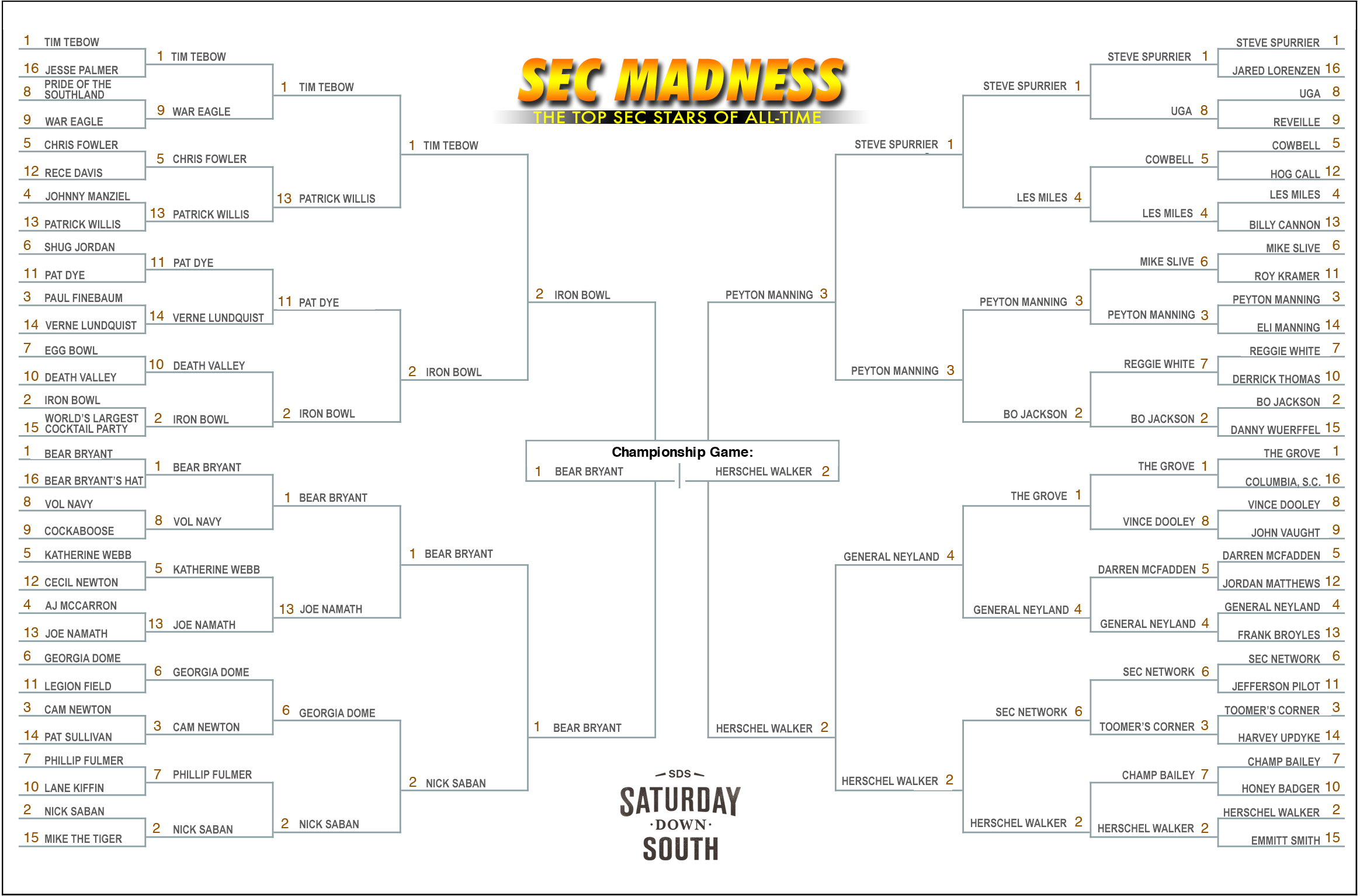 NO. 1 BEAR BRYANT VS. NO. 2 HERSCHEL WALKER
How Bryant Got Here: Def. No. 16 Bear Bryant's Hat (69.2%), Def. No. 8 Vol Navy (58.5%), Def. No. 13 Joe Namath (74.3%), Def. No. 2 Nick Saban (79.8%), DEF. No. 2 Iron Bowl (59.1%)
How Walker Got Here: Def. No. 15 Danny Wuerffel (87.6%), Def. No. 7 Reggie White (68.2%), Def. No. 2 Bo Jackson (50.8%), No. 1 Steve Spurrier (59.9%), Def. No. 3 Peyton Manning (52.6%)
It's tough for a college football player to be a star on the level of a great college football coach. Players wear helmets and often teams restrict their media availability, an occurrence that's more and more common. Coaches get close-ups throughout game broadcasts. Coaches get their faces on the local news and their voices on local radio. Coaches sometimes stick around at schools for a few decades.
Paul "Bear" Bryant was one of those men. He coached at Alabama for 25 years, claiming six national championships and 13 SEC championships. He retired with 323 college football wins as a head coach, which was the most all-time for many years.
Bryant spend an additional eight seasons at Kentucky and another four at Texas A&M, although the Aggies weren't members of the SEC at the time. In addition to longevity and success, Bryant was a cultural icon and probably the most popular man in the state of Alabama for the better part of two decades. "Momma called," Bryant said when asked why he came to Tuscaloosa. "And when momma calls, you just have to come runnin'."
His steady baritone voice and simple, confident speeches represented everything that Crimson Tide fans wanted to believe in: faith, family and football. Only small snipets of video from his coaching days remains — a sideline interview here, a locker room speech there — but if it's not enough to make the hair on your neck stand up watching it, you're hardly an SEC fan.
Herschel Walker, one of the greatest players the conference ever has seen, reached the championship of our bracket thanks to a late comeback that pushed him past the beloved son of America's First Family of quarterbacks in Peyton Manning.
Thank goodness Larry Munson, the legendary Georgia broadcaster, was around to call so many of his spectacular runs, because I'm not sure any other radio guy in the country could've done them justice. ("My God Almighty, he ran right through two men! Herschel ran right over two men! They had him dead away inside the 9! Herschel Walker went 16 yards! He drove right over orange shirts. Just driving and running with those big thighs. My God, a freshman!")
Remarkably, Georgia coach Vince Dooley at one point before the 1980 season, that Walker could be nothing more than "a big, stiff fullback." He entered the season on the third-team offense. But once he put on pads, he immediately destroyed SEC defenses. We've written in this space in previous rounds about his career stats at Georgia and beyond.
But the only man in SEC history that can rival Bo Jackson's athleticism, a blend of power and speed even today's players should envy, it's hard to articulate just how captivated the SEC was by Walker. So I'll let Munson try.
"As you took your voice and you went step-by-step with him on the air, or five yards by five yards with him, you were working yourself into a frenzy because you felt at any moment he was gone," Munson said in an interview before his death. "He was going to go 80 (yards) or whatever. I think your voice came up and your energy level came up. Any time he got a little hole and you saw him come through and realized how big and strong he was, he might go. And I would imagine you were putting more of yourself into the game whenever Herschel had the ball."