SEC
SEC's all-time stars down to Final Four
Welcome to the Final Four of SEC Madness! You, the SEC football fan, get to decide the top SEC star of all-time. View the entire bracket below. Scroll down to read about each matchup and cast your vote on the Final Four matchups. You can view the previous rounds here:
The Full Bracket
(Click the image below to expand the bracket)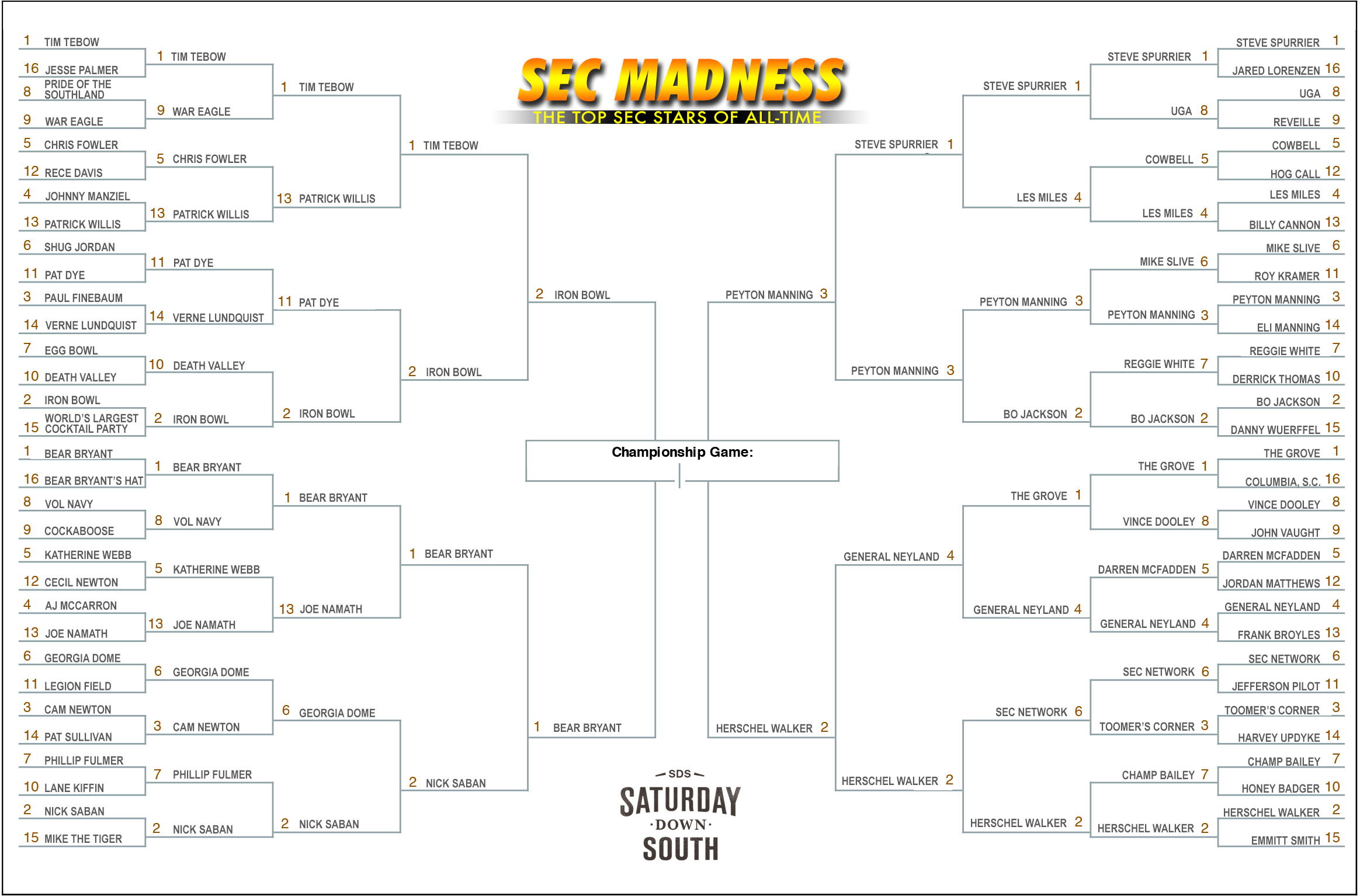 NO. 2 IRON BOWL VS. NO. 1 BEAR BRYANT
How Iron Bowl Got Here: Def. No. 15 World's Largest Cocktail Party (70.3%), Def. No. 10 Death Valley (65.3%), Def. No. 11 Pat Dye (78.7%), Def. No. 1 Tim Tebow (64.1%)
How Bryant Got Here: Def. No. 16 Bear Bryant's Hat (69.2%), Def. No. 8 Vol Navy (58.5%), Def. No. 13 Joe Namath (74.3%), Def. No. 2 Nick Saban (79.8%)
Thanks to Steve Spurrier's somewhat surprising defeat to Herschel Walker in the Elite 8, Bear Bryant is the only SEC coach left in the bracket. Is he the biggest star in a night sky brighter than July 4 at a minor league baseball game?
If Bryant advances to the championship, he'll have gotten there on the backs of fellow Crimson Tide entrants. He's already knocked off his own houndstooth hat, his own quarterback (Joe Namath) and his biggest challenger in school history (Nick Saban). Now he must face the Iron Bowl.
Is it possible that the Alabama-Auburn game is, in fact, the biggest star in the SEC? Or do stars need faces? The Iron Bowl never has burned brighter. The winner has made the BCS Championship or the College Football Playoff for six consecutive seasons. It's given us arguably Cam Newton's finest college game (his tremendous comeback in 2010) and Kick Six (in 2013).
One other huge advantage for the Iron Bowl: Bryant is a smaller part of the larger whole. A vote for the Iron Bowl is, on some level, a vote for Bryant, as he's part of the collage of that game's history — along with Toomer's Corner, Bo Jackson, Nick Saban, AJ McCarron, Pat Dye, Shug Jordan, Joe Namath, War Eagle, Katherine Webb, Cecil and Cam Newton, Lane Kiffin, Derrick Thomas and Pat Sullivan, all previously-eliminated entrants in our bracket.
But is there any more indelible image in the SEC than Bryant in that houndstooth hat and baritone voice commanding the Tide to championship after championship from the sideline? It's a tough call. I'll let you decide.
NO. 3 PEYTON MANNING VS. NO. 2 HERSCHEL WALKER
How Manning Got Here: Def. No. 15 Danny Wuerffel (87.6%), Def. No. 7 Reggie White (68.2%), Def. No. 2 Bo Jackson (50.8%), No. 1 Steve Spurrier (59.9%)
How Walker Got Here: How Walker Got Here: Def. No. 15 Emmitt Smith (74.8%), Def. No. 7 Champ Bailey (90.6%), Def. No. 6 SEC Network (71.3%), Def. No. 4 General Neyland (62.8%)
The general has surrendered.
Former Tennessee great Robert Neyland's defense finally succumbed, giving up a score to Herschel Walker. Can the Vols get revenge?
Though Walker had an underrated pro football career — he compiled more than 7,000 yards of total offense in three seasons(!) — Manning will retire as the greatest statistical quarterback in NFL history. Despite Walker's interesting forays into bobsled and MMA, the workout superhero also is at a disadvantage in terms of visibility and off-field recognition. Manning has been in too many commercials and hosted Saturday Night Live one too many times.
Walker had the more successful college career, though. Manning did get robbed of the Heisman Trophy in 1997, losing to Michigan's Charles Woodson. But Walker won a Heisman Trophy, three SEC titles and a national championship with Georgia.
A very, very good college player, Manning became a legend in the NFL. A very, very good pro player, Walker became a legend in college. Walker has a stronger association with the SEC and is 20 times the athlete that Manning is. Manning is more popular, associations aside, and plays the more prominent position.
Who is the biggest SEC star player ever?