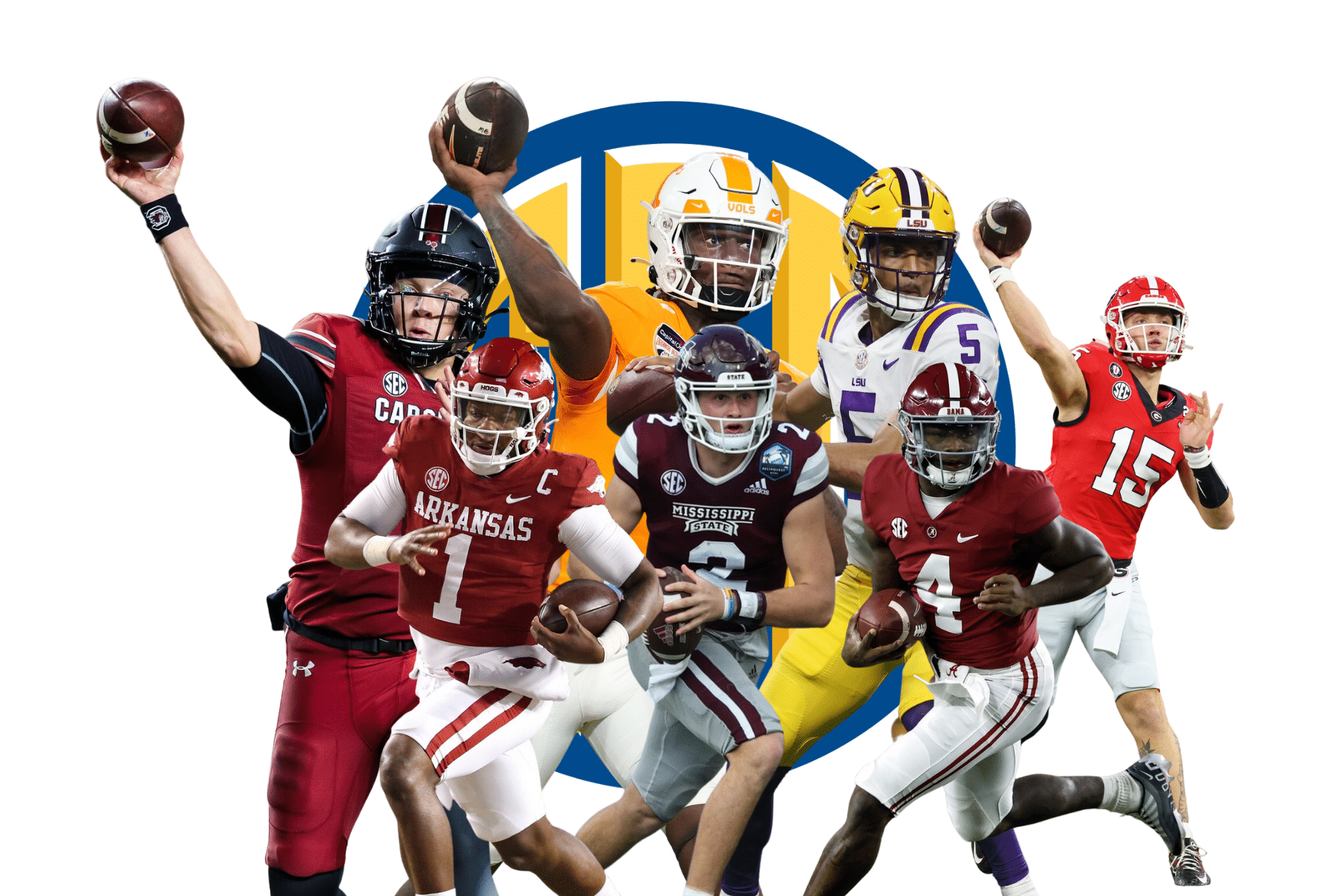 SEC
SEC Power Rankings after Week 5
Another weekend in the books and still 3 undefeated SEC teams remain. Those teams are Georgia, Mizzou and Kentucky – just like we all predicted.
It has been an exciting season so far and there has been plenty of drama. No team in the SEC looks truly elite, and that includes 2-time reigning champion Georgia.
But there's still plenty of time for teams to develop and grow into the best versions of themselves. We'll see who emerges as the cream of the SEC crop during the month of October.
Someone wake up Green Day, because September has officially ended!
Here's a look at the SEC power rankings as we enter pumpkin patch season:
14. Vanderbilt (2-4 overall, 0-2 in SEC)
Previous ranking: 14
This week: 38-21 L to No. 23 Mizzou
Next week: at Florida
It looked to me like Vanderbilt gave up late against Mizzou. The Commodores didn't go for it on a late fourth down. I have some major questions for Clark Lea about that. If you're Vanderbilt, who cares if you're aggressive and fail? That sent the wrong message to his team. I didn't like it at all.
13. Arkansas (2-3, 0-2)
Previous ranking: 12
This week: 34-22 L to Texas A&M
Next week: at Ole Miss
Arkansas is not trending in the right direction under Sam Pittman. With KJ Jefferson and Rocket Sanders both playing, the Hogs shouldn't be losing by 12 to a Texas A&M team battling some big injuries. Now a trip to Oxford to face a dynamic Ole Miss team looms large on the schedule. Can the Razorbacks turn things around? Or will Sam Pittman's hot seat continue to heat up?
12. Mississippi State (2-3, 0-3)
Previous ranking: 13
This week: 40-17 L to No. 12 Alabama
Next week: vs. Western Michigan
The Bulldogs showed some fight against a tough Alabama team. Was it enough? Not nearly. But is this something Zach Arnett and company can build from? Sure. I like seeing the Bulldogs throw more. It is baffling why they went away from using Will Rogers so much early in the season. They should improve to 3-3 next weekend. We'll see what happens from there.
11. Auburn (3-2, 0-2)
Previous ranking: 11
This week: 27-20 L to No. 1 Georgia
Next week: OFF
The Tigers fought hard, especially on defense, in a 7-point loss to the top team in the land. It was certainly an inspired performance from Hugh Freeze and company. But a loss is still a loss. The offense still has major problems. Can they fix those issues over the coming off week? We'll find out soon enough. But Freeze definitely has this program trending in the right direction.
10. South Carolina (2-3, 1-2)
Previous ranking: 9
This week: 34-20 L to No. 21 Tennessee
Next week: OFF
There's talent on offense on this South Carolina team. Spencer Rattler is balling out this year. But it's just tough to get too excited about this team until it can win in the trenches more frequently. Much like the other USC out west, the Gamecocks can't move people at the line of scrimmage, and that hurts them. They have an off week next weekend, so we'll see if they can rest up and get things right at the point of attack.
9. Florida (3-2, 1-1)
Previous ranking: 8
This week: 33-14 L at Kentucky
Next week: vs. Vanderbilt
The Gators got absolutely smoked by the Wildcats. The 19-point differential doesn't do this game justice. Ray Davis ran for 280 yards against this team. It was never really competitive. Any goodwill the Gators got from trouncing Tennessee in The Swamp was erased by this loss. We'll see if Billy Napier can get his crew back on track against Vanderbilt next weekend.
8. Texas A&M (4-1, 2-0)
Previous ranking: 10
This week: 34-22 W over Arkansas
Next week: vs. Alabama
Yes, the Aggies suffered a disappointing loss at Miami in Week 2, but they're 2-0 in SEC play and that's all that matters at this point. Wins over Auburn and Arkansas are solid, if not spectacular. It's going to be tough to beat Alabama next weekend in College Station but, as we've seen before, it is doable. Max Johnson is a solid quarterback. If Evan Stewart is healthy, the Aggies will have a chance.
7. Tennessee (4-1, 1-1)
Previous ranking: 5
This week: 41-20 W over South Carolina
Next week: OFF
The Vols take their break next weekend, and they'll do so on a high note. But this is still a team with serious flaws. Tennessee needs to show it can compete in a tough road environment. It won't have that chance until the Third Saturday in October against Alabama in Tuscaloosa. I know the Vols won this week, but they slide down the rankings 1 spot because of some things other teams ahead of them did this weekend.
6. LSU (3-2, 2-1)
Previous ranking: 2
This week: 55-49 L to No. 20 Ole Miss
Next week: at Mizzou
LSU is still a talented team, but 2 losses before October all but eliminates the Tigers from Playoff contention. This team hurts itself too often in crucial situations. Until the mistakes and defense are cleaned up, this is going to be a squad that is ripe for upset. A trip to Mizzou next weekend is a tricky one. We'll see who emerges on top in a battle of Tigers.
5. Kentucky (5-0, 2-0)
Previous ranking: 7
This week: 33-14 W over No. 22 Florida
Next week: at Georgia
Great win for Mark Stoops and the Wildcats. Absolutely incredible performance from RB Ray Davis, who put up 280 rushing yards and 4 touchdowns. Their reward? A trip to Athens to play No. 1 Georgia. Ouch. But if there's a team in the SEC that can play Georgia tight at home, it's Kentucky. Watch out for these dangerous Wildcats!
4. Mizzou (5-0, 1-0)
Previous ranking: 4
This week: 38-21 W at Vanderbilt
Next week: vs. LSU
I'm still not sure what exactly to make of this Mizzou team, but the Tigers keep winning. They're 5-0 and remain 1 of 3 undefeated SEC squads (along with Kentucky and Georgia). They'll face their first real test of the SEC season against a ranked LSU team this coming Saturday against a hungry Tiger team that just lost at Ole Miss. Mizzou really needs to learn how to put teams away in the third quarter before it comes back to bite the Tigers in a key situation.
3. Ole Miss (4-1, 1-1)
Previous ranking: 6
This week: 55-49 W over No. 13 LSU
Next week: vs. Arkansas
What a shootout in Oxford! And kudos to Lane Kiffin's crew for actually making a big play late to win a must-have ballgame. We've seen the Kiffin-led Rebels fall short in big games over and over again (including last week at Alabama). Well, now they have their signature win. This is still a team that can challenge for the SEC West title.
2. Alabama (4-1, 2-0)
Previous ranking: 3
This week: 40-17 W over Mississippi State
Next week: at Texas A&M
OK, it's time to stop pretending Alabama isn't the No. 2 team in the SEC. The TIde have their problems, yes. They also have more talent than any other team not ranked No. 1 on this list to try to overcome those problems. Jalen Milroe is coming into his own. The defense is solid. The coaching is … well, we'll see if the coordinators can keep improving. A tough test in College Station awaits, but the Tide look like they're trending in the right direction.
1. Georgia (5-0, 3-0)
Previous ranking: 1
This week: 27-20 W at Auburn
Next week: vs. Kentucky
Well, well, well. Georgia looked vulnerable on Saturday at Jordan-Hare Stadium. But every No. 1 team looks vulnerable on The Plains. In fact, Georgia became the first top-ranked team in 5 tries to win at Auburn. That's crazy. So I'll write this one off as crazy things happening at Jordan-Hare. Now, though, a showdown in Athens against 5-0 Kentucky is an absolutely massive game in the SEC East! Can't wait!