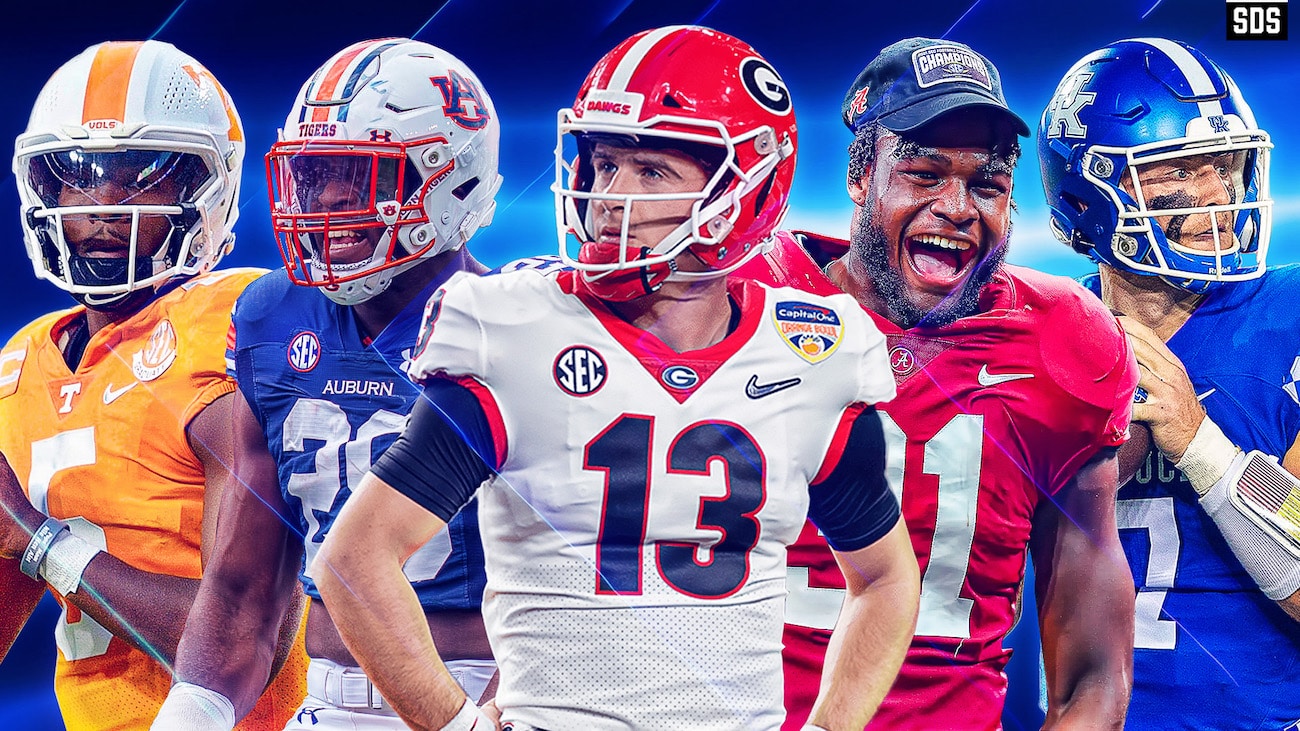 SEC
SEC Power Rankings: Ranking every SEC team after Week 4
You never know what to expect from a Saturday Down South (hey, that's the name of this website)!
Teams find new ways to lose (looking at you, Mizzou and Arkansas). MAC opponents put the fear of God into a pair of top 10 teams in Georgia and Kentucky. Alabama looked like the preseason national title favorite.
Meanwhile, Tennessee is back on the scene as a potential top-10 team. So, what should we make of things after Week 4?
Here are our updated SEC power rankings as we prepare for Week 5:
14. Vanderbilt (3-2 overall, 0-1 in SEC)
Previous ranking: 11
This week: 55-3 L to No. 2 Alabama
Starting the SEC season with Alabama is never easy. But, at some point, the Commodores are going to actually have to show they can compete against conference opponents. Louisiana-Monroe gave Alabama more of a test than the Commodores. Going 3-1 in nonconference play was nice, but now it's time to show something in league play.
13. Mizzou (2-2, 0-1)
Previous ranking: 13
This week: 17-14 L (OT) to Auburn
Brutal. Mizzou fans, like me, are used to inexplicable, painful losses. And yet … the Tigers still find ways to make you believe they're going to win, only to snatch a heartbreaking defeat from the jaws of victory. The fact that Luther Burden had 0 touches offensively in this game is criminal. Eli Drinkwitz's seat is heating up in a hurry, and rightfully so. He has only himself to blame. No. 1 Georgia comes to Columbia next week. Yikes.
12. South Carolina (2-2, 0-2)
Previous ranking: 14
This week: 56-20 W over Charlotte
Being up 20-14 on Charlotte at halftime is nothing to write home about. But, the Gamecocks used a strong start to the third quarter to break things open a bit. MarShawn Lloyd looked great, which is a much-needed sign for the Gamecocks' offense. But, tougher tests await as the season moves on. Next week, the Gamecocks get to play South Carolina State in another opportunity to improve before resuming SEC action.
11. Auburn (3-1, 1-0)
Previous ranking: 12
This week: 17-14 W (OT) over Mizzou
There's no way around it – that was a lucky win for the Tigers. Mizzou had a chip-shot field goal to win in regulation and missed. Mizzou was running it in for the game-winning touchdown in overtime and fumbled without being touched. The Jordan-Hare magic was alive and well on Saturday afternoon. Unfortunately for Auburn, this doesn't get Bryan Harsin off the hot seat. And this win doesn't move the needle very much for Auburn in the power rankings.
10. Florida (2-2, 0-2)
Previous ranking: 10
This week: 38-33 L to No. 11 Tennessee
The Gators played well on the road in a hostile environment. But, not taking a field goal in the first half and going for 2 twice in the fourth quarter came back to haunt Billy Napier's squad in a loss on Rocky Top. Anthony Richardson showed some signs of life, though. If he continues to play like he did on Saturday, the Gators will win some more games. Up next is a tricky game against FCS foe Eastern Washington. Florida can't sleepwalk through that one.
9. Mississippi State (3-1, 0-1)
Previous ranking: 9
This week: 45-14 W over Bowling Green
Will Rogers was electric on Saturday afternoon, throwing for 406 yards and 6 touchdowns. He hit 5 different receivers for scores. When the offense is clicking, there aren't many teams that can hang with Mississippi State. The offense will need to be playing its best, though, because the Bulldogs' next 4 games – vs. Texas A&M, vs. Arkansas, at Kentucky and at Alabama – are absolutely terrifying.
8. LSU (3-1, 1-0)
Previous ranking: 8
This week: 38-0 W over New Mexico
This LSU defense is legit. The Tigers pitched a shutout against an overmatched New Mexico team. But, offensively, QB Jayden Daniels left with an injury. That'll be something to monitor moving forward. For now, attention turns to next week's game at Auburn. Auburn is certainly a team that knows a thing or 2 about QB injuries.
7. Arkansas (3-1, 1-1)
Previous ranking: 6
This week: 23-21 L to No. 23 Texas A&M
Arkansas had plenty of opportunities to win this game. Instead, a costly fumble and a bizarre missed field goal that bounced off the top of the upright led to a defeat in the Southwest Classic. That series always leads to wild finishes, and this game didn't disappoint. Still, it's disappointing that the Hogs' first game away from Fayetteville ended this way. Now, Alabama comes to town next Saturday. That's a tough game to try to bounce back in.
6. Texas A&M (3-1, 1-0)
Previous ranking: 7
This week: 23-21 W over No. 10 Arkansas
The Aggies went down 14-0 early on Saturday night. They were about to go down 21-7 in the second quarter. That's when mayhem broke loose. Tyreek Chappell made the play of the year, handing a recovered fumble to teammate Demani Richardson who returned it the rest of the 82 yards for a game-changing TD. Credit to the Aggies for bouncing back from the Appalachian State loss with wins over No. 13 Miami and No. 10 Arkansas.
5. Ole Miss (4-0, 0-0)
Previous ranking: 5
This week: 35-27 W over Tulsa
Ole Miss has yet to play an SEC foe, but the Rebels are unblemished through their nonconference slate. Jaxson Dart has officially won the starting QB role. Yes, this game was too close for comfort. Yes, it snapped the Rebels' streak of not allowing more than 21 points. But, a win is a win, and with how wacky college football has been this year, they'll take it with a smile on their faces. Next week is going to be much harder, as a top-10 Kentucky squad comes to town.
4. Kentucky (4-0, 1-0)
Previous ranking: 4
This week: 31-23 W over Northern Illinois
Yes, these slow starts against MAC opponents are concerning. But, hey, the Wildcats don't have to play anymore MAC teams this season! Now, it's just SEC teams and Louisville until they get to a bowl game! Easy peasy! Credit to Kentucky for continuing to win. Next up: learning how to finish off inferior opponents. Will Levis is playing solid football and the Wildcats get star RB Chris Rodriguez back next weekend. They'll need him at Ole Miss.
3. Tennessee (4-0, 1-0)
Previous ranking: 3
This week: 38-33 W over No. 20 Florida
I've taken some heat for having the Vols at No. 3 all year. I hope that stops now. Tennessee has a win on the road against a ranked Pitt team. Now, the Vols have added a home win over an intense rival in No. 20 Florida. Hendon Hooker should be skyrocketing up Heisman lists and NFL Draft boards. To throw for more than 300 yards and run for more than 100 yards on a day he didn't have his top receiver, Cedric Tillman, was impressive. The Vols are riding high these days.
2. Alabama (4-0, 1-0)
Previous ranking: 2
This week: 55-3 W over Vanderbilt
Bryce Young had a career-high (for a single half) 316 passing yards in the first half against an overmatched Vanderbilt team. The defense looked solid throughout the game, too. Jahmyr Gibbs is a stud. He's going to be tough to bring down in big games this year. Any concerns about the lackluster effort in Week 2 at Texas should be put to bed by now.
1. Georgia (4-0, 1-0)
Previous ranking: 1
This week: 39-22 W over Kent State
Was this the prettiest, most dominant effort from the Bulldogs? Absolutely not. Clearly, they got caught looking ahead to juggernaut Mizzou next weekend. But, they got the job done. Brock Bowers is a monster and a superstar. Stetson Bennett will shake off a lackluster game. The Bulldogs should learn from this and get back to their dominant ways next weekend. No reason to panic in Athens.