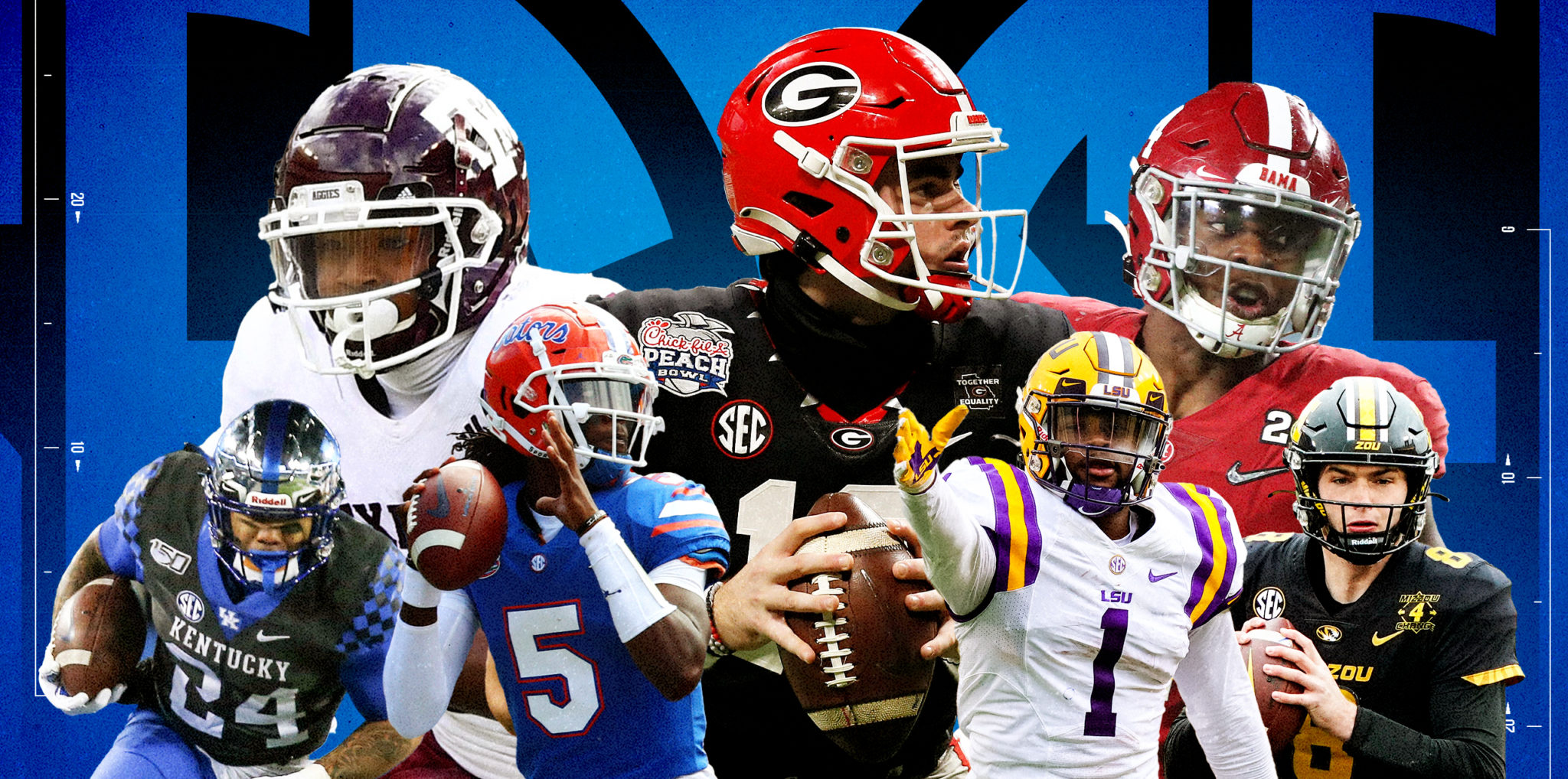 SEC
SEC Power Rankings: Ranking every SEC team after Week 5
This was supposed to be a great weekend of SEC football. Instead, the early slate of games featured 3 blowouts and a narrow win.
Georgia shut out Arkansas. Tennessee embarrassed Mizzou. Ole Miss dug itself an early grave against Alabama. And South Carolina gritted out a win over Troy.
Fortunately, the late games delivered. Florida-Kentucky was epic. Mississippi State-Texas A&M was dramatic. Auburn-LSU came down to the wire. Heck, even Vanderbilt did its part, beating UConn on a last-second field goal.
All that drama led to several changes in our power rankings. So, as we prepare for Week 6, let's take a look at how the SEC stacks up following an interesting Week 5:
14. Vanderbilt (2-3 overall, 0-2 in SEC)
Previous ranking: 14
This week: 30-28 W over UConn
Next week: at Florida (3-2)
What a game! When 2 bad teams get together, it can often lead to a really fun contest, and that's what happened in Nashville on Saturday night. There was rain, there were hilarious mistakes, a guy was ejected for throwing punches and there was drama in the fourth quarter! No, I'm not going to move the Commodores out of the SEC cellar after a 2-point win over a UConn team that entered the game 0-5, but hey, at least Vandy showed some fight. We'll see if Clark Lea can build on this.
13. Mizzou (2-3, 0-2)
Previous ranking: 10
This week: 62-24 L to Tennessee
Next week: vs. North Texas (1-3)
This defense is atrocious. If the Tigers lose at home against North Texas on Homecoming next weekend, there's a good chance I'll bump them down to last place in these rankings. Yeah, it's that bad. The run defense is one of the worst I've ever seen. This team needs to find some pride in a hurry or this season will get out of hand in the blink of an eye.
12. South Carolina (3-2, 0-2)
Previous ranking: 13
This week: 23-14 W over Troy
Next week: at Tennessee (3-2)
Yes, the Gamecocks have 3 wins, but forgive me if I'm not super impressed by narrow wins over Troy and East Carolina. The issues have been evident in their 2 SEC losses to Georgia and Kentucky. But I still think that Shane Beamer has this team trending in the right direction. He preached patience from the fan base this week, and I'm willing to give him the benefit of the doubt with that. Things don't change overnight, but the Gamecocks are doing some good things this year.
11. Texas A&M (3-2, 0-2)
Previous ranking: 6
This week: 26-22 L to Mississippi State
Next week: vs. Alabama (5-0)
I'm sorry, but this Texas A&M offense is brutal under Zach Calzada. It wasn't great under Haynes King for a week and a half before he was injured, either. I'm starting to think maybe the Aggies should have found a QB in the transfer portal this offseason. The defense wasn't great against Mississippi State on Saturday, either. At least the fans who filled Kyle Field will always have fond memories of the bird that made its way onto the field and into our hearts.
10. LSU (3-2, 1-1)
Previous ranking: 9
This week: 24-19 L to Auburn
Next week: at Kentucky (5-0)
This team has plenty of talent, but the running game is atrocious. And the Tigers can't seem to make the big stop defensively or the important conversion offensively when they need it the most. Now, a road trip to Kentucky looms large next weekend. Lose that game and Coach O will legitimately be on the hot seat less than 2 years after leading the Tigers to one of the most impressive seasons in college football history. The SEC is wild, y'all.
9. Tennessee (3-2, 1-1)
Previous ranking: 11
This week: 62-24 W over Mizzou
Next week: vs. South Carolina (3-2)
We knew Josh Heupel's offense was going to be fun. But, combined with an awful Mizzou run defense, Saturday's performance was electric. The Vols ran for 458 yards against the hapless Tigers. Tiyon Evans ran for 158 yards and 3 scores, and Tennessee did whatever it wanted against Mizzou. Hendon Hooker also seems to have put a stamp on the starting QB job moving forward. We'll see if the Vols can continue the momentum back on Rocky Top next weekend.
8. Mississippi State (3-2, 1-1)
Previous ranking: 12
This week: 26-22 W over No. 15 Texas A&M
Next week: Off
Win or lose, Mississippi State's games are always entertaining. On Saturday night in College Station, the Bulldogs snagged a hard-fought win, holding on late to beat an Aggies team that hasn't been doing much offensively since QB Haynes King went down with an injury in Week 2. Now, the Bulldogs have a chance to rest up and get healthy, as they have next weekend off before hosting No. 1 Alabama on Oct. 16.
7. Auburn (4-1, 1-0)
Previous ranking: 8
This week: 24-19 W over LSU
Next week: vs. Georgia (5-0)
That was a great come-from-behind win at LSU on Saturday night. Bo Nix had some incredible plays when the pocket broke down, and freshman RB Jarquez Hunter came up with some big runs when his team needed him most. Winning in Death Valley is never easy, but the Tigers ended their long losing streak at LSU. Now, they'll try to do the almost-impossible and take down juggernaut Georgia at Jordan-Hare Stadium next weekend.
6. Florida (3-2, 1-2)
Previous ranking: 3
This week: 20-13 L to Kentucky
Next week: vs. Vanderbilt (2-3)
Florida was all out of sorts in Lexington on Saturday night. It was the Gators' first time in a hostile road SEC environment this year, and it showed. The Gators committed 15 penalties for 115 yards. Yikes. But, Dan Mullen's play-calling, especially before the half and at the end of the game, left a lot to be desired. He's going to face a lot of questions this week, and all of them will be deserved. At least the Gators have a chance to get back on track next weekend against Vanderbilt.
5. Ole Miss (3-1, 0-1)
Previous ranking: 5
This week: 42-21 L to No. 1 Alabama
Next week: vs. Arkansas (4-1)
Ole Miss was down 35-0 at one point, so it wasn't as "close" as the 21-point loss makes it seem. But I like the way the Rebels were aggressive early in the game. It didn't work, but I like the attitude this team has. And I like that they didn't give up and kept the aggression throughout the game. Now, the Rebels face a very important game next weekend when Arkansas comes to town. Will Ole Miss' great offense or Arkansas' stout defense rule the day?
4. Arkansas (4-1, 1-1)
Previous ranking: 4
This week: 37-0 L to No. 2 Georgia
Next week: at Ole Miss (3-1)
This isn't so much that Arkansas looked like the No. 4 team in the SEC on Saturday, because it didn't. Arkansas looked incredibly overmatched by Georgia. But this just goes to illustrate the absolutely massive chasm that exists between Georgia, Alabama and the rest of the league. So, I'm going to leave the Hogs at No. 4. The Razorbacks are still a really good team, but they aren't on Alabama or Georgia's level. That's not a bad thing. No one is. But it's going to be super important for the Hogs to try to bounce back in Oxford next week.
3. Kentucky (5-0, 2-0)
Previous ranking: 7
This week: 20-13 W over No. 10 Florida
Next week: vs. LSU (3-2)
Well, I was majorly wrong about Kentucky this year. Ugly wins over Chattanooga and South Carolina had me thinking the Wildcats' 4-0 start was a bit of a mirage. Instead, Kentucky held tough defensively, earning a 20-13 win over a top-10 Florida team. That was a gritty, gutsy performance from the Wildcats, and the fans were incredible. Florida committed 15 penalties, giving up 115 costly yards on the infractions. That's on the fans. With LSU coming to town next weekend, the Wildcats have a chance to clinch bowl eligibility and keep this magical year going.
2. Georgia (5-0, 3-0)
Previous ranking: 2
This week: 37-0 W over No. 8 Arkansas
Next week: at Auburn (4-1)
Wow. That Georgia defense is absolutely the best in the country, hands down. The Bulldogs have now shut out Vanderbilt and Arkansas in back-to-back weeks. Those are the first back-to-back SEC shutouts since … you guessed it, 1980. This year is starting to feel special for the Dawgs. The biggest concern I have? JT Daniels. You have to be able to count on your quarterback to play. Daniels can lead this team to a title. I don't think Stetson Bennett IV can.
1. Alabama (5-0, 2-0)
Previous ranking: 1
This week: 42-21 W over No. 12 Ole Miss
Next week: at Texas A&M (3-2)
Just when it looked like Georgia had a legitimate case to be ranked No. 1, Alabama came out and held serve. The Tide absolutely dominated the Rebels in every aspect of the game. No, they didn't finish the game as strong as Nick Saban would have liked, but they demoralized the Rebels by jumping out to the dominant 35-0 lead. And, now, Saban gets to harp on his team to play a full 60 minutes. Alabama is still the No. 1 team and the Tide are only getting better.