SEC
SEC Tournament 2023: Bracket, schedule, TV info released for March 11
We're officially 1 day from Selection Sunday and 1 day from crowning a new SEC Tournament Champion!
There, officially, will be a new champion crowned Sunday after Tennessee fell in the quarterfinal round to Dennis Gates' impressive Missouri squad. Kentucky fell too, dropping to a determined Vanderbilt team under Jerry Stackhouse. The Commodores have been a different team since the end of January, having lost only 1 game in their past 11 contests.
Texas A&M and Alabama took care of business against Arkansas and Mississippi State, respectively to move on to the semifinal round.
14 has been whittled down to just 4 heading into Saturday's semifinal slate of games. Here's the updated bracket following Friday's action: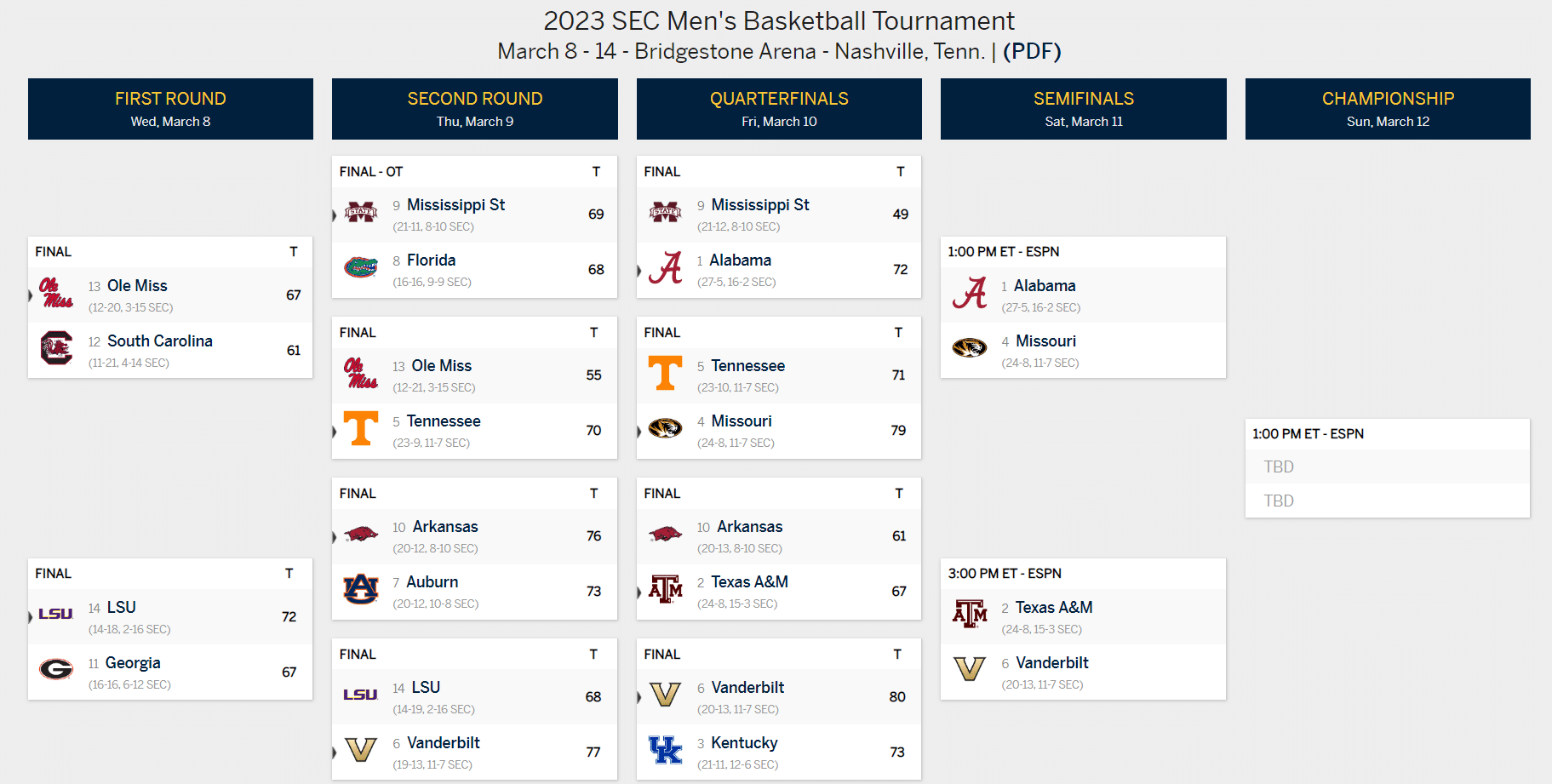 Things are especially getting interesting for the Commodores against Texas A&M. Vanderbilt is relying on the selection committee to take their SEC Tournament run into account, something they have not done in recent memory.
Just last year, Texas A&M made a run that should have put them well within the field, despite falling to Tennessee in the title game. Instead, the Aggies failed to crack the field of 68 despite playing better than most bubble teams. The Commodores are hoping to extinguish all chances of their rough January coming back to bite them.
Here's a recap of the SEC Tournament thus far, as well as times and TV info for Saturday's pair of games.
First round (Wednesday)
LSU 72, Georgia 67
Ole Miss 67, South Carolina 61
Second round (Thursday)
Mississippi State 69, Florida 68 overtime
Tennessee 70, Ole Miss 55
Arkansas 76, Auburn 73
Vanderbilt 77, LSU 68
Quarterfinals (Friday)
Alabama 72, Mississippi State 49
Missouri 79, Tennessee 71
Texas A&M 67, Arkansas 61
Vanderbilt 80, Kentucky 73
Semifinals (Saturday)
Alabama vs. Missouri — 1 p.m. ESPN
Vanderbilt vs. Texas A&M — 3 p.m. ESPN
The championship game is set for 1 p.m. on Sunday on ESPN.