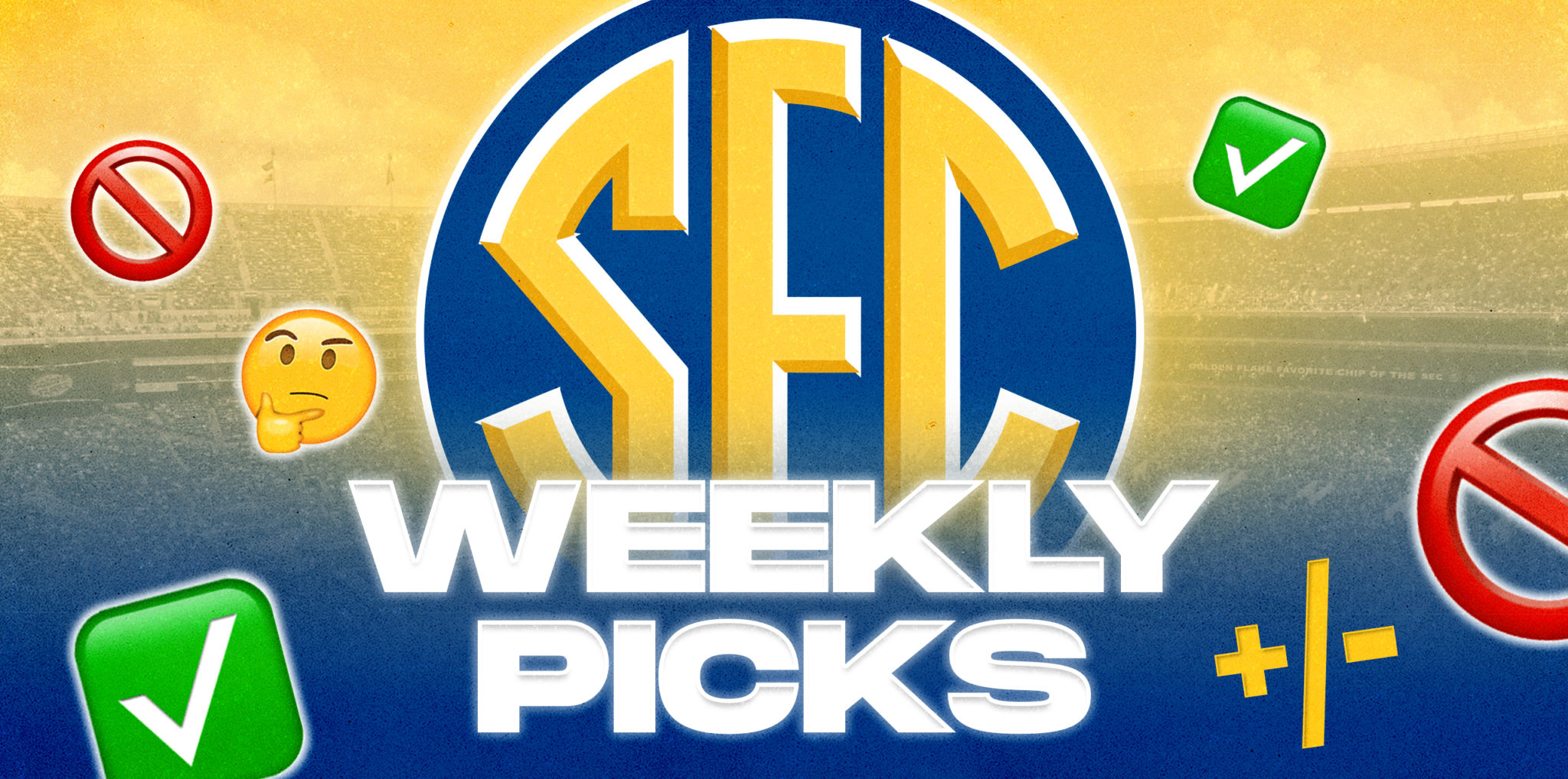 SEC
SEC Week 5 predictions (and bets)
We're back with another round of predictions in anticipation of Week 5 of the SEC season.
SDS news desk editor Michael Bratton (@MichaelWBratton) and SDS Podcast co-host Chris Marler (@VerneFUNquist) are back again to share their (sometimes terrible) predictions picking SEC games and making picks against the spread.
Chris is 10-15-1 against the spread for the season while Michael is 9-17 on the season.
Here is how the guys predict the Week 5 action to play out:
Auburn (-3) at Ole Miss
Michael: This is the toughest game of the week for me to call, could honestly see it going either way. If Auburn takes the ball out of Bo Nix's hands — that's wild to even have to say about a QB Gus Malzahn has said will one day lead the Tigers to a championship — they should win this game. Tank Bigsby may just be the best true freshman in the SEC and with the Tigers expected to get Shaun Shivers back this week, Auburn should be able to exploit the Ole Miss run defense on Saturday. Two lingering questions I have entering this matchup, was Matt Corral's performance last week just an aberration, or has the Ole Miss offense been figured out to a degree? Say what you will about the offensive coaches on the Auburn coaching staff but Kevin Steele is one of the best defensive minds in the SEC. I have more confidence in Auburn's defense than I do any unit in this game. Steele saves Malzahn from the hot seat once again on Saturday.
Auburn 28 Ole Miss 24
Chris: Besides Barry Bonds 762 career home runs, there is no record in sports that deserves a bigger asterisk than Auburn's 2-2 record this season. I usually hate hearing the Gus hot seat talk, and I'm definitely over the knee jerk reaction of fans blaming the offensive coordinator while questioning every play call they disagree with.
But in this case it is 10000% accurate. As an OC, why the hell would you allow Bo Nix to throw the ball 35 times a game with only one WR that's consistently good and an offensive line replacing four starters from last season? Nix is last in the SEC in completion percentage at 54.9%, second to last in YPA and QB Passer Rating (only ahead of Vandy freshman QB Ken Seals by the way). The only passing stats in which he ranks in the top half of the conference are: attempts and interceptions, where he's tied for third (four).
Auburn is only 2-8 in their last 10 road games under Malzahn. And, the Gus Bus is averaging 10 ppg less on the road than they are at home for the fourth time in the last five seasons. However, there is no better "get right" game for this Auburn offense than this one against Ole Miss' historically bad defense.
Someone please get this to Chad Morris' desk ASAFP.
Chad, you have one of the best RBs in the SEC with Tank Bigsby. Repeat after me. RUN. THE. DAMN. BALL. Bigsby is averaging only 12.5 carries per game. That's a third of the passes you let Nix throw. Switch those. Feed Tank. Also, buy Kevin Steele a beer or dinner for saving your ass multiple times already this season.
Auburn 38 Ole Miss 33
Alabama (-21.5) at Tennessee
Michael: This game has all the ingredients for a class trap game as most were stunned when the line debuted at -17 before jumping to 3+ touchdowns. How focused will Alabama be after putting so much effort into the Georgia game and going through the emotional roller coaster of Nick Saban's status last week? Tennessee isn't as bad as it looked last week as the Vols outplayed Kentucky for nearly the entire first half outside of Jarrett Guarantano's three turnovers and JT Shrout coming off the bench and immediately tossing an interception to the Wildcats. If Tennessee can play mistake-free football, they may even threaten Alabama in this one.
Alabama 38 Tennessee 24
Chris: Man what a difference two weeks makes huh? Well, two weeks for Alabama and six quarters for Tennessee, to be exact. That's how long it's taken for the confidence, and mood, of each fanbase to do a complete 180 in polar opposite directions.
Since holding a lead at halftime of the UGA game, the Vols next six quarters have been nothing short of a tailspin that has firmly planted the team right back to where they were a year ago: in a constant state of doubt and inconsistency directed at their coach and quarterback. Meanwhile Bama is once again being preemptively crowned champs, despite the season being only a third of the way over.
Tennessee fans are tired of hearing about the 13-year winning streak, and I would be too. But, the numbers really are astounding: 13 wins in a row by an average of 25 ppg, including 10 wins by 20+ points, and 7 of the last 10 by 30 points or more. The fan in me wants to take Bama and the points. However, there is a realistic path for Tennessee to keep this one close until the 2nd half, and I think they will. Tennessee's O-Line has taken a lot of heat lately, but if there's a weak point on this Bama team it's their front seven. UGA was averaging 5.7 ypc in the first half last week before inexplicably abandoning the run game. Run the football, keep the Tide offense off the field, and then give yourself a chance to…well lose, but lose with dignity.
Alabama 41 Tennessee 23
Kentucky (-5.5) at Missouri
Michael: Mark Stoops may not want to talk about it but his Kentucky program has owned Mizzou in recent seasons and that will continue this weekend if the Wildcat secondary can stay hot against redshirt freshman Connor Bazelak. Having a week off may have been good for the Tigers, Eli Drinkwitz's team managed to get its COVID issues under control during that time, but I bet Missouri wished it could have played against Vanderbilt last week to continue to build momentum after the big LSU win. While optimism may be high in Columbia after beating LSU, much like Mississippi State's showing in the season opener, we may look back at that game and say Bo Pelini's defense was the main reason Mizzou got their first win of the season. Kentucky's momentum carries over for another week.
Kentucky 24 Missouri 17
Chris: Outside of murder hornets and finding out about the inner workings of America's tiger/big cat black market via Netflix, nothing has surprised me more than my genuine excitement about this game. I think this might be the best game of the week in the SEC. Freshman QB Connor Bazelak was nothing short of incredible in his first career start against LSU completing 85% of his passes, throwing for over 400 yards, 4 TDs and no INTs.
Connor meet Kentucky's secondary. They've intercepted 9 passes in 2 games.
Kentucky's offense is still a work in progress in my opinion, and I wonder how they'll look this week coming off a massive win in Knoxville for the first time in 36 years. I absolutely HATE -5 and -5.5 point spreads because in the last decade 73% of teams favored by that amount have failed to cover and almost a quarter have lost outright. That being said Mark Stoops has won 5 straight vs Mizzou including a 4-1 mark against the spread. If that doesn't impress you, three of those wins they were an underdog and won outright; twice by double digits.
Call me Natalie Imbruglia because I am torn y'all. Kentucky wins. Mizzou covers.
Kentucky 24 Missouri 20
South Carolina at LSU (-6)
Michael: These two teams are trending in opposite directions right now and with Myles Brennan not expected to play, it's tough to like LSU's chances considering the way South Carolina's secondary has been playing and the Tigers' inability to run the ball against Missouri and Mississippi State. Mike Bobo may have been the offensive coordinator hire of the offseason in the SEC as he continued to scheme up successful gameplans for the Gamecocks. Bo Pelini, on the other hand, may not make it to Year 2 in Baton Rouge the way his defense is playing. LSU may have more talent than South Carolina but this coaching matchup may decide this game. I think the wrong team is favored in this matchup — especially with LSU expected to play two true freshman quarterbacks, I'll take the Gamecocks to win outright.
South Carolina 30 LSU 17
Chris: Last week I picked USC to win over Auburn outright because "Will Muschamp is always good for one stupid, unexplainable win a year." But, is he good for two? Honestly, I don't know. What I do know is that he's not going to ever have a better chance at beating LSU than he does right now. USC is coming off a big win, LSU's starting QB is out, LSU's defense is hot garbage, and Death Valley at Night will be a shell of its usual self.
I think this matchup actually favors Carolina to be honest. Carolina showed last week that they can shut down an elite WR, and they should get Israel Mukuamu back. Shi Smith may not be as reliable this week if LSU puts Derek Stingley on him all day. But, how does this LSU team stop anyone for 4 straight quarters? A freshman QB and disaster hire at defensive coordinator seems like a horrible combination in 2020. And, I'm still not over how good LSU made Mississippi State and KJ Costello look. Letting it ride, and doubling down on Carolina for another upset.
South Carolina 30 LSU 27