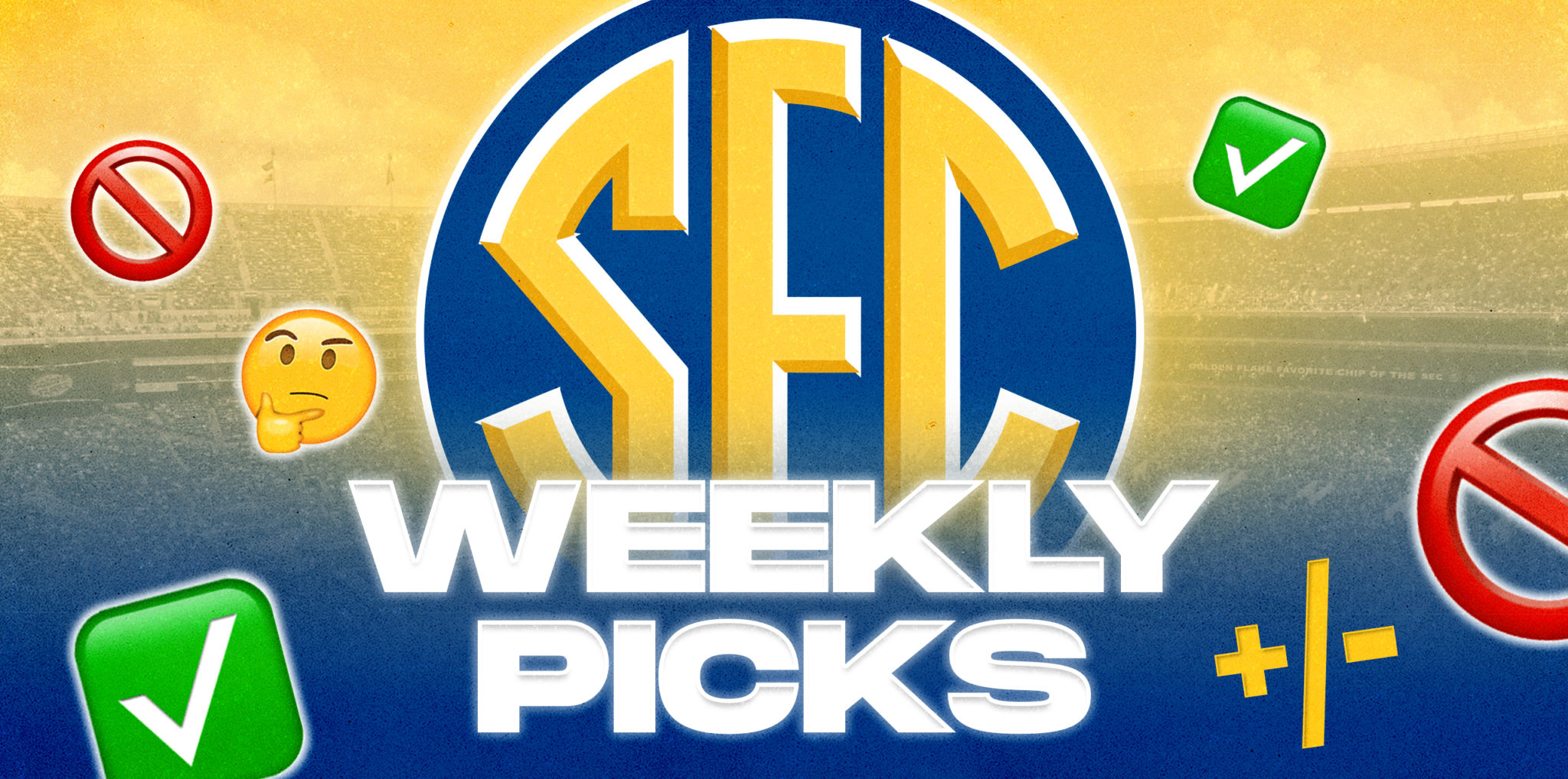 SEC
SEC Week 6 predictions (and bets)
We're back with another round of predictions in anticipation of Week 6 of the SEC season.
SDS news desk editor Michael Bratton (@MichaelWBratton) and SDS Podcast co-host Chris Marler (@VerneFUNquist) are back again to share their (sometimes terrible) predictions picking SEC games and making picks against the spread.
Chris is 12-17-1 against the spread for the season while Michael is 10-20 on the season.
Here is how the guys predict the Week 6 action to play out:
Georgia (-15.5) at Kentucky
Michael: Aside from a pair of pick six interceptions in the Tennessee game, Kentucky has really struggled this season and with its offense having its worst showing in years, getting a rested Georgia defense coming off a loss to Alabama makes for a nightmare scenario for the Wildcats. Sending prayers to Joey Gatewood in what looks to be his first start for Kentucky, better days are coming for the Wildcat signal-caller. Look for Stetson Bennett to have a big game after being called out daily by many members of Dawg Nation. He isn't the problem in Athens and he'll put that on display on Saturday.
Georgia 27 Kentucky 10
Chris: Excuse my language, but how in the actual **** was Kentucky's offense more dynamic a year ago with a WR at QB than their current offense is in 2020? UGA is a 2 TD favorite over the Cats despite the fact that Kentucky is 7-2 ATS in their last 9 games at home. Three things I don't trust in this world: my fiance being fine when she says she's "fine", people that say they like yellow starbursts, and Kirby Smart making the right decision with his quarterbacks.
Here's to hoping Kirby has figured out the right choice under center by Saturday. Or, that he at least dresses up like someone who has this Halloween.
Georgia 28 Kentucky 3
LSU (-3) at Auburn
Michael: This game really could go either way, as there's no way to know which LSU team will show up on Saturday. Half the time, Ed Orgeron's team looks like an SEC contenders, while the rest of the time they look like the worst team in the West. You could almost say the same thing about Bo Nix, minus the contender part. Did Auburn figure something out last week against Ole Miss or is the Rebel defense just that bad? My score prediction should clue you in to which way I'm leaning. With all the offensive standouts in this game (Tank Bigsby, Seth Williams, Terrace Marshall, Arik Gilbert), we should be in for a fun one on The Plains.
LSU 38 Auburn 31
Chris: They call this the "Tiger Bowl", but only because the "Which underachieving coordinator should be fired first bowl" is too long. A week ago I said Tank Bigsby was going to save Chad Morris' job, and I feel like that was going to be correct until the SEC Officials went ahead and did it for him.
TJ Finley looked outstanding for LSU last week, but how does that look on the road against a Kevin Steele defense? My guess: different at the very least. Vegas set the bait, I mean line, in Auburn's favor on Sunday at Auburn -2 and bettors bit. HARD. So many people bet on LSU that the line swung 5 points to LSU -3. Wow.
I don't care what the line is. Until SEC officials can prove to everyone that they aren't going to allow Auburn to win on some absolutely absurdly blind miracle, I'm taking Auburn. Also, fun drinking game for this one: Take a drink every time an Auburn fan brings up the fact that they only allowed 20 points to LSU last year and/or everytime a fan of any other team brings up the fact that they should be 1-4. You'll be blackout by kickoff.
Auburn 30.5 (don't worry the officials will allow it) LSU 30
Ole Miss (-16.5) at Vanderbilt
Michael: I'm sure this pick is going to be ridiculed to no end if I'm wrong but there should be a few factors that play to Vanderbilt's advantage in this game. Ole Miss has been turning the ball over at an alarming rate in recent weeks and now has to deal with losing a tough game that should have been a win. Some teams get over those things better than most but considering how young the Rebels are, and the fact Lane Kiffin was still talking about the end of the Auburn game into Wednesday, there's an excellent chance last week lingers into this week's preparation for the Commodores. Vanderbilt also has the advantage of just coming out of an in-season training camp period, which could help the result on the field come Saturday. After getting a few weeks to rest and work on itself, Vanderbilt comes out and shocks the world on Saturday in Nashville.
Vanderbilt 24 Ole Miss 23
Chris: You know what's scarier than any Michael Myers film, or any over the top costume you'll see this weekend in the cul de sac? Lane Kiffin with a point to prove. Imagine how pissed he's gonna be after paying $25k out of his own pocket for being right about the Auburn game last weekend. In my opinion Lane has had a point to prove twice this season: the opener vs Florida in his 1st game back as an SEC head coach, and against his former boss NIck Saban.
I'm not saying he wasn't trying in the other games at all. But, I am saying Lane Kiffin is a big enough a-hole and a brilliant enough offensive mind (when he wants it to be) to make 60 minutes of football absolutely miserable if you're on the opposing sidelines. He'll want it to be miserable this Saturday for Vandy to stick it to the SEC and the refs.
Ole Miss 51 Vanderbilt 17
Mississippi State at Alabama (-30.5)
Michael: Things are bad right now in Starkville, and they may get worse before they get better, but this spread is incredible considering the hype Mike Leach's Air Raid offense received just a few weeks ago. Even with the possibility of the Bulldogs starting a true freshman on the road in this game, giving Will Rogers an opportunity to play for four quarters appears like the best option at this point. The way K.J. Costello is playing, he's doing more harm than good at the moment. At this point, what's there to say about Alabama that hasn't already been said? The biggest question I have for the Tide at the moment is the team's pass defense, which is still far from where Nick Saban wants that unit to be. Will Alabama drop eight defenders into zone like recent Mississippi State opponents have been doing to much success? That's not the way the Crimson Tide operate but they would be wise not to mess with what's been working against the Air Raid. For some reason, I keep betting against Alabama to cover the spread and losing, so why change now? Alabama rolls but they don't cover the spread this weekend.
Alabama 45 Mississippi State 17
Chris: Alright we are at the halfway point of the season, so how bad have things gotten in Starkville? Milli Vanilli, the Macarena, and hell even that weird emo looking version of Garth Brooks (Chris Gaines?) were all less of one-hit wonders than the Air Raid offense has been in the SEC. But a 30+ point spread? Surely Mike Leach can take a bye week to figure things outright?
Wrong. A mass exodus of players including the loss of their best player Kylin Hill is not a great look. Neither is the fact that Mike Leach was just 5-10 at Wazzu when coming off a bye week.
Alabama 44 Mississippi State 10
Arkansas at Texas A&M (-12)
Michael: Despite what the spread is in this matchup, the showdown in College Station could be the most entertaining game of the weekend in the SEC. This game is likely going to come down to how well the Arkansas defense can match up with Texas A&M's impressive running attack, featuring one of the league's most improved offensive lines and a two-headed monster at running back. One thing that is being overlooked when it comes to the Razorbacks' impressive showing so far this season is the fact the running back, as more specifically Rakeem Boyd, have yet to get going this season. That's held back the Arkansas offense but the former Aggie has had several weeks to rest up and if he has his best performance to date on Saturday, Arkansas will win this game. Don't let their current rankings fool you, these teams are closer than most realize, they should both be ranked in the top 15.
Arkansas 27 Texas A&M 24
Chris: In the beginning of the year I said Arkansas was going to be much better than people gave them credit for. I said they'd win 3-4 games at least, and was mocked by pretty much everyone.
…
…
This is me waiting for y'all to give me credit in the comment section since it's pretty much the only thing I've been right about this year. All jokes aside, this Arkansas team has been a lot of fun to watch this year, and they seemingly ALWAYS play A&M close.
However, I'm hopping off the Pittman bandwagon for this week because I have to think that with: 4 games of tape, countless shoutouts for the Hogs from the national media, AND a week off to prepare A&M is not going to overlook Arkansas. The biggest reason I'm going with the Aggies is how much better they, and especially Kellen Mond, play at home versus the road. I like A&M, and I like A&M big.
Texas A&M 34 Arkansas 13
Missouri at Florida (-13)
Michael: This could be the most unpredictable game of the weekend as we won't even know which Gators will be available to suit up this weekend. Normally, I'd ride with Kyle Trask, Kyle Pitts and the rest of the gang to have their way with Missouri's defense but the Tigers are on a hot streak while the Gators are coming off a two week stoppage. How will that affect the game? Will it affect the game? It's impossible to say but the way Florida's defense has been playing this season and Mizzou's ability to adapt its offensive gameplan to suit it's opponent, I'm going to with the Tigers to cover. I wouldn't be stunned if they win outright if Florida has to play with a depleted roster.
Florida 33 Missouri 24
Chris: It's 2020, and I really hope that one day, as SEC fans, our trash talk will be better online and won't swim in the shallow end of intelligent humor by making Incest jokes at Bama fans and jort jokes to Florida fans. I also hope that means we stop making jokes about Mizzou belonging in the SEC because fun fact…MIZZOU HAS A 4-4 RECORD AGAINST FLORIDA SINCE THEY JOINED THE LEAGUE.
I don't want to hear another thing from Florida fans online until they're at least above .500 against Mizzou.
As far as this game goes, I'm taking Florida to win because I would assume, and Mullen better pray, that Todd Grantham got his (blank) together during this extra long bye week(s). That being said, Mizzou is 3-1 ATS and is creative enough on offense to make it a long day for a below average UF defense. Take Florida, but not by much.
Florida 37 Missouri 27