SEC
Supremacy chatter: After four stunning losses by top-10 teams, remember what's important and what's not
One by one they fell.
Down goes Clemson. Down goes Washington State. Down goes Auburn. Down goes Washington.
Four top-10 teams fell to unranked foes. On a weekend that didn't have a single matchup of Top-25 teams, all it did was support the notion that college football is still beautifully unpredictable.
With each loss brought a new group of Twitter experts who declared that each defeated team was out of the College Football Playoff hunt. After all, Clemson lost to lowly Syracuse while Washington State got destroyed by Cal and Washington fell at Arizona State.
If precedent holds, Auburn was the only top-10 team that was actually eliminated from Playoff contention with its Week 7 loss. But there was one key difference. Auburn suffered its second defeat of the year. As previously stated in "Supremacy Chatter," two losses has been a death sentence for Playoff purposes. Those who declared the Tigers' Playoff chances dead were fair.
Those who wrote off Clemson, Washington and Washington State, however, were off the mark.
I already laid out why no one-loss Power 5 team is truly eliminated in mid-October. Clemson, Washington and Washington State all suffered losses to teams that won't be anywhere near the Playoff, which was considered a deal-breaker for some.
But it wasn't. Instead, it reminded me of something else that all college football fans must remember in the second half of 2017 (even you, Auburn fans).
Nobody wants to lose as a heavy favorite. It's not a good look for national championship contenders, but it happens. When the selection committee sits down and evaluates teams, do you know what it really doesn't get hung up on?
Strength of losses.
It's not nearly as important as you think it is. If it was, Clemson wouldn't have made the field after losing at home to Pitt last year. Michigan State wouldn't have made the field after losing to 6-win Nebraska in 2015. Ohio State wouldn't have made the field in 2014 after losing to a Virginia Tech team that was also held to six wins.
(Some pundits apparently didn't forecast OSU making the field, much less winning it all.)
Ohio State's loss to woeful Virginia Tech killed all playoff hopes: http://t.co/rHYysGiV1A

— Clay Travis (@ClayTravis) November 24, 2014
As long as you lose to a Power 5 team, one loss cannot be a deal-breaker. How do we know that?
Well, in the three years of the Playoff, there has never been a one-loss team who won a Power 5 conference title game and got left out of the final four. Period. In fact, Penn State was still the only Power 5 team to win a conference title game and not make the field. Why did that happen? The Lions had two losses.
So cheers, Clemson. Rejoice, Washington State. You have to win out, but you're still alive.
Desmond Howard pronounced Washington State dead on College GameDay on Saturday morning. He talked about why the blowout loss to Cal ruined the Cougars' Playoff chances. So in Howard's world, 6-1 Washington State, which has a win against USC already, is done. Never mind the fact that the Cougars have showdowns with Stanford, Washington and a potential Pac-12 Championship left.
Dead, he said. That's just wrong.
I get it. Getting blown out hurts. Losing to lackluster programs stings. Ask Clemson fans how it feels to go from being in the same breath as Alabama to losing to Syracuse.
That's tougher than watching Florida's offense for three hours.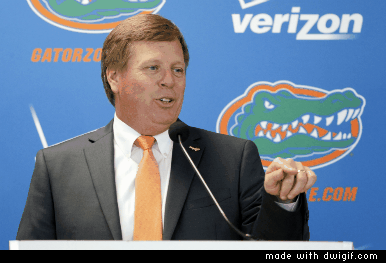 But Clemson fans should take solace in the fact that the selection committee cares more about a team's strength of victories than its strength of losses. They want to see evidence that a team can stack up against the nation's best and have a good semifinal matchup.
To its credit, Clemson already did that. The Tigers took down the likes of Auburn, Louisville and Virginia Tech. That was three top-15 opponents in September alone. The committee isn't about to sit down and compare Clemson's Syracuse loss to other one-loss teams.
Auburn fans needed a good reminder of that a couple weeks ago. Sure, the one loss was by eight points on the road to an elite Clemson team. But that didn't automatically make the Tigers the best one-loss team because they had "the best loss." Who had Auburn beaten to that point? A home win against Mississippi State marked the program's only victory against a Power 5 team with a winning record.
The best way to think about "strength of losses" is as a very distant tiebreaker. The overall win-loss record is the most important thing. Then there's the strength of wins. There's usually bonus points for a team with a solid non-conference win, too. Conference strength matters, though it's tougher than ever to separate the Power 5 conferences this year. And have the team's wins been dominant? Or is the team that's merely surviving week to week?
Those things, while somewhat subjective, are never equal. Therefore, there's never much of a need to compare strength of losses.
Auburn fans no longer have to worry about the Playoff. At least not this year. Says here, the only SEC teams still alive for a Playoff spot are Alabama, Georgia and … Kentucky? Technically, yes. I know. What a time to be alive.
College football is indeed beautifully unpredictable. Just when we think we have it all figured out, we get a weekend loaded with top-10 upsets.
But there's one thing that seems inevitable in Year 4 of the Playoff era.
College football fans and pundits will spend more time discussing strength of losses than the selection committee.