Tennessee vs. Georgia: 3 best player over/under picks for elite SEC East showdown
Tennessee vs. Georgia is the Game of the Year in the SEC. Yes, this comes after Tennessee vs. Alabama was already a "Game of the Year" earlier this season.
But, Saturday's showdown at 3:30 p.m. Eastern time on CBS will showcase the No. 1 team in the College Football Playoff rankings (Tennessee) against the No. 3 team in the CFP rankings (Georgia) at Sanford Stadium in Athens.
The reigning champions likely feel a bit disrespected by their No. 3 ranking, as they still haven't lost this year. But, there's no denying Tennessee's résumé thus far. The Vols have a home win vs. Alabama. They've also gone into Death Valley and beaten No. 10 LSU.
Over at Underdog, there are ways to get in on the action by making fantasy picks for Georgia and Tennessee players' over/under stats.
What is Underdog and why should SEC fans care?
Underdog is a new daily fantasy platform backed by investors such as Mark Cuban, Kevin Durant and Adam Schefter.
This isn't what you might think about fantasy sports though. Through Underdog's "Pick'em" contests, you can bundle a few selections of player prop picks similar to what you find at sportsbooks, and yes, you can put real money against these picks. Check out the screenshots below for Tennessee and Georgia picks this week: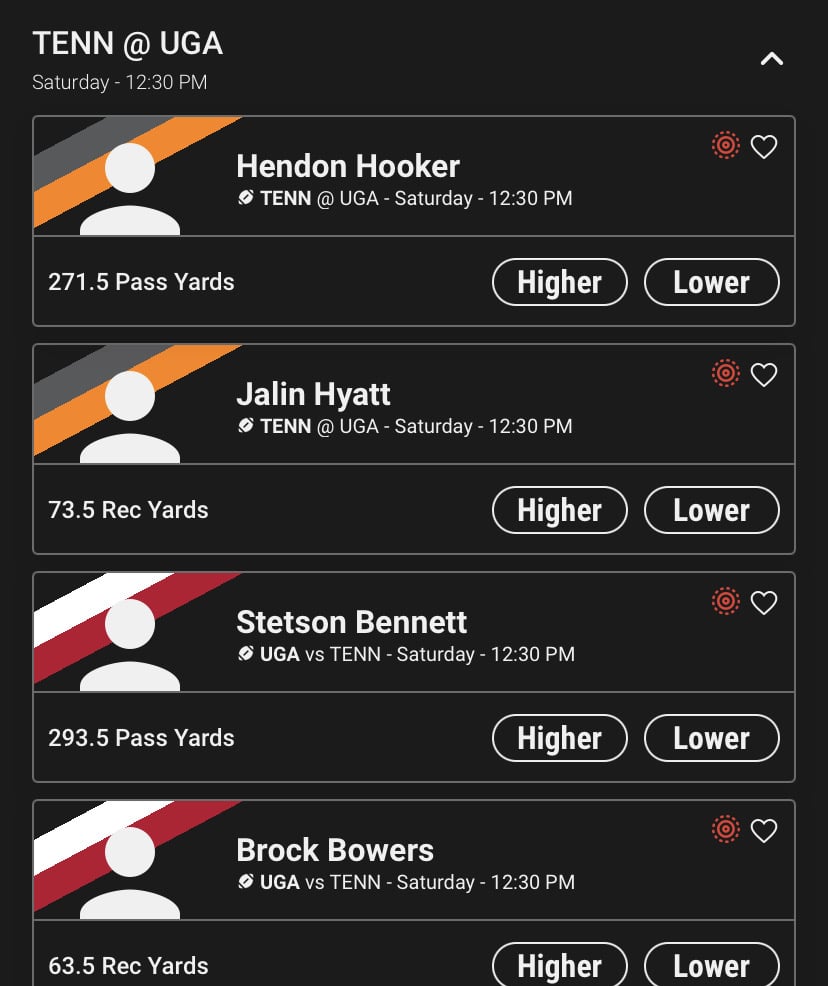 Underdog Fantasy is available in 41 states, so a lot of those southern "SEC" states where sports betting is not yet legal? Yep, you can do Underdog Fantasy picks for real money, as we're outlining here. It's really fun.
Underdog Fantasy is not available in the following states: CT, DE, HI, ID, IA, LA, MI, MT, NV.
Underdog is available in these states, but Pick'em contests as we outline here are not available: AZ, CO, MD, MO, NH, NJ, OH, PA, TN, WA, WV.
If you want to get started, Underdog will match your first deposit up to $100 by clicking here or using promo code SOUTH.
My picks for Tennessee vs. Georgia
My favorite over/under of the week involves Hendon Hooker, Tennessee's star quarterback who is the current Heisman Trophy frontrunner. His over/under of 271.5 passing yards seems really low, even against Georgia's elite defense.
The Vols have played 3 games this year that were competitive through 4 quarters — at Pitt, vs. Florida and vs. Alabama. In all 3 of those games, Hooker threw for at least 300 yards.
When the Vols don't take their foot off the gas pedal and aren't running out the clock in the fourth quarter, Hooker is a virtual lock for 300 yards.
Last year, Georgia beat Tennessee 41-17. Even in that blowout, Hooker threw for 244 yards. That was without Jalin Hyatt being what he is now. That was without the familiarity in Josh Heupel's system he has now.
I love the "higher" pick for Hooker's passing yards this week.
Now, we move to the Georgia side of things, where I'm sticking with the offensive "higher" picks. Let's start with QB Stetson Bennett.
I'm predicting this year's game will be a heck of a lot closer than last year's 41-17 Georgia blowout win. That means Bennett will throw more than the 29 times he did against the Vols in 2021.
Through 8 games, Bennett has eclipsed the 300-yard passing mark 4 times. He's risen to the occasion vs. Georgia's toughest opponents. That bodes well for another 300-yard game this week against a Tennessee defense that gives up 300.8 yards per game through the air this year. Take the "higher" option on Bennett.
I prefer to stick with 2-player picks, going for the 3X multiplier on my winnings. But, if you want to go big and shoot for a 6X payout, my third-favorite bet is Brock Bowers and the "higher" on 63.5 receiving yards.
Last week against Florida, Bowers broke out in a big way, recording 5 catches for 154 yards and a touchdown. Even if you take away his crazy tipped-pass 75-yard TD catch, he had 4 grabs for 79 yards, which would easily cover this over/under.
How many picks should you make?
The more picks you string together, the higher the "multiplier" or payout. Of course, the more you string together, the less likely you are to win because all of the picks have to hit in order for you to win.
Yes, I made 3 "higher" picks above, which seems crazy with Georgia's vaunted defense. But, the Bulldogs haven't faced an offense like Tennessee's yet. And, the Dawgs have an offense of their own that doesn't get nearly enough love nationally.
I'm expecting a shootout in Athens, and it should be one of the best games of the year.
Get started on Underdog by clicking here and make your picks for Tennessee vs. Georgia or other CFB, NFL and NBA games. Using this link means Underdog will match your deposit up to $100. If you deposit $25, you'll get an extra $25 to start playing right away.