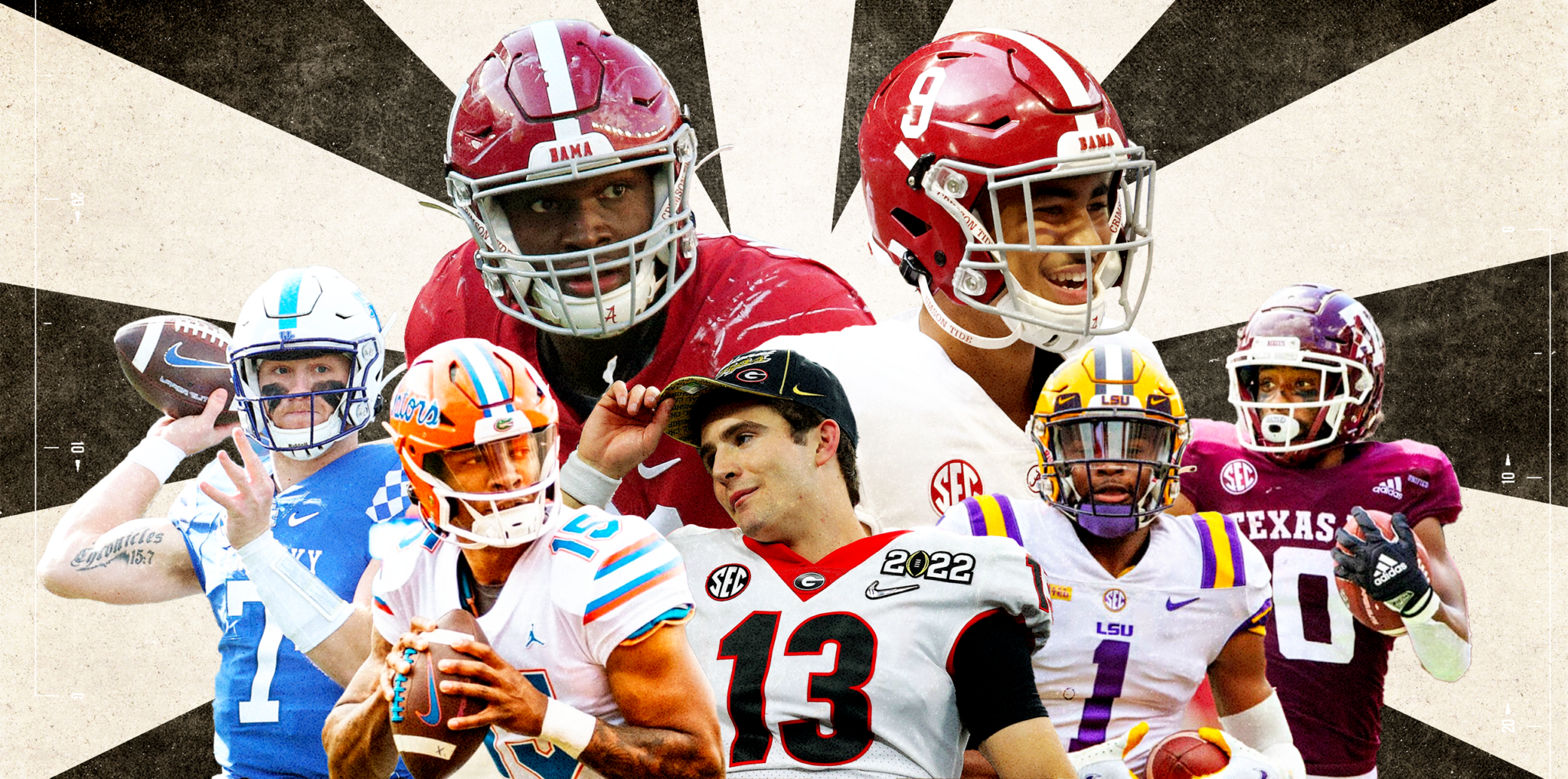 SEC
25 burning questions for the SEC in 2022
Editor's note: Top 25 week continues with a look at the key questions entering the 2022 season.
Let's ask the tough questions.
Does it mean a lot, or does it just mean more? Are fall weddings ever acceptable? Nick Saban or Bear Bryant?
OK, those aren't really the tough questions. Y'all can probably come up with pretty definitive answers for those.
Today, as we continue Top 25 week at Saturday Down South, we'll instead focus on the top burning questions for the 2022 SEC football season.
Burning questions don't have obvious answers. At least not yet. They will by season's end, though.
These are the 25 that I settled on:
25. What kind of year awaits future SEC programs Oklahoma and Texas?
Two programs in different places have different aspirations. For Texas, it's not just "beat Bama." More realistic, it's "beat Kansas and don't go 5-7." For Oklahoma, the revenge year after Lincoln Riley's departure could yield a Big 12 title and a Playoff berth. Or it could serve as a reminder that conference titles at the Power 5 level are by no means a given. Whatever the case, both had better get their ducks in a row with the SEC move (tentatively) set for 2025.
24. How will we see converted quarterbacks DK Joyner, Malik Hornsby and Robby Ashford used?
I created the unofficial "Football Player of the Year" award, which is meant to highlight do-it-all, throwback performers. All 3 of those aforementioned guys could be just that. They can play any offensive skill position and make plays. All 3 of their coaches expressed a desire to get them involved in the offense one way or another. They might not be 1,000-yard, high-volume guys, but all 3 should present unique elements.
23. Will we get more consistency from Mike Leach's offense?
I mean, we should. Will Rogers is entering Year 3 behind an offense that returns a ton of production even with Makai Polk and Charles Cross off to the NFL. MSU improved by a touchdown last year, marking the 3rd time Leach did that in Year 2 at a Power 5 program. It might take another such improvement for the Bulldogs to hang tough in the SEC West.
22. Will Jalen Carter be better than all of his NFL D-line mates?
I mean no disrespect to Jordan Davis, Travon Walker and Devonte Wyatt, all of whom were 1st-round picks in the NFL Draft a few months ago. But Carter might have the tools to be the best of the bunch. The Warren Sapp comps are going to be out in full force if the Apopka, Fla., (aka where Sapp starred in high school), native puts together a dominant season as a pass-rusher and run-stuffer.
21. Who will pull off the biggest upset in SEC play?
Last year, I'd argue it was A&M taking down Alabama. This year? Maybe it's Tennessee beating Georgia and finally taking down a top-5 team for the first time in 17 years. Perhaps Alabama gets stunned at Arkansas. It feels like it'll need to be 1 of those 2 teams losing in order for it to own the title of "biggest upset."
20. Will we get any Arch Manning drama?
My guess is that we won't. Manning committed to Texas over the summer, and barring any sort of late moves from Kirby Smart or Nick Saban, he'll sign on the dotted line with the burnt orange in December. But Manning showing up on a non-Texas college campus this fall would have the internet buzzing.
19. Who will have the conference's No. 1 offense?
The candidates are Alabama, Georgia and Tennessee. All 3 teams finished in the top 10 nationally last year. Ole Miss is the only other SEC squad that finished in the top 25 in FBS, so I'm not assuming they'll jump those 3 squads in a post-Matt Corral world. Alabama is the obvious choice, but I might actually go with Tennessee because I expect the offense to improve and I think the Vols' porous defense will force Hendon Hooker and Co. to keep their foot on the gas.
18. Can the SEC put 2 teams in the Playoff again?
Boy, the rest of America had better hope not.
17. Which new transfer portal addition will make the biggest impact?
The list of candidates is long:
Drew Sanders, Arkansas
Jadon Haselwood, Arkansas
Tyler Harrell, Alabama
Jermaine Burton, Alabama
Eli Ricks, Alabama
Jahmyr Gibbs, Alabama
Tayvion Robinson, Kentucky
Jaxson Dart, Ole Miss
Zach Evans, Ole Miss
Spencer Rattler, South Carolina
Max Johnson, Texas A&M
Jayden Daniels, LSU
Montrell Johnson, Florida
And honestly, I could've listed a lot more. I'll go with Rattler, Sanders and Gibbs. All of them have legitimate All-SEC upside in their new homes. If any of them approach Jameson Williams or Wan'Dale Robinson levels of impact, that'd be wildly impressive.
16. Does LSU get a full, Biletnikoff Award-level season from Kayshon Boutte?
Your guess is as good as mine. I've talked/written a lot about all the things that can blow up Boutte's Year 3 in Baton Rouge. He's coming off 2 ankle surgeries, he has a new coach who now "knows his last name" and he's got a new starting quarterback who might not lock in on him the same way Max Johnson did. Boutte's path to having the All-American season he's capable of has plenty of potential potholes.
15. Will any SEC coach besides Bryan Harsin come under fire?
History says "yes." Last year, did we think Dan Mullen and Ed Orgeron would become obvious goners by the halfway point of 2021? No way. Mike Leach would've been my non-Bryan Harsin candidate to watch, but he signed an extension before SEC Media Days, so I wouldn't bank on MSU forking over his remaining $16.5 million at season's end. Eli Drinkwitz is interesting if he has a 5-7 Year 3 with a new athletic director, but I think he'll get more time with how well he recruited. Other than that? Ten of 14 SEC coaches started at their respective schools in 2020 or later, and the 4 who were there before that (Nick Saban, Mark Stoops, Kirby Smart and Jimbo Fisher) aren't going anywhere unless they choose. In other words, don't bank on it.
14. Does Arik Gilbert deliver a comeback season?
Man, I hope so. He's in the most crowded tight end room in the country with Brock Bowers back after an All-American season as a true freshman, along with the versatile Darnell Washington and true freshman Oscar Delp. Gilbert flashed remarkable ability as a true freshman tight end at LSU in 2020. He looked like that guy in UGA's spring game. Academic and conditioning issues stood in his way since he last played in a real game. Fingers crossed that a full year of Gilbert awaits.
13. Which first-year starting SEC quarterback is ready for superstardom?
The candidates are:
Anthony Richardson, Florida
Haynes King, Texas A&M
Luke Altmyer/Jaxson Dart, Ole Miss
Brady Cook, Mizzou
Garrett Nussmeier/Myles Brennan, LSU
I didn't include Rattler or Daniels there because they were full-time starters at the Power 5 level already. (Myles Brennan also was a starter in 2020, but injuries limited him.) Richardson would be my pick in that group because he already showed Dak Prescott-like abilities in Dan Mullen's offense. King is also intriguing, though his path to starting could be blocked by Max Johnson. Maybe someone off the board like Carson Beck or Robby Ashford could be that guy.
12. Does Will Levis live up to the lofty preseason hype?
When the mock drafts came out, it felt like there were a lot of people quickly pushing back on the Kentucky quarterback. Admittedly, I was expecting to see him as a fringe-first-rounder instead of a top-10 or even No. 1 overall pick. Levis has room to improve connecting on deep throws and cutting down on his mistakes, but if you've watched him at all, you've seen why his tools will translate. He'll be picked apart as much as any non-Spencer Rattler/Bryce Young player in the SEC.
11. What kind of season does Lane Kiffin's "portal king" strategy yield?
Remember that this was the first full offseason with the 1-time transfer exemption in place for undergrads, which meant teams like LSU, Ole Miss and USC all went out and signed double-digit transfers from the Power 5 ranks. Kiffin used the system to rebuild a roster that had a ton of turnover. His offensive skill-player additions of Jaxson Dart, Zach Evans, Michael Trigg and Ulysses Bentley (among others) could perhaps elevate Ole Miss' floor and avoid that step-back season. Or it could serve as a cautionary tale of why relying so much on incoming veterans doesn't mean success is imminent.
10. Is Arkansas about to take another step?
Like, to a New Year's 6 bowl? How KJ Jefferson meshes with new targets Jadon Haselwood and Matt Landers in a post-Treylon Burks world is huge, as is Arkansas' ability to rush the passer with Alabama transfer Drew Sanders. The schedule is especially daunting with likely preseason Top 25 foes Cincinnati and BYU awaiting, as well as a loaded SEC West. A New Year's 6 bowl under those circumstances would be quite the feather in Sam Pittman's growing cap.
9. What's in store for Stetson Bennett IV's encore?
For starters, a new haircut is in store. The Cory Matthews mop-top is gone, but does that mean The Mailman will deliver another season for the ages? Not many dudes face doubt after they finish in the top 4 in quarterback rating after pulling off a 4th-quarter comeback against Nick Saban to win a national title. But Bennett's story is atypical, to say the least. How will he perform without the help of an all-generation defense? And can he hold off Carson Beck and Brock Vandagriff if he faces midseason struggles? A fascinating Year 6 awaits.
8. Does anyone even threaten Alabama and Georgia for a division title?
Probably not. That's not to say 12-0 is imminent for both. I don't think that'll happen because I have Tennessee upsetting Georgia. But there's a difference between having 1 loss and fighting in late November just to get to Atlanta. I think there's too much parity in both divisions in order for there to be another 1-loss team that poses a threat to Alabama or Georgia. My guess is that they'll both own their respective division titles by mid-November.
7. What's the next chapter of Spencer Rattler's story?
I realized that the Rattler hate went too far. "But he got benched" lacks context when you realize he was benched by a team used to having Baker Mayfield, Kyler Murray and Jalen Hurts producing at quarterback. A guy with a 158.0 quarterback rating heading into the Texas game with a 5-star backup was in a unique spot. Rattler was easy to bail on because of the preseason hype, the NIL interest he coveted and the bad clips of him that came from the "QB1" Netflix show. New surroundings could be exactly what he needed. Rattler's reunion with Shane Beamer will be a constant topic of discussion at a place that hasn't ever had an All-SEC QB. How Rattler handles the losses will define his next chapter.
6. Is Jimbo Fisher going to move past the Kevin Sumlin comps?
My advice? Avoid 8-4.
5. Will the SEC produce yet another Heisman Trophy winner?
I remember writing after Kyler Murray stole the Heisman from Tua Tagovailoa in 2018 that it was starting to feel like the SEC was going to be on the outside looking in with the Heisman. Then Joe Burrow, DeVonta Smith and Bryce Young changed that in a hurry. Will Young join Archie Griffin and repeat? Could Will Anderson right the wrong of his 2021 snub? Or will someone like KJ Jefferson or Hendon Hooker have a season for the ages? No conference ever produced 4 consecutive Heisman winners. Perhaps some history is on the way.
4. How do Brian Kelly and Billy Napier fare in Year 1?
It's not necessarily a sign of what's to come if both struggle. Alternatively, long-term success isn't guaranteed if Year 1 includes a New Year's 6 bowl. Kelly utilized the transfer portal in a major way, but he has a wide range of outcomes in the SEC West. Napier has some questions at the pass-catcher spots and Florida's defense is a bit of an unknown, which is why he's not expected to have a Year 1 like we saw from Jim McElwain and Dan Mullen. Both proud programs can make a ton of Year 1 progress even if the regular season ends with a forgettable 7-5 mark.
3. Does Bryan Harsin get a Year 3 at Auburn?
I wouldn't bet the house on it. Harsin handled the admittedly awkward February coup to try and get him fired, but that conversation changes once games start. Five consecutive games at Jordan-Hare to start 2022 could be just what the doctor ordered to push off the questions about his future. But as we saw last year when Auburn fell apart in November, the SEC West can chew you up and spit you out. Fair or not, Harsin probably needs to go 9-3 or at least 8-4 with a couple of upset wins in order to avoid a Year 2 exit.
2. What's the thing that stops Georgia's repeat bid?
Is it Alabama? Is it complacency? Is it cornerback depth? To be fair, "complacent" is something we label defending champs if they don't repeat. Kirby Smart's team might not be complacent at all — breakout sessions were organized to discuss how the mighty have fallen in business, sports and history — and it just might not have the ingredients needed to win a title. The Dawgs could be favored by double digits to win every regular-season game, but there's a reason only 2 teams have repeated in the 21st century. Even with all that talent, an uphill climb awaits.
1. Can anyone get in Alabama's way?
The Tide could very well be a unanimous preseason No. 1 team in the AP Poll. A runner-up returning the 2 best players in America tends to yield that sort of thing. But in the past 17 seasons, 2017 Alabama is the lone AP preseason No. 1 that won a national title. Baffling, right? Maybe Ohio State can get in the Tide's way this time and the Tide secondary will be tested by the Buckeyes' game-changing receivers. Perhaps UGA getting over the hump in Indianapolis changed the entire dynamic of the rivalry and the Tide will again watch the season end at the hands of Kirby Smart. For all we know, maybe 1 key injury will change the entire trajectory of Alabama's 2022 season. What's clear, though, is that the Tide deserve to be the overwhelming favorite to get it done.
The revenge tour is ready for departure.