SEC
The Ultimate SEC Championship Preview: LSU's resurgent offense is the story of the year. Georgia's unsung defense might have a surprise ending in store
Everything you need to know about the biggest game of the year.
Thanksgiving is over and the regular season along with it. But let's give thanks this week for one last bounty in 2019: Another meaningful, competitive SEC Championship Game.
It's easy to take for granted – Saturday's not-quite-inevitable but certainly compelling collision between Georgia (11-1) and LSU (12-0) is the 3rd championship game in as many years that carries obvious Playoff implications for both teams, as it should. The winner is guaranteed a slot in the Final Four, and even an upset by the Bulldogs won't necessarily eliminate LSU from the field. That was also the case last year, when it was Alabama carrying the banner for the West, and the year before, when it was Auburn.
But it wasn't that long ago when the idea of a winner-take-all match between two worthy contenders seemed like a long way off. A very long way, in fact. As recently as 2016, the annual template in Atlanta called for a rout. The 25th edition of the championship game that year was arguably the worst: Alabama crushed a thoroughly overmatched outfit from Florida, 54-16, covering a 24-point spread with ease. That was the Tide's 3rd consecutive title, none of which had been in even a second's doubt in the title game itself.
At the time, the blowout felt less anticlimactic than inevitable, extending the West's championship winning streak over the East to 8 going back to 2008. Seven of those games were decided by at least 2 touchdowns. "SEC East champ embarrassed by Bama – again" looked like the cut-and-paste headline for the foreseeable future.
So thank goodness it hasn't turned out that way. And thanks especially to Kirby Smart: For all the grief Smart has endured lately in what has been, let's face it, an anxious slog of a season, the year-in, year-out winner he's built in Athens is one of the best things to happen to the SEC in the past decade. It didn't have to be this way – as of December 2016, it was as likely as not that Georgia would wind up regretting its decision to ditch Mark Richt for a first-time head coach, and the needle clearly was not moving in the right direction as the Bulldogs trudged to an 8-5 finish in Smart's first season.
Instead, UGA has proved itself as the reliable counterweight to the dominance of the West that hadn't existed for years before he got there. So reliable it's … well, kind of boring, actually, in keeping with his team's workmanlike, Alabama-circa-2011 style of getting it done. Compared to the alternatives, that's the best kind of problem to have.
Saturday should be special.
When LSU has the ball
LSU, of course, is as far from boring as it gets: The Tigers' offensive awakening is the biggest story in college football in 2019. After years of defiantly plodding attacks, Ed Orgeron recruited the right quarterback, hired the right coach, handed them the keys, and achieved liftoff.
Keeping track of the myriad ways this group has laid waste to the record book at this point is almost as tedious as it is illuminating. Take for example the fact that the Tigers are on pace to break the school record for scoring offense by more than 10 points per game, and the record for total offense by more than 100 yards per game — historic stuff, sure. But does the absurdity of those margins still register? Or is the barrage of weekly milestones just one more way of saying what was immediately obvious all the way back in September, and what everyone in the sport has been saying at every opportunity since: That we are watching, by far, the best offense in LSU history? As if dropping 46 points on Alabama didn't make that abundantly clear.
By contrast, Georgia's defense has generated very little attention nationally, doesn't have a well-chronicled origin story and doesn't feature any above-the-fold stars. Not a single UGA defender ranks among the top 10 in the SEC in tackles, tackles for loss, sacks, interceptions or passes defended. Not a single UGA defender made Pro Football Focus' All-SEC team. It has just been week-in and week-out the league's most consistently suffocating unit in nearly every phase: First in yards allowed, first in points allowed, first against the run, first against the pass, first on 3rd downs, first according to advanced metrics. The Bulldogs are quietly the only team in the nation that has held every opponent to 17 points or less in regulation.
[table "" not found /]
Analogies to last year's SEC Championship Game, when a similarly unsung Georgia defense hounded Heisman-bound Tua Tagovailoa into his worst game of the season in a near-upset, are inevitable.
Like LSU this year, Alabama last year arrived in Atlanta unbeaten and essentially unchallenged, with a transformative offense whose combination of raw talent and downfield audacity had seemingly hacked the system. Instead of a coronation, though, the Tide were forced to eke out an ugly win that left their star QB hobbled and the rest of the team looking vulnerable for the first time, foreshadowing their exposure vs. Clemson in the national title game. Even in a win, just how closely LSU resembles its usual, prolific self will have implications well beyond this weekend.
LSU'S edge: Joe Burrow is a machine
The Heisman Trophy front-runner needs no introduction. By definition, seriously contending for the honor in the modern era means putting together a season that belongs on the shortlist of the best ever — a bar that keeps getting raised on a near-annual basis — and Burrow has consistently held up that mandate, especially against the top half of the top half of the schedule: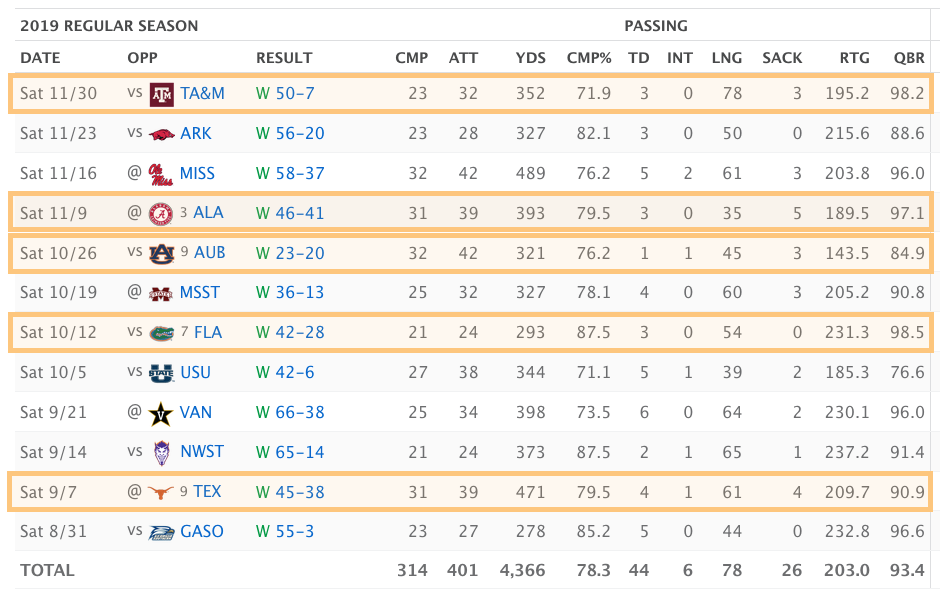 With one exception, Burrow's numbers in the highlighted games represent the best completion percentage, yards per attempt, and overall efficiency against each of those defenses by any opposing quarterback this season. His passer rating vs. winning teams, specifically, is the best in the country. And that's without getting into the underrated role he's played in several of those games as a runner.
The exception is Auburn, arguably the best defense he has faced so far in conventional terms and certainly the only one that can claim to have held him (relatively) in check. Although Burrow completed a healthy 76.2 percent of his attempts against the Tigers, roughly in line with his unprecedented season average, those completions were much less explosive than usual: Only 1 gained more than 25 yards, and his average yards per attempt (7.6) was more than four yards below his average in the other 11 games (a staggering 11.2). Even on the one occasion he was ordinary, Burrow came out in the black.
The 4 games since have all been scorched-Earth affairs, beginning with the shootout win over Alabama. In particular, Burrow has deepened his mind-meld with sophomore wideout Ja'Marr Chase, who has separated himself from a pack of gifted wideouts over the past month as arguably the most complete receiver in America — a blue-chip talent with the strength to beat press coverage at the line and break tackles in the open field; the speed to leave safeties in the dust downfield; and the ball skills to outmaneuver smaller corners on contested catches.
Watch JaMarr Chase at the top here. He just manhandles Trevon Diggs (Did the whole game). I'm starting to think pressing him is a bad idea. pic.twitter.com/fKyI900FCz

— 5 YEARS TO FREEDOM #MetsFansUnited (@maxtoscano1) November 10, 2019
That's an NFL dude coming into his own in what is essentially an NFL passing game. In November alone, Chase hauled in 27 receptions for an FBS-best 708 yards and 8 TDs, moving him into the national lead for touchdowns and yards per game on the season. If he's not already, the postseason could be a platform for him to emerge as a household name in 2020.
Georgia's edge: Swarming the run
Georgia's defense is built in the mold of the old Alabama units Kirby Smart oversaw as the Tide's defensive coordinator in the first half of the decade, and nowhere is that more apparent than in its consistency against the run: The Bulldogs have held 9 of 12 opponents below 100 yards rushing and all but one below 4.0 yards per carry. Nationally, only Utah has been better on either count. Even more impressively, UGA has allowed a single rushing touchdown (a 2-yard run by Auburn QB Bo Nix), which if it holds will set a new standard for I-A/FBS defenses since the turn of the century.
The fact that they've managed those numbers without a future 1st-rounder on the front line or a heat-seeking All-American on the order of Roquan Smith at linebacker speaks volumes, as does the fact that Georgia ranks in the bottom half of the SEC in both tackles for loss and sacks.
The Bulldogs obviously have the athletes up front to penetrate and disrupt plays in the backfield, but the mentality is more akin to building a wall along the line of scrimmage: Occupying gaps, setting edges, shedding blocks, pursuing as a team, etc. The middle linebackers, Monty Rice and Tae Crowder, are the leading tacklers, but there are no real headliners and virtually no end to the number of bodies UGA is able to rotate in without suffering a significant drop off — 17 players have started at least 1 game this season and 22 have been credited with double-digit tackles.
More important, there are no apparent weak links. It's as fundamentally sound a unit as any in the country, and if it can keep Burrow in predictable passing situations the deep well of edge-rushing talent could give him more problems in the pocket than the pedestrian sack numbers suggest. Outside 'backers Azeez Ojulari, Malik Herring, Nolan Smith, Adam Anderson and Quay Walker are all former top-200 recruits who have been credited with at least 8 QB hurries apiece.
Key matchup: Georgia LB Tae Crowder vs. LSU RB Clyde Edwards-Helaire
Edwards-Helaire is as strong between the tackles as any back in the SEC, churning out 1,233 yards to date on 6.8 per carry. But he's also flourished over the second half of the season in an Alvin Kamara-like role as an outlet receiver out of the backfield, racking up 31 catches for 264 yards in the past 5 games. And much of that output has come explicitly at the expense of would-be tacklers who were either taken for a ride or juked out of their cleats:
Clyde Edwards-Helaire just did this Auburn defender really dirty #GeauxTigers pic.twitter.com/taNTq72Bdd

— Jimmy Clarke (@JimmyClarke) October 26, 2019
His counterpart on Saturday is Crowder, a true junior who was recruited to Georgia as a running back and has quickly grown into a screen buster par excellence on the other side of the ball:
https://twitter.com/UGA_PB/status/1176634483954470912?s=20
Corralling Edwards-Helaire in the open field is rarely a 1-man proposition, as Alabama learned the hard way. But the nature of LSU's offense ensures he'll have his usual share of opportunities against solo tacklers in the flat, a role in which Crowder has excelled. The outcome of at least a few of those reps will be a deciding factor in whether the Tigers are moving the sticks or sending out the punt team.
When Georgia has the ball
Georgia's offense has been machine-like in its own right, in the sense that every big game unfolds in more or less the same way: The Bulldogs wrestle control of the tempo in the first half, stake out a double-digit lead in the second, retreat into a shell, and sweat out a late rally by the opposing offense in the fourth quarter.
Wins over Notre Dame (23-17), Florida (24-17), Auburn (21-14), and Texas A&M (19-13) have all followed exactly that script, with UGA scoring between 19 and 24 points, giving a late touchdown drive (or two, at Auburn), and surviving by a touchdown in a game that wound up feeling closer in the end than it did for most of the first 50 or so minutes. It's a blueprint that's been as maddening to Georgia fans as it has been successful.
[table "" not found /]
LSU's defense has been slightly maddening itself in its volatility. Dave Aranda's unit has been repeatedly torched throughout the season, by Texas (38 points on 530 total yards in September), Florida (28 points on 457 yards in October) and Alabama (41 points, 541 yards in November) in big games, and more recently by Ole Miss (37 points, 614 yards) in what can only be described as a total collapse after halftime.
But the Tigers have put the clamps down on respectable offenses, too, holding Auburn to just 20 points on a season-low 287 yards, and beating the tar out of Texas A&M in last weekend's regular-season finale. Two weeks after it got shredded in historic fashion in Oxford, the same D held the Aggies to their worst offensive output since joining the conference.
So much of how this matchup unfolds will be dictated by what happens on the other side of the ball. If Georgia's defense can do to LSU what it has done to every other offense it's faced this year — and what it did to Alabama's offense for the first 3 quarters last year — then the Bulldogs will be perfectly content to grind out another 20-something to 17-ish victory along the usual lines. If Burrow has his way, relying on Jake Fromm and a depleted receiving corps to keep pace in a shootout is uncharted territory.
Georgia's edge: In the trenches
Aside from the Ole Miss game — against a very different style of offense than Georgia's — LSU has held up OK against the run, at least in part because opposing offenses have had to consistently resort to throwing their way out of early deficits. But Georgia, with its massive offensive line and downhill, pro-style running attack, is a different sort of challenge than the Tigers have seen to date.
Junior RB D'Andre Swift has not emerged this year as the home-run threat he's been in the past in terms of breaking off long, game-changing runs. But his steady output has kept at the top of the list of draft-eligible running backs in 2020, and in the games that have mattered most you can almost set your watch by his final stat line: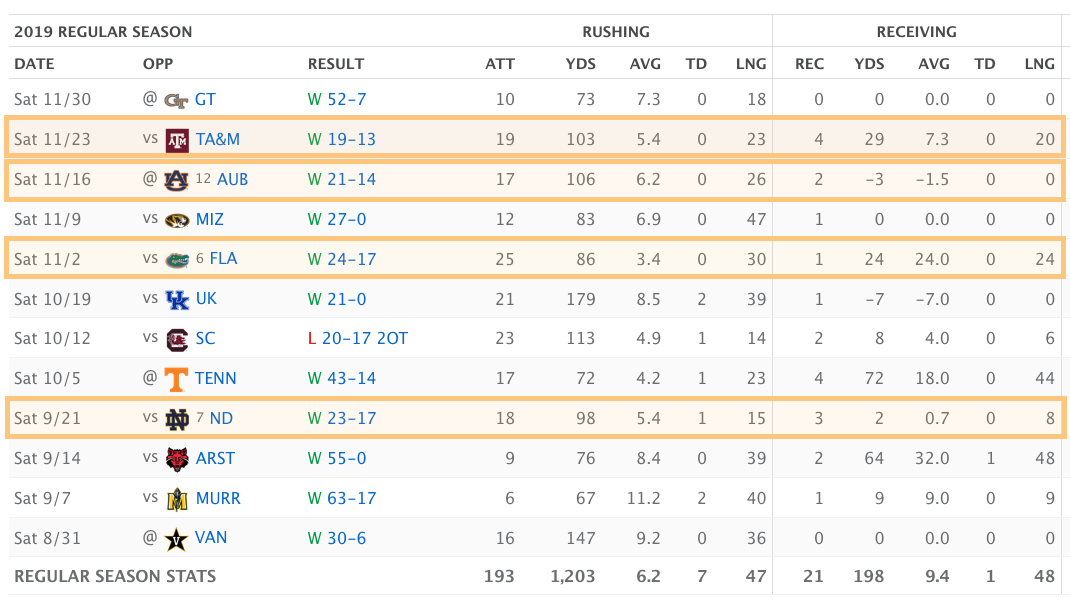 As long as he's healthy and the score remains within reach, there are no surprises here: 20 to 25 touches, 100 to 135 yards, a handful of short-area cuts and spins that will make you say "wow" even in the absence of a highlight-reel haymaker. Book it.
The X-factor is Swift's health after he left the win over Georgia Tech with a shoulder injury, a moment that initially looked severe enough to imagine him missing a significant amount of time as he writhed on the field. That's likely not going to be the case — he has practiced this week and is expected to play on Saturday, according to Kirby Smart. But there are lingering questions about how the injury (which Swift had reportedly been dealing with for a while before aggravating it against Tech) will affect his workload, and especially his ball security.
UGA is deep at running back, as always, with senior Brian Herrien and redshirt freshman Zamir White more than capable of handling significant carries. Swift, though, is the offense's MVP and the lynchpin to establishing the type of ball-control game the Bulldogs want to play.
LSU'S edge: Who are Georgia's playmakers in the passing game?
Even at full strength, Georgia's receivers would probably be at a disadvantage against LSU's long-limbed, freakishly athletic corners, Kristian Fulton and Derek Stingley Jr., both former 5-star prospects with 1st-round potential despite some low moments in high-profile games. (PFF named Stingley, a true freshman, a first-team All-American despite his being repeatedly humbled by Alabama's DeVonta Smith.) But UGA is far from full strength: Fromm's favorite target, senior Lawrence Cager, is out with a potentially season-ending ankle injury, while the most talented, 5-star freshman George Pickens will be suspended for at least the first half Saturday for his part in a pointless scrap with a Georgia Tech DB.
Fromm's production has plummeted this season when targeting anyone other than Cager and Pickens. The projected starters vs. LSU, senior Demetris Robertson and freshman Dominick Blaylock, are touted athletes with deep speed to burn, and Blaylock has been good for the occasional big play …
Jake Fromm wanted it ALL on this one. pic.twitter.com/uO8Z56XnSB

— CBS Sports (@CBSSports) November 16, 2019
… but neither has been a reliable weapon at any kind of volume. Georgia's inability and/or unwillingness to stretch the field has been the single biggest concern throughout the season and remains unresolved. Pickens is the kind of talent who's capable of going off at any time, but opposite LSU's high-octane attack waiting until the 3rd quarter for him to (maybe) make an impact is a luxury the Bulldogs likely can't afford. Somebody else has to step up.
Key matchup: Georgia OT Andrew Thomas vs. LSU LB K'Lavon Chaisson
Thomas has been a mainstay at left tackle from the moment he stepped on campus 2 years ago, and he'll soon be fulfilling his potential as a no-brainer All-American and 1st-round draft pick. His presence is one of the chief reasons Georgia has allowed the fewest sacks in the SEC, including shutouts against Notre Dame and Florida, the league's most sack-happy defense.
K'Lavon Chaisson has a nasty get off. pic.twitter.com/VYDV4MB0BH

— Rob Paul (@RobPaulNFL) October 13, 2019
Chaisson is a threat to that stability. Although he's been streaky, disappearing for long stretches, LSU's most gifted edge rusher has the burst around the corner to give a behemoth like Thomas problems on obvious passing downs. He's also been at his best in the Tigers' biggest games, recording 9.5 of his 10.5 tackles for loss on the season against Texas, Florida, Auburn, Alabama and Texas A&M, against whom he registered 2 sacks.
If Thomas is able to get his hands on Chaisson, it's likely to be a long day for the latter; at 6-4, 250 pounds, he'll be giving at least 70 pounds — that's if you believe Thomas' listed weight of 320, which seems, uh, conservative — and his lanky frame isn't especially well suited for holding up against the run. If Chaisson is able to tee off, though, don't be shocked if Fromm feels the heat.
Special teams and other vagaries
Georgia's Rodrigo Blankenship is America's Kicker, a folk hero and Lou Groza Award finalist with more successful field goals in his career (77) than any other active FBS player and a track record of delivering on big kicks in big games.
His overall conversion rate this season (88.5 percent) is the best in the nation among kickers with at least a) 20 attempts and b) one kick from 50 yards or more; his 3 successful connections from 50+ ties him for the national lead. The only meaningful blemish on Blankenship's record is his double-overtime miss against South Carolina in October that sealed UGA's only loss, which — aside from the magnitude of the upset itself — stood out largely for being so out of character. If there's anybody in college football right now you want taking that kick, Rodrigo is the guy.
Between Blankenship and sophomore punter Jake Camarda, Georgia boasts the nation's best special teams according to SP+ despite minimal impact from the return game. If the defense succeeds in turning the game into the kind of low-scoring, field position-oriented slog the Bulldogs prefer, both of them should play a key role in keeping the game plan on track.
LSU's kicker, true freshman Cade York, hasn't been in any low-scoring, field position-oriented slogs, nor has he faced any pressure kicks. He has been generally reliable on field goals, hitting 18-of-21 attempts, including 11-for-11 from inside of 40 yards and 3-of-4 from 50 and beyond. Extra points have been a little wobblier: Although York is second nationally with 70 successful PATs, he's also tied for the national "lead" with 4 misses. Chalk those up to the cost of scoring touchdowns in bulk, but keep them in mind.
Also keep in mind that, in a tight game, a big mistake and/or risk can swing the game in ways that are impossible to predict … as Georgia fans know all too well.
On 4th and 11, Georgia dialed up this fake.
Alabama was not fooled. pic.twitter.com/FBB8DuG2Kp

— CBS Sports (@CBSSports) December 2, 2018
The one time in his life that Kirby Smart decided to roll the dice on a genius-if-it-works/idiot-if-it-doesn't call in a critical situation it blew up in his face — Alabama's offense took over at midfield in a tie game and the rest is history.
Does that mean he'll be more reluctant to let it ride again? Will Ed Orgeron go for broke in similar fashion in his first championship game as a head coach?
Both teams rely on true freshman punt returners; will one of them put it on the turf at an inopportune moment? All else being equal, the uneasy feeling that an entire season could come down to a brief, random burst of chaos is all part of the fun. (Especially if you don't care who wins.)
Bottom line
Barring a complete meltdown, it's safe to assume LSU's Playoff slot is already sewn up. The Tigers' résumé can hold its own against any team's and a reasonably competitive loss to another Playoff team shouldn't be enough to drag them out of the top 4. As far as the bracket goes, the only question is where they'll be playing and against whom.
But the old passions haven't been completely subsumed by the Playoff yet. On the most basic level, the legitimacy of a conference championship is still baked into the DNA of the sport, regardless of the national implications. It's the reason there even are national implications: How can you best in the country if you're not the best in your own league?
It's been done, of course. Even if everything goes wrong on Saturday, as long as Burrow is upright LSU knows it has the potential to go all the way. But part of the fun of following these Tigers has been watching them ace every test and hit every note en route to the championship stage. What terrible timing it would be to go off-key now that they're there.
Prediction: LSU 33, Georgia 27