SEC
Monday Down South: Bama and LSU grew into cutting-edge offenses. Georgia grew stale
Once the shock wears off, it's tempting to write off South Carolina's out-of-nowhere, double-overtime upset at Georgia as a fluke. A one-off. A glitch in the system. The final score itself made no sense — the Bulldogs kicked off as 21-point favorites riding a 16-game winning streak in Athens and a 15-game streak vs. SEC East opponents — and the specifics only made the result look more random, not less.
Consider the quarterbacks. Opposite Jake Fromm, the SEC's most experienced and unflappable signal-caller, Carolina started a struggling true freshman, Ryan Hilinski, who was injured in the second half and replaced by another freshman, 3rd-stringer Dakereon Joyner. Yet somehow it was Fromm who looked out of sync, throwing 3 interceptions (not all of them his fault) in the course of 51 attempts, the most out-of-character performance of his career on each count. In Georgia's first 5 games this season he'd yet to throw a pick; in all of 2018 he threw just 6.
Consider Rodrigo Blankenship, the SEC's most experienced and unflappable kicker. Until Saturday, he was a perfect 11-of-11 on field goal attempts this season and 26 for his past 27 dating to early last year. Against South Carolina, Blankenship saw consecutive attempts go awry, getting a 53-yarder blocked just before halftime and pushing the would-be equalizer wide left in the second overtime.
DOWN GOES GEORGIA! pic.twitter.com/k7VaAY05Uy

— CBS Sports HQ (@CBSSportsHQ) October 12, 2019
Consider that outside of those 5 plays, the box score looked pretty much exactly the way it was expected to look: On a down-by-down basis, UGA outgained South Carolina by 171 yards of total offense, averaged 4.5 yards per play to SC's 4.0, and earned 30 first downs to the Gamecocks' 16. The Bulldogs' other offensive headliner, RB D'Andre Swift, eclipsed 100 yards on the ground for just the second time this season on a career-high 23 carries. In regulation, Carolina's offense managed 1 touchdown, on a 46-yard bomb from Hilinski to Bryan Edwards in the 1st quarter, and 1 field goal early in the 2nd; otherwise, zilch. After halftime, Georgia's defense forced 5 consecutive punts and a doomed 57-yard field goal attempt in the final minute.
That's hardly a portrait of a team in dire straits. And assuming the usually steady Fromm isn't about to start throwing multiple picks on a weekly basis, the Bulldogs' big-picture outlook has not changed: The 2017 and '18 teams went on to play for a Playoff bid in the SEC Championship Game despite red-alert losses in the regular season — Saturday's loss was exactly 364 days removed from last year's mid-season wake-up call at LSU — and for now the current edition is still a favorite to play its way into the same position. The margin of error that might have existed for a team that arrived in Atlanta at 12-0 is reduced; in most other ways, it's still possible to chalk up the lapse as just one of those days.
So why — in spite of the numbers, in contrast with the past 2 years — does a single, apparently random loss feel like a symptom of a much deeper problem?
The fact is, for the abundance of talent surrounding Fromm on offense, the Bulldogs look stale. Scratch that: Compared to the league's other standard bearers, they are stale.
The biggest on-field story in college football over the past few seasons is the abrupt transformation of Alabama and now LSU from conservative, ball-control attacks into full-fledged spread passing juggernauts: Halfway through the 2019 season, the Tigers and Tide rank No. 1 and No. 2 nationally in scoring offense behind a pair of prolific, Heisman-worthy passers, an incredible turn of events for the same programs that defined SEC football at the beginning of the decade as a weekly rock fight to the death. At the end of the decade, they're leading an historic offensive bender.
Georgia has the same caliber of athletes (including at quarterback, if you ask me) but has not made the same philosophic leap. If there is one genuinely alarming trend from Saturday's loss, it's the ongoing lack of the kind of explosive plays that Bama and LSU are thriving on — emphasis on ongoing:

(*Utah State is not a Power 5 opponent but is included in LSU's total to balance out the number of games; at 41st nationally in Defensive SP+ the Aggies are roughly the equivalent of an average Power 5 defense.)
Thirteen plays of 20 yards or more in 4 games is downright pedestrian, and not just compared to the most explosive offenses in the country: It ranks next-to-last in the SEC vs. Power 5 opponents, ahead of only Texas A&M. The Bulldogs aren't challenging secondaries deep and aren't creating run-after-catch opportunities for their wideouts with anywhere near the frequency of their blue-chip peers.
Against South Carolina, Fromm averaged just 5.7 yards per attempt and connected on just one downfield ball, a 33-yard strike to freshman George Pickens late in the 3rd quarter. (That drive was thwarted by a fumbled snap on the first play of the 4th.) The story was the same in Georgia's hard-fought, 23-17 win over Notre Dame, when he finally ventured downfield to hit Lawrence Cager for a 36-yarder that set up a crucial touchdown late in that game. When that's the full extent of your big-play prowess, efficiency and workmanlike efforts between the tackles can only go so far. Sustaining drives and scoring points means those elements must function perfectly on a consistent basis.
When any part of that equation fails, you get what happened on Saturday: A perfectly solid outing by the defense and ground game, the supposed lynchpins of the team, undermined by a handful of chaos plays that swung the outcome. By the old rules, the defense-and-line-of-scrimmage rules, the Bulldogs are arguably the most fundamentally sound outfit in the conference — Bama and LSU are lagging well behind in the salt-of-the-earth categories — and potentially in the nation. As long as they continue to impose their will on those terms, they're going to be very difficult for anyone to beat without an outbreak of chaos. But the best teams in college football right now are the ones operating at such a furious pace the chaos barely registers.
Notebook
Around the conference.
South Carolina 20, Georgia 17 (2OT)
Both teams faced do-or-die situations at different points, and in any game like that there are bound to be a dozen or so plays that stand out as game-changers or missed opportunities. For me, one moment that fell into that category was Georgia's final play from scrimmage, facing 3rd-and-10 from its own 25 in the second overtime.
The Bulldogs came out in an empty backfield with 3 receivers to Fromm's right and 2, George Pickens and D'Andre Swift to his left; on the other side, South Carolina tipped off a blitz up the middle, leaving each receiver manned up against a Carolina DB with a single high safety lurking in the deep middle.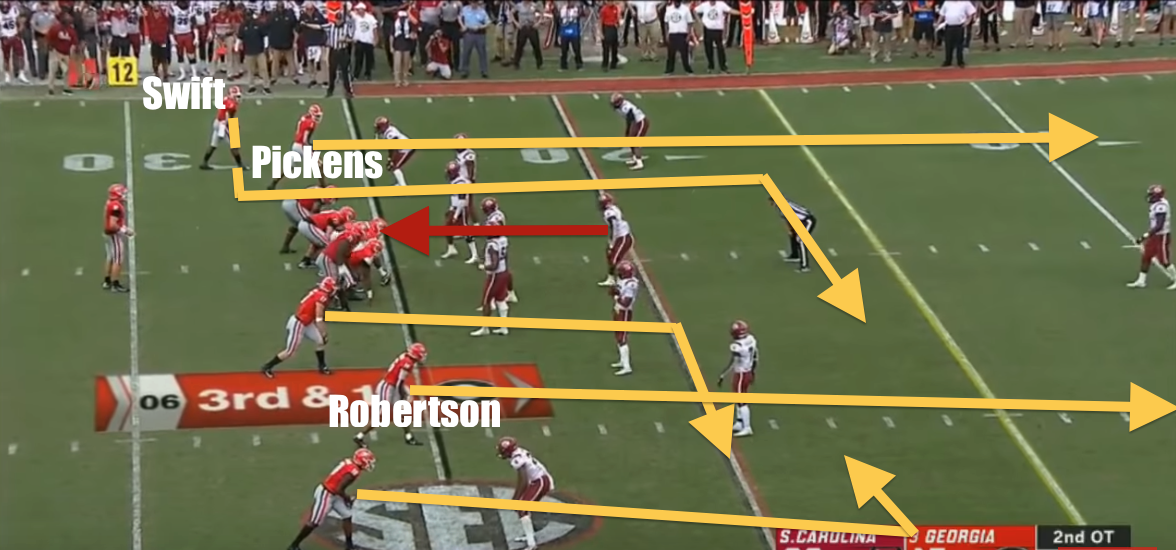 At the snap, the Gamecocks rushed 5, as expected; meanwhile, Pickens ran a go route just outside the hash marks, drawing not only his man but also inadvertently picking off Swift's man in the process, leaving one of the most dynamic playmakers in the country alone in a huge swath of grass occupied only by the umpire …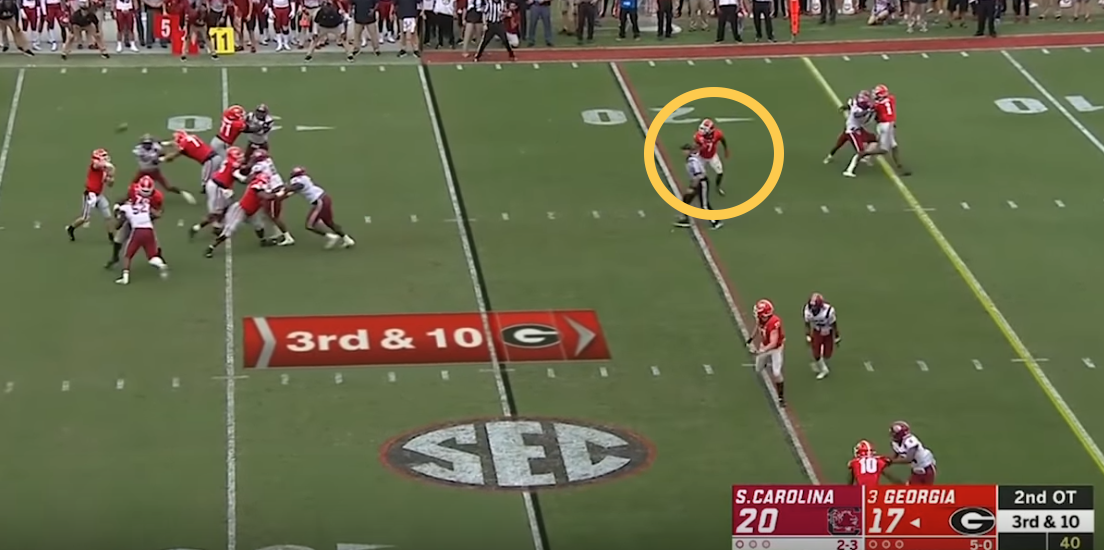 … at the exact same time that Fromm, anticipating the blitz and the single coverage behind it, had already made up his made to take his shot at Demetris Robertson streaking toward the end zone. Robertson was blanketed downfield; the pass fell incomplete; Blankenship missed on the next play to end it.
In a game that saw 163 snaps from scrimmage, it was just one missed opportunity among many. Aside from the 2nd-quarter pick-6 that flipped the game from "interesting early score" to "upset brewing," though, I'd bet it's the one on second look that Fromm would most like to have back.
LSU 42, Florida 28
LSU's passing game is a known commodity — possibly the first time those exact words have ever been typed in that order — so I'll save the obligatory nods to Joe Burrow and his go-to receivers, Justin Jefferson and Ja'Marr Chase, for the weekly "Superlatives" section below. Instead, let's go deeper on something we weren't so sure about: LSU's ground game.
To its credit, Florida's offense did its part to keep Burrow and Co. on the sideline, holding the ball for 38:19 to LSU's 21:41 and running 84 plays to LSU's 45 (not including a kneel-down snap at the end of the first half and a pair of clock-killing runs in the final minute). But those snaps were enormously productive, yielding the best yards-per-play average in LSU history vs. an SEC opponent (10.6), and they were balanced, splitting the run/pass ratio right down the middle despite the limited opportunities. The feature back, Clyde Edwards-Helaire, broke out for 132 yards on just 11 non-clock-killing carries; altogether, the Tigers became the first team since at least 2000 to crack 200 yards rushing against Florida on fewer than 30 attempts.
It's not surprising that running lanes are beginning to widen as the season goes on, given that in some fundamental ways their success was a direct result of Florida's respect for Burrow's arm. Take the longest run of the night for either team, Edwards-Helaire's 57-yard gain on LSU's second play of the game:
Clyde Edwards-Helaire was almost gone! 57 yard run!! #LSU pic.twitter.com/8bjAL2UEIL

— #BusinessIsSuspended (@FTBeard11) October 13, 2019
This is essentially the spread version of an old-school iso play, designed to spring Edwards-Helaire behind a lead block from H-back Thaddeus Moss (No. 81) on the middle linebacker. Seen from another angle, it's also a good example of how LSU's RPO game puts defenders in conflict — in this case, backside safey Brad Stewart (No. 2), who was so preoccupied by the threat of Burrow popping a quick slant to Chase that he remained frozen in place by Burrow's eyes well after the handoff had already been made:
The play is perfectly blocked, but as the 7th defender in the box against just 6 blockers, Stewart could have had a free run to the ballcarrier, and on a straight handoff with no threat of backside frippery he almost certainly would have. Instead, the fear of vacating a potential throwing lane allowed him to be effectively "blocked" without anyone actually laying a hand on him. Which allowed Edwards-Helaire the space to put an absolutely ruthless open-field cut on the Gators' other safety, Shawn Davis (No. 31), en route to the biggest gain of his career:
Have a follow up story coming on how well the #LSU offensive line played last night.

But just look at this whole the line created for Clyde Edwards-Helaire (and his cut on the second level). pic.twitter.com/C95Facrvrt

— Brody Miller (@BrodyAMiller) October 13, 2019
The same dynamic was in play on the first of Edwards-Helaire's 2 touchdown runs, a 39-yarder in the 2nd quarter on which both linebackers and the play-side safety (Stewart again, directly in the path of another quick slant route by Chase) were a step slow to react as a result of indecision and were unable to make that step up:
Clyde Edwards-Helaire is having a great night for LSU. Presses the line, hits the hole hard and has the burst to finish. pic.twitter.com/7H6T03wvhY

— Rob Paul (@RobPaulNFL) October 13, 2019
Burrow is a respectable runner is his own right, adding 43 yards against the Gators on 6 carries. But if he never tucks and runs again, his impact on how opponents react to his presence has an enormous impact on how much room his backs have to operate.
Alabama 47, Texas A&M 28
A&M's offensive line isn't exactly the sturdiest they'll face this season, but the Crimson Tide have been waiting for their pass rush to round into championship form and if nothing else the win in College Station was a promising glimpse of what that looks like with the current lineup — specifically, what it looks like with a fully healthy Terrell Lewis coming off the edge for the first time in his career. It looks … well, like a guy who has a chance to be Bama's next great pass rusher.
The touchdowns are nice but I wanna see more defensive plays like this by Terrell Lewis. pic.twitter.com/krm83oBPEZ

— Chicago Gump (@GriffinTSmith) October 12, 2019
Lewis, a 4th-year junior with a couple of years' worth of practice hype but not much in the way of actual production, is coming off a torn ACL that cost him all of 2018 and has continued to limit his role this year. Saturday was his first outing at full capacity, and it was as advertised: Along with senior Anfernee Jennings, the veteran bookends combined for 11 tackles, 4 TFLs, 3 sacks, and one very long afternoon for A&M's Kellen Mond.
Once again, Mond was forced to carry the offense in the absence of anything even remotely resembling a viable running game, with admirable but predictable results. He was sacked 5 times and hit many more as the game devolved into the kind of futile, stat-padding comeback attempt that Aggies fans are all too familiar with by now against top-shelf opponents; even including negative yardage on sacks, Mond accounted for 354 of A&M's 389 total yards.
Lewis and Jennings are vitally important members of a front line that has cast its lot with multiple true freshmen in the face of injuries. Two of the rookies, Christian Barmore and Justin Eboigbe, got in on the sack parade Saturday for the first time, joining NT D.J. Dale in the regular rotation. But if the lion's share of the pressure doesn't continue to come from the freakish, long-limbed vets on the edge there's a good chance it's not going to come at all.
UNLV 34, Vanderbilt 10
Historically speaking, Derek Mason's tenure as Vanderbilt's head coach has been fine. Better than fine, actually – in the past 3 years the Commodores have played in 2 bowl games and taken 3 straight against Tennessee, making it one of the more productive windows at Vandy in 60 years. Duly noted. But at this point I think it's safe to call the Mason era in Nashville a wrap.
For the record, the Dores were favored on Saturday by 2 touchdowns, adding to the case that the 24-point margin is the worst loss of Mason's 5 1/2-year tenure. There's nothing misleading about it, or about Vandy's 1-5 start in general. While that includes routine smackdowns vs. Georgia and LSU, it also includes big losses in theoretically winnable games at Purdue (by 18 points) and Ole Miss (25 points), and now a home flop against a mid-major doormat whose coach is on the hot seat himself. Maybe that's spinnable in Year 1 or 2. In Year 6, it's pretty clearly the beginning of the end.
The question now is how much longer Mason will be allowed to linger. Technically Vandy can still be bowl-eligible; that will change quickly with Missouri, South Carolina, and Florida on deck, leaving nothing to play for in November aside from avoiding maximum humiliation against FCS East Tennessee State. Mason might be present on the sideline for the season finale in Knoxville, but by then I'd expect the search for his successor to be well under way.
Tennessee 20, Mississippi State 10
After their Week 5 collapse at Auburn, I reassured Mississippi State fans in my family that, yes, their alma mater would win again this season, and in fact was still likely bound for a bowl game. After Saturday's debacle in Knoxville, I'm all aboard the Worst-Case Express. The postseason is in serious doubt for the first time in a decade, and outside of a late-November gimme against Abilene Christian, I wouldn't put it past the Bulldogs at this point to hit the skids against the likes of Arkansas and Ole Miss, either. They've already lost 3 of their past 4, each one laying them a little lower than the last.
Joe Moorhead is nowhere near the hot seat midway through Year 2, but the evidence against the offense he imported from Penn State is mounting. Last year, Mississippi State lost 4 games with 7 points or fewer on the board opposite the best defense in college football. This year, the Bulldogs have yet to top 28 points against a Power 5 opponents and have averaged just 21.3 ppg.
Quarterback has been a revolving door; Moorhead's hand-picked starter, Penn State transfer Tommy Stevens, has been in and out of the lineup with injuries and hasn't looked right in more than a month. He was benched Saturday after his 2nd interception for true freshman Garrett Shrader, who fared only marginally better. RB Kylin Hill, the brightest spot offensively over the first month of the season, managed just 13 yards against the Vols with a long gain of 4. The receivers remain anonymous.
If it's this bad against same defense that was shredded by Georgia State, among others, it doesn't necessarily have to get worse for the outlook to get a lot darker. At 3-3, the Bulldogs need to win 3 of their final 6 to return to a bowl; given that 3 of the next 4 are against LSU, Texas A&M (in College Station) and Alabama, that leaves Arkansas, Abilene Christian and Ole Miss as must-wins, and at the moment the Rebels certainly don't look like pushovers. Anyway, given the program Moorhead inherited, an Egg Bowl showdown for the right to be eligible to play in the Belk Bowl isn't what anyone had in mind.
Superlatives
The best of the week …
1. Israel Mukuamu, CB, South Carolina
Mukuamu, a true sophomore with 2 career interceptions before Saturday, was on the thieving end of all 3 of the Gamecocks' INTs off Jake Fromm, including the play that etched his name in South Carolina history:
South Carolina feeling an upset??

The Gamecocks lead Georgia after this pick six from Israel Mukuamu on Jake Fromm's first interception of the year. pic.twitter.com/Ag2ZrWHFPn

— CBS Sports HQ (@CBSSportsHQ) October 12, 2019
For that — as well as for his 7 tackles and 2 other picks, but mostly for that — Mukuamu earned the Walter Camp Foundation's National Defensive Player of the Week in just his 8th career start. He's the 4th SEC player this decade with 3 picks in the same game, joining Mississippi State's Richie Brown (vs. Texas A&M in 2014), Alabama's Minkah Fitzpatrick (vs. Arkansas in 2016), and Mississippi State's Mark McLaurin (vs. Louisville in 2017).
2. Lynn Bowden Jr., Athlete, Kentucky
Kentucky's starting QB, Terry Wilson, went down with a season-ending injury in Week 2. His replacement, Sawyer Smith, was ruled out for Saturday's must-win game against Arkansas due to an ailing shoulder. Desperate, the Wildcats opted for the old high school strategy of sticking their most dynamic player behind center and turning him loose … and it worked: Bowden accounted for 274 total yards (196 rushing, 78 passing) and 3 touchdowns, stealing the show in a 24-20 win that snapped a 3-game skid and kept the 'Cats on track for a bowl game.
https://twitter.com/jamieamccracken/status/1183212609819987968?s=20
Bowden's overall grade according to ESPN's QBR metric (95.7) ranked 7th among all FBS quarterbacks in Week 7, just behind Trevor Lawrence and slightly ahead of Tua Tagovailoa. Is that sustainable against anyone on the schedule other than Arkansas? Probably not, especially now that it's on film. But Bowden is (of course) a former high school QB, and he was efficient enough as a passer (7-of-11, 78 yards, 1 TD, 0 INTs) to imagine him serving in a part-time Wildcat-plus role once Smith returns, a la Randall Cobb. There are at least 2 or 3 teams in the league who'd probably welcome him full-time.
3. Joe Burrow, QB + Justin Jefferson and Ja'Marr Chase, WRs, LSU
Compared to his usual output this season, Burrow's stat line against Florida was almost understated: 21-of-24, 293 yards, 3 TDs, 0 INTs through the air, plus another 43 yards rushing — all in a night's work, on a night when LSU scored touchdowns on 6 of 9 possessions and saw as many passes end in the end zone as hit the ground. It's only fair that he share this slot with his top 2 receivers, who combined for 250 of those 293 yards and all 3 of Burrow's scoring strikes on 17 receptions.
4. K'Lavon Chaisson, LB, LSU
Chaisson lived up to the No. 18 jersey on a career night, registering 8 tackles, 3 TFLs, a sack, a holding penalty that was effectively as good as a sack, an emphatic stop on the goal line on Florida's final offensive play, and a surge in prospective draft hype.
Heck of a play vs. the run by K'Lavon Chaisson. pic.twitter.com/c0T2QyK4rV

— Rob Paul (@RobPaulNFL) October 13, 2019
It takes a truly loaded week in this space to relegate that kind of Josh Allen-esque performance to No. 4. In most weeks it would be strong contender for the stop spot.
5a. Anfernee Jennings and Terrell Lewis, LBs, Alabama
On the same note, the Crimson Tide's freakish senior bookends feel like they deserve to be ranked higher, too, after racking up a combined 11 tackles, 4 TFLs (including 3 sacks), 2 QB hurries, and a PBU in the win over Texas A&M. As usual, whoever keeps track of these things is weirdly stingy in what qualifies as a "QB hurry" in the official box score: Bama's pass rush consistently in Kellen Mond's grill all afternoon, pressuring him to the point that he surely felt hurried even when he technically wasn't.
5b. Jaylen Waddle, WR/PR, Alabama
Finally, it's Waddle's turn to rep Alabama's electric receiving corps after accounting for 176 all-purpose yards in College Station, including his 1st receiving TD of the season and 3 punt returns of 25 yards or longer, part of a 128-yard return day.
#Alabama WR Jaylen Waddle has superhuman athleticism. This kid is special and can easily be a WR1 in today's NFL on the right team. His landing spot will offer a wide variance of outcomes for him but I'm a believer in the talent #devy pic.twitter.com/EwxTEJjpIH

— Jason DiRienzo (@allpurposescout) October 13, 2019
That's what it takes to stand out in this group: In keeping with the Tide's commitment to spreading the wealth, WR/KR Henry Ruggs III and RB Najee Harris also went over 100 all-purpose yards against A&M, and WR DeVonta Smith finished with 99.
Honorable Mention: LSU DB Grant Delpit, who paced the secondary with 8 tackles and 2 PBUs against Florida. … Tennessee LB Darrell Taylor, who led the defense with 5 tackles, 2 sacks, and a forced fumble in the Vols' win over Mississsippi State. …. Missouri RB Larry Rountree III, who ran for 126 yards and 2 TDs in the Tigers' 38-27 win over Ole Miss. … Ole Miss QB John Rhys Plumlee, who ran for 143 yards, passed for 103, and accounted for all 4 of the Rebels' touchdowns at Mizzou. … Vanderbilt RB Ke'Shawn Vaughn, who ran for 140 yards and added a 53-yard reception against UNLV, accounting for nearly 2/3 of the Commodores' total offense in the loss. … Alabama DB Shyheim Carter, who had 7 tackles, 2 PBUs, and a forced fumble in the Tide's win at Texas A&M. … Texas A&M DB Demani Richardson, a true freshman who finished with a team-high 11 tackles against Bama to go with his 1st career INT, which also happened to be the 1st of the season off Tua Tagovailoa. … And, of course, Tagovailoa himself, who — interception notwithstanding — was his usual efficient self, shredding the Aggies for 293 yards and 4 TDs.