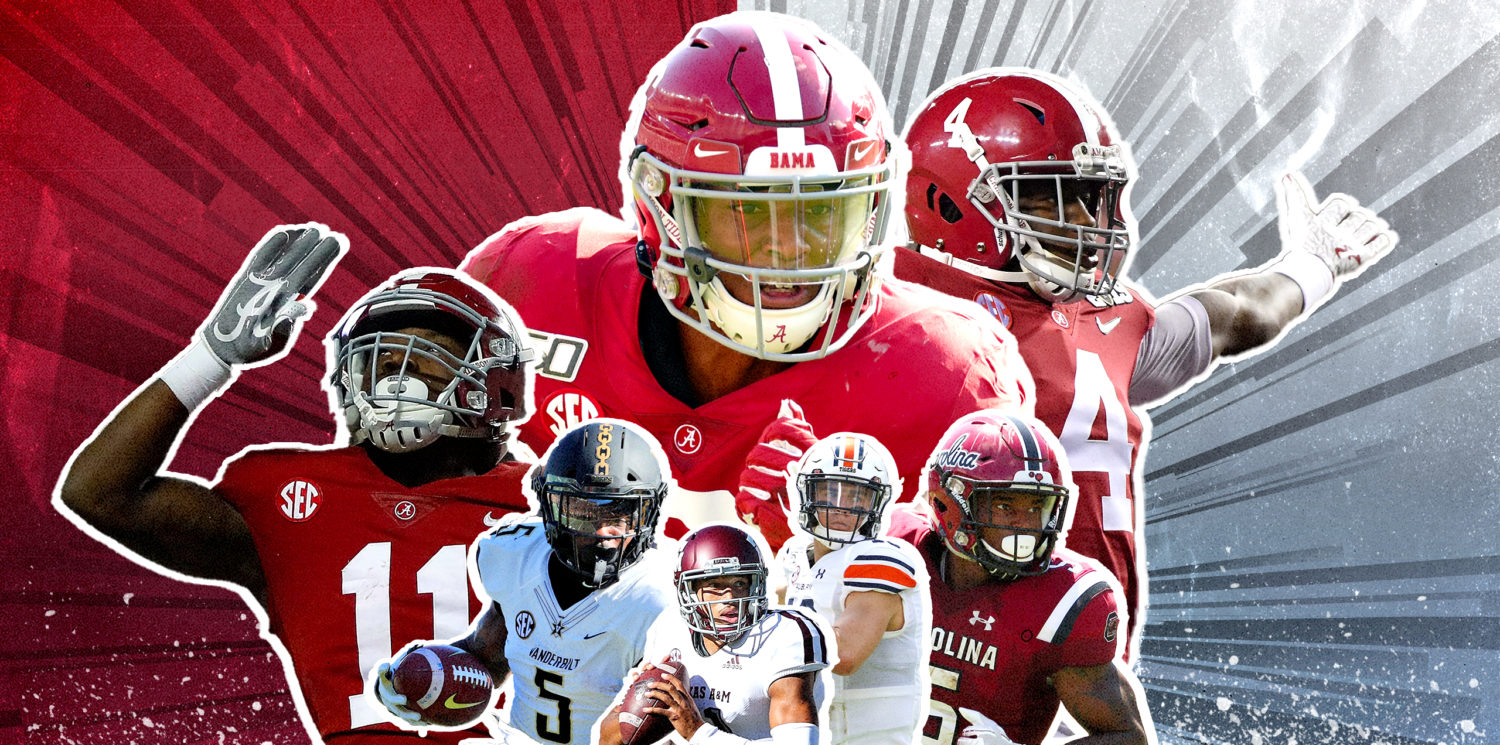 SEC
Monday Down South: Alabama's wide receivers are in a class of their own
There's only so much you can write about certain players before the time comes to ditch the adjectives and start aiming for posterity. So it is now with Alabama's untouchable receiving corps, who have raced past all of the standard comparisons — to their peers across the country, to their highly decorated predecessors at Bama, to their own blistering pace last year — with such ease that there's really only one big question left for them to answer: Has there ever been a better set of college wideouts than Jerry Jeudy, Henry Ruggs III, DeVonta Smith and Jaylen Waddle in the same place at the same time?
Sure, that's a lot to swallow, especially for a group not even halfway through its second season as the Crimson Tide's core unit. But the outline of the legend is clear enough.
Jeudy, the reigning Biletnikoff Award winner, is a big-play magnet, a shape-shifter in the open field, a lock to become the first Bama receiver named consensus All-American in back-to-back seasons, and can't necessarily count on being the headliner on his own team.
On Saturday the distinction went to Smith, sometimes described as the forgotten man in the rotation, who casually scorched Ole Miss for 274 yards and 5 touchdowns in one of the most prolific performances in school history. Before him it was the Ruggs, owner of an absurd 21 career TDs (3rd on Bama's all-time list, right behind Jeudy) on just 75 receptions.
They've spent the first month of 2019 the same way they spent virtually all of 2018, galloping through opposing secondaries like interchangeable horsemen of a statistical apocalypse. Jeudy leads the SEC in receptions, Smith in yards and touchdowns, Ruggs in yards per catch. All 3 have multiple 100-yard efforts just 5 games in. Waddle, a Freshman All-American last year after averaging nearly 19 yards a pop, is lying in wait.
So while they're far from finished, it's already safe to say that as a group there have been exceedingly few others quite like them; collectively they evoke a Saban-era All-Star team, as if Julio Jones, Amari Cooper and Calvin Ridley were all part of the same recruiting class and Ardarius Stewart was the fourth guy off the bench. Such a concentration of NFL-ready depth is different from boasting a dominant go-to receiver, or even a great 1-2 punch, and much rarer.
How rare? Let's set some criteria: For our purposes, we want groups that (1) produced at least 3 draft picks from a receiving corps that remained together over multiple seasons; (2) combined for at least 200 receptions in the years the group was intact; and (3) produced at least 1 first-round pick or consensus All-American who earned the honor in one of the relevant seasons (not in an earlier or later season). In the past 30 years only 17 teams have hit each of those marks, even when we include overlapping seasons that involve some of the same players in slightly different lineups as separate entries. And arguably none of them has been as productive on a weekly basis as Alabama over the past 2 years: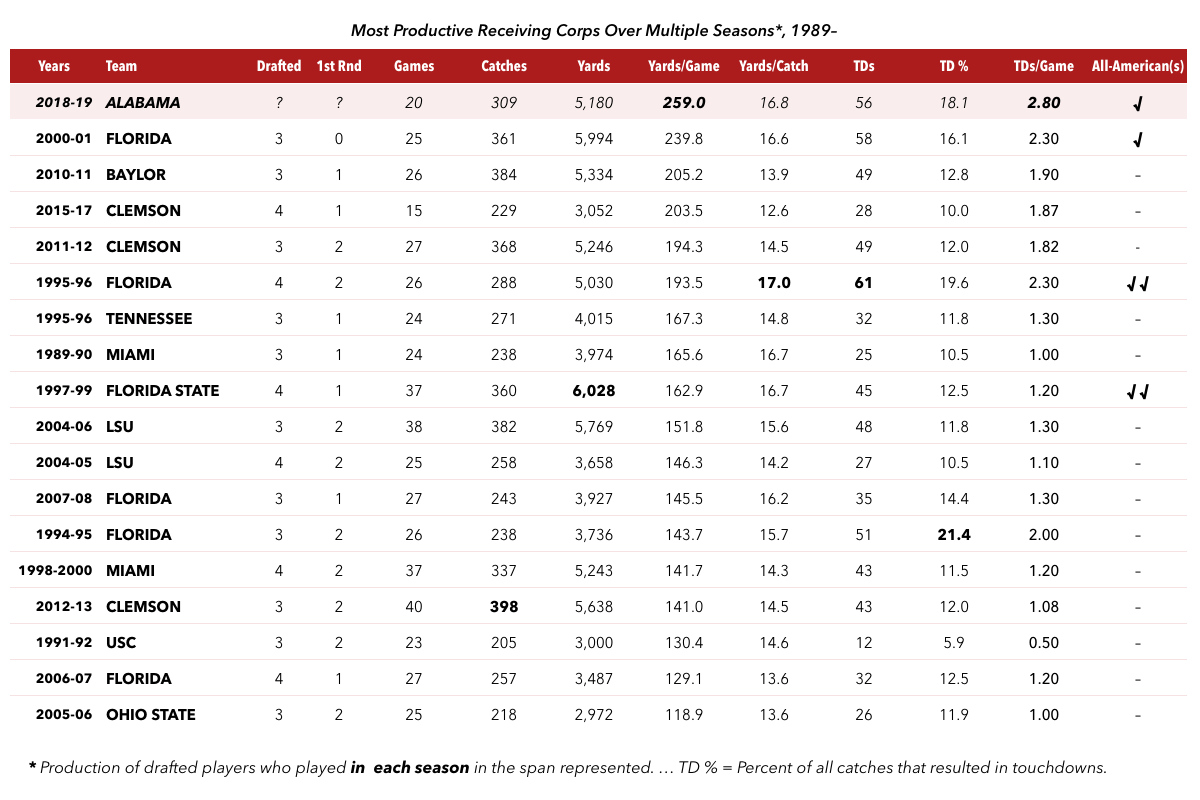 There's more competition here than you might expect if you were trying to come up with something like this list off the top of your head, even more so when you consider the amount of talent on some of these rosters that flowered in seasons not represented here.
Take turn-of-the-century Miami, for example: The 2000 team leaned primarily on 4 upperclassmen who had been together for several years and were subsequently drafted, including first-rounders Reggie Wayne and Santana Moss, while true freshman Andre Johnson — a first-rounder 2 years later, and sure-to-be Hall-of-Famer soon — barely saw the field. He's not on the chart.
The mid-'90s Fun-'n'-Gun teams at Florida were more probably more revolutionary in this respect than they're remembered: The 1994 Gators alone featured a consensus All-American (Jack Jackson), 2 future first-rounders (Ike Hilliard and Reidel Anthony, stars of the '95-96 outfits that went 24-2 and won a national title), and a 4th draft pick (Chris Doering) who still owns a piece of the SEC record for career touchdown receptions. Those groups don't resonate quite as strongly as they would if they'd produced an NFL star, but the decade-long parade of WR talent throughout the Spurrier era really was a marvel right up to the end.
Still, at any point did the Fun-'n'-Gun Gators strike more fear into opposing secondaries, or pose a more imminent a threat to go the distance on any given play, than Alabama's quick-striking fleet does today? That's a harder question to pin down, and gets closer to what makes watching the Jeudy-Ruggs-Smith-Waddle contingent alternate big plays and record-breaking afternoons feel like watching the game evolve in real time. Their combination of speed and elusiveness, at the disposal of a razor-sharp quarterback who can throw them open from anywhere, has the kind of potential the numbers can confirm but not quite fully convey. With the great ones, seeing is believing.
I've obligated myself to keep Bama's early success in perspective, so yes, with two-thirds of the season to go and a steep increase in the strength of schedule on the horizon there's no guarantee in the end that their collective explosiveness is going to get the Tide any closer to a national championship than it did last year. And with Jeudy, Ruggs and Smith eligible for the draft there's obviously not going to be a next year. But that's just all the more reason to appreciate it for what it is, while we still have the chance.
Superlatives
The best of the week …
1. Alabama QB Tua Tagovailoa and WR DeVonta Smith
HOLY SMOKES!

DEVONTA SMITH WITH HIS FOURTH (!!!!) TOUCHDOWN OF THE FIRST HALF. pic.twitter.com/LSaWoPDQWV

— CBS Sports (@CBSSports) September 28, 2019
Smith's stat line (11 catches for 274 yards, 5 TDs) set multiple records, including new Alabama marks for receiving yards and touchdowns, and he made Ole Miss tacklers look even more foolish than the numbers or the 59-31 final score suggest. But Tua was dialed all the way in, too, finishing 26-of-36 for 418 yards and a Bama single-game record 6 TDs, thereby moving past AJ McCarron into No. 1 on Bama's career list for touchdown passes. All in a day's work.
2. Auburn QB Bo Nix
I had a hunch Nix was on the verge of a breakout game against Mississippi State, but I was thinking more along the lines of making a handful of timely throws and avoiding crippling mistakes. Instead the freshman broke all the way out, going 16-of-21 for 335 yards and 3 total TDs in a 56-23 romp. It could have been worse: Auburn scored touchdowns on its first 5 possessions and 7 of the first 8 before calling off the dogs, so to speak. More to come Tuesday night on Nix in this week's edition of the SEC QB Power Rankings, but I think it's safe to say the training wheels are off.
3. Texas A&M LB Buddy Johnson and DL Justin Madubuike
Johnson and Madubuike held up their end against Arkansas on a sobering afternoon for A&M's defense as a whole, combining for 12 tackles, 5 tackles for loss, 2 sacks, 2 passes defended, a pair of QB hurries and an interception by Madubuike that thwarted a 72-yard Arkansas drive at the goal line. The pick briefly kept the Aggies on track for a comfortable win, if not a reassuring one, until the offense gave the score right back via fumble on the next play. It was was that kind of day.
4. South Carolina DE D.J. Wonnum
3️⃣ sacks tonight!@GamecockFB's D.J. Wonnum is a problem ? pic.twitter.com/tVW9UvBi7T

— SEC Network (@SECNetwork) September 29, 2019
Wonnum had 3 sacks and a forced fumble in a much-bedded, 24-7 win over Kentucky, a stellar day for the Carolina defense overall. The Wildcats limped out of Columbia with just 212 total yards to their credit, the fewest the Gamecocks have allowed vs. any opponent since 2012.
5. Vanderbilt RB Ke'Shawn Vaughn
Vaughn followed a solid, 130-yard outing against LSU last week by gashing Northern Illinois for 142 yards and a touchdown on 8.1 per carry in a 24-18 win — the Commodores' first of the year. That was good for his 6th 100-yard outing in Vandy's past 9 games dating to last year, the most of any SEC back in the same span.
Honorable Mention: Auburn WR Seth Williams, who hauled in 8 receptions for 161 yards and both of Nix's touchdown passes against Mississippi State. … Florida DE Jonathan Greenard, who was credited with 5 tackles (1 for loss), 3 QB hurries and an interception in the Gators' shutout win over Towson. … Vanderbilt LB Dimitri Moore, who had a team-high 7 tackles (2 for loss) and a QB hurry in the Commodores' win over Northern Illinois. … Kentucky LB Jamar Watson, who had 2 sacks and a pair of QB hurries in a losing effort at South Carolina. … And South Carolina RBs Tavien Feaster and Rico Dowdle, who combined for 209 yards and 3 TDs on 7.0 yards per carry in the win over Kentucky.