SEC
Monday Down South: Bama's offense can't contain itself ... and nobody else has, either
I resolved from the outset not to read too much into Alabama's performance this season until the LSU game, at the absolute earliest, and nothing about a routine outing against an unranked opponent playing without its starting quarterback is about to change that.
At the end of the day, Saturday's 47-23 win at South Carolina was about as by-the-book as it gets: The Crimson Tide jumped to an early lead, never trailed, outgained the Gamecocks by more than 100 yards of total offense, and barely missed covering a 25-point spread when Carolina tacked on an otherwise meaningless touchdown in the final seconds. If we learned anything new in the meantime, it was only that Najee Harris' physical gifts have somehow been undersold.
Harris was the unlikely star on a prolific afternoon for Bama's passing game, which set a new Saban-era high for yards (495) on the strength of a steady diet of big plays from its resident big-play makers — Harris and live-wire wideouts Henry Ruggs III, DeVonta Smith and Jerry Jeudy combined for 7 receptions of 20 yards or more, 4 of which ended in the end zone. Standard business, as far as that bunch is concerned.
Tua Tagovalioa hardly broke a sweat on his way to setting personal bests for completions (28), yards (444), and touchdowns (5) in a little more than 3 quarters' worth of work. Altogether, the Tide scored on 8 of 10 non-half-ending possessions, including a late garbage-time drive piloted by backup QB Mac Jones, punting just once. You know, the usual.
Compared to the gonzo aerial attack that took the league by storm last year there was only one way in which it was not usual: The complete absence of the kind of deep shots that made Tua a star.
In case you didn't already know, HENRY RUGGS IS INCREDIBLY FAST. pic.twitter.com/BKdh50EJh3

— CBS Sports (@CBSSports) September 14, 2019
That play covered 81 yards, matching the longest completion of Tagovailoa's career. It also continued a trend in the early season of relying less on his tank-worthy arm to torch secondaries deep and more on his decision-making to distribute the ball to his dynamic skill players in space. In the season-opening win over Duke, Tua racked up 336 yards with 4 TDs despite completing a single pass that traveled more than 10 yards in the air. On Saturday, again, he put up career numbers with minimal downfield effort: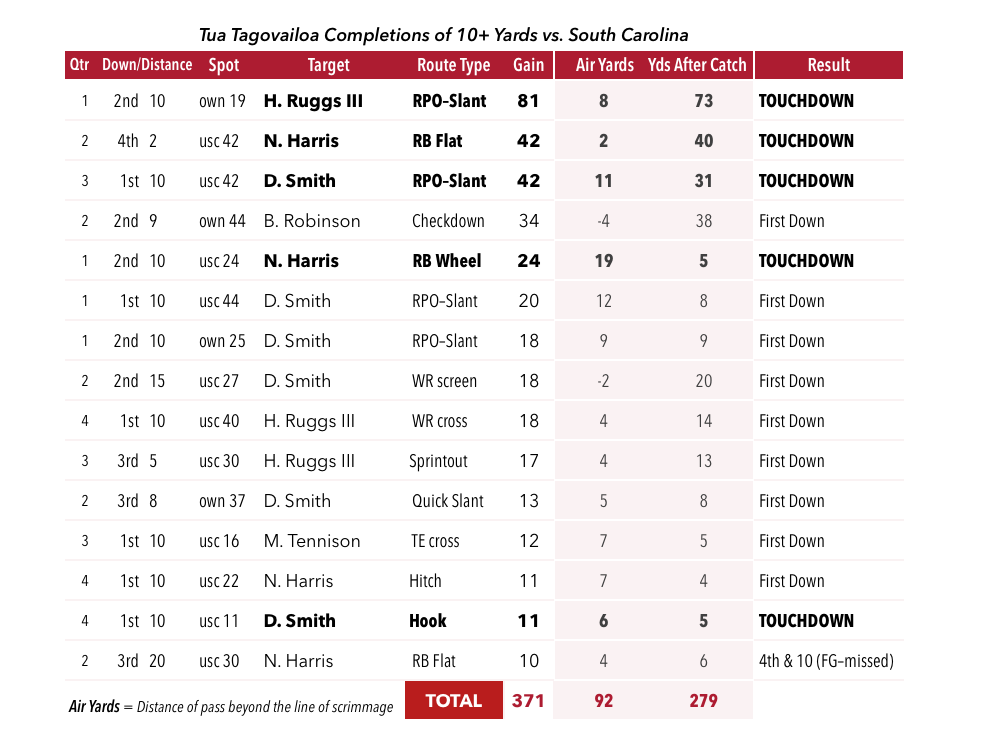 Tagovailoa capped the game's opening possession with a 24-yard TD strike to Harris on a wide-open wheel route out of the backfield that covered most of that distance in the air; from that point on, it was exclusively a YAC party. The average distance of those 15 completions in the air was just 6.1 yards (well below last year's pace), compared to a staggering 18.6 yards on average after the catch. In contrast to the home-run mentality that kept opposing secondaries in a perpetual backpedal in 2018, the most consistently productive staple through the first 3 games — the quick slant on the backside of a run-pass option — is a low-risk throw designed (on paper, anyway) to keep the chains moving.
It's just that in Bama's case, when it's Ruggs and/or Smith on the receiving end of a bullet that hits him moving upfield in stride, it's turning out to be a safe, efficient way of running up the score.
Alabama on the slant is proving to be impossible to stop. pic.twitter.com/oEXYAFvDPh

— CBS Sports (@CBSSports) September 14, 2019
And why not? So far, Tua's reluctance to unleash the dragon is the most obvious consequence of trading in last year's offensive brain trust for prodigal OC Steve Sarkisian, whose mentality veers much closer to the risk-averse stylings of the 2017 play-caller, Brian Daboll. (Not coincidentally, it was Daboll who took the job that was supposed to go to Sarkisian that year before Sark opted to call plays in the NFL instead.) But Tua is not Jalen Hurts, and this offense bears very little resemblance to the screen-heavy, spread-to-run attack that prevailed before Tagovailoa emerged as the starter.
For one thing, unlike Hurts, Tua's track record as a downfield passer precedes him; defenses fear and respect his arm at all times whether he bothers testing them or not, helping to open up more of the underneath stuff. For another, Alabama appears to be perfectly content to shift the burden of making up for an underachieving ground game onto its once-in-a-generation quarterback, rather than vice versa. Incredibly, the offense has put the ball in the air more often than it's run it this season in every down-and-distance situation except obvious short-yardage downs.
In other words, it's debatable in the year 2019 to what extent Bama really needs to run the ball at all, at least at the level it's accustomed to. Saturday's output on the ground — 94 yards on 4.1 per carry, not including sacks, much of it coming in garbage time — was dismal, marking just the second time the Tide have failed to crack 100 yards rushing in the past 6 years. With the firepower at their disposal in the passing game, though, it was also largely an afterthought.
The top 2 backs, Harris and Brian Robinson Jr., each rumbled for bigger gains on a single short reception out of the backfield than they earned in rushing yards the entire afternoon. (Note that Harris' instant-classic Beast Quake moment in the 2nd quarter came on a well-designed 4th-down pass that gave him plenty of room to build up steam in the open field, not a run.) The steady diet of RPOs functioned as an extension of the running game, forcing Carolina to commit bodies against the run and making them pay for it. Tagovailoa never put the ball anywhere in the vicinity of risk.
Eventually the old, bombs-away Tua who stole the show as an underclassman will have to make a few appearances for the Tide to be the best version of themselves against Playoff-caliber competition. The offensive line will have to protect him, too, which right now is a legitimate concern as the 3 interior OL positions remain in flux; at one point in the early going Carolina came right up the gut to record 2 sacks in 3 plays to force Bama's only punt. But that's still looking far ahead. In the meantime, Tagovailoa looks as much as ever like a next-level quarterback surrounded by next-level weapons. Even reined in, they're still as explosive as they want to be.
Notebook
Around the conference.
Alabama 47, South Carolina 23
South Carolina gained 459 yards of total offense, a relatively big number by Bama standards, and it could have been a lot closer on the scoreboard than the final number indicates, too: 8 of the Gamecocks' 10 offensive possessions before garbage time ended in Alabama territory but yielded just 16 points. Their failure to finish a 13-play, 77-yard drive just before halftime was the point of no return in a competitive game. (I agreed with the official call that Rico Dowdle's knee was down short of the goal line on the most controversial play of that sequence; your mileage, like Will Muschamp's, may vary.)
On this play in question of #BAMAvsSC, the replay official saw the right knee was down and knew the call could not be overturned, therefore, the game was not stopped for additional review. Every play is reviewed-only when necessary is the game stopped for further review. pic.twitter.com/E7CyP4nMnc

— SEC Officiating (@SECOfficiating) September 14, 2019
In addition to some coverage issues, youth and injuries continue to stand out as pressing concerns for the Crimson Tide defense — especially at inside linebacker, where true freshmen Shane Lee and Christian Harris are still growing into their roles after being thrust into the lineup a year earlier than anticipated. Harris, who Saban said needed to "get settled down," was replaced at WILL in the second half by sophomore Ale Kaho, who had some lapses of his own against the run. Even highly touted blue-chip freshmen are going to be freshmen.
On the injury front, Bama got more bad news on Sunday with word that junior DE LaBryan Ray, a former 5-star recruit getting his first crack as a starter, has joined the list of long-term casualties due to an apparent ankle/foot injury. His likely replacement: Yet another true freshman, Justin Eboigbe, which would give the Tide 4 full-time rookie starters in the front 7 — only of whom, nose tackle D.J. Dale, actually earned the distinction outright.
Florida 29, Kentucky 21
Three weeks into the season, the SEC East race behind Georgia is already defined by devastating injuries to starting quarterbacks. In Week 1, it was South Carolina's Jake Bentley, done for the year with a foot injury. In Week 2, it was Kentucky's Terry Wilson, victim of a season-ending knee injury. This week, it was Florida's Feleipe Franks, who was carted off the field on Saturday following an ankle injury that looked ugly enough in real time that ESPN declined to show a replay. He's not expected back this season, to put it mildly.
The backups in Lexington were predictably uneven. UK's Sawyer Smith looked fine for most of the night, completing his first 9 passes and accounting for all 3 Wildcat touchdowns (2 passing, 1 rushing) en route to a 21-10 lead in the 3rd quarter; he also committed 3 turnovers, which Florida converted in 17 points. (That doesn't include a last-ditch Hail Mary that Florida picked off on the final play, but does include a ghastly INT early in the third quarter that led directly to a UF field goal.)
Florida's Kyle Trask led the comeback in Franks' absence, rallying a couple of late touchdown drives to put the Gators up by one, 22-21, with just over 4 minutes to go. Even at that point, though, it still felt like Kentucky's game to lose, and after the Wildcats moved within range of the go-ahead field goal as the clock ticked under a minute remaining the math largely agreed: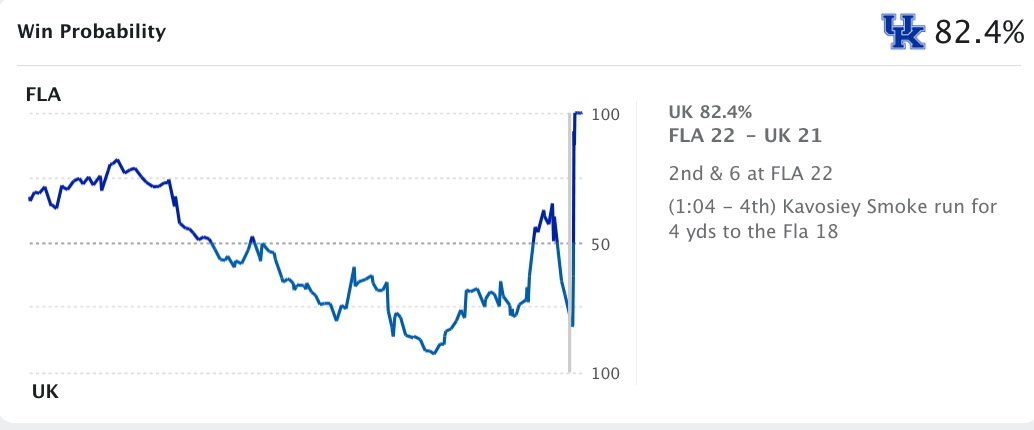 That's a huge swing on the foot of unfortunately named UK kicker Chance Poore, who pushed the would-be game-winner wide left with 55 seconds to play. One long, only-meaningful-in-Vegas touchdown run later, Florida had covered the spread.
Having watched them twice now rally to erase 4th-quarter deficits against ostensible underdogs, it's hard to say much more about the Gators than the fact they're 3-0. Trask, a redshirt junior slated for his first career start this weekend against Tennessee, outperformed Franks on Saturday night in a tough situation but doesn't offer nearly as much potential upside against the likes of LSU and Georgia.
Dan Mullen said on Sunday that Trask will share snaps going forward with the heir apparent, redshirt freshman Emory Jones, and let the chips fall where they will. Regardless, the next time this offense plays like it's one half of a top 10 outfit will be the first.
Kansas State 31, Mississippi State 24
There's a litany of ways that Mississippi State brought this loss on itself, not least by committing 3 turnovers (one of them leading directly a short-field touchdown for K-State) and following up a go-ahead touchdown in the 4th quarter by immediately allowing a 100-yard kickoff return the even the score. But the fact is that Kansas State was just as sloppy: The Wildcats also committed 3 giveaways, including a pair of muffed punts that led directly to 10 MSU points. Don't forget the fumble recovery that went from takeaway to giveaway when the KSU defender fumbled the ball right back to Mississippi State's offense.
Once all the miscues cancel one another out, the Bulldogs are left with the fact that they were largely outplayed and out-schemed by the same team that they thumped last year, 31-10, on the road.
The box score doesn't quite reflect it, in part because K-State ran just 52 plays — one aspect of the Bill Snyder era that remains very much intact is the glacial pace on offense — but for much of the afternoon MSU's defense seemed to struggle to adjust to the Wildcats' versatility in terms of formations and personnel.
It was the first concrete reminder for Bulldogs fans that the defense is almost certain to regress in the wake of mass departures for the next level. Airborne quarterback notwithstanding, unless the offense takes a significant step forward in the passing game the record in the SEC West is likely to go in the same direction.
Superlatives
The best of the week.
1. Alabama RB Najee Harris + WRs DeVonta Smith and Henry Ruggs III
This is ridiculous. pic.twitter.com/cgcY7R26YX

— SEConCBS (@SEConCBS) September 14, 2019
The Tide's top 3 targets against South Carolina accounted for 345 of Tagovailoa's 444 passing yards and all 5 of his touchdowns, more than 2/3 of that output coming after the catch. Harris' death-defying trek to the end zone on 4th-and-2 is the highlight of the year and will soon be immortalized in Bama lore.
2. Georgia CBs Tyson Campbell and Eric Stokes
Arkansas State targeted the Bulldogs' starting corners a dozen times, with meager results: Between them, Campbell and Stokes broke up 5 passes and allowed just 1 completion for a 1st down in a 55-0 shutout. Campbell, a former 5-star recruit, left the game in the 2nd half with an apparent foot injury – severity unclear – but still posted a sky-high coverage rating according to Pro Football Focus.
3. Alabama QB Tua Tagovailoa
Tua has yet to post the kind of highlight-reel throw he made last year on a weekly basis, but his decision-making and accuracy have been impeccable even as the struggles in the running game have made his job harder. No other active college QB has a firmer grasp of his offense.
4. Kentucky WR Ahmad Wagner
Ahmad Wagner –

Contested Catch: ✅
Circus Catch: ✅
Juggling Catch: ✅#BigTimeCatch: without a doubt pic.twitter.com/w6zFvuZcLm

— Cam Mellor (@PFF_Cam) September 15, 2019
The former University of Iowa small forward hauled in 3 receptions for 70 yards against Florida, including a juggling, 26-yard TD catch that confirmed his status as one of the most unique and overlooked weapons in the country. He also drew a pass interference penalty in the 4th, extending a frankly incredible ratio: On just 18 career targets, Wagner has come down with 9 receptions and drawn 8 (!) pass interference flags against smaller DBs overwhelmed by his size and ability to box them out on jump balls.
There's no evidence yet that it wouldn't be worth the Wildcats' while to attempt to replicate those numbers by heaving it up in his direction 18 times every time out.
5. Missouri K/P Tucker McCann
Mizzou didn't need a perfect kicking day to annihilate SE Missouri State, but it got one: McCann was 3-for-3 on field goals, averaged 55.4 yards on 5 punts (downing 2 inside the SEMSU 20), and drove all 9 of his kickoffs into the end zone for touchbacks. In the process, he became the first FBS player since at least the turn of the century to hit 3 40-yard field goals and 4 50-yard punts in the same game.
Honorable Mention: Mississippi State RB Kylin Hill, who continued his stellar September with 111 hard-won yards on 24 carries in a losing effort. … Florida LB David Reese II, who racked up a career-high 16 tackles against Kentucky, 13 of them solo. … Alabama DB Xavier McKinney, who recorded his first INT of the season in addition to a team-high 9 tackles in the win over South Carolina. … Alabama LB Anfernee Jennings, who had a pair of TFLs including a sack that forced the game-clinching fumble in the 3rd quarter. … Missouri LB Cale Garrett, who had 5 tackles and a pick-6 in a shutout win over Southeast Missouri State. … Georgia QB Jake Fromm, who had another near-flawless afternoon against Arkansas State, hitting 17-of-22 attempts for 279 yards, 3 TDs and no turnovers. … LSU QB Joe Burrow, who extended his white-hot start to the season by torching Northwestern State for 373 yards and 2 TDs on 21-of-24 passing, adding another TD as a runner in a 65-14 rout. … Arkansas QB Nick Starkel, whose solid debut as QB1 gave the Razorbacks at least a sliver of hope behind center. … South Carolina QB Ryan Hilinski, who distinguished himself in his first SEC start by passing for 324 yards and 2 TDs in a no-win assignment. … Auburn DE Marlon Davidson, who had 3 sacks in the Tigers' win over Kent State. … And Auburn's offensive line, which paved the way for 467 yards rushing against the Golden Flashes with 3 backs eclipsing the century mark — the first time that's happened on The Plains since Bo Jackson was a sophomore.