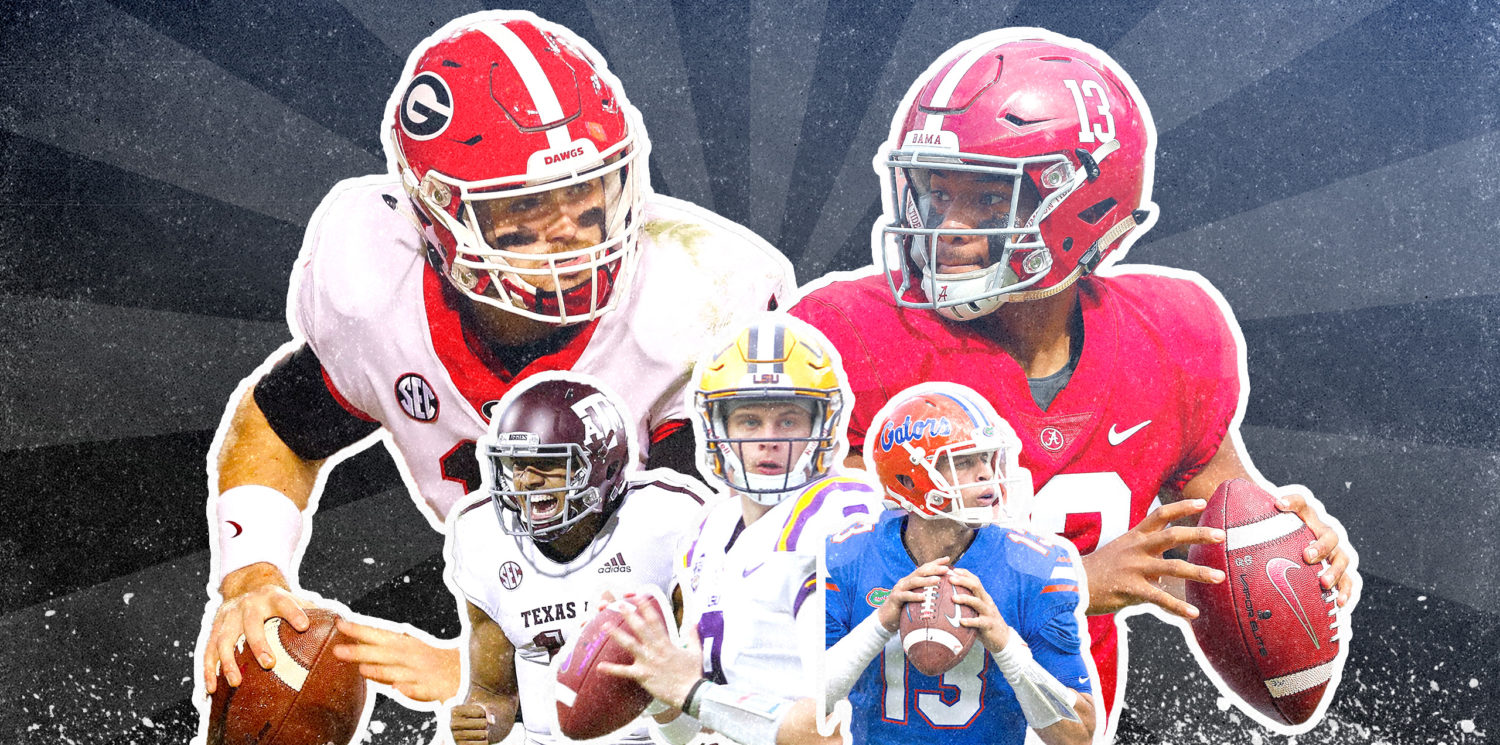 SEC
QB Curve: Tua Tagovailoa, game manager?
Quarterbacks: There are a lot of them! Each week throughout the season, QB Curve will help you keep the game's most important position in perspective by ranking the SEC starters 1-14. Previously: Week 1

1. Tua Tagovailoa, Alabama
Is it possible that Tua could be even better as a steady, plays-within-the-offense manager than he was last year as a bombs-away phenom? From the looks of Saturday's blowout win over Duke, we're about to find out.
On paper, Tagovailoa was in lockstep with his furious 2018 pace, finishing 26-of-31 for 336 yards and 4 TDs without an interception; just like last year, his opening-day efficiency rating (217.5) was the best in the nation against a Power 5 opponent. As usual, he spent the entire 4th quarter as a spectator.
Actually watching his performance unfold was an entirely different experience.
In contrast to last year's fire-breathing starts, Bama looked lethargic early, failing to earn a 1st down on its first 2 series or to score at all in the 1st quarter. (The 2018 team easily led the nation in 1st-quarter scoring and was shut out just once, by Georgia in the SEC Championship Game.) When the offense did get rolling, it was in short, efficient bites rather than big, explosive bursts — playing against type, Tagovailoa didn't bother testing the Blue Devils deep and completed a single pass that traveled more than 10 yards beyond the line of scrimmage. Everything else was of the dink-and-dunk variety, with the vast majority of his output coming in the form of yards after catch.
It's difficult to say without poring over All-22 footage whether the conservative turn was a deliberate part of the game plan or a pragmatic response to Duke's secondary living in terror of the deep ball. The presence of a new play-caller, Steve Sarkisian, suggests the former, and the presence of dynamic YAC mongers like Jerry Jeudy, Jaylen Waddle and DeVonta Smith suggests that it's not necessarily a bad idea. The results speak for themselves, right? As long as you're asking the most prolific downfield passer in the country to rein it in, they'd better. (Last week: 1)
2. Jake Fromm, Georgia
No alarms, no surprises, no sweat for Fromm in a crisp, 30-6 win over Vanderbilt. He was 7-of-8 for 97 yards on Georgia's first 3 possessions, all three of which ended in the end zone; everything after that was strictly academic. (Last week: 2)
3. Joe Burrow, LSU
Burrow's flawless stat line against Georgia Southern was an eye-opener, but the real revelation was LSU's unveiling of a bona fide 21st Century offense, a moment that fans have been clamoring for — and opposing defenses have been dreading — for years. Burrow and backup Myles Brennan completed 30-of-39 attempts to 14 receivers, matching the number of pass-catchers the Tigers involved last year over the entire season.
Of course, personnel has never been as big an obstacle to innovation in Baton Rouge as execution, which begins with a willingness to embrace the basic premises of the spread revolution in the first place.
Ed Orgeron has not always been so willing. By all accounts, though, this time around he has said the right things, made the right hires, and (most important) recruited the right quarterback to breathe life into the kind of up-tempo, RPO-driven scheme that Alabama embraced years ago. Assuming they have the green light, the 55-point blitzkrieg against GSU was only an off-Broadway preview of what the Tigers can really do at full throttle. This weekend's trip to Texas is the real premiere. (Last week: 3)
4. Kellen Mond, Texas A&M
Mond couldn't really do anything to improve his standing against an outmanned Texas State defense, but he certainly didn't hurt it, accounting for 219 total yards, 4 touchdowns and the season's first installment of the Matthew Stafford Arm of the Week:
Magic Wand Mond.

This was a special throw from A&M's Kellen Mond | @KVUE pic.twitter.com/ohg5y2irJS

— Jake García (@Jake_M_Garcia) August 30, 2019
Next up: At Clemson, where he can do as much to improve his standing as any player in any game this season. (Last week: 4)
5. Kelly Bryant, Missouri
There are no bright spots in a loss to Wyoming, by definition, and Bryant played a prominent role in the debacle: The Cowboys converted his fumble in the 2nd quarter directly into their first touchdown, permanently turning the tide in a game Missouri had controlled to that point, and later erased a key scoring opportunity when Bryant served up an easy interception in the end zone. That was 1 of 3 Mizzou red-zone trips that yielded 0 points.
Still, on the list of the Tigers' concerns going forward, Bryant's issues are the least of them. Turnovers notwithstanding, he was largely as advertised, passing for a career-high 423 yards with 2 touchdowns, including a 53-yard strike that kept the game within reach midway through the 4th quarter; his arm was the catalyst for Missouri's early 14-0 lead and its late rally after falling behind by as many as 17 points. In between, the Tigers continued to move the ball but struggled to finish for random and/or correctable reasons. Keep that up, curb the giveaways, and the offense will be all right. The defense is another story. (Last week: 5)
6. Bo Nix, Auburn
The murky middle section of the rankings is going to see a lot of flux over the next few weeks, and possibly throughout the season depending on who's trending up or down on a given Saturday. This week Nix is up: His game-winning touchdown pass against Oregon was an instant entry in the Auburn pantheon, right alongside his dad. Beyond that? To be determined.
Although Nix was extremely volatile overall, his trajectory throughout the game was encouraging. He was clearly more comfortable in the second half, connecting on 7-of-13 attempts (he was 6-of-18 in the first half) and atoning for a pair of earlier interceptions with 2 touchdowns; his efficiency rating soared, from a dismal 53.6 before the half to a very solid 160.2 after. Situationally, he flashed some veteran savvy: His first TD pass was a result of catching the Ducks flat-footed against Auburn's up-tempo pace, and the game-winner was set up by a clutch 3rd-and-10 conversion on the previous play. (That came after he took on 3 defenders to convert an even more clutch 4th-and-3.)
So let's not quibble too much for now with the fact that he was 0-for-8 on 3rd down up to that point. Bottom line, he got the job done in his first college game against a ranked opponent. The arrow is pointing up! Ask again later! (Last week: 10)
7. Feleipe Franks, Florida
We've arrived at the point in the proceedings when guys who had the weekend off are moving up in the pecking order. Read my reaction to Franks' Week 0 effort against Miami here, and brace yourself. (Last week: 7)
8. Terry Wilson, Kentucky
Tim Couch and Andre' Woodson's records are safe, but no one in the bottom half of the rankings had a more reassuring outing Saturday than Wilson's 246-yard, 2-touchdown, 0-turnover effort against Toledo. The post-Benny Snell Wildcats didn't miss a beat, easily eclipsing last year's season averages with Wilson accounting for a majority of that output and connecting on a handful of downfield throws.
Bryce Oliver's first career catch results in his first career touchdown. pic.twitter.com/iaQyMICdk5

— Scott Charlton (@Scott_Charlton) August 31, 2019
That was rare last year when Wilson completed fewer passes of 30 yards or longer (9) than any other full-time SEC starter; on Saturday he had 3 of them. Toledo's secondary is not the stiffest test he'll face, obviously, but passing it with flying colors is a lot better than the alternatives. (LW: 13)
9. Tommy Stevens, Mississippi State
After getting a good look at him in MSU's win over UL-Lafayette, it's hard to overstate just how much Stevens resembles his predecessor, Nick Fitzgerald, in a Bulldogs uniform. Same size, same number, same general "tight end at the next level" kind of vibe. Stevens is probably not the workhorse or the potential home-run threat Fitzgerald was as a runner — he carried 9 times against ULL for 44 yards, not including sacks, which would have been a light day's work for Fitz — and if he represents a significant upgrade as a passer it will take stiffer competition to prove it. His 236-yard, 2-TD outing in New Orleans was virtually identical to Fitzgerald's 243-yard, 2-TD performance against the Ragin' Cajuns in 2018. (Last Week: 12)
10. Jarrett Guarantano, Tennessee
There's no point piling on Guarantano, who was not even close to being the Volunteers' biggest problem in their historic loss to Georgia State. But he wasn't much of an asset, either: Subtract Tennessee's meaningless, stat-padding touchdown drive in the final minute from the ledger, and his efficiency rating up to that point was a paltry 125.6, against a unit that ranked 129th out of 130 FBS teams last year in pass efficiency defense. After 19 career starts the only notable positive in Guarantano's game is his relatively low interception rate — that is, a lack of really glaring negatives. At this point in his career it's time to expect more.
On that note, it remains a mystery how a player who arrived as the No. 1 "dual-threat" quarterback in the 2016 recruiting class is such a nonentity as a runner. Guarantano is athletic enough, yet finished with negative rushing yards in 2018 (including sacks) with a long carry of just 14 yards; in 6 of 12 games he didn't record a positive gain. He wound up in the red again against GSU, thanks to a late surge by the Panthers' pass rush late in the 4th quarter. If his ceiling as a passer is "unlikely to burst into flames," then figuring out a way to exploit his mobility might be the only plausible way forward. (LW: 7)
11. Jake Bentley / Ryan Hilinski, South Carolina
This is Bentley's ranking, because he took every snap Saturday in the Gamecocks' 24-20 loss to North Carolina. My guess, though, is that we can consider the torch officially passed: Hilinski, a true freshman, will earn his first career start this weekend against Charleston Southern while Bentley rehabs a foot injury that could potentially sideline him for the majority of the season. At this point, Carolina fans will be more than happy to see the freshman take the job and run with it.
Bentley's 4th-quarter meltdown against UNC — 2-of-9, 2 crippling INTs with the game on the line — was a low point. (His passer rating in the 4th, –8.2, was the worst for any FBS passer in Week 1 over a full quarter.) How much of that was affected by his foot injury, which no one was aware of at the time, is unclear. What is clear is the overall trajectory of Bentley's career, which has been essentially flat for the past 2 years. Based on QB Curve's preferred metrics, pass efficiency and QBR, he remains stuck in neutral: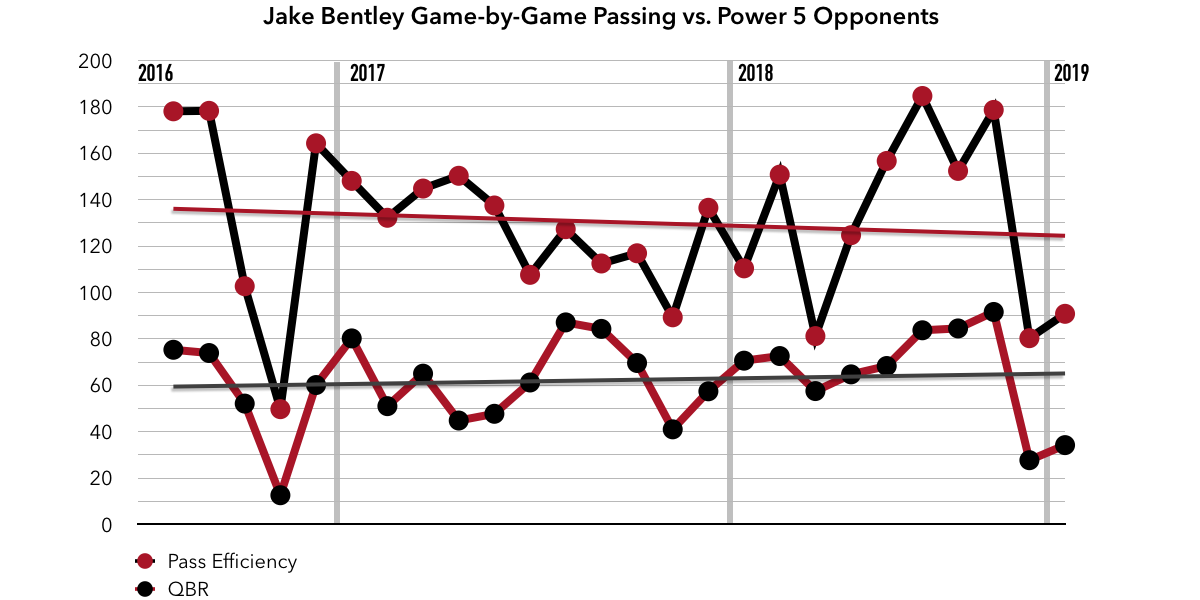 In both categories the trend lines fall roughly along the national average. There was a brief stretch last November (the prominent spike over the second half of 2018) when it looked like Bentley might be on the verge of bending the line up for the first time since he took command of the offense in 2016; his 510-yard, 5-TD performance in the regular-season finale against Clemson, especially, looked like the work of a player for whom the light had finally come on at the end of his junior season.
But the bowl game, a 28-0 loss to Virginia, was a disaster, and Saturday's collapse opposite UNC's true-freshman hero, Sam Howell, only underlined the point that Bentley has not meaningfully progressed beyond the "potential" phase. The calls for Hilinski, one of the most coveted passers in the 2019 class, were loud enough before the news broke concerning Bentley's foot, and they were only going to get louder.
As it stands, the new status quo is touch-and-go for everyone involved. Hiliniski is an intriguing prospect, but after this weekend's warm-up date against an FCS squad the calendar's not going to do him any favors — Alabama, Florida, and Georgia are on deck in the next 6 weeks. How well he holds up in those games could be a significant factor in the fate of his head coach, Will Muschamp. With one of the more likely wins on the schedule already filed in the loss column, the path to bowl eligibility is that much steeper. And while Bentley hasn't been ruled out for the year, if Hilinski sticks in the starting role it's not hard to imagine Bentley opting to redshirt this season even if he's cleared to return, to preserve the opportunity to play elsewhere in 2020 as a graduate transfer.
It's a long year, and it's too soon to assume we've seen the last of Bentley in a Carolina uniform. But it's too late to pretend it's not a real possibility. (Last week: 6)
12. Matt Corral, Ole Miss
It was immediately obvious in Saturday's 15-10 loss at Memphis that Ole Miss fans are going to have to dial their expectations for this offense way back from what they've grown accustomed to. A game that projected as a shootout went into the books instead as one of the Rebels' most anemic outings since they fired Houston Nutt.
That's not all or even mostly on Corral, who doesn't have the benefit of a fleet of NFL-ready receivers at his disposal, and judging from the early returns might not have a functioning offensive line, either. Still, there was no indication against the Tigers that he's close to transcending his surroundings. Until further notice, I'm writing the rest of this season off as a developmental year. (LW: 9)
13. Ben Hicks, Arkansas
Hicks will remain the starter this week against Ole Miss despite struggling mightily in the Razorbacks' narrow, 20-13 win over Portland State. The only word in that sentence that doesn't set off alarms is "win," and only just barely. (LW: 11)
14. Riley Neal, Vanderbilt
Neal transferred in from Ball State and played the role of Overwhelmed MAC Quarterback to a tee against Georgia, averaging a stunning 3.4 yards per pass on 25 attempts — only one of which, a 12-yard completion to RB Ke'Shawn Vaughn in the 2nd quarter, gained a first down. Backup Deuce Wallace fared just as poorly in limited snaps, leaving Neal as the likely starter again this weekend against Purdue. But that status is subject to change at any time. (LW: 14)