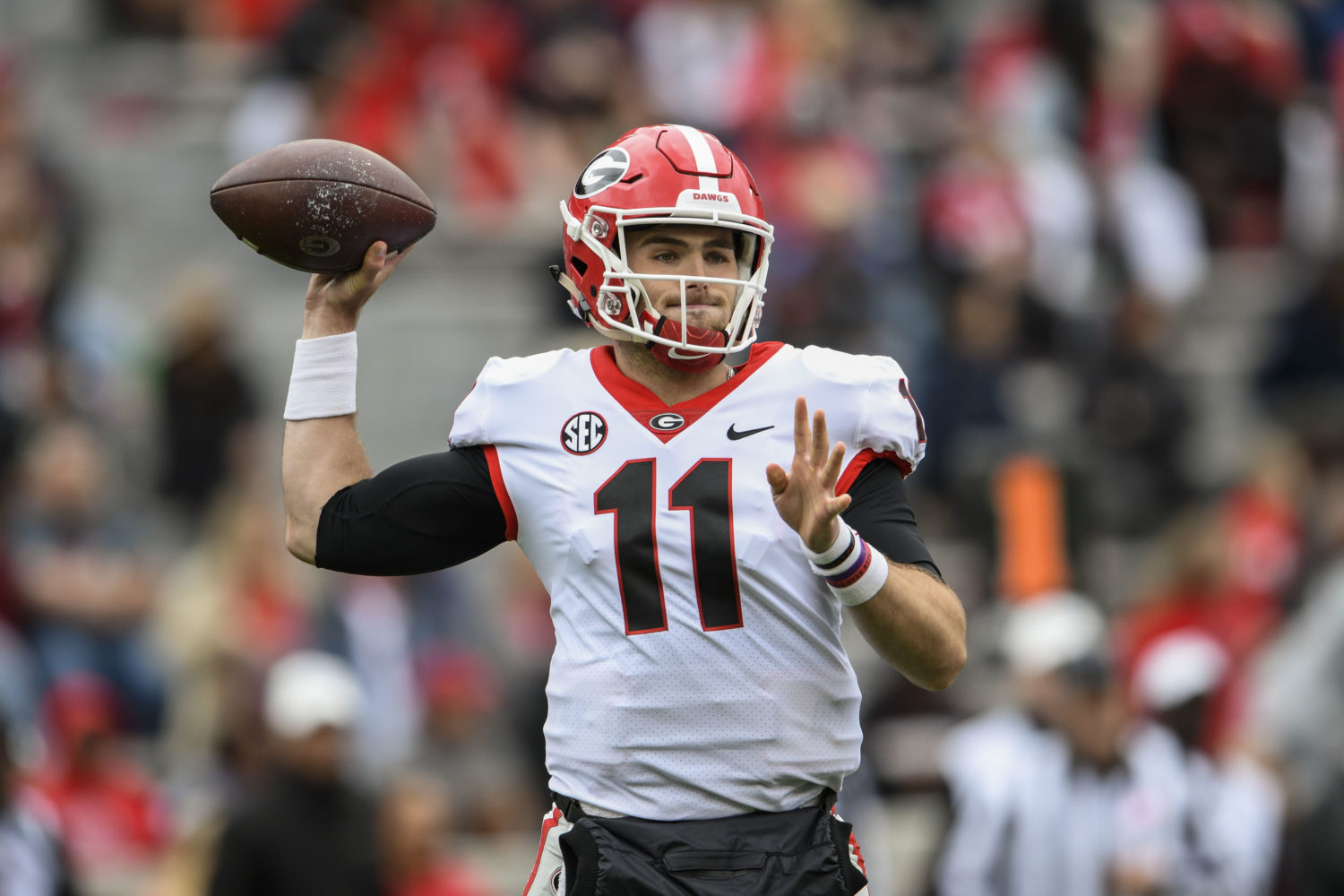 SEC
QB Curve: Jake Fromm is college football's most indispensable player
Quarterbacks: There are a lot of them! Each week throughout the season, QB Curve will help you keep the game's most important position in perspective by ranking SEC starters 1-14.
1. TUA TAGOVAILOA, Alabama. Last year Tagovailoa recorded the most efficient passing season in FBS history, falling just short of becoming the first quarterback to post a 200.0 rating according to the NCAA's efficiency metric. What are his odds of cracking that historic number as a junior? Not great!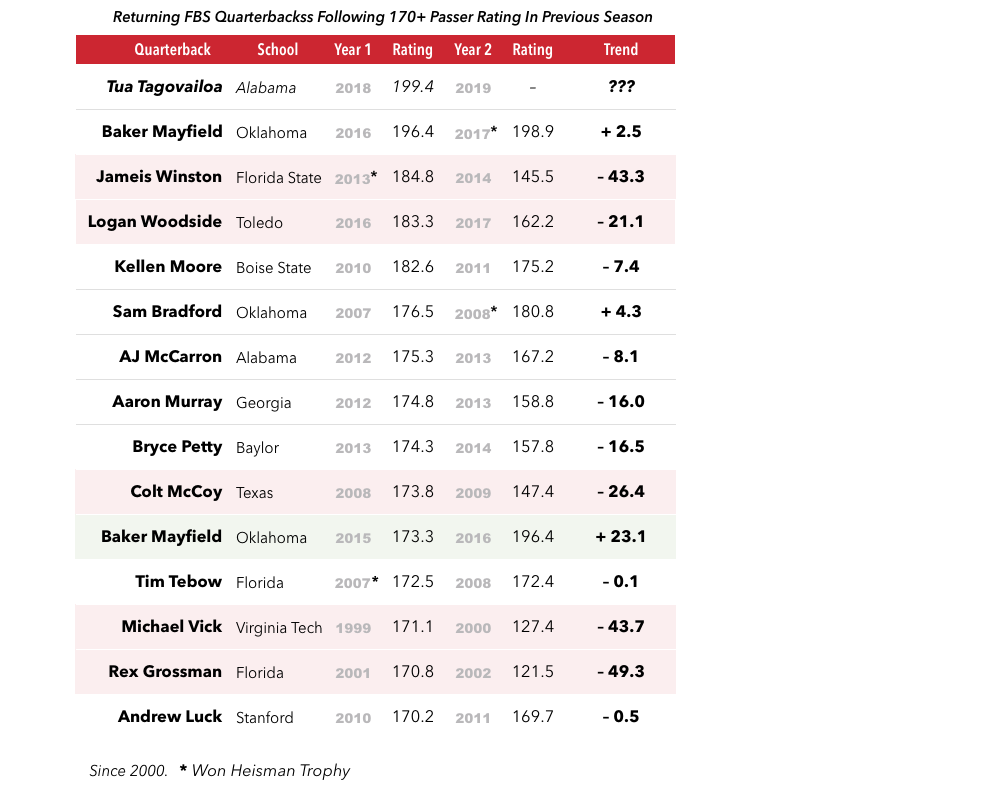 Of the 14 other quarterbacks since 2000 who have returned to school following an elite efficiency season (defined here as a rating of 170.0 or higher), 9 saw a notable decline the following year, and 5 saw a major decline. Statistically speaking, Winston, Vick, and Grossman looked like entirely different players. Only Mayfield, the most efficient college passer on record, managed to significantly improve between his sophomore and junior seasons at Oklahoma. (And slightly improved again as a senior.) So much has to go right to put up that kind of number even once; expecting it in back-to-back seasons, even from a Hall-of-Famer like Tua, is borderline unreasonable.
That said, even the high-wattage QBs who saw big declines on paper weren't necessarily defined by it. The less efficient versions of Winston and McCoy still led their teams to undefeated regular seasons in 2014 and 2009, respectively, with McCoy returning to New York as a Heisman finalist; Vick led Virginia Tech to an 11-1 record in 2000, finished 6th in the Heisman vote, and (like Winston 14 years later) still went on to be the No. 1 pick in the draft. After the way last year's breakthrough campaign ended, Tagovailoa's legacy in Tuscaloosa is going to be about the hardware he does or doesn't bring home this winter, not the stats.
2. JAKE FROMM, Georgia. I wouldn't call Fromm the most valuable player in college football, given that MVP is usually synonymous with "Best Player," period. But he's certainly in the running for most indispensable player. As deep as Georgia's roster is every other respect, it cannot afford to go for long without No. 11.
That wouldn't be the case if the Bulldogs still had the luxury of Justin Fields as QB2, even if it came with the headache of figuring out how to incorporate his enormous talent into the gameplan. Instead, Fields' transfer to Ohio State leaves the backup role to a former walk-on, Stetson Bennett IV, who returned to the team in the spring after spending the 2018 season in the JUCO ranks. The only other option, true freshman D'Wan Mathis, remains in limbo while recovering from brain surgery. Not that any team with Playoff ambitions would shrug off losing its starting QB, either, but none of them is facing nearly as steep of a dropoff if they do.
The lack of an obvious post-Fromm succession plan also adds to the sense of urgency for the Bulldogs to make good on their championship potential now, before the face of the program faces the question of whether to leave for the NFL Draft. Fromm isn't a slam-dunk 1st-rounder next spring, when most of the focus figures to revolve around Tua and Oregon's Justin Herbert, but he is very much in the conversation, especially after his eye-opening performance against Bama in last year's SEC Championship Game. Barring a miracle, it's impossible to imagine Georgia finally eclipsing the Tide with anyone else at the controls — this year or next.
3. JOE BURROW, LSU. There are a couple ways to look at Burrow's first season in Baton Rouge, depending on your priorities or just your general mood on a given Saturday.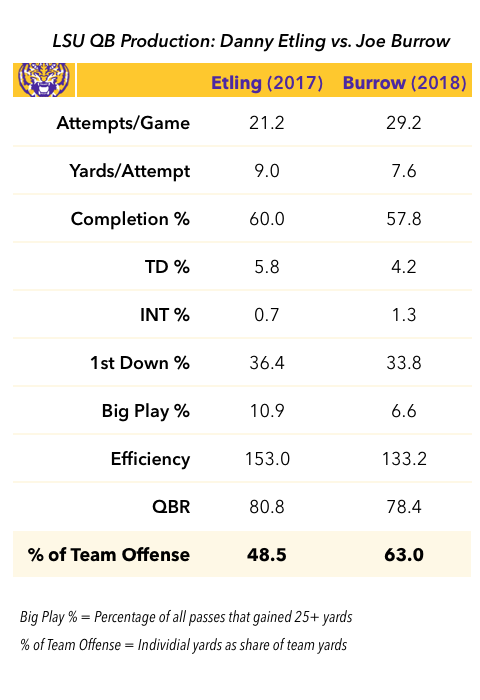 Statistically, it was glass half-empty: The Ohio State transfer finished in the bottom half of the SEC in almost every major category, including yards per attempts (8th), completion percentage (10th), touchdowns (10th), and overall efficiency (11th). Against the top half of the schedule — Miami, Auburn, Florida, Georgia, Mississippi State, and Alabama — he completed barely half of his attempts with 1 touchdown, 4 interceptions, and a combined passer rating of 97.9, the kind of number that banishes most quarterbacks to the bench. (The median rating vs. all FBS opponents is roughly 135.0.) Compared to his less-than-beloved predecessor in the starting lineup, Danny Etling, Burrow's output declined across the board, defined by a nearly 30-point drop in efficiency.
On the other hand: It's not for nothing that Burrow immediately won over the fan base to an extent that Etling never could. He kept the defense out of trouble, committing a single turnover in the Tigers' 9 regular-season wins. He contributed nearly 600 yards (not including sacks) and 7 touchdowns rushing. He delivered in the clutch at Auburn, leading a wild 4th-quarter comeback to win as time expired; he left a piece of his soul on the field at Texas A&M, where he accounted for 6 touchdowns on 67 touches (38 passes, 29 runs) in one of the most intense, exhausting games in recent memory. And he went out on his best performance of the season, by far, a 394-yard, 4-TD effort in the Tigers' Fiesta Bowl win over Central Florida.
Altogether, Burrow accounted for 63 percent of LSU's total offense for the year, one of the highest shares in the conference and the number that makes his value most abundantly clear. If new offensive coordinator Joe Brady really has the freedom to spread the field to take advantage of Burrow's mobility and decision-making — hardly a given, considering Ed Orgeron's track record with his last spread-minded OC — the result could be a banner year, statistically and otherwise.
Kellen Mond to Quartney Davis on the last play of regulation. Unreal. pic.twitter.com/O2oaFDn4YV

— Ben Baby (@Ben_Baby) November 25, 2018
4. KELLEN MOND, Texas A&M. Mond is the first of 3 junior starters on this list (along with Feleipe Franks and Jarrett Guarantano) with obvious Leap Year potential, and for my money the best bet of the 3 to fulfill it after taking a major step forward from 2017 to 2018. His physical tools are obvious: Based strictly on the highlight reel, Mond has already flashed the arm, the wheels, and the improvisational flair of a star. When it all comes together, as it did last September in an electric, 430-yard, 3-TD performance against Clemson, even the best defenses in the country are at his mercy.
So far, that hasn't been nearly often enough. For every promising outing against Clemson (172.5 efficiency, 96.4 QBR), LSU (136.5 efficiency, 81.0 QBR), or South Carolina (156.6 efficiency, 79.5 QBR), there was a clunker against Arkansas (114.9 efficiency, 32.8 QBR), Mississippi State (95.2 efficiency, 73.6 QBR), or Auburn (111.8 efficiency, 57.1 QBR). Mond took too many sacks, committed too many turnovers, and had a tendency to disappear for long stretches at a time, e.g. virtually the entire month of October; his passer rating on the road plummeted by more than 40 points compared to his rating in College Station. If his late, game-clinching interception against LSU hadn't been wiped off the board at the end of regulation, facilitating his stat-padding heroics in overtime, the gust of optimism that carried Mond into the offseason might have just as easily been blowing in the opposite direction.
Still, the version of Mond the Aggies saw in the OT sessions against the Tigers and in the subsequent Gator Bowl romp over N.C. State is more than capable of elevating them into the running for a major bowl bid in Year 3. A breakthrough would be right on schedule.
5. KELLY BRYANT, Missouri. Four of Bryant's 18 starts at Clemson came against SEC opponents, with mostly respectable results:

The Sugar Bowl debacle against Alabama made it clear that Bryant is not a national championship-level talent, and for that reason made the eventual decision to bench him in favor of Trevor Lawrence that much easier. But the other results jibe with Bryant's rep as a steady, efficient veteran whose mobility and decision-making make up for his lack of a big-league arm. Last year's performance at Texas A&M, especially, in which he ran for a touchdown in the first half and countered Mond's brilliance by leading a pair of extended TD drives in the second, was a vital moment in Clemson's path to the title. (Yeah, he should have gotten a ring.)
The bigger question as far as Mizzou is concerned is how the offense that revolved around Drew Lock, a classic, flame-throwing pocket passer, will adapt to a former triple-option QB whose skill set is precisely the opposite. Bryant is a functional passer in the short-to-intermediate game; he has nowhere near the downfield juice that made Lock a coveted pro prospect. His best chance of playing his way onto NFL radars is to make the routine throws look … routine.
6. JAKE BENTLEY, South Carolina. The Jekyll-and-Hyde nature of Bentley's career was summed up perfectly in his last two games against Power 5 opponents:

Final score notwithstanding, his Thanksgiving-weekend performance at Clemson was Bentley's best to date, yielding career highs for yards and touchdowns at the expense of one of the elite units in college football. It also marked his 5th consecutive game with a passer rating north of 150.0, capping the best individual month of his career. Finally, after 2 full, often frustrating years as the starter, here was evidence of some sustainable growth.
Then came the bowl game, a pointless, 3-hour slog that wrung every last drop of goodwill from the end of the regular season. After 32 career starts, Bentley is as unpredictable entering his senior year as when he first set foot on the field as a true freshman.
The frustrating part is that when he's on, Bentley has 1st-round tools — 6-4, 220 pounds, live arm, pocket awareness, coach's son pedigree, the whole bit. There are fleeting moments when he has "future NFL starter" written all over him. Yet the mistakes keep piling up. Bentley's interception rate in 2018 ranked 13th out of 14 full-time SEC starters; he's thrown more picks over the past 2 seasons (26) than all but one other FBS player in the same span. As a team, Carolina is 1-10 against ranked opponents with Bentley as the starter, a bad omen for an outfit facing the most brutal schedule in the nation.
At this point, his farewell tour could plausibly land on or anywhere between two extremes: 1st- or 2nd-round draft hype if it all comes together, unceremonious demotion if it doesn't. True freshman Ryan Hilinski has already established himself as the heir apparent and might be too good to keep off the field, just like Bentley was 3 years ago. It's up to vet to convince coaches that their investment in his progress is still worth it.
7. JARRETT GUARANTANO, Tennessee. Of the veterans on this list, Guarantano is the toughest to judge. How has a 4th-year junior with 18 starts under his belt yielded so little to go on?
He attempted fewer passes last season (246) than any other full-time SEC starter, most of them from behind a very green, very shaky offensive line, and was 1 of only 3 who accounted for less than 50 percent of his team's total offense. He's athletic, having arrived as the No. 1 dual-threat QB in the 2016 recruiting class, but made zero impact as a runner. He accounted for the fewest total touchdowns among SEC starters (12, all of them passing) but also threw the fewest interceptions (3). He finished squarely in the middle of the pack in terms of both pass efficiency and QBR, yet somehow earned the second-best grade of any returning quarterback in the conference according to Pro Football Focus, trailing only Tagovailoa.
Here are the highest-graded quarterbacks in the SEC and they are led by a familiar face. pic.twitter.com/zGJsh3YeJo

— PFF College (@PFF_College) April 29, 2019
On a game-by-game basis, Guarantano was solid in upset wins over Auburn (172.4 efficiency, 94.7 QBR) and Kentucky (175.7 efficiency, 92.0 QBR), overwhelmed in losses to Florida (93.2 efficiency, 56.9 QBR) and Vanderbilt (89.6 efficiency, 21.2 QBR), and unremarkable in every other game that mattered. All of which adds up to … uh, pretty much whatever you want it to. With more consistency, he could justify the lofty PFF grade and generate some considerable draft buzz heading into 2020 — along with some considerable Tennessee Is Back buzz – a la Josh Dobbs a few years back. More of the same, and the Vols could have themselves a full-blown enigma.
8. FELEIPE FRANKS, Florida. I'll admit, at this time last year I thought Franks was a permanently broken quarterback. His freshman campaign had descended into chaos: The 2017 Gators lost 6 of their last 7 and their head coach in the process. Franks' morale seemed to sink with the ship, bottoming out in a 4-turnover fiasco against Florida State. At that point, it was an open question whether the new staff would even bother with a reclamation project when they could just as easily opt to start fresh with a guy they'd actually recruited.
So while the jury is still out whether Franks will ever grow into a star, the fact that he's still more or less entrenched is testament enough to his resilience (and to Dan Mullen's renown as a QB coach) all by itself. He continued to struggle with accuracy, and his mobility remains less than ideal for Mullen's system; there's a chance Franks will yield frequently to redshirt freshman Emory Jones this year to take advantage of a more dynamic running threat. (There were more calls for Jones after Franks' rocky performance against Miami in the opener.)
Where he fell apart down the stretch in 2017, though, Franks ended 2018 on a post-shush tear, rebounding from a midseason benching against Missouri to account for 12 touchdowns with 0 turnovers in the Gators' last 4 games, including wins over South Carolina, Florida State and Michigan. We'll see how sustainable that surge is this year before moving him up into the top half of the conference. But on the off chance they ever build a statue of him outside The Swamp, it should definitely depict him telling the haters in the home crowd to shut up.
9. MATT CORRAL, Ole Miss. In an alternate dimension, the Rebels are gearing up to maximize the returns on senior QB Shea Patterson's final year of eligibility. In the one we're actually living in, well, I guess Corral does kinda resemble Patterson, if you squint hard enough — he's roughly the same size (6-1/206, according to his Ole Miss bio), wears the same No. 2 jersey, and arrived with only marginally less enthusiastic grades from the recruiting sites. He'll run essentially the same offense, aiming for the same high-volume benchmarks opposite the league's most flammable defense. If he succeeds, it will be due to a similar combination of mobility and moxie.
Otherwise, he's a blank slate. Unlike Patterson, who was thrown into the fire late in his true-freshman season out of necessity, Corral managed to preserve his redshirt, appearing briefly in just 4 games last year under the revised redshirt rule. That's not nearly enough to draw any conclusions about how he'll fare as the full-time starter, especially after factoring in the departure of Herculean wideouts A.J. Brown, DK Metcalf, and DaMarkus Lodge for the next level. (That trio accounted for about 2/3 of Ole Miss' receiving yards over the past 2 years.) But in this system he's certainly not going to lack for opportunity.
10. BO NIX, Auburn. I used to be automatically skeptical of true-freshman quarterbacks thrust into the starting lineup, both for the obvious reasons and for reasons beyond the inevitable dumb freshman stuff — namely, the fact that most teams that wind up turning to a rookie behind center do so strictly out of necessity, or because they've already written off the season at hand and have moved on to investing in the future.
Over the past few years, though, that assumption has been rapidly and decisively debunked. Jalen Hurts, Jake Fromm and Trevor Lawrence each wrestled the starting job away from older players in short order and led their respective teams to the National Championship Game in consecutive seasons, a trend that would have been unthinkable just a few years ago. Including Tua Tagovailoa's star turn in place of Hurts (and opposite Fromm) in 2017, the sport's biggest stage has featured more true freshmen behind center the past 3 years than upperclassmen.
Elite prospects today grow up in a world of private coaches, 7-on-7 circuits, and specialized QB camps devoted entirely to developing and showcasing their talent. They play in more sophisticated, passer-friendly offenses in high school and enroll in college early for spring practice. By their first college game, they're more prepared to play and succeed right away than ever before.
OFFICIAL: @CoachGusMalzahn has named @bo_nix10 the starting quarterback.#WarEagle x #RidefortheBrand pic.twitter.com/hNVObvJ8M4

— Auburn Football (@AuburnFootball) August 20, 2019
So: Bo Nix. Nobody is imagining anything like a national championship run from Auburn, if only because of a nightmare schedule that (in addition to the annual slugfests against LSU, Georgia, and Alabama) opens with a steep neutral-site test against Oregon followed by road trips to Florida and Texas A&M in the first 6 games. The last time the Tigers opened the season with a true-freshman starter was in 1946.
But in most other respects Nix checks off all the boxes that could allow him to skip the learning curve. He was born and raised to play quarterback at Auburn, just like his dad, who was also Bo's high school coach on a team that won the state championship last year in Alabama's largest classification. He was a 5-star recruit, 1 of only 2 (along with Oklahoma's Spencer Rattler) in the entire 2019 QB class. He enrolled early, quickly separating himself from older players in the spring. And he had legitimate competition for the job: The guy he beat out in the preseason, redshirt freshman Joey Gatewood, was a borderline 5-star prospect himself who inspires visions of Cam Newton. If Nix is who they think he is, getting him into the lineup from Day 1 is the best-case scenario.
Of course, there's a worst-case scenario, too: Imagine a timeline in which Gatewood opts to transfer, a la Kelly Bryant, only to watch the heir apparent struggle to live up to expectations against that brutal schedule. (That last part shouldn't be too much of a reach for Auburn fans.) The wrong call could doom Gus Malzahn to the scrap heap. As it stands, though, there are more ways for this situation to go right than for it to go wrong, especially for an offense that frankly has nowhere to go but up. The payoff may not come as early or as obviously as it has for the guys listed a couple paragraphs up, but for my money, Nix has the best odds of anyone on this list to end the season ranked higher than he's starting.
11. BEN HICKS, Arkansas. Monday, Chad Morris announced that Hicks beat Nick Starkel for the starting job. Both come with starting experience at SMU and Texas A&M, respectively, but for now their résumés are less important than the fact that "Arkansas 2018" doesn't appear anywhere on them. The Razorbacks fielded the league's worst offense in almost every capacity en route to an 0-8 finish in SEC play; turning the page at quarterback was a top priority. As long as the new guy had nothing to do with that debacle, he's an upgrade.
Are we talking about SMU QB Ben Hicks enough? Looks like a legitimate prospect on tape. pic.twitter.com/VzTNv0w568

— Ruairi Songer (@Ruairi_S) August 15, 2018
Hicks got the jump on the competition by enrolling for spring practice (Starkel was still working to finish his degree at A&M), but the real feather in his cap is his history with coach Morris. As SMU's head coach, Morris recruited Hicks to Dallas and oversaw his stellar sophomore campaign in 2017, when Hicks passed for 3,569 yards and a school-record 33 touchdowns. Both marks fell off a cliff last year in Morris' absence, along with Hicks' overall efficiency and SMU's scoring, while Morris' version of the Air Raid yielded dismal results in his first season in Fayetteville. A reunion might be exactly what both of them need to keep their careers on an upward track.
12. TOMMY STEVENS, Mississippi State. Athletically, Stevens is an intriguing prospect.
At 6-5, 235 pounds, he combines head-turning size with enough mobility that coaches at his last school, Penn State — including Joe Moorhead, who served as PSU's offensive coordinator in 2016-17 — made a point to get him on the field in H-back and Wildcat roles. He accounted for 8 touchdowns from scrimmage there, passing for 4 more, despite being hobbled in 2018 by a bad foot. And he didn't transfer just to continue serving as a package player in his last year of eligibility: He left Happy Valley specifically because head coach James Franklin declined to name him the starter after spring practice, raising some doubts about his potential as a full-time passer. In a Mississippi State uniform, in other words, Stevens looks like a clone of the outgoing starter, Nick Fitzgerald.
For both Stevens' and Moorhead's sake, I hope the move pans out, because if it doesn't the chorus wondering why the coach bet on Stevens over Fitzgerald's understudy, the since-departed Keytaon Thompson, isn't going to let them forget it. Thompson is a big (6-4/225), athletic guy in his own right, a former 4-star recruit who paid his dues as an underclassman while the fan base all but stormed Moorhead's office over his refusal to bench Fitzgerald. Last week, Thompson decided after Stevens was named the starter that he wasn't going to wait around anymore: He'll sit out this season as a redshirt, then surface somewhere else with 2 years of eligibility remaining in 2020-21.
Who can blame him? Not Bulldogs fans: If Stevens fails to represent an upgrade over Fitzgerald, their frustration will be aimed directly at the head coach.
13. TERRY WILSON or SAWYER SMITH, Kentucky. Yes, the or in this case is debatable. Wilson is the returning starter from an overachieving team that won 10 games in his first season in the lineup, and there's no indication out of Lexington (yet) that he's in any real danger of being supplanted. Still, I would argue the threat is implied by the willingness to bring in a grad transfer with starting experience in the first place. The passing game in 2018 was inconsistent and occasionally nonexistent; Wilson finished near the bottom of the SEC in every major passing category, including efficiency and QBR, while leaning heavily on workhorse Benny Snell and the best defense in school history to keep the pressure off of his arm. Now Snell and virtually all of the difference-makers on defense are all gone.
Ideally, Wilson will take a solid step forward as a passer while continuing to add value in the zone-read game. But Smith, a pocket passer who started seven games last year at Troy due to injury, is a viable option who had more touchdown passes (14) and completions of 25-plus yards (16) than Wilson in significantly fewer attempts. An offense that finds itself in need of more downfield juice may have no choice but to give him the opportunity to supply it.
14. DEUCE WALLACE or RILEY NEAL, Vanderbilt. On paper, Neal looks like a promising addition: In 4 years at Ball State, he started 31 games, accounted for 61 total touchdowns, and amassed more rushing yards (1,363) than any quarterback in BSU history. He ranks 3rd on the school's all-time list for passing yards and TDs. His 6-6, 225-pound frame makes him an automatic NFL prospect, and his performance in the spring made him the clubhouse leader to start Vandy's opener against Georgia.
But he arrives with some red flags, too. In 2018, Neal ranked 8th among regular MAC starters in efficiency and next-to-last in yards per attempt, with fewer than 30 percent of his passes resulting in first downs. He's missed time in each of the past 3 seasons to assorted injuries, including a medical redshirt in 2017. Last year, Ball State finished 102nd nationally in scoring and failed to top 21 points in any of its eight losses.
Wallace, on the other hand, is an unknown who barely saw the field in his first two seasons on campus and was suspended for the entirety of his third. He may have a better grasp of the offense, which could be a decisive factor if Neal's decision-making remains a question mark. If not, expect the bigger arm to prevail.