SEC
QB Curve: Will Grier, Kyler Murray and Shea Patterson are who we thought they'd be – just not where we thought they'd be
Quarterbacks: There are a lot of them! Each week, QB Curve will keep you up to speed on the game's most important position by putting a different SEC signal-caller in the spotlight and putting the rest of the field in perspective. Previously: Tua Tagovailoa/Jalen Hurts … Jake Bentley … Jordan Ta'amu … Drew Lock … Jarrett Guarantano … Joe Burrow … Jarrett Stidham … Jake Fromm … Feleipe Franks … Terry Wilson … Kellen Mond
QBs of the Week: The Ghost of 5-Stars Past
As usual, Week 12 is the least essential date on the SEC calendar, reserved for lopsided games barely worth acknowledging — let alone actually watching — as the league's upper crust limbers up for the year-end rivalries. Woof. My in-depth analysis of the upcoming slate is that it will be boring and unwatchable.
Instead, this week's installment will be devoted to catching up with three erstwhile SEC starters, each of whom arrived among the most touted quarterbacks in their respective recruiting classes and have exceeded the hype as upperclassmen — just wearing different colors they did as unproven freshmen.
West Virginia's Will Grier, Oklahoma's Kyler Murray, and Michigan's Shea Patterson are who we thought they were before they even set foot on campus: All three have led their current teams to the cusp of a conference championship and a Playoff bid, posting eye-opening numbers in the process. Meanwhile, their old teams linger on the fringes of respectability under first-year head coaches, still struggling to bridge the gap left when their anointed quarterback of the future decided his future was elsewhere. On the flip side of the success story, there's what might have been.
Class of 2014: Will Grier
Then: Grier arrived at Florida at the lowest point of the Gators' ongoing, post-Tebow recession, and after redshirting as a true freshman looked briefly like the guy who might lead them out of it: The 2015 Gators started 6-0, including a 38-10 romp over No. 3 Ole Miss in which a flu-ridden Grier threw 4 touchdown passes without a pick, still the best single-game performance by a Florida QB since Tebow himself. Less than two weeks later, Grier was suspended by the NCAA for a full calendar year after testing positive for PEDs, immediately curbing the Gators' ascent. (They lost their next game to LSU, 35-28, and failed to top 28 points again, eventually ending on a string of blowout losses at the hands of Florida State, Alabama, and Michigan.) Grier peaced out of Gainesville that winter amid, let's say, communication issues with coach Jim McElwain, who's presumably gone to bed replaying those conversations in his head every night since.
Now: Grier's 2017 production at West Virginia was overshadowed by the fact that a) He shared a conference with two of the most prolific passers in the nation, Oklahoma's Baker Mayfield and Oklahoma State's Mason Rudolph, and b) He ended the season on the bench, watching with a broken finger as the Mountaineers dropped their final three games without him to finish 8-5. (Funny how that keeps happening when Grier exits the lineup.) But it was good enough to make him arguably the most decorated returning passer in the nation in 2018, and he's made good on that promise, ranking among the top five nationally in yards per game, yards per attempt, touchdowns, and overall efficiency. In a normal year, one that didn't feature Tua Tagovailoa and Kyler Murray setting fire to the record books, those numbers on a top-10 team would make Grier the consensus leader in the Heisman chase.
At the next level, there are still some basic concerns about Grier's borderline size (WVU lists him, generously, at 6-2, 214 pounds) and his raw arm strength. At this level? Not a concern. Grier is one of the most consistently on-point downfield passers in the country — arguably rivaled only by Tagovailoa — as Tennessee fans can attest:
Great toss from Will Grier.
Great route from David Sills.
Touchdown for @WVU_Football. pic.twitter.com/VqYiRLMXUT

— CBS Sports (@CBSSports) September 1, 2018
That was the second of his 5 touchdown passes in the Mountaineers' season-opening win over the Vols; the next one, on WVU's next possession, managed to top it:
Superbe passe de 28 yards de QB Will Grier pour WR Greg Jennings. TD Mountaineers. La messe est dite pour les Volunteers ?
West Virginia 27, Tennessee 7pic.twitter.com/ydZ4UoE7DH

— TBP College Football (@thebluepennant) September 1, 2018
That tweet translates roughly as "Mass is said for the Volunteers," which yes. It was. Also for Kansas State. And for Texas Tech…
Will Grier is dropping absolute dimes pic.twitter.com/s3Q6E10fpn

— CBS Sports (@CBSSports) September 29, 2018
… and for Baylor …
DAVID SILLS V making the Baylor secondary look stupid. #HailWV pic.twitter.com/ibhtsCUGpy

— LandGrant Gauntlet (@the_LGG) October 26, 2018
… and for TCU …
Will Grier with precision. 👀

The @WVUFootball quarterback and @HeismanTrophy candidate was dropping dimes and threw for 343 yards vs TCU. #HailWV pic.twitter.com/96DlfoPn2W

— Stadium (@Stadium) November 10, 2018
… and, most memorably, for Texas, in a fourth quarter in which Grier went 7-of-9 for 83 yards on back-to-back touchdown drives and dropped the game-winning dime to Gary Jennings Jr., on a dead sprint, into a window about a half-yard away from being slammed shut:
UNBELIEVABLE

WILL GRIER & @WVUfootball BRING IT WITHIN 1! pic.twitter.com/xq6PGsHVlL

— FOX Sports (@FOXSports) November 3, 2018
There are several possible reactions to that throw in that situation, all of them seen here: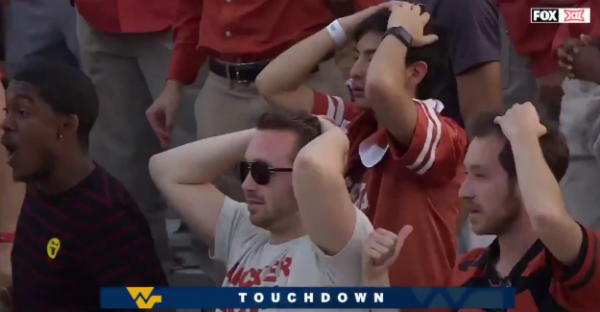 Grier finished 28-of-42 for 346 yards and 3 touchdowns against the Longhorns without a pick (not to mention the decisive two-point conversion that followed the dagger to Jennings), which is par for the course — he has topped 300 yards passing with at least 3 TD passes in all 8 West Virginia wins. The only other FBS quarterbacks with as many 300-yard passing games this season are Washington State's Gardner Minshew and Ole Miss' Jordan Ta'amu, neither of whom comes close to matching Grier's efficiency.
The lone exception to Grier's trail of destruction so far is an out-of-nowhere, 30-14 loss at Iowa State, a bizarre game in which he finished vastly below his season averages for attempts (15), yards (100), and touchdowns (1), while absorbing 60 yards' worth of losses on 7 sacks. ISU is an underrated outfit in the midst of one of its best seasons in the past 40 years, but it's hard to square that outing with the rest of Grier's season. He hasn't betrayed any hint of the indecision that plagued him against the Cyclones before or since; in three subsequent games against Baylor, Texas, and TCU he's only been sacked once.
For the time being, the lapse at Iowa State goes into the books as an outlier. West Virginia comes in at No. 9 in the latest Playoff committee rankings; to have any chance of cracking the Final 4, the Mountaineers will have to run the table against Oklahoma State (in Stillwater), Oklahoma (in Morgantown), and whoever their opponent turns out to be in the Big 12 Championship Game. Neither of those defenses is any more likely to hold Grier in check than the ones he's already lit up on a weekly basis. But neither of those offenses is likely to leave him with any wiggle room in a shootout, either. If he winds up hoisting the conference trophy on Dec. 1, hoisting another one the following Saturday is not out of the question.
What Might Have Been: Florida's quarterback situation since Grier's suspension has been a well-documented mess. If he'd avoided PED purgatory, the Gators would have been spared the Treon Harris experience over the second half of 2015 and the underwhelming rotation between transfers Austin Appleby and Luke Del Rio in 2016. If he'd served out his suspension and returned to the team on schedule, he would have had the second half of the 2016 season to shake off the rust and all of 2017 to shine in a decidedly down year for SEC quarterbacks; Feleipe Franks' growing pains would have been LSU's problem, and McElwain would likely still be the head coach. (I imagine him at his desk with a framed picture of a man who is definitely not Jim McElwain in a lurid pose with a shark looming discreetly over his shoulder.)
On the other hand, it's impossible to argue that Grier's presence alone would have been enough to keep Florida competitive against a juggernaut Alabama squad that crushed the Gators in the 2016 SEC title game, 54-16, or to close the massive gap between Georgia and the rest of the East Division last year. In that case, he would have ended his UF career without a championship or — depending on how the dominoes fell in alternate-timeline recruiting — a clear-cut successor in place, and Florida would be in more or less the same position it's in now, except under McElwain rather than Dan Mullen. In hindsight, I'd bet few Gators fans would still be willing to make that trade.
Class of 2015: Kyler Murray
Then: Murray was a massively hyped recruit who stuck by his commitment to Texas A&M and wasted no time showing off his 5-star speed and elusiveness in his first game as an Aggie. His arm was another story: Murray ended his freshman campaign with more interceptions than touchdowns, failed to supplant Kyle Allen as the full-time starter, and followed Allen out of College Station in December 2015, signaling the beginning of the end of Kevin Sumlin's tenure as A&M's head coach. Sumlin lasted two more years, but when both of your 5-star, face-of-the-program quarterbacks bail in the same week the writing is on the wall.
Now: The questions about Murray's arm lingered coming into this season, his first as a full-time starter. (And, given his future in baseball, almost certainly his last.) They linger no more. Ignore Murray's obvious impact as a runner; strictly through the air, he's on pace to match or exceed nearly all of Baker Mayfield's Heisman-winning numbers in 2017, including the crown jewel in Mayfield's résumé, the single-season record for pass efficiency: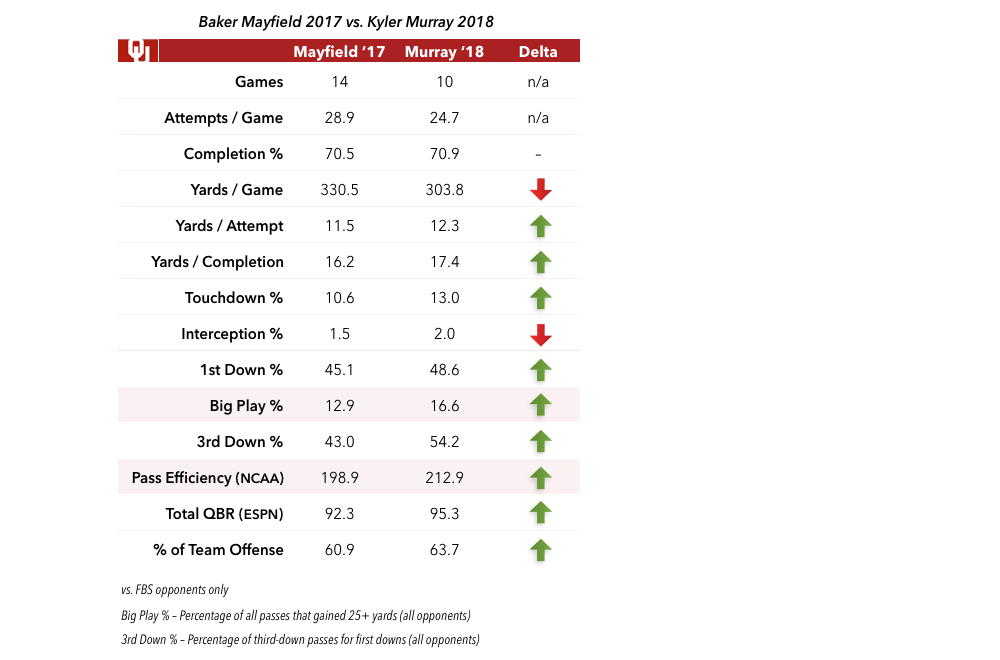 There's misconception among people who don't watch Oklahoma on a regular basis that Lincoln Riley's system is an up-tempo, pass-happy scheme that racks up big numbers by sheer volume, which isn't even remotely the case; the Sooners have put the ball in the air slightly fewer times this season than Alabama. Murray's numbers, like Mayfield's (and Tua Tagovailoa's) are more quality than quantity. Efficiency-wise, his worst outing of the season came in a blowout win over UCLA in which he finished 19-of-33 for 306 yards with 3 TDs and an INT.
Athletically, his diminutive stature also belies legitimate next-level arm strength worthy of a multimillion-dollar center fielder. Anyone under the impression he's some kind of "system quarterback" who nibbles away at opposing defenses but lacks the juice to challenge them deep, well …
Marquise Brown: Really, really fast! 51 yard TD! #Sooners pic.twitter.com/1bBeqatWtT

— #FreePhillipDorsett (@ftbeard_17) November 10, 2018
… yeah, they're wrong about that. Murray is second nationally in passes that gain at least 30 yards and tied for first in passes that go for at least 50; he can make the throws. He is also (by the way) the second-leading rusher on the Big 12's best rushing attack, by far. With all due respect to Tua, right now Murray is the most productive QB in the college game, the most versatile, and the most fun to watch.
HE. IS. GONE.
KYLER MURRAY, THIS IS INCREDIBLE. pic.twitter.com/znB54sHIvF

— CBS Sports (@CBSSports) October 6, 2018
Of course, that could change. Oklahoma's schedule to this point is hardly a murderer's row of gritty defenses, and he still has some of his toughest days ahead of him, especially if the Sooners ultimately run up against Alabama, Clemson, or Michigan in a Playoff game. But it wasn't the offense that did them in in last year's 54-48 semifinal loss to Georgia, or in their only loss to date this, a 48-45 shootout against Texas, against whom Murray accounted for 396 total yards and 5 touchdowns. Again, the issue in big games isn't "can Oklahoma score?" but "can Oklahoma score enough?"
What Might Have Been: Murray's future was always going to come down to a choice between becoming the next Russell Wilson (athletic, efficient, undersized QB who scraps a promising baseball career to take his chances in the NFL) or the next Charlie Ward (decorated college star who goes on to make his living playing a different sport altogether). It's not inevitable that staying at Texas A&M would have set him on the former path, but it is possible that a more conventional trajectory would have altered the equation. How different would the choice look if he'd spent his first two under-the-radar years in Norman in the spotlight that comes with being A&M's starting quarterback instead?
Frankly, the idea of a star player saving Sumlin's bacon for another year or two isn't going to inspire any more nostalgia in Aggies fans than the notion of Year 4 of the McElwain era does in Florida, if only because it doesn't end with the school dropping an entire bank vault on Jimbo Fisher's patio. Imagining a fully formed version of Murray with three years as a starter under his belt is a more enticing sell. Even if it didn't result in any championships under Alabama's intractable thumb, a resurgence on the level of the Manziel years would have cast the program in a very different light.
Class of 2016: Shea Patterson
Then: Patterson was the highest-rated QB prospect to choose Ole Miss since Eli Manning, at least, and in late 2016 — following a season-ending injury to starter Chad Kelly — became the first full-time starter in Oxford in a decade who actually signed with the Rebels straight out of high school. (From 2006-16 the position belonged exclusively to transfers.) He lived up to the hype in his first start, rallying Ole Miss from a 15-point deficit in an upset win at Texas A&M. By the middle of his sophomore season, he was personally accounting for more than 80 percent of the team's total offense.
At that point, though, the situation was already beginning to unravel: The Rebels were playing under an interim head coach, with no hope of going to a bowl game, and had been beaten to a pulp in their first two SEC games by Alabama and Auburn. It was downhill from there. In late October, Patterson suffered a season-ending knee injury in another lopsided loss at LSU; in early December, the NCAA added an additional year to Ole Miss' self-imposed bowl ban. Patterson, who likely had one foot out the door even before he got hurt, made his exit official a few days later.
Now: His departure generated some emotions, obviously, but there's no question Patterson is in a healthier situation at Michigan. At Ole Miss, he was The Franchise, a once-in-a-generation prospect stuck with a porous offensive line, a non-existent ground game, and a highly flammable defense that left him little margin for error. As the optimism from the Rebels' 2014-15 heyday gave way to the reality of sanctions-era mediocrity, it sometimes felt like Patterson and his fleet of blue-chip wide receivers were all that was left holding the program together. In Ann Arbor, he's more like the last piece installed in a well-balanced, ruthlessly efficient machine, one that's averaging a healthy 37.2 points per game opposite one of the stingiest defenses in the nation.
Which is not to suggest that he's not still the most important piece. Although Patterson is putting the ball in the air considerably less often in Michigan's run-oriented attack — 22.7 times per game, compared to 37.1 last year at Ole Miss — in every other respect his productivity has improved. After a rough start at Notre Dame, Patterson has rebounded over the course of Michigan's eight-game winning streak to climb into the top 20 nationally in completion percentage, yards per attempt, and overall efficiency; in ESPN's Total QBR metric he ranks third, trailing only Tagovailoa and Murray. In seven Big Ten games (including lopsided wins over Wisconsin, Michigan State, and Penn State) he's thrown for 11 touchdowns to just one pick. He's no longer running for his life.
Pocket presence notwithstanding, Patterson's athleticism remains an integral aspect of his game. At (officially) 6-2, 205 pounds, he's never going to fit the mold of a prototypical first-round slinger. Just as he did at Ole Miss, he compensates for less-than-ideal size with above-average mobility under pressure, regularly flashing the ability to elude rushers …
Donovan Peoples-Jones making plays again. #Devy #DevyWatch pic.twitter.com/myTgWGSisv

— Greg Brandt (@devywarehouse) October 6, 2018
… extend plays…
Donovan Peoples-Jones with the Saquon Barkley TD celebration as Michigan takes a 14-0 lead over Penn State 😬
(via @BigTenNetwork)pic.twitter.com/1xwkT26PQu

— Sports Illustrated (@SInow) November 3, 2018
…a nd deliver accurate throws on the run:
.@SheaPatterson_1 passing on the run. 😍

And @dpeoplesjones with the haul for @UMichFootball pic.twitter.com/Ay9dhKwVu6

— Michigan On BTN (@MichiganOnBTN) November 10, 2018
Unlike at Ole Miss, where he was a nonentity on designed runs in 2017, Patterson is also increasingly relevant as a threat to keep the ball on zone reads, a wrinkle Michigan has exploited to surprisingly good effect over the past few weeks — emphasis on the surprise.
As always, the Wolverines' season boils down to the all-defining collision with Ohio State, which takes on added weight this year with a playoff bid at stake. (The winner will advance Big Ten Championship Game, which figures to be a mere formality.) At this point, the Big Question is how Patterson will fare if he's forced to carry the offense with his arm against an elite defense, be it Ohio State's — although the current version of Ohio State's defense hardly qualifies as elite — or in a hypothetical date with Alabama or Clemson in the Playoff. The game plan in Saturday's tune-up win over Rutgers looked like it was deliberately designed to give Patterson a workout with as little help as possible from the running game.
Michigan's only other date against an aspiring Playoff team, a Week 1 trip to Notre Dame, was a disaster in which the Wolverines averaged a paltry 3 yards per carry (not including sacks) and the offensive line collapsed in a heap on a national stage. The line has improved dramatically since that debacle, emerging in the wins over Wisconsin, MSU, and Penn State as a run-blocking force to be reckoned with. As pass blockers: TBD. But it's telling that the question is much more about whether Patterson's supporting cast will give him the opportunity to make plays in a do-or-die scenario than whether he's capable of rising to meet it.
What Might Have Been: In this case, the actual timeline is shaping up to be the optimal one. As much as Ole Miss had invested in him, both sides are better off that Patterson opted to leave when he did. For the Rebels, the outlook with Patterson in the fold this season is identical to the outlook without him. Either way, Matt Luke is the full-time head coach and the postseason ban is still in force. The offense has been more productive with Jordan Ta'amu behind center than it was with Patterson, and it's still not enough to hang with the likes of Bama and LSU, or to overcome the SEC's worst defense in shootouts.
For Patterson, the move to Ann Arbor has given him a chance to flourish on a championship-caliber team that doesn't need him to be a superstar to win the vast majority of its games.
Patterson is only just beginning to show up in mock draft chatter, and the speculation over whether he'll return to Michigan next year is just getting underway. Barring a first-round projection (unlikely) he probably will. But 2019 is a long way off; his opportunity is right in front of him over the next few weeks. Whether he stays or goes, it's not going to get any more opportune than it is right now.
QB Curve Power Hour!
Ranking the league's starting quarterbacks heading into Week 12.
1. Tua Tagovailoa, Alabama. Nick Saban said Monday that he expects Tagovailoa to play in this weekend's scrimmage against The Citadel, which seems … unnecessary. If he gets more than one series against the Bulldogs someone needs to stage an intervention. Someone with tenure. (Last Week: 1)
2. Jake Fromm, Georgia. Fromm had a reassuringly quiet night against Auburn, ceding the spotlight to UGA's running backs in the closest approximation yet to an all-around 2017-style shellacking. However much he continues to improve, there will probably never be a point in Fromm's career when it won't be true that the less he does, the better. (LW: 2)
3. Jordan Ta'amu, Ole Miss. Ta'amu lit up Texas A&M for 373 yards passing Saturday in the Rebels' 38-24 loss in College Station, the third consecutive week he's topped 320 through the air in a losing effort; that's despite putting up 127 attempts in that span without an interception. Some part of the preceding sentence has to be a record. (LW: 3)
4. Drew Lock, Missouri. It feels like Lock has been throwing for 253 yards with 2 TDs and 2 INTs against Vanderbilt several times a year for a decade. Mizzou's going to miss him. (LW: 4)
5. Kellen Mond, Texas A&M. When the Aggies scheduled UAB for this weekend it's a safe bet they didn't expect the Balzers to come in with a 9-1 record, a top-25 ranking, and a defense ranked in the top 5 nationally in yards allowed, points allowed, pass efficiency, and sacks. But here we are. (LW: 5)
6. Jake Bentley, South Carolina. Bentley has posted a pass efficiency rating of 150 or higher in three consecutive games, his longest north-of-150 streak since his first three career starts as a true freshman. At least full circle is better than the direction his production has been on for much of the past two years. (LW: 6)
7. Jarrett Stidham, Auburn. Stidham has accounted for nearly two-thirds of Auburn's total offense, all of it through the air, which says more about the state of Auburn's offense than it does about Stidham's production through the air. The Tigers' ground game still ranks dead last in the conference vs. FBS opponents. (LW: 7)
8. Joe Burrow, LSU. Burrow's first-quarter touchdown pass against Arkansas was his first passing TD since September, breaking a 4-game drought. That LSU managed to win two of those four games handily — including a 20-point rout over Georgia — might be the ultimate Joe Burrow stat. (LW: 8)
9. Nick Fitzgerald, Mississippi State. Factoring in sacks, Fitzgerald finished with negative rushing yards against Alabama for the first time in his career. On a related, the Bulldogs have been held to 7 points or fewer in all four losses this season. (LW: 9)
10. Jarrett Guarantano, Tennessee. Guarantano' efficiency rating against Kentucky (175.7) was the best of his young career against an SEC opponent, albeit one that looks it's run out of gas. He came out of the win riding a streak of 146 consecutive passes without an interception, the longest stretch in school history at the school where Peyton Manning played. (LW: 11)
11. Kyle Shurmur, Vanderbilt. Shurmur is consistently the toughest QB on this list to gauge, in part due to his relatively low profile at the SEC's most under-the-radar program, and in much larger part due to his perpetually lukewarm production: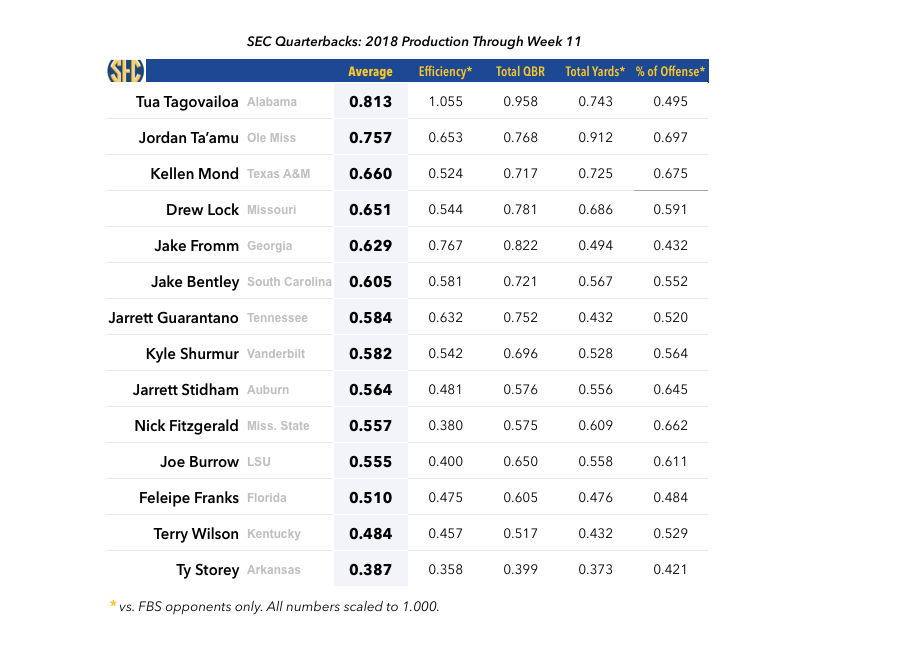 That's the definition of tepid. But hey, Vandy has done a lot worse behind center than tepid. (LW: 10)
12. Feleipe Franks, Florida. I enjoyed Franks repeatedly shushing his own crowd during the Gators' come-from-behind win over South Carolina, the first glimmers of personality he has shown in his two years as a starter. Preferably next time it won't take him getting benched amid a chorus of boos to inspire that kind of performance. (LW: 13)
13. Terry Wilson, Kentucky. Wilson was sacked five times in the Wildcats' loss at Tennessee, raising his total in SEC games to 21 sacks for the year. Only Texas A&M has allowed more. (LW: 12)
14. Ty Storey, Arkansas. Storey led a pair of late touchdown drives against LSU to turn a 24-3 snoozer into a something that almost resembled an upset bid. For a team that suffered a 27-point loss to North Texas earlier this season, that's what progress looks like. (LW: 14)