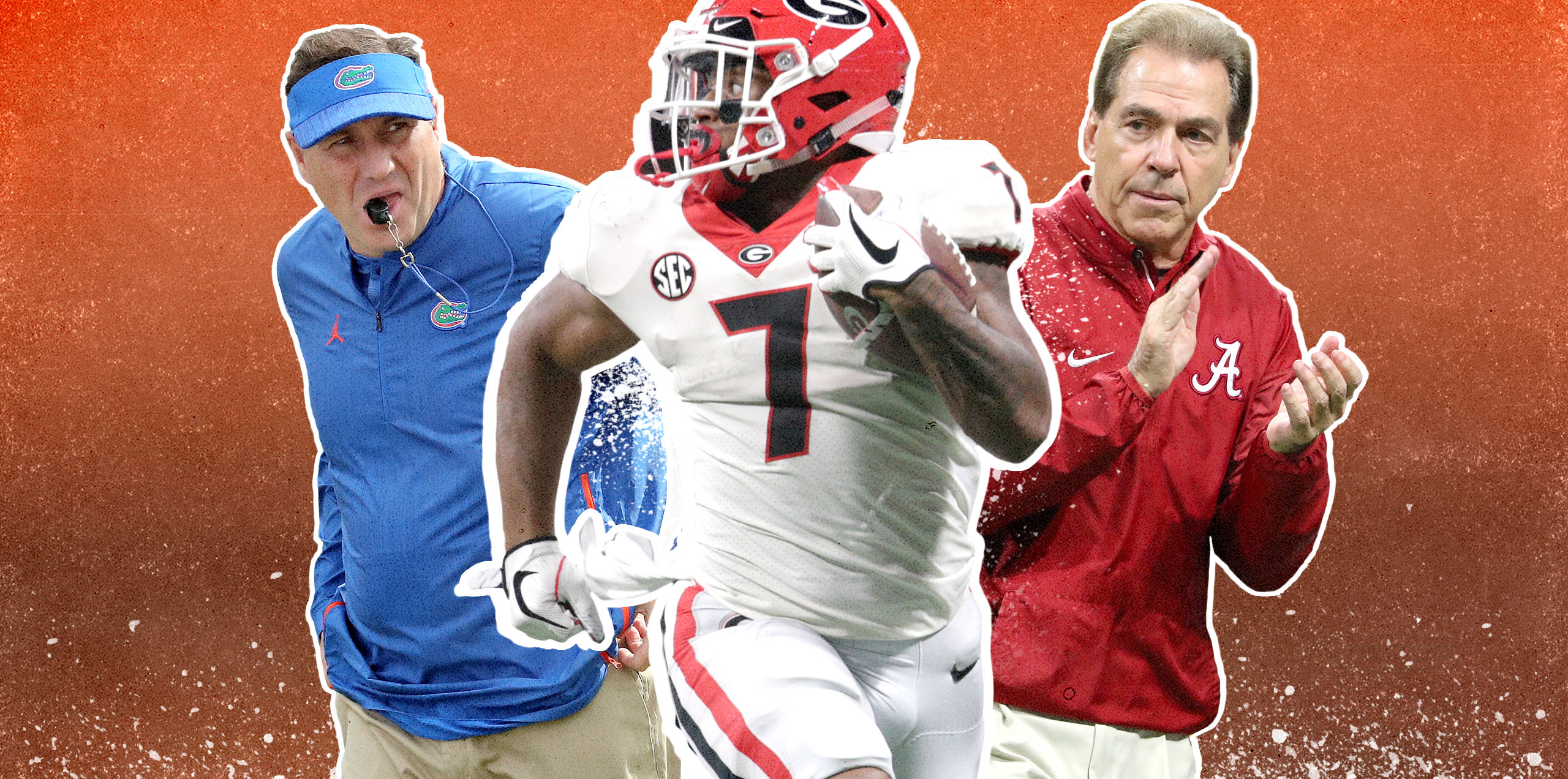 SEC
Monday Down South: Here comes the Georgia offense (and the D'Andre Swift) we expected all along
You've heard of the September Heisman, the (mostly) tongue-in-cheek title bestowed by the Internet on the player who earns the most premature hype over the first month or so of the season. (This year's "award," obviously, went to Tua Tagovailoa in one of the most lopsided September Heisman races on record.) But the hive mind is long past overdue to embrace its natural corollary: The November Heisman, reserved for an obscure or slow-starting player who suddenly surges into the national consciousness down the stretch. Because if we're still lacking for an honorific to describe what's going on with D'Andre Swift the past few weeks, it's time to invent one.
D'Andre Swift!!! 77 yards to the house!!! #UGA pic.twitter.com/foHFBj9aG4

— #FreePhillipDorsett (@ftbeard_17) November 11, 2018
Not that Swift was obscure, by a long shot; he was singled out for full-fledged Heisman hype as a sophomore even while his freshman campaign was still in progress, despite his third-wheel status behind Nick Chubb and Sony Michel. By the summer he was a bona fide frontrunner. Then came the nagging injuries, and the emergence of Elijah Holyfield as an equal partner in Georgia's crowded backfield rotation, and the frustrating dearth of the kind of big plays that defined his limited role in 2017.
Through the first seven games, Swift averaged 51.7 yards rushing on 5.1 per carry, numbers he routinely topped as an understudy, with a long gain of just 24. So went the headliner, so went the rest of the offense: At midseason, the Bulldogs looked adrift, limping into a bye week in the wake of a sobering, 36-16 flop at LSU in which they uncharacteristically abandoned the run altogether.
Since the bye, though, the past three games have served as a restatement of the original premises, each one more emphatic than the last. Against Florida, Swift ran for a career-high 104 yards on just a dozen carries in support of arguably the best game of QB Jake Fromm's career. Against Kentucky, he stole the spotlight with 156 of the Bulldogs' 331 rushing yards, including a pair of show-stopping TD runs — killer moves on the first; breakaway speed on the second — in a thorough, 34-17 throttling of one of the nation's stingiest defenses. In Saturday's 27-10 win over Auburn, he looked like a flat-out star, exploding for 186 yards (a career high for the third week in a row) on 10.9 per carry while adding another 43 yards as a receiver. His 77-yard sprint in the third quarter, coming on the heels of last week's 83-yarder in Lexington, made Swift the first Georgia back with multiple 75-yard TD runs in the same season since Herschel Walker.
So goes the headliner, so goes the rest of the offense: Along with Holyfield, a bruiser whose production has remained steady as Swift's has achieved liftoff, UGA's ground game is picking up steam for the first time this season at exactly the right time.
Just like last year, the Bulldogs lead the SEC in both rushing yards per game and per carry; just like last year, they're anchored by an interchangeable thunder-and-lightning combo that averages just shy of 7 yards a pop. (Together, Chubb and Michel went for 6.8 per carry in 2017; Holyfield and Swift are up to 6.7 on roughly the same number of attempts per game.) And like last year, there's Fromm, a year older, as entrenched as ever, and still surrounded by an enviable array of big-play threats.
In other words, with two weeks to go until its foreordained showdown with Alabama in the SEC Championship Game — and with Bama beginning to show the faintest glimmers of vulnerability, embodied by Tagovailoa's ailing knee — Georgia looks closer than at any other point this season to emerging as the team we expected it to be coming in: A carbon copy of the 2017 edition, more or less, with all the pieces in place to play its way back onto the championship stage. And no single piece is more important to fulfilling that potential than Swift, whose return to full health has re-energized the offense against the most critical stretch of the regular-season schedule.
It gets easier the next two weeks against UMass and Georgia Tech before the margin for error drops to zero with essentially an automatic playoff bid on the line. If anything, the current outfit is in better position at this point on the calendar than last year's, which got rocked against Auburn rather than reaffirmed. The Bulldogs know who they are, and the winning streak has seen them at their best. The only question is whether that version will be the one that shows up in Atlanta.
Notebook
Around the conference.
Georgia 27, Auburn 10
I'm no expert lip reader but I'm pretty sure a blind man can see what he just said. pic.twitter.com/hmbo84L4Hu

— Auburn Overtime (@AuburnOvertime) November 11, 2018
I don't know how much stock any Auburn fans put into the notion that the Tigers had turned a corner after their midseason meltdowns against Mississippi State and Tennessee, but in retrospect it's hard to imagine this game going any other way.
In fact, Auburn is fortunate the final score wasn't worse: The Bulldogs blew a couple early opportunities inside the Auburn 10-yard line, settling for field goals, and another one late, when they failed to convert on a bizarre fake field goal attempt with a 17-point lead. Aside from its red-zone issues, Georgia racked up a 242-yard edge in total offense and a nearly 17-minute advantage in time of possession, otherwise known as a beatdown.
Given Auburn's expectations for this season, the most disappointing aspect might have been how utterly unsurprising the entire affair was, and with the Tigers staring down a likely 7-5 finish (ESPN's Football Power Index gives them just a 6.9-percent chance of beating Alabama in Tuscaloosa) it's tempting to nominate them for the title of Most Disappointing Team in the nation.
But this has been a banner year for disappointment: Auburn is one of three teams that have fallen out of the AP poll entirely after opening the season in the top 10, joining No. 4 Wisconsin (6-4) and No. 8 Miami (5-5) in mediocrity. Moving further down the preseason list, you'll no longer find No. 11 Michigan State (6-4), No. 13 Stanford (6-4), No. 15 USC (5-5), No. 16 TCU (4-6), No. 19 Florida State (4-6), No. 20 Virginia Tech (4-5), or No. 24 Oregon (6-4), either.
That's about normal for this time of this year. What's not normal is the relative lack of pleasant surprises to take their place. In most years, 2-loss teams make up the largest group in the polls at this point in the season, usually by a significant margin; this year, once you get past the Top 10 there's a giant blank spot where the upper middle class is supposed to be: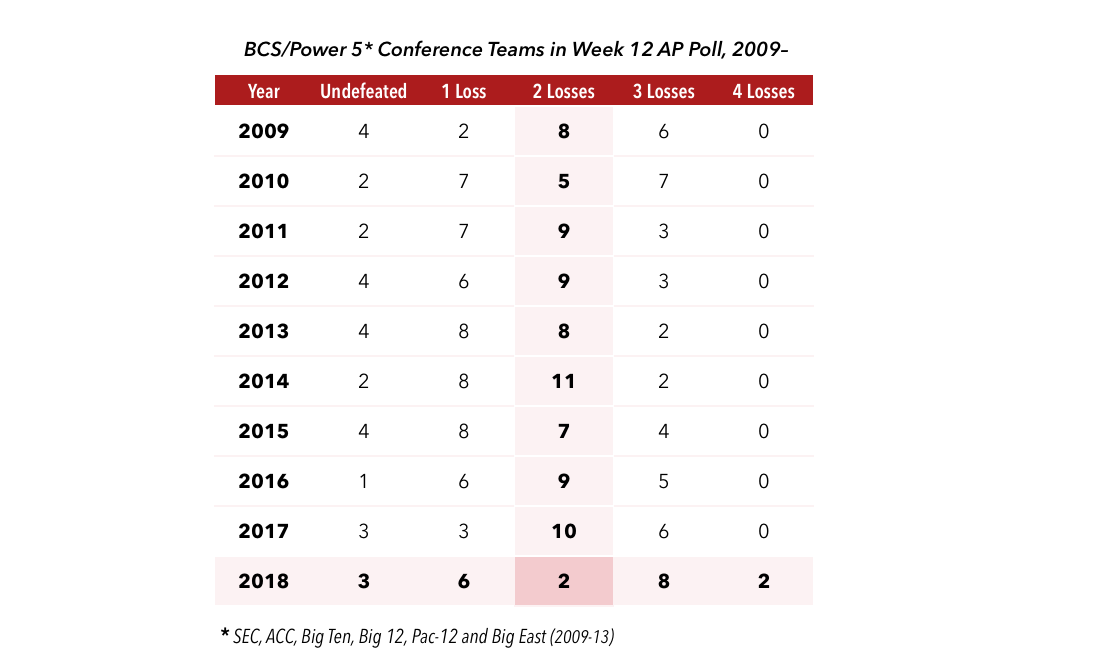 For the record, the only two Power 5 teams with two losses at the moment are LSU (8-2) and Syracuse (8-2). That's it: End of list. The result is more 3-loss teams than have appeared in the Week 12 polls at any point in the past decade (including Florida, at No. 15, and No. 20 Kentucky) and the unheard-of appearance of a pair of 4-loss teams (No. 24 Northwestern and No. 25 Mississippi State) for the first time in that span. The bar for the bottom third or so of the current rankings is as low as it's been in a long time, because the gap between the top teams and the middle of the pack is even wider.
Alabama 24, Mississippi State 0
On that note, it's worth pointing out that even on an afternoon when Alabama's offense turtled up for the final three quarters — possibly because Mississippi State's defense began calling out Bama's plays before the snap — the Tide still inflicted a 2012-vintage strangulation without missing a beat. The offense put together extended touchdown drives on its first two possessions; the outcome was never remotely in doubt. They covered the spread, extended their shutout streak to eight consecutive quarters, and extended their run of 20-point victories to 10 consecutive games.
That said: For an attack that came in averaging 51.3 points per game, the drop-off against the Bulldogs' Playoff-level defense was even steeper than score suggests. After back-to-back TD to open the game, Alabama's only points came on a pair of short-field "drives" that started in Mississippi State territory following a muffed punt and a turnover on downs, respectively.
The thrill-a-minute passing attack that's defined Bama's season was a nonentity, and not for lack of effort. Including sacks and scrambles, Tagovailoa dropped back to pass 30 times, despite the fact that he was obviously nowhere near 100 percent at any point. On top of his existing injury, Tua took an honest-to-god beating in the pocket for the first time in his career, culminating in four sacks, multiple pressures, and a direct hit to his gimpy knee.
https://twitter.com/WeAreDBNation1/status/1061397083515731968
Tua's health is irrelevant for this weekend's open-to-the-public scrimmage against The Citadel, a game he might well have skipped regardless, but beyond that it gets dicey. It would be one thing if Alabama could just plug Jalen Hurts into the lineup in two weeks against Auburn; Bama would still be heavily favored to beat the Tigers, and probably a toss-up at worst if Hurts was pressed into the lineup the following weekend against Georgia. But Hurts has looked wobblier on his injured ankle in warmups the past two weeks than Tagovailoa has in live action, and doesn't seem any more likely at this point to be ready to go for either of those games. Which leaves either a vulnerable Tua or a wet-behind-the-ears Mac Jones in the Tide's two biggest games of the regular season.
The odds of Nick Saban voluntarily sitting the best quarterback he's ever had in the Iron Bowl are nil, even though the game is probably meaningless as far as Alabama's Playoff ambitions are concerned.
Championship hopes, conference and national, rest entirely on the collision with Georgia, which will serve as a de facto Playoff quarterfinal no matter what happens against Auburn. If there's any doubt, though, then how much Tagovailoa plays against the Tigers, and how much he's allowed to do, are open questions. As unstoppable as the Tide have looked when everything is clicking, Mississippi State just gave us our first meaningful glimpse of the alternative when they're not.
Florida 35, South Carolina 31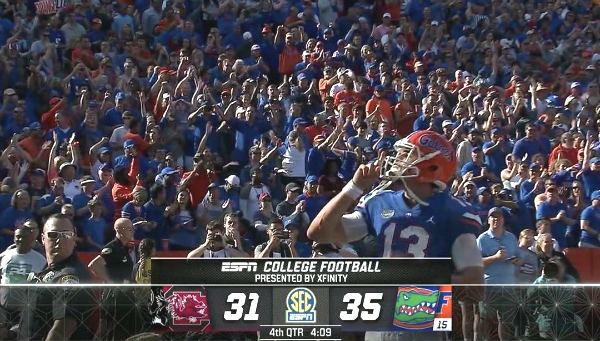 For my money, this was Feleipe Franks' finest hour, both for his production (15-of-21 passing, 197 total yards, 3 total TDs) and for the chutzpah to shush his own fans in return for getting booed in last week's loss to Missouri.
Franks was benched in that game, putting his status in doubt; in this one, he took every snap and played an instrumental role in all three Florida touchdown drives — covering 75, 89, and 66 yards — after the Gators behind 31-14 in the third quarter. The comeback is arguably his high-water mark as a starter, a 180-degree turn after the Mizzou debacle, and he made sure everyone on hand recognized.
Theatrics notwithstanding, though, it was also the best example yet of what Dan Mullen's power spread scheme is ideally supposed to look like, beginning with the fact that Gators kept the ball on the ground almost three times as often as they called on Franks to put it in the air. RBs Jordan Scarlett and Lamaical Perine pounded out 266 yards between them on 7.8 per carry, despite a long gain of just 28; Franks and Wildcat/jet sweep specialist Kadarius Toney added another 87 yards. Mullen could probably live without the part where his team has to rally from a 17-point deficit in the second half. Otherwise, the distribution, efficiency (Florida converted 10-of-16 on third down), time of possession (Florida held the ball for 35:40, nearly a 12-minute advantage), and overall production in the end was right in the heart of the target Mullen's offenses have always aimed for.
Oh, the last time the Gators piled up 300 yards rushing in a single game, against anyone? Nov. 1, 2014, when they ran for 418 yards in an out-of-the-blue upset over Georgia — the platonic-ideal offensive performance under then-head coach Will Muschamp, who was fired barely two weeks later. To find oneself on both ends of a statistic like that is a rare and special achievement.
Superlatives
The best of Week 11 …
1. Georgia RB D'Andre Swift. Swift is coming from much too far out of left field at this point in the season to contend for the actual Heisman Heisman, but at his current rate he'll crack the 1,000-yard mark easily with some video-game jukes to pad out the résumé. First-team All-SEC is a possibility.
2. Alabama DT Quinnen Williams. If there's an unsung Heisman candidate in this league, it's Williams, who followed up last week's breakout performance at LSU with another bar-the-door effort in Bama's shutout win over Mississippi State: His six tackles from the nose led the team, including two tackles for loss and a sack.
Quinnen Williams showing off the quickness! What a play! #RollTide pic.twitter.com/nNtH7E0pVY

— #FreePhillipDorsett (@ftbeard_17) November 10, 2018
He came into the weekend as the highest-graded interior d-lineman Pro Football Focus has tracked since it started grading college players in 2014, and that's not going to change any time soon.
3. Mississippi State LB Willie Gay Jr. Gay, a true sophomore, turned in the game of his life against the most decorated opponent, outshining bigger names against Alabama with a career-high nine tackles and two of the Bulldogs' four sacks. He also recorded his first career interception, just the second pick off Tagovailoa this season, which set up the MSU offense with its only starting field position in Crimson Tide territory. (They promptly went 3-and-out … because Bama. It was that kind of day.)
4. Texas A&M RB Trayveon Williams. It only seems like there's a weekly spot reserved here for a skill player who feasted on Ole Miss' defense. But Williams certainly made the most of his opportunity against the Rebels, piling up career highs for carries (31) and yards (228) and supplying the coup de grace on a late, 46-yard touchdown run. That, along with Benny Snell Jr.'s below-par afternoon at Tennessee, left Williams as the SEC's leading rusher this season by a comfortable margin.
5. Tennessee LB Darrell Taylor. Taylor played a leading role in bottling up Kentucky's out-of-gas offense, registering 4 sacks and a forced fumble (which he also recovered) in a 24-7 win that moved the Vols within one win of bowl eligibility.
"Josh Allen is the best defender in the SEC this year"

Darrell Taylor "hold my beer" pic.twitter.com/L2zc3XIxqa

— V⍟ʟBʟooᴅ (@volblood) November 11, 2018
That brought Taylor's sack total to the season for seven, all of them coming in just two games — he also had three sacks in September in Tennessee's loss at Georgia. This time around, the number got him recognized as the Walter Camp National Defensive Player of the Week.
Honorable Mention: Alabama RB Josh Jacobs, who churned out 99 yards on a career-high 20 carries against Mississippi State, most of them coming the hard way after contact. … Florida RBs Jordan Scarlett and Lamical Perine, who alternated the anchor role in the Gators' mauling of South Carolina in efficient, workhorse fashion. … South Carolina LB T.J. Brunson, who racked up a team-high 16 tackles in the Swamp, 3 for loss, including 2 sacks. … LSU DBs Grant Delpit and Kary Vincent Jr.,who combined for 9 tackles, 2 TFLs, 4 passes defended, and a one-handed interception in the Tigers' 24-17 win at Arkansas. … Texas A&M punter Braden Mann, who averaged 47.8 yards per attempt against Ole Miss and added another NCAA record to his résumé with his 13th punt of 60 yards more this season. … Auburn LB Deshaun Davis, who logged a team-high 10 tackles against Georgia with a pair of TFLs. … Vanderbilt RB Ke'Shawn Vaughn, who made his move on the conference rushing charts with a 182-yard day against Missouri on just 15 carries. … And South Carolina WR Deebo Samuel, who caught 4 of the 5 passes thrown in his direction against Florida for 120 yards, almost all of them coming after the catch.
Demerits
… and the worst.
MSU TD called back for this block in the back. You make the call: pic.twitter.com/XTfSBJeV8t

— Chris Hagan (@ChrisHaganIndy) November 10, 2018
Mississippi State's phantom clip. It didn't affect the outcome in a game that was effectively over in the second quarter — let's be very clear here for the more conspiracy-minded readers: It didn't affect the outcome — but you didn't need a tinfoil hat to see that the block-in-the-back penalty that negated a Mississippi State touchdown just before halftime was one one of the most egregious calls of the year.
MSU's Deddrick Thomas went out of his way specifically not to block Alabama's Shyheim Carter in the back, to no avail from the perspective of the line judge; the Bulldogs were (legitimately) flagged again on the next play for a delay of game, forcing a field goal attempt that subsequently sailed wide to preserve the shutout.
Combined with an apparent fumble on the opening possession of the game that somehow escaped review, allowing the Tide to continue marching for their first touchdown, that's a potential 14-point swing in Alabama's favor that can be directly or indirectly chalked up to the refs.
That's not nearly enough to alter the result in a game Bama otherwise controlled from start to finish, but it was enough to leave the Bulldogs feeling like they were facing an even more lopsided playing field than they'd bargained for with the Tide's talent alone.
Wrong-way Razorbacks. Arkansas put up a fight against LSU, eventually, mounting a pair of late touchdown drives that put a would-be blowout within striking distance in the final minutes. They also did this, inadvertently summing up the Razorbacks' season:
Arkansas would like to Ctrl+Z this play pic.twitter.com/18n9zZA5v6

— CBS Sports (@CBSSports) November 11, 2018
That slapstick collision (which went in the official play-by-play simply as "Ty Storey pass complete to Jordan Jones for a loss of 5 yards") was the low point of a dismal first half that yielded 5 punts, 2 turnovers, and just 3 first downs. The Hogs have two more chances to record their first conference win in trips to Mississippi State and Missouri, which … yeah, good luck with that.