SEC
Monday Down South: Georgia put all of its championship chips in on Jake Fromm
It wasn't a blowout like the one Georgia administered to Florida last year, or the kind of swaggering beatdown in the trenches that UGA fans have been waiting to emerge. It was ugly at times, and still in doubt well into the fourth quarter. In the end, though, the Bulldogs' decisive, 36-17 win in the Cocktail Party was exactly what they needed to resolve their midseason crisis on the heels of a five-alarm flop at LSU, and to reaffirm that this team can still be the contender it was supposed to be. And it made abundantly clear that if they're going to see that promise through, it's going to be with Jake Fromm running the show.
That the point actually needed to be clarified speaks to just how badly Fromm struggled in Baton Rouge, a trip that put his worst foot forward — opposite a blue-chip defense, in the face of a mounting deficit that rendered Georgia's running game obsolete, he was indecisive, inaccurate, and suddenly in the crosshairs of a base eager to see more of 5-star freshman Justin Fields. After a two-week layover (the better to ramp up the speculation), Saturday was Fromm at his resilient best: 17-of-24, 240 yards, 3 touchdowns, zero picks, zero doubt about his status for the foreseeable future. Fields was relegated to zero snaps for the first time this season.
If anything, the stat line understates the extent to which Fromm transcended his plays-within-the-offense rep. Unlike the loss at LSU, Georgia ran the ball consistently and effectively in Jacksonville, with RBs D'Andre Swift and Elijah Holyfield churning out 175 yards between them on a healthy 5.5 per carry. But Fromm, playing against type, was arguably less dependent on the ground game to set up the pass than in any other game of his young career. His numbers against the blitz, according to Pro Football Focus: 10-of-12 for 121 yards and a touchdown. On throws of 10 yards or more downfield: 7-of-10 for 140 yards with 3 TDs. Prior to Saturday, Fromm had struggled this season on third downs, especially on 3rd-and-long; against Florida, he connected on 6-of-7 third-down attempts with five conversions, including touchdown passes on 3rd-and-2, 3rd-and-9, and 3rd-and-13.
Fromm with a 24 yard TD strike to Godwin! #UGA pic.twitter.com/eZYI7SJV1g

— New Account (@ftbeard_17) October 27, 2018
It would be exaggerating (although not by much) to describe Georgia's reaction to the LSU loss as panic. It's amazing, though, the difference two weeks can make in this sport. As a team, the Bulldogs are back on more or less the same solid ground they occupied a month ago, with at least an 80 percent chance of winning each of their next four games, according to ESPN's Football Power Index, and a clear path back to the Playoff if they win out through the SEC Championship Game. Nothing about those scenarios has changed except the margin for error.
Nor has the fact that, on paper, this team continues to look virtually identical to the 2017 edition, which was also handed its hat in a stunning road loss and went on to play for the national title. Swift and Holyfield aren't Nick Chubb and Sony Michel, but yards and points per game are slightly up. The defense, which replaced 10 outgoing starters over the offseason, is so eerily similar to last year's D that its overall scoring average (16.4 points allowed per game) is exactly the same.
The one area where the Bulldogs still stand to take a real, tangible step forward from last year is at quarterback, in Fromm's growth from inexperienced "game manager" who's in trouble if he has to put the ball in the air more than 20 times on a given day to polished vet capable of making positive plays even when the down and distance or the scoreboard isn't in his favor. After the LSU debacle, it was a legitimate question whether Fromm would ever grow into that guy, much less in time to salvage Georgia's bigger goals for this season.
After Saturday, the more apt question is whether his second half turn against the Gators was a blip or a new leaf that will carry over into the postseason. Either way, let there be no doubt now that he's going to have every opportunity to prove it on that stage.
Notebook
Around the conference.
.@UKCoachStoops living his best life.

(via @UKFootball) pic.twitter.com/w7By4Idz7F

— SEC Network (@SECNetwork) October 28, 2018
Kentucky 15, Missouri 14
First off, let's stipulate that Kentucky is good. Like, legitimately good, worthy of its 7-1 record and top 15 ranking, and of hosting what will probably be the biggest game in the modern history of Kentucky football next week against Georgia. And that is due almost exclusively to its defense: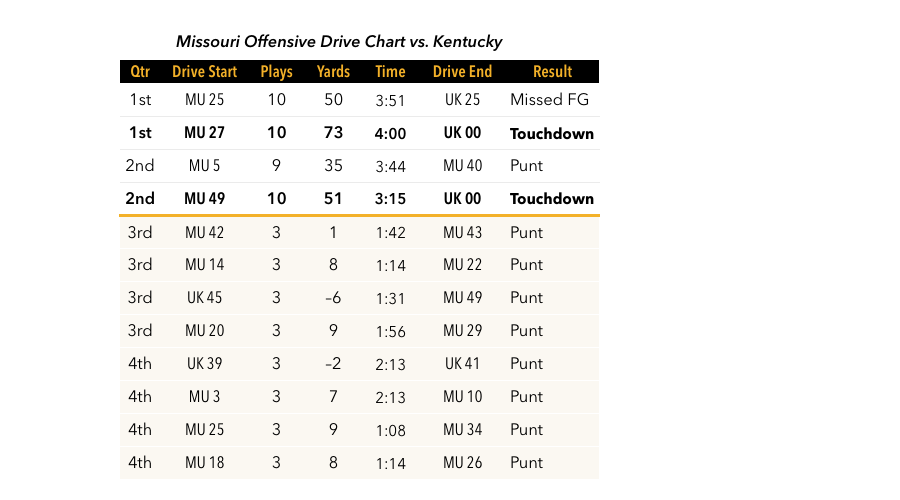 That's exactly what it looks like: Eight possessions after halftime, eight consecutive 3-and-outs, at the expense an offense that came in averaging 500 yards per game behind an NFL-bound senior quarterback. It's also, incredibly, par for the course for opposing offenses this season. All but one of Mississippi State's offensive possessions against Kentucky ended with a punt or turnover, including six 3-and-outs and a 4-and-out. South Carolina limped through five 3-and-outs against UK en route to putting up 10 points. Texas A&M came up empty on 10 of its 12 possessions in regulation. Vanderbilt posted an early touchdown in Week 8 in Lexington and didn't score again.
Altogether, the Wildcats allowed a grand total of nine regulation touchdowns in six conference games, an incredible leap forward from last year (when they allowed 31 TDs in SEC games) and good enough to make them the nation's No. 1 scoring defense entering November. In advanced-stat terms, the Kentucky D ranks third nationally according to both S&P+ and SRS, and eighth per FPI. No other SEC team has allowed fewer yards per play vs. FBS opponents. It's a fully realized unit playing as well over the past six weeks as any defense in the country.
And yet: For the third consecutive game the Wildcats needed every single last drop of that dominance just to give the offense a fighting chance at the end, in a game they frankly had no business winning.
In context, UK's last-gasp, 81-yard drive to win felt like a borderline miracle on multiple levels, beginning with the fact that the 'Cats were still within striking distance — their only touchdown to that point had come on a 67-yard punt return by Lynn Bowden Jr., which cut a seemingly insurmountable 14-3 deficit to 14-9 with a little more than five minutes to go. (That recalled the Wildcats' trip to Texas A&M, when they needed a defensive touchdown in the fourth quarter to force that game into overtime.)
From there, Missouri aided the cause by attempting four passes on its last two offensive series, three of which fell incomplete, leaving 1:24 on the clock for Kentucky's final possession and a timeout in the Wildcats' pocket.
Then there was UK quarterback Terry Wilson, who was briefly benched in the third quarter but turned into Joe Montana on the final drive, hitting six consecutive passes (not including a pair of sacks) for 87 yards, capped by the game-winning TD to C.J. Conrad with no time on the clock. (The dubious pass interference penalty against Missouri on the previous play, which allowed for one last untimed down, was another random tick in Kentucky's favor; see the "Demerits" section below.) Earlier in the fourth, Wilson led an extended march that ended on a failed 4th-down attempt inside the Mizzou 5-yard line; combined with the game-winning drive, he had more passing yards in the final quarter alone (146) than he'd managed in any of Kentucky's previous four games.
C.J. Conrad Scores the Game-Winning Touchdown for Kentucky!!! #BBN #Wildcats #WeAreUK pic.twitter.com/TKvUcNR1BK

— Wildcat Touchdowns (@WildcatTDs) October 28, 2018
A dramatic, come-from-behind division win is a dramatic, come-from-behind division win. Still, when the adrenaline subsides where does that leave the Wildcats against Georgia?
The offense is the upside-down version of the D: Among SEC teams Kentucky comes in 13th out of 14 in total offense, tenth in yards per play, and tied for dead last in scoring. Wilson is 12th among regular starters in pass efficiency. Every other aspect of the team has to be near-perfect to make that work as well as it has to date, and the margin for error against the Bulldogs will be smaller than it's been all year.
Mississippi State 28, Texas A&M 13
Where has this version of Nick Fitzgerald been all season? Last week, I was part of the very loud, very insistent chorus calling for Mississippi State to pull the plug on the fifth-year senior as its starting quarterback, if only for long enough to give sophomore Keytaon Thompson a chance to try on the role for size after a series of dismal passing efforts by Fitzgerald over the preceding month.
Instead, the Bulldogs stuck with their embattled incumbent from start to finish against A&M and were rewarded with possibly the best passing performance of his up-and-down career: 14-of-22 for 241 yards, 2 touchdowns, no interceptions, and — as with Jake Fromm at Georgia — no doubt about who belongs at the top of the depth chart. Thompson, the de facto fan favorite, got on the field for one carry and didn't attempt a pass.
Mississippi State strikes first! Great throw from Nick Fitzgerald & great catch by Stephen Guidry!! #Bulldogs pic.twitter.com/DweiSc8V08

— New Account (@ftbeard_17) October 27, 2018
Fitzgerald also added a game-clinching, 76-yard touchdown run in garbage time, salvaging a big rushing number (88 yards on 16 carries, including sacks) on a night when his arm carried the banner. The only downside for State fans is that the apparent turnaround came too little, too late to take full advantage of a defense that's shaping up as the best in school history — MSU ranks in the top five nationally in scoring D, total D, and yards per play allowed, having held opponents to one touchdown or less in seven of eight games this year. (The exception was Kentucky, which scored four.)
The versatile, efficient Fitzgerald on display on Saturday night would have been nice to have at their disposal in low-scoring losses to Florida and LSU, whose only touchdown last week came as a direct result of one of Fitzgerald's four interceptions in that game. As it is, the Bulldogs are left to hope he sticks for upcoming trips to Alabama and Ole Miss.
Superlatives
The best of Week 9 …
Josh Allen strip sack. Rinse and repeat. pic.twitter.com/m8JmkZKgzr

— Scott Charlton (@Scott_Charlton) October 27, 2018
1. Kentucky LB Josh Allen. Allen, a junior, has been a mainstay in this section and continued his breakout campaign Saturday with one of his most productive outings yet, finishing with 11 tackles (9 solo), 2 sacks, and 2 forced fumbles in another all-around dominant performance by the defense. For the year, Allen is tied for the national lead against FBS opponents in sacks (10), tackles for loss (14.5) and forced fumbles (5), mirroring his team's performance on the scoreboard.
2. Georgia QB Jake Fromm. Pro Football Focus graded Fromm as Georgia's best individual player in the win over Florida and put him on PFF's National Team of the Week. All told his rebound effort in Jacksonville was as polished and NFL-ready a performance as he's delivered in any of his 22 career starts.
3. Georgia DB Tyrique McGhee. McGhee registered two takeaways against Florida to go with his 5 tackles, coming down with a drive-killing interception in the first half (his first pick of the season) and the forced fumble in the second that put Georgia's offense in a position to all but ice the win from the Gators' 1-yard line. It didn't quite work out that way, but not for lack of initiative by No. 26, who did everything he could short of scoring himself.
4. Florida DL Jabari Zuniga. On the other side, Zuniga's seemingly run-of-the-mill stat line against Georgia (6 tackles, 1 for loss, plus a QB hurry) obscured a performance that occasionally leapt off the screen. At no point was his explosiveness more obvious than on the Gators' extended goal-line stand, where he was credited with 3 stone-walling tackles on 6 snaps.
@JabariZuniga ✈️around the field. He's gonna eat well on Sundays pic.twitter.com/WpxCAvBqxH

— GatorNation ? (@NYGATOR1) October 27, 2018
5. Kentucky WR Lynn Bowden Jr. It's hard to imagine where Kentucky would have been at Missouri without its electric sophomore, who singlehandedly kept the Wildcats alive on his punt-return touchdown in the fourth quarter while also accounting for more receptions (13) and receiving yards (166) against the Tigers than the rest of the team combined. Six of those grabs came in the fourth quarter, including a 17-yarder on the eventual game-winning drive that set up the decisive sequence.
Honorable Mention: Florida LB Vosean Joseph, who was his usual ubiquitous self for the Gators with a team-high 13 tackle and a perfectly timed blitz/sack on Georgia's opening possession. … Vanderbilt RB Ke'Shawn Vaughn, who ran for a season-high 172 yards and 3 TDs in the Commodores' 45-31 win over Arkansas. … Vanderbilt TE Jared Pinkney, who hauled in 5 catches for 93 yards and 2 TDs against the Razorbacks. … Missouri punter Corey Fatony, who averaged 48.4 yards on nine attempts, dropping 5 inside the UK 20-yard line. … South Carolina RB Rico Dowdle, who racked up 140 yards rushing in the Gamecocks' comeback win over Tennessee, on 10.0 per carry. … South Carolina DE D.J. Wonnum, who had both of the Gamecocks' sacks in his first game back from an ankle injury, the latter of which sealed the win in the fourth quarter. … Mississippi State DB Jaquarius Landrews, who recorded a career-high 7 tackles with two sacks against Texas A&M. … And Mississippi State QB Nick Fitzgerald, who was not benched and likely isn't going to be anytime soon.
Catch of the Year of the Week: Deebo Samuel
Based strictly on the box score, Samuel's line in South Carolina's win over Tennessee (3 catches for 8 yards) made it one of his quietest nights of the season. But then, he's never needed a high-volume workload to make noise:
https://twitter.com/SECNetwork/status/1056351548312379397
That catch was a rerun of Deebo's first TD catch of the season, a one-handed show-stopper in the same corner of the same end zone against Coastal Carolina, and capped the first of what turned out to be four consecutive scoring drives for the Gamecocks to close the game.
Fat Guy of the Week: Vanderbilt DL Louis Vecchio
Vecchio, a grad transfer from the Ivy League, had a suitably eclectic afternoon in Vanderbilt's win over Arkansas: In addition to notching his third sack of the season, the 6-5, 270-pounder came off the bench to swat down two passes and somehow managed to pick off a third in defiance of at least two of the three laws of motion.
Louis Vecchio seems like the kind of guy who can snag a mosquito between two chopsticks pic.twitter.com/PAdJFUHVaQ

— Christian D'Andrea (@TrainIsland) October 27, 2018
The play-by-play doesn't bother to clarify these things, for some reason, so if you're keeping track, Vecchio tipped the ball twice as he hit the deck, landed on his stomach, rolled onto his back in time for the ball to land on his facemask, and successfully trapped it before it could hit the ground, all in the span of maybe two seconds. His first career interception set up the Commodores at the Arkansas 29-yard line for their sixth and final (and shortest) touchdown drive of the game, giving Vandy its highest point total since a 45-34 win over Tennessee in 2016.
Demerits
… and the worst
That Call. I rarely have sympathy for ref-shaming in the wake of a close loss. Most "bad" calls are debatable, at worst, and a certain type of fan on the losing side is always prepared to whine about the injustice of it all no matter what. The refs come with the territory; most of the time, the people venting spleen in their direction might as well be complaining about a stop light.
But I will make an exception in the case of an egregiously bad call that directly affects the outcome in the closing seconds, and the defensive pass interference penalty on Missouri's DeMarkus Acy as time expired against Kentucky certainly falls into that category:
The call that made it possible. pic.twitter.com/iyHrfo8RDp

— Brandon Kiley (@BKSportsTalk) October 27, 2018
It's hard to fathom how Acy, who gave up somewhere in the neighborhood of three inches and 40 pounds on this play to Kentucky's Ahmad Wagner, was fingered for a game-deciding penalty when it was Wagner who both initiated contact with a two-handed shove to Acy's face …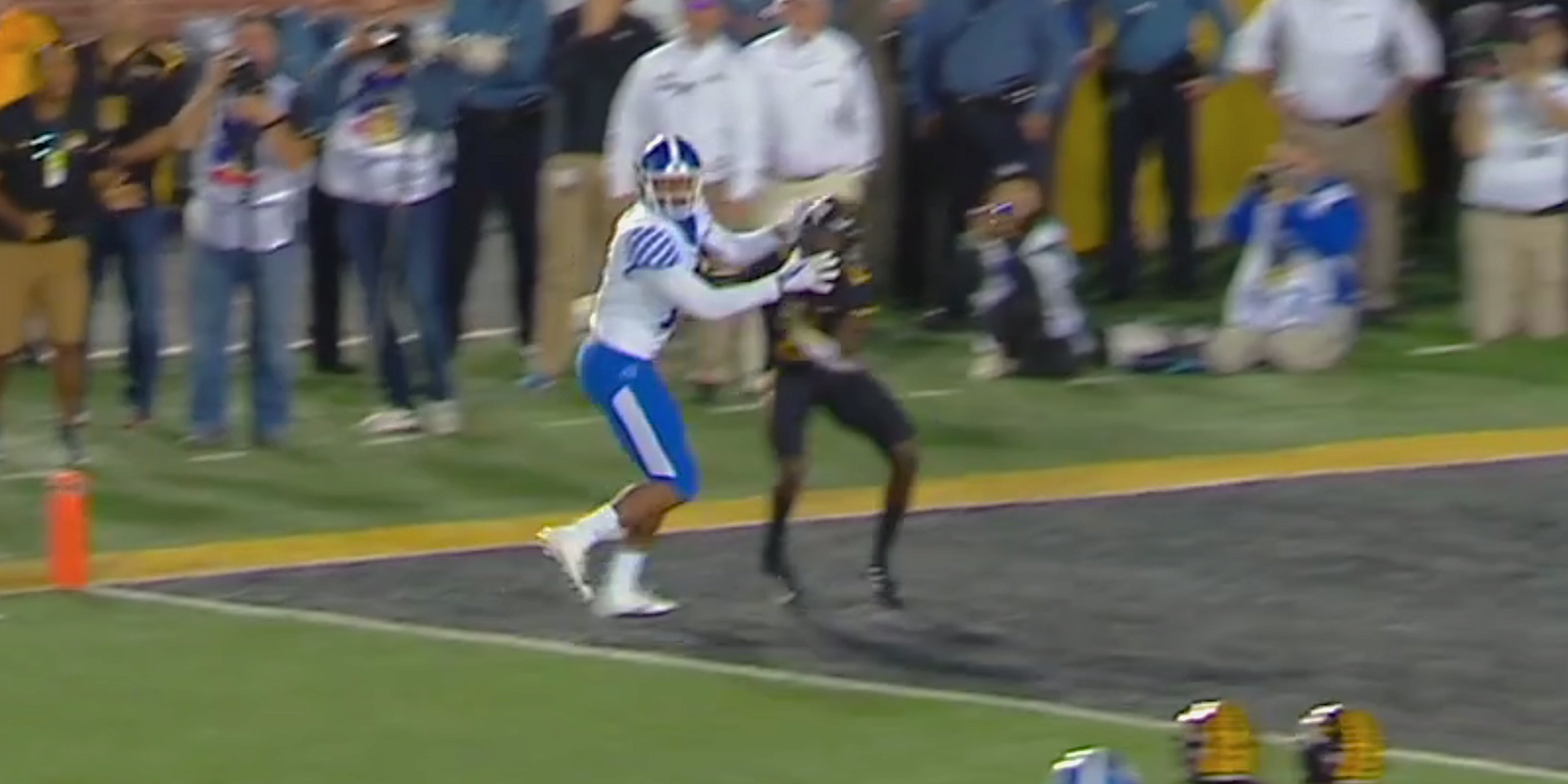 … and exacerbated it by using his right hand to push off Acy's helmet on his way up for the jump ball pass from Terry Wilson: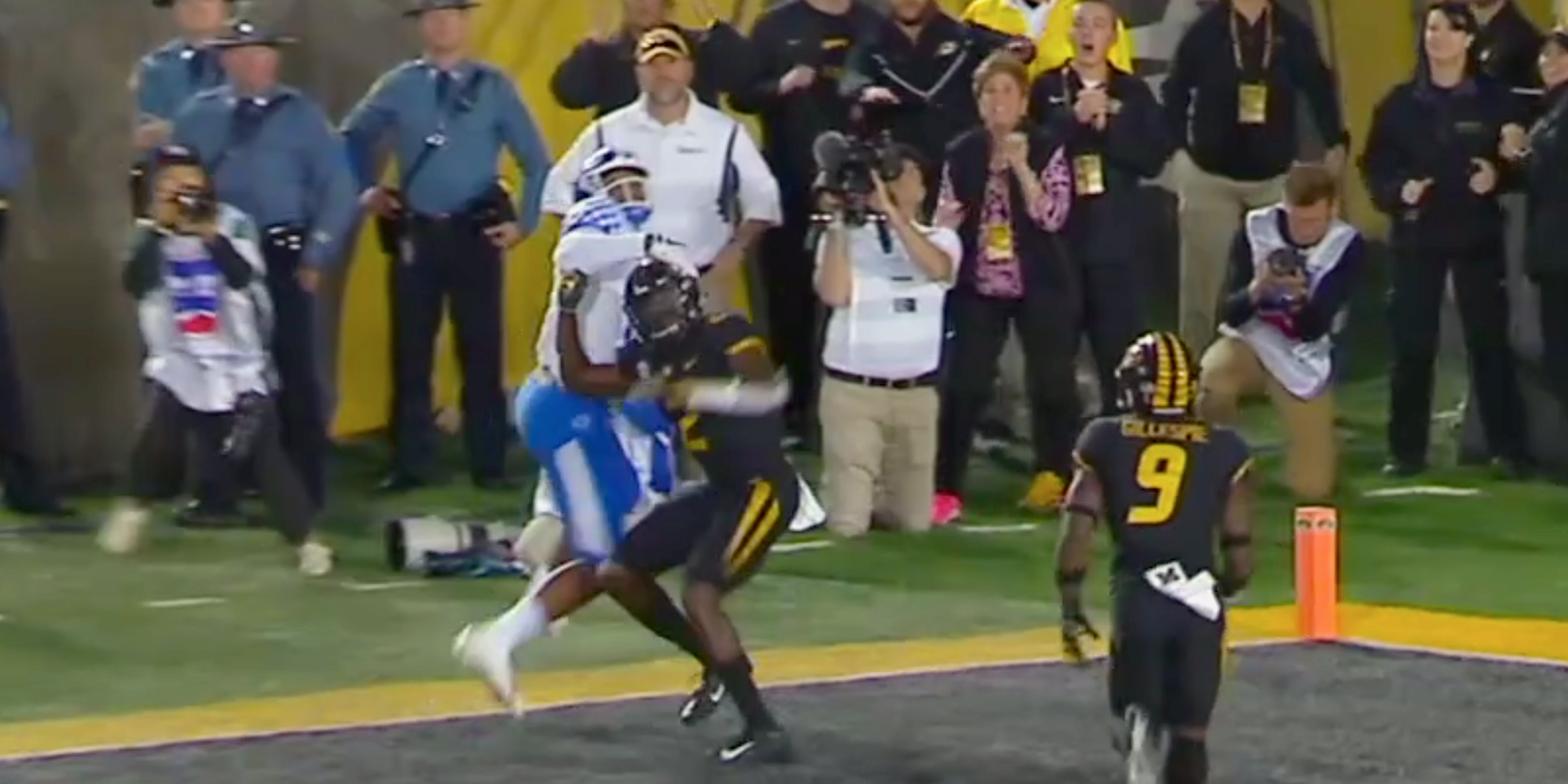 It was all Acy could do to keep his feet and stay between Wagner and the ball, which arguably could not have been caught in-bounds, anyway: Wagner actually hauled it in with one hand but came down well past the line.
Again, it took an unlikely sequence of events to get to that point — the offensive stalemate, the clutch punt return by Lynn Bowden, the questionable play-calling by Missouri's offense with a chance to drain the clock, the abrupt revival of Kentucky's passing game on the final drive — none of which had anything to do with the refs.
Mizzou had another chance to win the game on the subsequent play after the penalty and couldn't close it out. But to decide a game, and potentially the East Division, on such a lopsided call is a critical lapse in judgment that would have achieved instant infamy if it had involved more high-profile teams in a less obscure time slot. Let 'em play.